How An Internet-Based Business Works For Sunit: Meeting Again A Year Later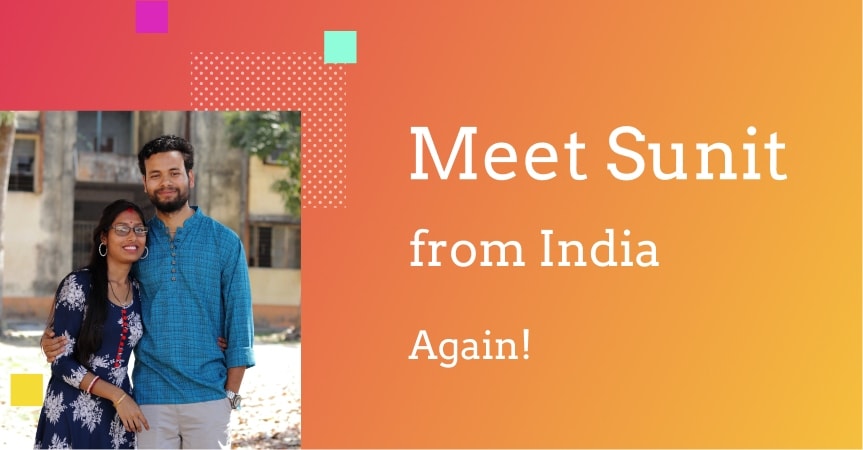 Do you remember Sunit, our guest from not so long ago? It's always valuable and insightful to talk to store owners from time to time and see how their Internet-based business is evolving! So, let's see what's new – and what are the changes that an online store can bring to one's life.
Disclaimer: all the success stories published in AliDropship blog are the results of interviews conducted in the written form. Even though the editors may make some minor changes to the grammar, spelling, and/or punctuation, the respondents' writing styles, views, opinions, stores screenshots and personal photos are left unchanged.
Hi, please introduce yourself to our new readers!
Hi, I'm Sunit Das, from West Bengal, India. I am 29 years old, an electrical engineer by profession who never had any business experience in real life. But thanks to dropshipping, I have been doing my online business for the last 2 years.
Briefly speaking, how did you start working on this Internet based business idea?
I was looking for alternative ways of making money since I started working full-time. But with a regular 8 am – 6 pm, 6 days a week job, there aren't many options other than launching an online business.
For a long time, I was searching on Google, YouTube looking for a reliable and convenient way to work on and finally found a discussion on dropshipping on a forum page. I got curious about this internet based business idea and started researching it further. And that's where the journey began.
My first dropshipping efforts started with Shopify and Oberlo fulfillment service. But I didn't get enough sales from that store, yet I was paying about 50$ every month to Shopify to keep my store running. Even spending 50$ was hard for me in those days.
So, I closed that store after a few months and started looking for an alternative dropshipping platform where I didn't have to pay monthly fees. Then I found an article about WooCommerce and discovered AliDropship plugin that has no monthly fees (one-time payment only).
Which solution are you currently using to run your Internet based business?
My business is based on WooCommerce and is powered by AliDropship plugin. Honestly, without AliDropship, I wouldn't use the WooCommerce platform. As I already mentioned, I don't have an internet technological background. And still, AliDropship enabled me to open my dropshipping store and have a stable amount of sales every month. I would say it is a must-have tool to automate the dropshipping processes. It made my entire dropshipping business easy and time-efficient.
How does your business perform now?
You can see it from this screenshot:
Did you change anything in your promotional strategy?
Like I did earlier, I continue to promote my store through a dedicated Instagram business page. It has gained over 50 thousand followers since we last talked, so the total subscribers' count is 450,000+ users now. Many thanks to my supportive wife who helps me run the account!
These days, I don't spend a single dollar on the promotion – this page is my main and only source of customers. As I see from my clients' data, my buyers are mostly my page followers.
Is there anything special about providing such an audience with quality customer service?
Customers are always concerned about getting their packages as fast as possible. But dropshipping from AliExpress takes time.
So, to keep my audience satisfied with the shopping experience, I do frequent communication with buyers and keep them updated. Thankfully, I haven't found any 'difficult customers' yet.
In general, how has your life changed?
As I mentioned before, I used to consider dropshipping as my passive source of income. So I wasn't quite aggressive in promoting my products to get the maximum potential of sales. I was quite happy with a few orders in a week… until I lost my job in the UAE in February 2020 during the COVID-19 outbreak.
I've relocated back to India from the UAE and kept running my business from there. Thankfully, since it's an internet-based business, I can run it from anywhere in the world regardless of my actual location.
And that's how the business that I used to consider as a secondary source of income became my only source of income. Even though my sales volume went down during the first phase of the quarantine, I was still getting sales. Surely, I am so glad that I have a dropshipping store to earn my living during this difficult time when I became jobless. And I hope this little story will inspire readers to start their dropshipping journey.
So, for Sunit, getting a dropshipping store turned out to be something more than just a smart Internet-based business idea. Having launched this independent ecommerce venture, he is now able to provide for his family even in times of uncertainty and a challenging economic situation. We appreciate his courage in sharing this story and wish him the best of luck with pushing the business forward!