How To Make A Good Facebook Ad That Sells: 14 Steps To Perfection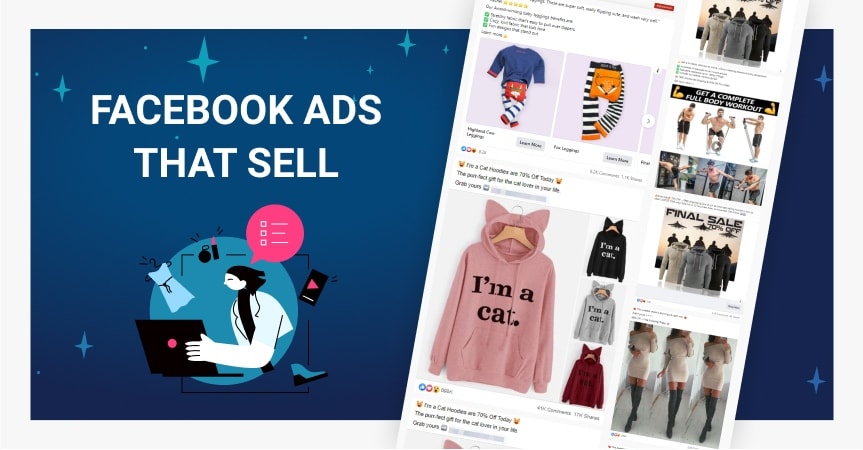 Knowing the best strategies and techniques to create a good Facebook ad is fundamental to having success in driving traffic to your dropshipping store.
That is why in this article, we're happy to share with you our best Facebook ad tips! They will help you increase click-through rates, boost your conversion rates, and make more profit. So read on!
#1 To make a good Facebook ad, pick trending products to sell
Your goal should be grasping a trend as it's gaining momentum but before it reaches its peak. That's why you should always keep up with the latest trends. Especially when it comes to selling apparel or jewelry! Make sure to browse Instagram and fashion magazines to see which products are getting more and more attention.
There are also several tools that you can use to find your winning products.
This is an ad database in which you can browse Facebook ad materials of other ecommerce business owners. It's the easiest way to spy on your competitors to see which products have the highest potential.
If you didn't know it, AliExpress shares sales statistics and reviews of any product on offer with the platform users for free. You can easily search for the most popular products using filters ('Free shipping' and '4 stars & up') and sorting the results by the number of orders. However, keep in mind that if the product is basic and has thousands of orders, it might just be cheap but not necessarily trendy. Make sure to double-check it on Facebook and Google Trends.
This tool will show you how the number of search queries has changed over time. You can test certain item keywords to see what is hot. The more people google a given item, the higher the demand is.
#2 Make sure your ad stands out
The last thing you want is your ad looking just like everything else on Facebook. Use high-quality images with bold colors to capture the attention of users.
We'd also recommend including the images of people in your Facebook ad design. It can increase conversions by a massive 35%. Portrayals of people from your target market prompt viewers to feel like the product is for them in particular. It also encourages them to better imagine themselves using your product.
#3 Create a sense of urgency
We feel bad when we miss out on getting something, but we feel even worse about losing a chance. When we see an urgent exclusive opportunity arise, we do not want to let it slip through our fingers. There are many different phrases that you can use in your ads to induce scarcity such as: "limited time only", "24-Hour SALE", and "hurry!", "Today!".
#4 Use headlines to increase curiosity
Your ads risk will be scrolled down if you don't manage to interest users. How can you do this? Use headlines that get your viewers hooked and intrigued. Think of a headline that can be provocative and interesting as much as possible. Believe us, Facebook users won't be able to walk by.
#5 Offer irresistible value
Our emotional side has a lot to say when it comes to buying, though our rational side may hold us back. Ultimately, appealing to the product features and benefits with your ad campaigns can help you influence both the emotional and logical sides of a decision-making process, increasing the likelihood of a conversion. Your Facebook ad messages should clearly state what benefits are customers going to get from your product and why they should choose it over those of your competitors.
#6 Focus on call to action
The best way to advertise on Facebook is not to forget that each ad should have a clear structure: a problem statement, the way to solve the problem, products' additional features, CTA.
The call to action is a crucial and indispensable part of the scheme. You can praise a product as much as you like, but without a marked CTA, you're quite unlikely to get any sales.
#7 Let customers choose
Your customers will definitely appreciate you giving them additional options from which to choose. Eye-catching carousel ads or collage Facebook ads let customers see several products at once. For example, if your customer doesn't like the pink hoodie (like you see in the picture below), they can still choose the alternative option.
#8 Leverage social proof
When targeting people who have never heard of your brand before, you need to leverage social proof or else your audience will simply not trust your message. Seeing other people talking about how much they enjoyed a product or how it helped them achieve something remains one of the most powerful motivations to make a purchase of our own.
#9 Incorporate videos
Video is great for showing your product in use! It also stands out in the feed grabbing the attention of more potential buyers. Always include captions since 85% of Facebook videos are watched without sound. Also, remember to keep the video as short as possible (15 – 30 seconds). It should also have a magnetic headline and catchy background music.
#10 Treat conversion objective like your best friend
When you create your ad, you'll be asked what your advertising goal is. Your ideal choice is the conversion objective which allows you to target new and previous visitors based on actions they take on your site – but please note you can use this objective only if you've already had some sales on your site (or at least some events).
Likes and shares are important if you want to test different types of content and choose the most popular ones. However, they are useless if you want to evaluate the financial performance of your effective Facebook ads campaign.
Learn more about advertising objectives and make sure you choose the most suitable one for your campaigns – Traffic to get people to your site, Engagement to gain some likes and comments, etc.
#11 Do targeting wisely
Remember that effective targeting is key to success — and there's no shortage of ways to target your audience using Facebook Ads Manager.
There are some basics you should know about:
Don't target absolutely everyone
Do research, find out who is your target audience and include or exclude people based on their demographics, interests, and behavior.
We can also recommend using one interest per ad set to test and see what interests work best for your product.
Do not change the settings of the advertising campaign after the launch
After launching the ad, you should not go into the settings and change anything. This will be a failure because the learning phase on Facebook will be disrupted. The learning phase is the period when the delivery system still has a lot to learn about how to show your ad in the best way and to whom. So don't try to change your budget, audience, and placements. If you need to optimize your ad, duplicate it and make changes there.
Don't forget to experiment!
Trying different combinations will eventually help you find your ideal formula for great sales.
Try not very obvious targeting options – e.g. if you sell earphones, target not only those who are interested in earphones but those who're subscribed to some music streaming services like Spotify.
#12 Use simple language
Some of you target people from different countries worldwide or simply work with a quite large target audience. It means you're likely to face people with different levels of English or any other language.
If you want to convert as many ad viewers as possible, it's a great idea to use a basic language level everyone can understand.
#13 Test, test, and test again
Be ready for the scenario that it can take a while to find the winning product and create the best of the best ad. On the way to success, you will need to spend a lot of time choosing different products, designing ads, and monitoring the results. So it's all about testing.
In the end, you will find a winning product. But don't finish testing! Believe us, if you study and test various advertising techniques, you will be able to open completely new horizons for yourself and your sales.
If your ad doesn't sell, it's not a loss – it's a very useful experience that will help you sell better. You can analyze this ad, the stats, and customers' behavior on your site (you can even see what they do and where they click – try setting up Webvisor) and make more effective ad posts in the future. Every piece of information matters and can be used to grow.
#14 Follow Facebook's advertising policies
You don't want your ads to be blocked and all your efforts go to waste, right? That's why it's important to keep in mind Facebook Advertising policies. The point is that you can't advertise illegal products or services, weapons, ammunition, explosives, adult products, or services.
In addition, pay attention to the text in your ad image. If your ad image had over 20% of it covered with the text, it would be denied. And forget about using personal attributes targeting in your ads such as race, ethnic origin, religion, beliefs, age, etc.
One of the main Facebook Ads tips to succeed is experimentation. The more you experiment with different products, copy, targeting options, or ad types, the more likely you are to create effective ads. Find out what works for you and use this method to the full.
We hope this article will help you make a good Facebook ad. Happy dropshipping!