How To Dropship Jewelry From Your Store: 400+ Product Ideas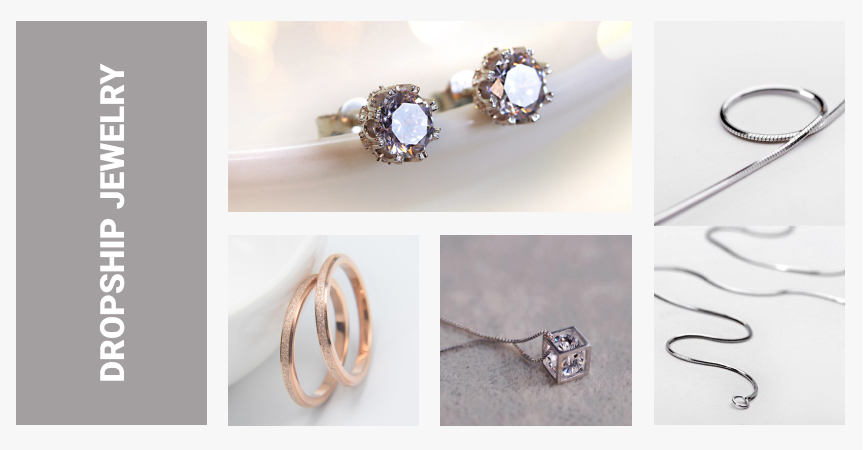 If you're wondering what to sell in your store, try to dropship jewelry: it can be a great business idea. Today, we are going to talk about the best selection of jewelry products from AliExpress. We'll examine in great detail what makes them so appealing, and why they can bring you some potentially juicy profits!
Jewelry is a popular item of apparel. It is one of the oldest forms of personal expression and its worldwide popularity is undeniable. Whether it's a luxurious necklace or simple bracelet, jewelry always makes the wearer feel more confident and comfortable. Though, if you wish to dropship jewelry you have to be informed about all of the aspects of the jewelry industry.
The beauty of a dropship jewelry store is that it's not a problem to find a suitable jewelry supplier who will ship orders directly to your customers as wholesale jewelry is a really profitable business. However, there is more to this niche that can make a business owner interested!
So, today we are going to share with you how you can use the popularity of this niche to your advantage and create a steady source of passive income with a thematic dropshipping store.
Why it is profitable to dropship jewelry
If we look at the statistics provided by Statista, the value of the jewelry market is growing.
The global revenue in the watches & jewelry segment of the accessories market was forecast to continuously increase between 2023 and 2026 by $44.8 billion U.S. dollars (+11.97 percent). The revenue is estimated to amount to $418.9 billion U.S. dollars in 2026.
Now, if we look at Google Trends, we can also see that people show a steady interest rate in purchasing jewelry online. Despite the occasional seasonal fluctuations, jewelry is a product that people will always search for and buy. And with the way the ecommerce market is growing, people tend to order jewelry online more often.
If you're just starting to sell jewelry online, we suggest not to add all kinds of jewelry products at once simply because the market is too big and the competition is too strong. By dropshipping jewelry of all types, you risk wasting your valuable time and money. Instead, try to start with a specific jewelry or accessory type and establish a customer audience. Once you get a steady number of buyers, you can expand your catalog by adding various products of jewelry to your dropshipping store.
If we look at the examples down below, we can determine how demanded some specific types of jewelry are.
With necklaces, for example, we can see a consistent demand pattern, growing especially strong during the Christmas period.
Moon pendant necklaces, in turn, show a similar demand pattern. The peak interest occurs during the holiday seasons, however, throughout the year interest levels still remain high.
Statement rings, according to Google Trends, are increasing in popularity and becoming more and more demanded.
These are just a few examples of specific jewelry types you can add to your dropshipping jewelry store.
Benefits of selling jewelry online
Understanding the benefits of dropshipping jewelry will allow you to better prepare and adapt to various circumstances during your business life cycle.
The average profit margin for jewelry is around 42.6%. For comparison, dropshipping clothing only generates approximately 8% profit margin.
Almost all social media networking sites have large and active audiences for the niche. Furthermore, there is no shortage of ad interests related to jewelry you can target for your ad campaigns.
High-quality and affordable product sources
You can find excellent and low-cost jewelry pieces to sell from various dropshipping suppliers and platforms.
Upselling & Cross-selling potential
It's relatively simple to upsell and cross-sell relevant products. For example, if you sell necklaces, you can cross-sell the same style of rings, bracelets, clothing, etc.
Now, let's see where you can find the best items to import and sell jewelry online!
How to dropship jewelry from AliExpress?
As you might have guessed by now, filling your store with lots of jewelry items is not enough. You must think your idea through thoroughly.
Who are your potential customers? How will you appeal to them? Are they looking for specific sets of jewelry? For luxurious jewelry? For daily wear items? These are the specifications you need to understand to build your marketing strategy around your potential customers' needs.
On AliExpress, you can find any kind of product, and jewelry is not an exception. There are numerous categories for you to choose from, so, here are the criteria that we followed to pick the best items to dropship jewelry.
First of all, we picked the Category "Jewelry & Accessories" on AliExpress. Here you can see that there are several subcategories with tons of products for you to choose from.
After we've picked a subcategory, starting with "Necklaces & Pendants". We have filtered out the search query to get the most promising products by the following criteria:
Free Shipping
4*& up
Sort by number of orders
As you can see, there are thousands of items to choose from, both for men and women:
Why have we chosen these options?
Free shipping will allow you to save on additional shipping costs.
4*& up will show you reliable suppliers with high-quality products.
Sorting by the number of orders will also showcase products that were ordered the most, thus indicating how reliable the supplier is and if the products are demanded.
Because you can't see or feel the product yourself, you simply can't assess its quality. That's why it is important to check the reviews left by other buyers to fully evaluate the product's quality and the supplier's services.
Looking thoroughly through the reviews, you'll get a better understanding of the products, the seller, and if the products are worth implementing into your online store.
Creating a dropship jewelry store: the best suppliers you can find
In the dropshipping business, the suppliers are responsible for half of your duties. After all, it is their responsibility to store, pack, and send the goods out directly to your customers.
You want your customers to be satisfied with their orders and return for additional purchases, right? So it is crucial for you to thoroughly choose the best suppliers.
Of course, you can try the method that we used ourselves to find the best available products.
But for you to not waste your time, we have a wonderful alternative. So that you won't deal with random sellers who offer products of questionable quality, we suggest you turn your attention to Sellvia!
What is Sellvia ? It is a one-of-a-kind ecommerce ecosystem. It's aimed at covering plenty of online business areas – from product sourcing, storing, and packaging to branding and promotion.
By teaming up with Sellvia, you get unique access to the most trending and hype products from multiple niches in its physical stock, being kept in a US-based Fulfillment Center.
Sounds pretty convenient, right?
How to find trending products to dropship jewelry?
Trending products are usually the hottest items on the market that everyone wants to purchase. These items are the key to creating a source of constant revenue. So when assembling your product inventory, you need to consider trending items in your niche.
Trends are something unique and don't last forever. That's exactly the reason why you need to keep yourself updated with all the present and possible new trends. This way you can keep your business on top and separate yourself from the competition.
Here are a few ways for you to find trending products to dropship jewelry.
Follow and join online forums and communities to find the best trending items
Research the engagement of various advertisements to get a better understanding of the most popular jewelry
Look for the top best-sellers on online websites such as AliExpress, Amazon, eBay. You can use the same strategy we used to pick out the products in this selection!
Keep a close watch on your competitors
Perform a web analysis using various online tools (i.e. Google Trends, keyword tools) to better understand the level of interest people show towards a specific topic
Search on social media for more ideas!
To dropship jewelry you need the best products, so let's look at what you can find on AliExpress.
Fine jewelry for women
Rings
Necklaces
Earrings
Bracelets
Anklets
Hair jewelry, brooches & body jewelry
Fine jewelry for men
Rings
Necklaces
Want to see even more options? Let's take a look at another type of jewelry you can dropship for profit!
As you'll see, those items also see exceptionally high demand but have a much lower original price which certainly makes them appealing for both the resellers and the end buyers.
So, welcome fashion jewelry dropshipping items you can add to your store!
Fashion jewelry for women
Earrings
Bracelets
Rings
Beads
Charms
Pendants
Fashion jewelry for men
Necklaces
Rings
As you can see the product catalog is massive.
Need something MORE? Well, you don't have to limit yourself to jewelry only: you can add some storage & care accessories, too!
Jewelry accessories
Storage boxes
Jewelry trays
Jewelry stands
As you can see, that's a huge amount of categories of jewelry products you can dropship, isn't it? From earrings, to necklaces, to rings, the opportunities are seemingly limitless!
To dropship jewelry you can start with a small range of products, and as your dropshipping store continues to improve and your sales increase, you can add more products to your product catalog. Experiment with the product offers to keep the customer interest high. And don't forget to create a customer-friendly experience to ensure that buyers return for future purchases.
We hope you found this article informative and insightful! The idea to dropship jewelry is an interesting one as you can be flexible in your offerings and create the best experience possible for your customers. We wish you the best of luck in your online business initiatives!