15 Instagram Accounts You Should Follow In 2020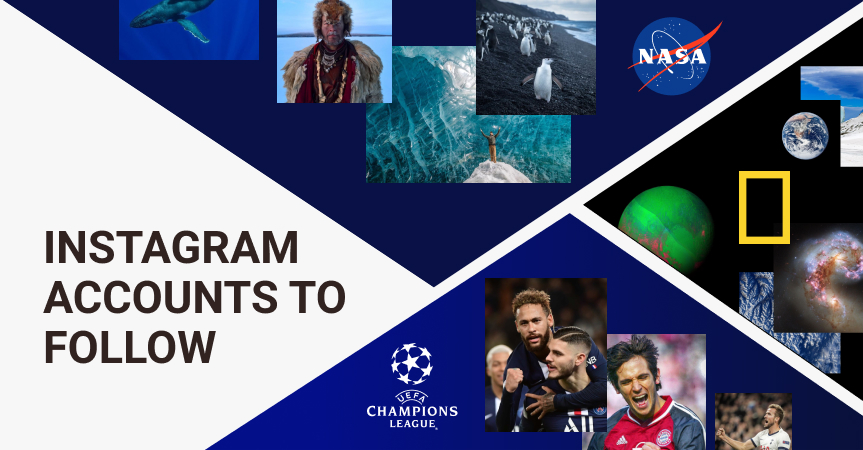 If you're on Instagram, you surely have come across profiles of celebrities, big brands, up-and-coming companies, and niche communities. The beauty of Instagram is that you can tailor all the content you see simply based off what accounts you follow. Surely, there are always new accounts to discover and connect with.
Today, let's take a look at 15 top-ranking accounts in various categories that you can follow if you haven't already.
Celebrities
Cristiano Ronaldo (@cristiano)
The Portuguese soccer star ranks as the celebrity with the most Instagram followers. Commanding a whopping 194 million fans, this A-list athlete shows snaps of his daily life, athletic prowess, and multiple brand-name endorsements.
Ariana Grande (@arianagrande)
With 169 million followers, the pop starlet is the second-most-followed celebrity on Instagram. Her immense following gives anyone a look into the large millennial and Gen Z crowd that she appeals to. The "7 rings" hitmaker often gives fans a look into the creative process behind her music, her tours, and snippets of her fast-paced life.
Daymond John (@thesharkdaymond)
Famous for his appearance as a judge on the popular "Shark Tank" TV series, Daymond fills his Instagram profile with motivational quotes, tour dates, and stories of other entrepreneurial success. If you're reading this and hesitant (or in the process) of starting your own business, Daymond's profile just might give you the push or encouragement you need.
Dwayne "The Rock" Johnson (@therock)
The former WWF star-turned-action movie hero balances life, movie promotions, and exciting behind-the-scenes footage of his work. It's all featured in his Instagram account showing 166 million followers just how a superstar does it all.
Ellen DeGeneres (@theellenshow)
The comedian of her very own "The Ellen Show," Ellen DeGeneres is an American household name, thanks to her efforts in giving back to the community while connecting everyday people to celebrities, charities, and stories that impact the everyday person. With 81.1 million Instagram followers, Ellen is a force to be reckoned with. She makes everyone laugh with video highlights from her show and everyday life.
Brands
Instagram (@instagram)
You can't be on Instagram without following the platform's official account, right? At a current 323 million followers, the account is one of the leading profiles on the platform. The reason is, it reposts images and videos from real users and brands, across any niche or community. This really creates a look into what is trending worldwide.
Nike (@nike)
One of the most iconic athletic fashion brands in the world for over 50 years, Nike tells inspiring stories of everyday people (and up-and-coming athletes) around the world while empowering its 97.4 million followers to #justdoit.
Apple (@apple)
Of course no brand list would be complete without Apple. The tech giant shares stories from millions of Instagram users around the world through amazing video clips and breathtaking images. This is how it proves its mastery of uniting people, beliefs, and the desire to see the world through technological devices.
Zara (@zara)
The Spain-based fast-fashion powerhouse captivates 37.4 million followers worldwide with its beautiful images and campaigns featuring its latest looks on models, influencers, and photographers. To see how a brand can tell a rich story through partnerships and industry-related figures, be sure to give Zara's profile a look.
BMW (@bmw)
Featuring a feed rich of reposted images and self-produced content (including captivating videos), BMW showcases rich engagement with its followers. You can often find the brand responding to all kinds of questions and concerns from fans right in the comments.
Niche & Comedy Accounts
Tank Sinatra
One of the hottest meme accounts on Instagram, Tank Sinatra showcases relatable (and funny) memes, tweets from his Twitter account, and other reposts of viral content. His account is a great inside look on what trends on social media. Thanks to him, you can see what today's generation of users find funny and engaging.
Girlboss (@girlboss)
Girlboss was started to help women climbing the ladder in the workplace connect, but has really grown into a source for female millennials to just "get" one another through memes, GIFs, and inspiring quotes – all while moving forwards together in their professional and personal lives. At 1.4 million followers and counting, it's a must-follow account.
Sarcasm_only (@sarcasm_only)
Sassy quotes. Funny memes. Sarcastic tweets. Sarcasm_only earns all the laughs and shares, with 14.2 million followers – all of whom understand its witty posts and dry humor and need a good snicker or laugh to get through the day.
Jiffpom (@jiffpom)
Is any list complete without mentioning dogs? That's right – Jiffpom was a Pomeranian dog viral for his incredible photogenic shots that captivated the hearts of millions (9.7 million, to be exact). Unfortunately, the furry pooch passed away in January 2019. Still, his legacy lives on as the dog account with the highest number of followers on Instagram. And the account is still active to bring joy to users from all over. Fun fact: Jiffpom was estimated to have made $17,500 per sponsored post.
fashiondads_ (@fashiondads_)
There really is a niche for everything. At 179K followers, fashiondads_ pokes fun at the sometimes puzzling and downright disastrous taste some older men (which many are dads) have. And in the true fashion of capitalizing on a niche, fashiondads_ even has its own merchandise with funny phrases
So there you have it – 5 celebrities, 5 brands, and 5 funny accounts you can follow on Instagram. They all give you a glimpse at who trends, what is popular, and what kind of humor or content gets users engaged and interested.