Trending Products 2023: How To Stay One Step Ahead Of Your Competitors?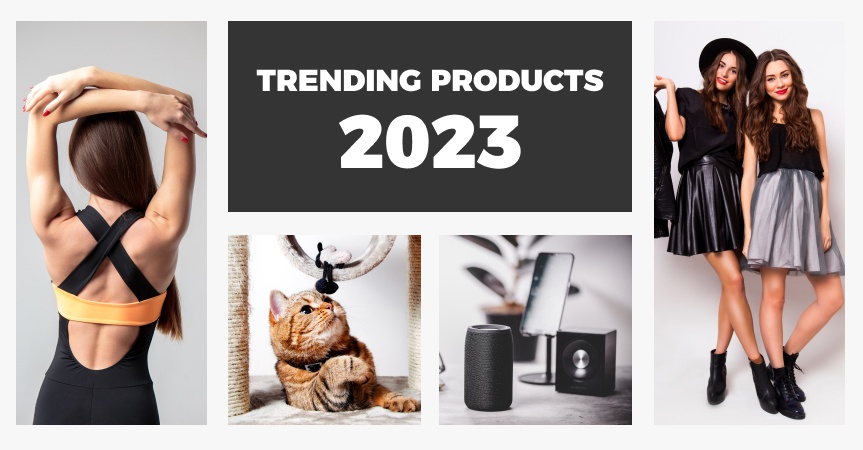 Are you curious to know what to sell in 2023 to make a large profit? Is it necessary for you to stay one step ahead of other entrepreneurs all the time? In this case, this is a high time for you to learn more about trending products in 2023. And we are beyond excited to research the market and offer you some nice ideas for your online store to benefit from!
How to beat your competitors and make the most of your business?
To date, the world is changing really fast.
Thanks to the hard work of scientists and researchers all over the globe, technologies and manufacturing processes are getting more and more advanced. Therefore, it gets cheaper and more convenient to produce various types of items. That's how they become more accessible on different markets worldwide.
At the same time, influencers and bloggers invent and introduce new 'hot' lifestyle habits almost daily! A huge audience observes them through social media, and drives the demand for 'must-have' items of the season.
What does it mean for you as an online store owner?
Basically, if you want to stay at the top of your game, you need to be aware of the latest market trends – and re-evaluate them regularly.
That's why we never stop making the most trending product selections. Indeed, we have written a huge number of compilations that include thousands of the most lucrative products you should definitely pay attention to. It's all about trending products to sell, ever-green products, the ones that are extremely promising to sell right now, and so on.
Now 2022 is coming to an end. And while some entrepreneurs are trying to make the most of what they have right now, we prefer to look ahead. So, let's dive in, and look at what are the general ecommerce expectations for the next year, and what products will be trending in 2023!
Trending products 2023: Bluetooth
As you can see from Google Trends, over the years, Bluetooth tech has seen an increasing public interest, and the trend is expected to continue. Thanks to the impressive innovations in the industry, Bluetooth devices now provide an unmatched customer experience, and support a much higher quality of life.
In fact, speakers, headphones, earphones, chargers, trackers, sports and health wearables are the Bluetooth gadgets that are said to change the face of wireless technology really soon.
If a high-tech future excites you, why not turn your passion into a profitable niche for an online business? Just a quick look at the number of orders of the following items is enough to see a huge potential of this product category.
Bluetooth earphones
Portable speakers
Trending products 2023: Magnetic tech
Definitely, the power of magnets is used in various devices and gadgets quite commonly. Most likely, you own such an accessory yourself: magnetic chargers with various adapters are highly popular among smartphone users.
Much like any other technology, magnetic devices are evolving rapidly, and it certainly attracts the audience's attention.
So, if this technology can really make a great impact on customers' lives, maybe, it's a good idea to include it in your store product range? It's up to you to decide, of course – but these numbers of orders certainly speak for themselves.
Magnetic USB cables
Magnetic phone holders
Trending products 2023: pillows
So, if you want to dream big, it's vital to dream well.
We've already discussed the importance and potential of handy sleep accessories. Still, it seems that in 2023, the so-called 'sleep optimisation' will be more important than ever.
Workers, students, parents – millions of people around the globe suffer from a low sleep quality. Surely, not all of them can afford branded memory foam and gel pillows, but does it mean they don't deserve proper sleep care?
Actually, the following product selection shows a wide variety of options you can offer your clients. Sometimes, a great change to a person's life starts with a usual, routine thing. Don't you want to be this little change to the world?
Pillows
Trending products 2023: Pets' accessories
The demand for pet products is supposed to go on increasing in early 2023. Actually, dropshipping pet products has always been a lucrative business niche, but now this is definitely a high time to pay particular attention to this product group if you're eager to make the most of your online store in 2023!
Pet clothing
Pet collars and leads
Trending products 2023: Home fitness equipment
Each year more and more people start going in for sports, keeping fit, etc. And that is awesome! In practice, this is good news not only because humans aspire to physical perfection. This provides a chance for entrepreneurs to gain profit from selling sports products online.
There is always a high demand for sports products. This is exactly why a number of leading world publishing houses pointed out that it's a great idea to start practicing sports at home right now! But where can people find cheap and high-quality sports supplies without leaving their homes? Right, it's online stores that are supposed to help them.
Exercise bands
Sport bras
Yoga mats
Trending products 2023: Home office supplies
Recently, many corporations incorporated work-from-home practices, which allowed their employees to, quite literally, work from the comfort of their homes. Some major global corporations even let their employees work from home forever, as long as they wish!
But what does it mean for an ecommerce store owner? Right, it means you should consider selling products for remote work in your online store since there will be a strong demand for them for a long time. So it's a chance for you to make a fortune!
Laptop tables
Webcams
Wi-fi routers and repeaters
Trending products 2023: Affordable smart electronics
Smart devices are booming on the market right now! And due to the fact this area has not been fully explored, manufacturers find the ways to make their products cheaper and more convenient for the end users on a permanent basis.
This is a case in 2022, and, definitely, this trend will continue in 2023. And if recently fitness trackers were a novelty for us, now there is a wide range of personal smart tools and smart home devices that really impress!
Smart home devices
AI light
Smart wearable devices
Trending products 2023: Kitchen utensils
There is nothing like going to the restaurant with your family on your day off, isn't it?
Meantime, some people are still not ready to go to the restaurants and contact others. That's why they have started to spend more time cooking at home. So the demand for kitchen utensils has increased significantly. In 2023, this trend is highly likely to go on.
Kitchen utensils
Trending products 2023: Home clothing
It's not always as easy to buy home clothing. However, we are speaking now about 100% necessities.
So how to deal with this? Right, it means this is time for customers to buy home clothing online. Well, don't miss an opportunity to benefit from this as an entrepreneur!
Women's robes
Men's pajamas
Women's pyjamas
These are the most interesting ecommerce industry trending products in 2023. We hope they will serve as an inspiration for your own business plans and strategies for the next year!