How To Dropship Pet Supplies With The Highest Profit Possible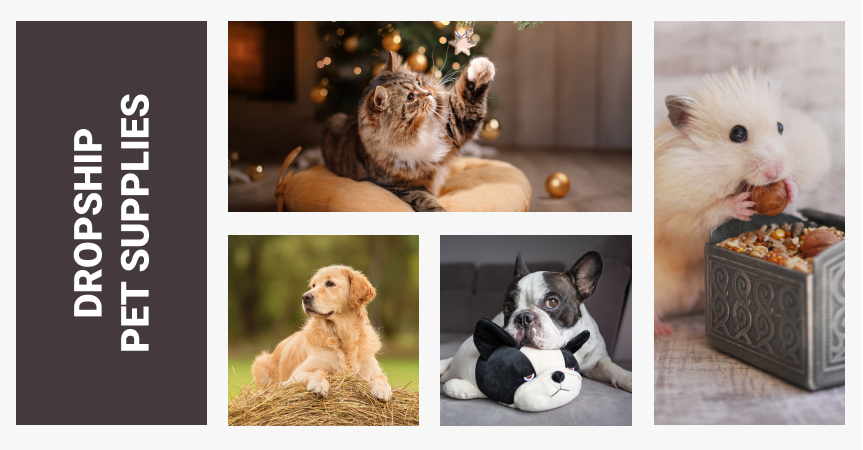 How to dropship pet supplies if you want to make this business both enjoyable and profitable? Let's discuss it!
In any business, it's very important to pick a proper niche. If a certain niche features a great number of potential clients, a moderate level of competition, and a rich range of useful products, you can say this niche is a good one. Here you can read more about how to choose a business niche.
The pet industry, despite a relatively high level of competition, has good potential for an online store. So, if you like the idea of dropshipping pet products, it's a great choice!
The best thing about this niche is the buyers' engagement. As your potential customers want the best for their beloved furry friends, they don't mind spending a little extra or waiting a bit longer. In order for that to happen, they should consider your offers worthy of their attention, of course.
Moreover, if you manage to offer not only an interesting product selection but also fast delivery, your pet store is set to thrive. Those, who consider dropshipping pet products to the US, will find no better supplier than Sellvia. This fulfillment center is located in the US, so it can ship products to your clients within 1-3 business days!
Sellvia is compatible with all AliDropship stores and with WooCommerce stores. So, if you own a store built with the AliDropship plugin or the WooCommerce plugin, all you have to do is subscribe to Sellvia to get access to its catalog of products.
Want more ideas of a money-making dropshipping niche? Check out this selection of the most profitable niches to try!
Are you ready to learn how to turn this winning niche into a thriving dropshipping business? Here we go!
How to dropship pet supplies: choose and research your customer market carefully
Dropshipping is a business model that lets you target and serve buyers all across the globe. It doesn't even matter where you live!
What you should keep in mind, however, is that different countries have different traditions of pet ownership.
In some countries, it might be popular to buy specific exotic types of pets. At the same time, in other destinations the local laws influence the decisions on the pet choice, while in some regions, it's not typical to keep pets at all.
Of course, the prospects of making money from dropshipping pet supplies will vary from country to country!
Let's take a look at some region-specific stats to see what I'm talking about:
The population of pets here is estimated to reach 755.35 million by 2022. Quite notably, in 2017, there were less than 510 million pets registered in the country. It means that pet ownership is a growing trend here. Therefore, it's an interesting market from the point of view of the potential customer segment size.
An average British pet owner spends £1,150 on his/her pet per year. That's £95 a month! In total, UK consumers spend about £10 billion on their dogs and £8 billion on their cats each year.
What's even more curious, the number of pets living in the UK has been decreasing. It means that an average UK citizen has multiplied the expenses per 1 pet. Most surely, it might present you with a great business opportunity!
Germany leads the list of the EU countries with the largest number of cat owners. In 2019, there were almost 15 million cats registered in German households. And, despite the fact that Germany has a dog tax, there are only about 4.5 thousand fewer dogs than cats in the country!
In other words, when it comes to pet choice and keeping, the financial expenses are not really a big deal here. 😉
With over 50 million pets registered in Italy in 2019, the most widespread type of them was fish (about 30 million). The gap is outstanding: the next pet type in the list (birds) amounted to only 12.9 million, and the third place in the rating belongs to 7.3 million cats.
According to the 2020 survey, the number of cats and dogs owned by households in Japan increased by 15% compared to 2019. There are about 9.64 million cats and 8.49 million dogs living in this country.
According to the 2019-2020 National Pet Owners Survey, 85 million American families own a pet. It's about 94.2 million cats, 89.7 million dogs, 20.3 million birds, and other animals. In 2019, Americans spent about $75 billion on pet food and other products.
Moreover, 77% of Millennials prefer buying pet supplies online. By 2023, online sales in this segment are expected to make up about 25% of the pet products market of the United States. So, the US is probably the most profitable market a dropshipper can find.
On top of that, with Sellvia, you can dropship pet supplies to American customers within 1-3 days because Sellvia's warehouse is located in California. This fast shipping will let you successfully compete with other online retailers selling pet products.
As you can see, pet dropshipping stores can expect millions of potential clients if they have high-quality products to sell online and manage to properly advertise their offer.
I got these numbers in only 30 minutes of surfing Google and Statista (which I strongly recommend to any business owner!) and of course, there is much, much to learn about any country you're going to target. Still, even this brief and quick research proves that the patterns of pet ownership are really diverse across the globe. Without any doubt, they will influence lots of your business actions (product choice, pricing strategy, geographic ads settings, etc.) heavily.
How to dropship pet supplies: build a dropshipping store
To sell pet products, one needs an online store. Depending on what skills you possess, how much free time you have, and what dropshipping suppliers you want to work with, you may want to pick one of the following options.
Build a site on your own
First, you can use the AliDropoship plugin to create your own store on WordPress. In this case, you will be able to import products from AliExpress and Sellvia and even sell products from both these platforms at the same time.
On the one hand, this option lets you create a store tailored to your own vision. On the other hand, if you have little experience in site-building, it can take quite a lot of time. That's why there's another option.
Order a Custom Store
In this case, you can get a professional online store developed according to your vision without having to build it on your own. Instead, you contact the team of experts and tell them what kind of website you want. And they'll do the job!
If you consider selling pet products to American customers and want to benefit from fast shipping, I strongly suggest ordering a Custom Store from Sellvia.
How to dropship pet supplies wisely: be very specific about your competitive advantage
Let's suppose that by this point, you've already chosen the geographic markets you're going to target with your offers. It's time to make the next important decision: what will make your product offer interesting to the audience?
It's common for pet owners to buy supplies from familiar offline stores, or from the marketplaces they have already tested and found satisfactory.
Why would they change their minds? What will motivate them to make a purchase from pet supply dropshippers – retailers they've never checked out before?
Surely, to succeed, you need to have a strong competitive advantage, for example:
Additional value of your supplies
The easiest way to give your customers something more than just a product is to provide them with informational support.
It's especially convenient to do if you run a blog connected to your online store. Through this blog, you can freely educate your followers (and potential buyers) about keeping their pets healthy, entertained, and happy.
This blog will be beneficial not only to your readers but to your store performance as well. Among other things, it will give you great pieces of content you can share on social networks automatically.
A welcoming community around your brand
When it comes to pet care, many owners, especially the less experienced ones, look for guidance and advice from others.
Why not turn your store's social networks into a supportive community where pet owners share their experiences, daily routines, funny stories and other aspects of their life with pets? If you combine and mix these pieces of user-generated content with your promotional and educational posts, it will give people a good extra reason to check out your feed.
Availability of unusual or limited products
It doesn't make much sense to dropship pet products identical to the ones sold in other retail stores. Maybe, your markup will be lower than theirs and your prices will be more appealing to the buyers, but you can't always be sure about it. To set your prices right, you'll need to research the local retail market thoroughly and keep monitoring it on a regular basis.
An alternative way to make your store offer more competitive is to pick the right products for it. And here's what our next tip is all about!
How to dropship pet supplies: choosing products
If you dropship pet supplies from Sellvia, you not only get the opportunity to deliver goods to American customers within 1-3 business days but also get access to hundreds of products. Let's take a look at the product categories you can sell.
Pet products for traveling
According to condorferries.com, 53% of travelers spend holidays with their pets and 37% of families travel with their pets. And that's 19% more than a decade ago! Therefore, it's a good idea to offer customers various products that'll make such journeys more comfortable for their furry friends. It includes carrier bags, car seat covers, portable water bottles for pets, etc.
Feeding and watering supplies
Experts forecast a considerable growth of the North-American dog bowl market in 2021-2026. And the United States remains one of the most important segments of the market. Due to modern technological solutions, there's a variety of other products as well such as food and water dispensers and slow feeders. And of course, cat owners buy cat bowls too, so it's a good choice and a must-have for an online store for pets.
Grooming products
The US pet grooming products market was estimated at $2.9 billion in 2020. It's about 27% of the global market's size! Moreover, experts think that due to the COVID-19 outbreak, the demand for such products will increase even more. With so many people wishing to take proper care of their pets' fur, make sure to offer high-quality solutions!
Beds, mats, and houses
The US pet furniture market was estimated at $218 million. By 2025, it'll reach $307.6 million remaining one of the strongest segments of the global industry. Here you can offer your clients a wide selection of cat and dog beds, houses, and mats.
Pet walking
Pet walking essentials are another type of must-have goods for this niche. Moreover, a pet owner (first of all, a dog owner) requires quite a number of products from this category – a collar, a leash, waste bags and probably something to scoop poop with. And you'll find all these products in Sellvia's catalog.
Pet toys
And finally, why not offer pet owners all kinds of toys for their furry friends?! Such products are especially welcomed in dropshipping as they can evoke strong emotions like the desire to make your dog happier. No wonder the US pet toys market was estimated at $668.2 million in 2020.
Now, I hope you have a much clearer idea of working with an online store within this niche. I can't wait for you to follow the advice from this article!
If you'd love to dropship pet supplies with fast shipping across the US, consider starting your dropshipping journey with Sellvia! Simply order a Custom Store and enjoy seamless product imports, order processing, and 1-3 days delivery.