30 Ecommerce Hacks To Drive More Traffic, Raise Conversions And Boost Sales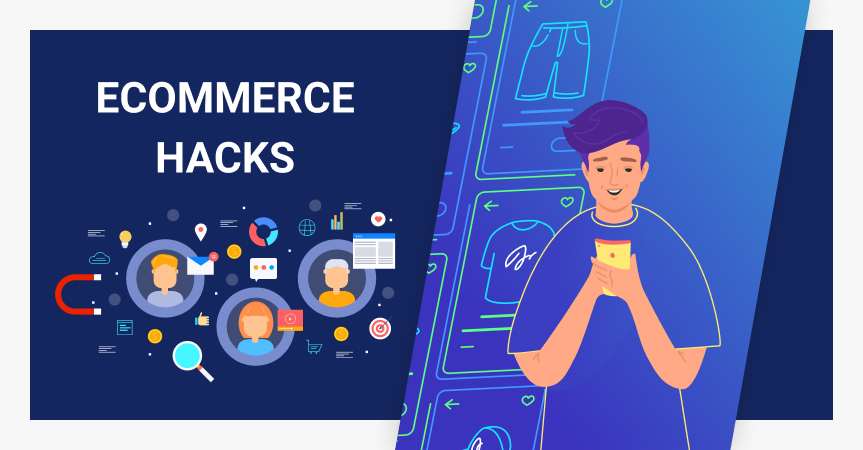 Are you new to online retail? In this case, let me share 30 ecommerce hacks that will help you start and develop your online business in 2023.
Commonly, beginner entrepreneurs lack the experience they need to successfully start and develop their businesses. Of course, as they try out different strategies and approaches, they gradually learn how to deal with typical ecommerce issues.
But often, they make a little bit too many mistakes by this time. That's why in this article, I have gathered 25 ecommerce hacks that will help you drive traffic to your online store, increase your conversion rates and start making actual money with your business.
1. Target long-tail keywords
One of the benefits of search engine optimization is that this traffic is free. Yes, you do have to invest some money into optimization. For example, certain SEO services like Ahrefs or Semrush require paid subscription. But once you have finished optimizing, you don't need to pay for each site visitor that comes from search engines.
Optimizing your site for long-tail keywords offers at least two more important benefits.
First, such keywords are usually less competitive than short ones. "T-shirt online" will have higher search volume than "T-shirts with a funny cat print".
Second, long-tail keywords are much more specific. People using them know exactly what they want and have stronger intentions. If I search for "metal guitar picks online", it's most likely I already want to buy this product. As a result, traffic that comes from such keywords converts considerably better.
2. Optimize for mobile
Mobile accounts for 65% of all ecommerce traffic and 53% of online sales. It means that about half of your customers use smartphones and tablets to browse your wares. If you don't make this user experience pleasant, you're going to lose customers.
The good news is all AliDropship themes are both desktop- and mobile-friendly!
3. Drive traffic that actually converts
Driving more traffic to an ecommerce site doesn't necessarily result in higher conversions. There are plenty of ways to make people visit your site. But what's the quality of this traffic?
If a part of your audience gladly follows links but never purchases anything, you should probably switch to another audience segment or traffic source. It doesn't mean you shouldn't try to increase the conversion rate of a given traffic source. But don't get obsessed with it if nothing works.
Remember, 80% of results come from 20% of efforts.
4. Use retargeting ads
Many ecommerce hacks teach you how to drive potential buyers to your online store. But what do you do with the people who did visit the site and then left?
Regular ads are mostly targeted at people who might be interested in particular products. No matter how hard you try, most people who see such ads have no interest in them.
But retargeting ads follow people who visited your ecommerce store and viewed at least a few products from its inventory. After they leave, retargeting ads keep popping up on other sites they visit and advertise the same or similar products.
This can drive former site visitors back to your store.
5. Use email marketing and remarketing
Another way to get back site visitors is to use emails. That's why many ecommerce businesses try their best to get visitors' contact information. Besides, such audiences better convert as they already know about your store and products.
You can send emails reminding them of the products they put in the shopping cart (but never made it to the checkout). Cart abandonment is very common in ecommerce. Coupon and discount offers also stimulate former visitors to come back. Even if a person has bought something, it's a good idea to tell him or her about new goods or upcoming promotions.
You can also use remarketing on Facebook to get back the hotter part of your audience.
6. Speed up your site
Modern customers are impatient. After all, if a particular site doesn't load fast enough, there are plenty of other resources in the search results. Same goes for advertising on social media. Even if a user clicks on your ad, in most cases he or she is not interested enough to wait more than a few seconds.
So, make sure you compress all images on your product pages and check their loading speed. SEO Image Optimizer tool can do just that – and help you out with a number of other SEO-focused tasks.
7. Use customer reviews and UGC for advertising
People don't really trust businesses. I mean, of course, most people don't believe in conspiracy theories. Still, they do understand that no business will ever tell you about real issues related to their goods and services. But real customers don't lie!
Therefore, it's a good idea to use real customer reviews when designing your ads. Additionally, you can use other types of user-generated content (UGC) to show your products making people happy. Photos, videos, posts – anything goes!
8. Stimulate buyers to leave reviews
This is one of the less obvious ecommerce hacks. Using customer testimonials and reviews is smart. But stimulating them to write reviews or send you photos is even smarter!
To do it, ecommerce marketers often launch contests on social media or offer coupons for the next purchase in exchange.
9. Show real discounts
Speaking of discounts. Cutting prices is an old but effective method for increasing conversions. But discounts will work even better if you show the price customers would have paid without it. This simple move makes the value of your offer much more obvious.
10. Use split testing
The problem with ecommerce hacks is that most of them are rather abstract. It's really difficult to provide detailed instructions on what to do with each step of your promotion strategy. Many things depend on your niche and products, where you advertise and so on.
That's why entrepreneurs should be ready to solve such issues on their own – by using A/B tests.
Also known as split testing, this method drives equal portions of traffic to two or more product pages, posts or ads. In time, you will be able to tell which one works better.
For this purpose, use AliDropship's Split Test add-on. It lets you compare different versions of product pages and provides detailed reports on their performance.
11. Use seasonal offers
Even if your niche has nothing to do with traditional holidays such as Halloween or Christmas, you should still create special holiday offers.
Customers expect sales and discounts during such seasons, especially during Black Friday and Cyber Monday. All you have to do is to prepare an advertising campaign and decorate your site properly.
12. Deliver more than you promise
Making promises is easier than keeping them. But that's one of your tools to interest potential buyers. Overpromising can be dangerous: if you fail to carry out these obligations, your reputation will suffer a lot.
Try underpromising instead! And delivering a bit more than customers expected.
Today businesses can surprise site visitors with free shipping, discounts on larger orders, small gifts they put in packages, etc. Such care tokens can turn random buyers into loyal customers and brand advocates.
To create various offers in your store, try using AliDropship's add-ons – Gift Box, Bulk Discounts and Product Bundle.
13. Create better product descriptions
When making a purchasing decision, people want to know absolutely everything about your goods. Their size, weight, the materials they were made of, whether an adapter or batteries will be required, etc. – details matter!
Take a look at your descriptions and try asking questions as if you were a customer. Moreover, show your customers how a product works!
14. Use videos and GIFs in product descriptions
Describing a product's functions takes too long. Besides, reading it will not always be enough to make people believe you. But showing is another story!
Short videos or GIFs demonstrating how a product solves a problem can do wonders. That's why our team mostly uses videos for advertising as well.
15. Use SEO titles that describe solutions
The same approach can be used when you write SEO titles for product pages. If a title simply describes "features", it can hardly draw attention. But a name that tells readers what problem they can solve with this product is an eye-catching one. "Car seat leather repair paste" – everything's clear!
16. Improve your category pages
In addition to the previous ecommerce hacks, you may also want to pay more attention to your category pages. Often customers want to learn more about the products you sell before making a decision. They need guidance, tips and recommendations.
That's why it's a good idea to answer all their questions on category pages.
17. Use Facebook lookalike audiences
Understanding what kind of people buy your goods isn't always easy. Some audience segments simply don't buy anything. That's why marketers use Facebook lookalikes letting the algorithm analyze your best buyers and find similar users.
18. Use trust badges
Showing trust badges is very important to convince potential customers that your business can be trusted. Unlike traditional shopping, buyers can't get their goods right after giving you the money. That's why all ecommerce stores have various security logos.
19. Provide as may payment options as you can
Imagine a customer wants to buy a product from your store. He can only pay with a PayPal account. But you accept only bank cards. As a result, you lose a customer simply because of a technical problem.
The more payment options your business provides, the more clients it can service.
20. Use exit-intent pop-ups
When a site visitor moves the cursor to close your site, is there anything you can do? In fact, there is!
When it happens, exit-intent pop-ups appear on the screen to offer the visitor who's about to leave a discount or another special offer that can change his or her mind.
21. Create a sense of urgency
It's good to know there's a store selling a product you're interested in. It's also good to know the seller offers a discount for this item. But what if the discount is temporary or there's only a few items left in stock?
A sense of urgency stimulates visitors to make decisions faster as people don't want to miss rare opportunities.
22. Cross-sells
Imagine a customer saw your ad on Facebook and came to your website to buy this item. That's a success, but you can actually do better! Although the buyer wants to purchase only one particular item, it doesn't mean you can't sell more to him or her.
Cross-selling is when you sell complementary goods along with the one your customer wanted to buy initially. By offering goods related to the initial purchase, one can increase the customer's order value.
Use AliDropship's Upsell and Purchase Upsell add-ons to sell more products to site visitors.
23. Notify site visitors of recent sales
You have probably noticed that many ecommerce hacks utilize customers' fear of missing out (FOMO). This is one more method that makes site visitors worry about getting here too late.
The idea is to make a pop-up that appears soon after a person comes to your store and tells that another visitor has made a purchase.
Use Recent Sales Pop-Up add-on to create such notifications.
24. Make checkout faster
Sometimes buyers add a product to the shopping cart, go to the checkout, but then stop. One of the possible reasons why they do it is because your checkout process takes too long, or you make customers fill in too many unnecessary fields, or there's something distracting them like an ad.
When customers get to the checkout, this is your final straight, the last lap in the race. Make sure it's as short as possible and there are no turn offs.
25. Don't make visitors register
You probably already know that, but I'll say it anyway, just in case. Most people don't like it when websites don't let them do something unless they register. It takes time, you have to come up with another login and password, and maybe you'll never visit this site again.
A lot of potential customers with the intention to buy something will simply leave. Today most businesses allow people to checkout without registering.
26. Encourage buyers to share with an offer
Some social media users are less active than others, so they might not be as motivated to post about their shopping experience without some sort of reward. What you can do to try to encourage them to share is to offer a special discount to customers who share a pre-written social media post about their order.
27. Write guest blog posts
If you have a business blog that is focused on reaching customers, you can write guest posts on other blogs to reach new customers.
Comply a list of potential blogs that are in the same niche or somehow connected with your products. Then, reach out to the blog managers and offer them guest posting.
28. A personalized homepage
Today's online shoppers have become especially tech savvy and expect their shopping experience to be improved. They are well aware of what technology is capable of, thus they want more than simply an online store. What they want is sellers to curate a shopping that's individualized to their needs.
A great way to do it is by personalizing your online store's homepage.
For instance, you can set up the homepage to showcase a product that the customer has previously viewed. Therefore, by showing buyers exactly what they're interested in, your homepage will drive customers to make purchases.
29. Birthday messages
Speaking of a personalized experience, what could be more personal than a happy birthday wish? Happy Birthday messages are a standard practice in the ecommerce world. Take the next step and display a social media ad to each customer for their birthday.
30. Send thank you cards
You are going to hold a special place in any buyer's heart if you take the time to create a more astounding shopping experience for them. It can be anything from a free gift to a generous refund or a simple thank you card.
In a world full of automated, robotic support, this small gesture stands out to buyers as personal, thoughtful customer service. Feeling appreciated by you, buyers are convinced to purchase again in the future and tell others about your business.
Read other articles on our blog to find even more ecommerce hacks and tips. Additionally, on AliDropship, you will find lots of tools for your dropshipping business including AliDropship add-ons. If you're new to dropshipping, you can easily launch a new business by purchasing an exact copy of our Premium Stores one of which makes over $2 million a year!