30 Best Google Ads Examples (And What We Can Learn From Them)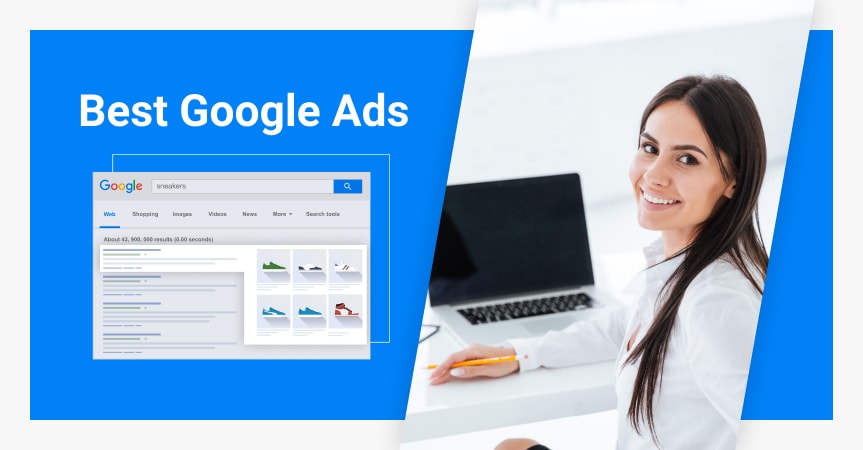 To write this article, we didn't simply collect some of the best Google Ads examples that attracted our attention. We also explained why, in our personal opinion, these ads can work well – and what you can do to apply the same principles to your own ad campaigns, too. Let's go!
Why research the best Google Ads examples?
What, indeed, makes Google Ads such a desirable and efficient way to promote your business offers? And what might be the reason for you to pay attention to the most interesting ads examples?
The answer here is quite obvious.
Launching a Google Ads campaign, you target and reach a very promising segment of potential buyers.
The thing is, you appeal to the people who are already interested in this particular type of product. They already know what it does and how it works, they understand its value, and are just looking for some more product information – or for the best place to buy it.
And here's where you get them. 🙂
What do the best Google Ads examples have in common?
So, are there some specific features that make an ad truly irresistible? Can you do something to spark the viewers' interest and motivate them to click on your ad? Of course! Here are two key ad campaign elements for you to consider.
SEO-friendly content
Well, that's a must-have for Google ads. 😉 For example, you wouldn't want to show ads for school backpacks to the people looking for hiking bags, right? Your goal is to match the content of your ad to the user's search query. This is the key to making your ad relevant and click worthy.
Here are some tips to help you out! How To Find The Best Keywords For SEO: An Action Plan
Informational or practical value
You can't just stuff your ad campaign text with keywords and hope it will work out fine, right? To make the ad viewer genuinely interested in your ad and involved in the shopping process, you need to think about its text carefully. Your goal is to come up with a powerful ad that conveys some meaningful message – we will show a couple of examples below!
Don't know how to create such texts? Find your inspiration in our practical tips on writing product descriptions that sell!
And now, to illustrate these points, let's go straight to the ads!
The secrets behind best Google Ads examples
Okay, so what are the tips kindly brought to you by digital marketers from around the globe? For your convenience, we've divided them into 7 broad categories.
#1 Show financial benefits
Lower cost of products is one of the main reasons why people shop online. This is why it's so important to highlight appealing deals in your Google ads!
Usually, advertisers simply show the percentage of savings:
Click on the arrow to view all slider images!
Sometimes, they can even disclose coupon codes:
It's a great way to attract the attention of savvy internet users who are looking for a good deal, and hopefully, convert them into buyers.
#2 Reduce their potential anxiety
To some extent, when buying something online, customers put themselves at risk. They can't always be sure in the store credibility or the products quality – especially if it's their first time buying here.
This is why it's reasonable to point out that the purchasing terms in your store are client-oriented:
It can also be a good idea to mention the products' high manufacturing standards and the suppliers' reliability in your Google ads texts:
#3 Illustrate the actual benefits for the buyer
Why do people buy products or order services? That's right: they need to solve their own personal issues. So, try focusing on the products' value for potential buyers, and explain what exactly they'll get after purchasing!
#4 Show a wide range of product options
Another common reason for people to shop online instead of going to brick-and-mortar stores is the almost unlimited products availability. You, as an advertiser, should definitely underline this advantage of your online business in your Google ads!
Usually, for this purpose, marketers simply list the product types and categories they offer. As you can guess, it's a wise move in terms of both SEO and users' attraction.
In addition to that, it's also possible to talk about an impressive amount of products offered in your store – and even give their exact number.
#5 Appeal to the audience's interests
What do you know about a person (or a company) that is most likely to place an order in your store? Who are these people and what do they expect from your products?
Take a look at the Google ads examples below. Quite likely, these businesses are working on a B2B market. They include industry-specific information in their texts, letting their future partners know it will be a safe cooperation.
Of course, mentioning such terms and product features, advertisers also make these Google ads texts more SEO-friendly, and therefore, more likely to be shown to an already interested audience segment.
#6 Trigger emotions
Impulse purchasing has an exceptional importance for any dropshipping store owner. As a result, an entrepreneur's goal is to make potential buyers emotionally invested into the purchase. To achieve this, marketers consider the specific features of the product they're selling and the audience they're targeting, and make the most of these findings.
For example, these luxury products' sellers created exquisite Google ads texts reflecting their offers' delicate, rare nature.
The following messages, in turn, appeal to the buyers' consciousness and social responsibility. These texts reinforce the viewers' idea that they're helping make the world a better place by supporting this company.
And the next group of Google ads consists of texts aimed on creating the sense of urgency. Motivating the viewers to take action right now before it's too late, they encourage users to proceed with their purchases.
#7 Keep to the point
Last but not least, it's absolutely essential not to get carried away with your ad texts.
Take a look at the brands below: they managed to advertise their offers in a single line of text without missing out any important details!
7 most powerful words in advertising
The way of writing an advertising text also matters. The point is that you need to create an appealing ad text example that is grammatically correct and enumerate all the benefits a product ensures.
However, don't forget that there are specific tools that can increase the level of interest in your ad text dramatically. So here is the list of the most popular words in successful ads marketing specialists worldwide use and benefit from.
Although there're lots of catching words that can help you win a customer, 'you' remains the most powerful word in advertising. This very word lets you establish the closest contact between you and your customer, a product and your customer.
When a potential customer looks at some brand-new item, he or she has never seen before, this is highly likely to catch their attention. After that, it's your product that needs to convice customers that they need it.
Nowadays, it's too easy for manufacturers to get access to a wide range of materials for their future product. Unfortunately, some of them use cheap and harmful ones. This is the reason why end users are always concerned if a product is safe. And if it is, it remains for you only to tell them about that.
The logic is similar to the word 'new'. Give your potential customers the feel they are able to make their lives easy as never before with your 'revolutionary' products, and they won't leave your store empty-handed!
Customers always look for guarantees. Obviously, there're cases when a seller is not able to guarantee long lifetime, but there're lots of other points they can use in their Google ad examples referring to 'guaranteed'.
Here's the same story. Customers need proofs that this is a worthwhile product. Provide your store visitors with them in the early stages to win their trust.
People are fond of freebie. That's why a short word 'free' will certainly catch their attention in any case.
These were the best Google Ads examples we handpicked for you exclusively! So, what are the key takeaways? Pay attention to SEO, keep your main Google ad idea short and clear, don't be afraid to use several different 'triggers' for one and the same Google ad text, and don't ignore Google Ads when creating the promotional strategy for your dropshipping business!