How To Write Product Descriptions That Sell: Go From Boring to Great In 5 Steps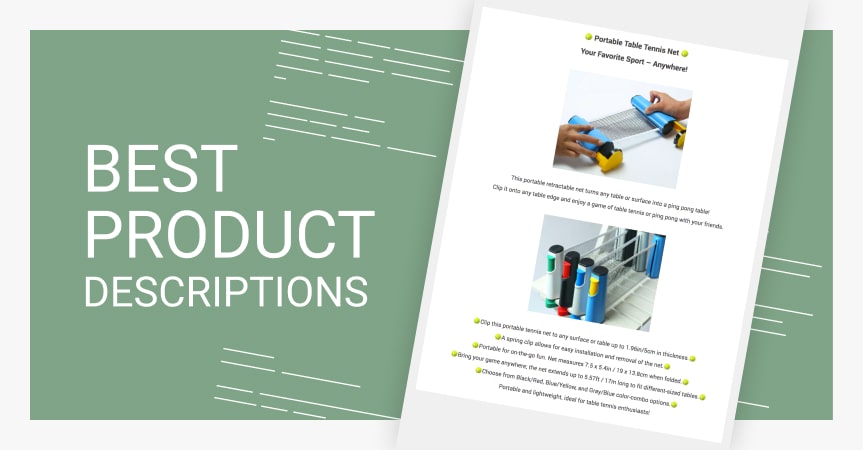 Ah, the good 'ol product description. Probably one of the most important components of a product page, a product description is what helps sell an item to a customer. By physically describing the item, a potential buyer will be able to see the measurements, specifications, and benefits an item can bring to him or her. The thing, though, that's crucial to dropshipping is that many default product descriptions imported from seller pages are not attractive. Grammar can be a mess, product details can be unclear, and there might not be any personality to the copy. So, today, let's take a look at how to write better product descriptions — and make an ordinary (or bad) product description into a great, enticing one!
How to write product descriptions: a step-by-step walkthrough
First things first, what is a product description and what is it used for?
A product description is a marketing text that explains what a product is and why it is worth purchasing. The purpose of a product description is to supply customers with key information about the features and benefits of the product so they're compelled to buy it.
Having creative product descriptions your product pages become much more compelling.
Let's take a recent viral product for example:
You've probably seen this octopus doll go viral on TikTok or Instagram. It's a dual-sided plush toy that displays the angry and happy faces of an octopus. It's been used as a joke for couples to non-verbally signal their mood to each other.
On AliExpress, we find a page selling this item:
Take a look at its title: it's very long! We need something concise yet descriptive of what the item is.
As we view the product description, we notice it just has bullet points.
This is fine, but is there a way to write better product descriptions? This one looks kinda wordy, doesn't it? Let's see what we can do!
#1 Clear things up
Since the majority of existing descriptions and titles for items on marketplaces like AliExpress are long and unclear, as a business owner, you first have to find a way to clear up the writing so that information is easy to understand.
The octopus plush's product title, for example, can be changed to reflect something much easier to digest: let's say, Reversible Octopus Plush.
Compare that to the original "18 Colors Plush Toys Double-sided Flip Octopus Doll Soft Reversible Stuffed Animals Toys Creative Christmas Gift Home Decoration." Much less of a mouthful, right?
Cutting down on the copy also helps us with our next point.
#2 Remember SEO
Optimizing your product page is very important so that Google's algorithm can detect your page in search results. This helps drive traffic to your website and boost overall visibility.
Do searches on Google Trends and also do product research on Amazon, eBay, or Google Shopping to find what terms people are using for an item. This will help find a keyword to focus on for your product and its page — SEMRush is also a great, free resource for generating keyword ideas.
For our octopus plush, Google Trends shows a growing search trend for the toy.
A Google search shows one of the first results being "reversible octopus plushie."
Amazon also shows "reversible octopus plushie/stuffed animal" as being a popular term.
Hence, in our previous point, we renamed the original long title of the plush to "Reversible Octopus Plush."
With SEO though, remember to use your chosen keyword/term at least 3 – 4 times throughout the page. You should have the term in the product title, and a couple times throughout the product description. Also make sure to have the term in the meta-tag information for your page.
#3 Go for benefits vs. features
One of our first suggestions for how to write product descriptions in a better way is to go for benefits as opposed to features with product descriptions. This isn't to say mentioning an item's features isn't important (it is!). Still, when you showcase to a potential customer how an item can make his/her life better or easier, there will be a much greater appeal.
Start with the headline
So for example, with this octopus, even from the header of the description alone, we could instead of a physical descriptor, have a little fun with the headline:
Just not feelin' it today? Say no more (this reversible octopus plush will do all the talking for you).
See how that can immediately grab someone's attention? Instead of speaking to the colors of the plush or the occasions it can be a fitting gift for, this new title immediately plays into the possible emotions of a buyer.
Compare that header to the original:
31 Colors Plush Toys Double-sided Flip Octopus Doll Soft Reversible Stuffed Animals Toys Creative Christmas Gift Home Decoration
See how different that is? It's also easier to read with proper grammar.
Repeat with the description!
For the actual description, we'd change the copy to something like this (assuming the target audience is young women):
When you're just not in the mood to talk, there's no reason to give the hand to your boyfriend or friend. Just flip the smile on our Reversible Octopus Plush to let someone know you're not in a good mood. Popular from its viral TikTok, this octopus plushie features a smiley face and frown to express two polar-opposite emotions. It's the perfect gift, ladies, when you need something to hug yet something useful to help convey those oh-so-frustrating days. Like, just don't say a word to me, you know? And when you're in a better mood, flip the frown over to a smile to let everyone know everything is a-okay.
Let this Reversible Octopus Plush express your emotions for you, from good hair days to bad period days. Choose from eight colors from super-cool blue to shine-bright yellow.
All plushies are made of durable, plush PP cotton and are washable.
Measures 10cm high and 19-20cm wide.
The copy is cut down a lot while conveying mostly to benefits of the target audience. But the physical features are also mentioned, for a complete product description that is also mindful of SEO.
#4 Put yourself in the customer's shoes
And going in line with our tip above, it also helps to view your product from the eyes of your target customer. Try seeing how your item could benefit them, because not all items' benefits are the same for every person.
For example, go with our octopus plush. It's gone viral because girls use it as a way to signal to their boyfriends that they're in a bad mood. But how would the toy, for instance, sell to a mother who is buying for a baby or kid? Assume the toy is on an online store with kids' and babies' items.
One benefit we can think of right away is that young kids use faces to learn emotions and expressions. So the reversibility of the octopus plush can help a baby distinguish happy from sad or angry. Therefore, if you're targeting moms of young children, you can angle your product copy towards this.
And hey, it's possible that your website is geared towards a demographic you're not entirely familiar with. But it'll help you familiarize yourself with that audience by doing research. You can look into Facebook groups, Instagram accounts, online forums, and more to understand what that audience's needs and wants are.
Once you understand your audience, you'll be able to write better product descriptions that are benefit-driven copy to entice your target customer.
#5 Be personable
Not all descriptions have to be dry and boring. Depending on your brand voice, you can add varying personalities into your copy. Sure, not every website is going to be super cheery and upbeat with its copy (and you don't have to go this route), but being more personable is a great trick if you want to write better product descriptions.
Approach your copy as if you are speaking to a friend. There are many tips on how to do this, but putting your writer's mindset into one of a casual, relatable salesperson is a very popular marketing strategy to help draw in shoppers.
Avoid "yeah yeah" phrases avoiding
When it seems like there's nothing left to add to the product description, it is a common mistake to add something band like "excellent product quality". That in itself is a "yeah, yeah" phrase. As soon as a customer sees something like that, he initially thinks to himself "Yeah, yeah, of course. That's what everyone says."
As a result, you become less convincing, so to avoid this be as specific in your writing as you can. There can never be too many details, instead, it adds credibility and helps sells the product.
Sensory words help increase more sales because they engage more thought processing power.
Often they don't add meaning to your sentences, and you're better off deleting them. However, sensory words are powerful because they make your reader fully imagine and experience the text while reading.
There are certain words and phrases that naturally elicit an emotional response in humans. Fortunately, for many shop owners out there this also increases sales.
By being mindful of these words and phrases, you can more easily convince your customers to take the leap and make the purchase.
There are hundreds of these words that can help you boost your sales and find new customers.
Are you still having writer's block despite all our tips? There's a solution for anyone – Sellvia is the ecommerce ecosystem with all the tools an entrepreneur might need to build a successful business, including high-quality trending products with top-notch product descriptions written to attract customers and drive sales. You are free to add as many products as you want and multiply your income.
So now, you don't have to waste your time thinking about what and how to write. All that you have to do is import the product into your store with the description and you're good to go. And on top of that, you get many additional features that will help you build a successful business you won't find anywhere else.
SUMMARY: Write a fun, alluring product description by leaning into benefits and your customer's persona. Make sure to be on top of grammar and to ensure everything is SEO-friendly. If you want to write better product descriptions, put our steps into action and you'll be on your way to fantastic, customer-converting product pages!