Automating Social Media Marketing: Social Rabbit And Its Functions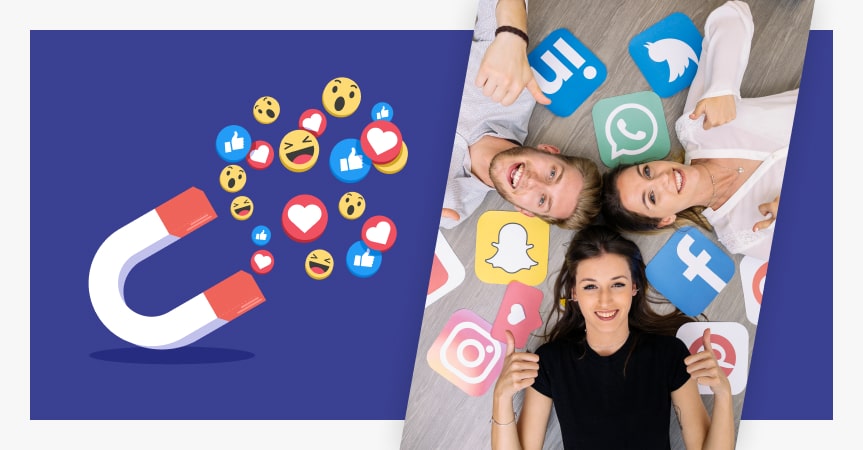 Social media marketing is an essential part of any ecommerce promotion strategy. However, the more channels you have to manage, the more time and effort it takes, so automating social media becomes a must.
Why do you need to automate your social media?
A lot of businesses (especially small ones) promote products and services through social networks, and dropshipping is no exception. Sharing content, running giveaways and polls is a great way to spark interest in your brand or earn customers' trust.
While creating posts manually may sound good, it'll quickly turn into a tiresome and monotonous task, especially if you've got several accounts to manage. That's why SMM specialists use all kinds of automation tools.
Social media automation tools allow you to manage multiple accounts, plan posting in advance, auto-post content on a desired date and even automatically subscribe, unsubscribe, like and comment other users.
Such a tool can become a huge time saver for entrepreneurs who have lots of other matters to attend to.
What is Social Rabbit?
Social Rabbit is a plugin for WordPress-based online stores that can automate your SMM activities on four most popular social networks – Facebook, Instagram, Pinterest and Twitter. It can also like, comment and follow other accounts on autopilot.
If you'd like to see Social Rabbit in action, check out its FREE 7-day trial!
Let's see how you can automate your social media management with Social Rabbit.
Basic Social Rabbit functions
Poster
The Poster function allows you to post products from the database of your online store to the corresponding social media channel. Here you can specify the following:
How often the plugin will publish a product
In what order the products should be published ('Sort by')
Whether Social Rabbit should post products added to the inventory since a specific date
What categories of products the plugin should ignore
You can also customize the default Template field by changing the text, adding and removing tags, adding emojis and editing hashtags. Note that the number of characters available in this field is different for each social network, so trying to copy the same template to each of them may not work.
Instagram and Twitter posters have additional options to better customize your posts for the given social networks.
Gallery
It's another great tool for automating social media marketing that allows the plugin to publish non-product posts by using uploaded pictures, videos and gifs along with simple captions.
To start posting, you're going to need to upload pictures, videos and gifs to the gallery. You can do that by clicking on Media Settings under the template box.
There you will see all the files already uploaded to the site and arranged into albums. Click on Add Media, then Upload Files to add a new one or choose one of previously uploaded files.
Should you choose the Add Automatically option, the plugin will search and import files from Pixabay in accordance with the tag of your choice. These files will then automatically go to the albums created by Social Rabbit according to their tags.
Here you can also manage your media files:
Delete files
Create individual templates for each file
Edit them
Schedule for publishing
After uploading all the files, you go back to auto-posting settings. Choose how often the plugin should publish the media files and in what order. Then edit the template and save it. Social Rabbit will start automatically posting them.
Blog
If you keep a blog on your online store, it's a good idea to publish these posts in social media from time to time. To do that, use the corresponding function of Social Rabbit.
Simply set the publication frequency, the order of posts to be published, customize the template and exclude whatever categories you want (if any). Social Rabbit will start reposting the articles from your blog.
Planner
Planner is a post scheduler for automating social media publications. It's especially useful if there's something specific you want to post.
Click on a date and choose any post type you want and what social media platforms to use. After that, you can edit each pre-scheduled post by changing its template and posting time. Also, read this article to learn how to plan a social media content calendar.
Tips on automating social media marketing
Don't use automation as a replacement for customer support
There is no doubt that automation tools can really help you avoid monotonous manual work. Interaction with customers, however, is not a repetitive and predictable task that can be done on autopilot! On the contrary, this is the opportunity for you to provide a more personal experience. Most definitely, you shouldn't overlook it: after all, social media is all about engagement.
If you want to streamline your customer service procedures, there's a great thing you can do to speed up this process without compromising the service quality. Prepare standard templates to answer common questions and issues and quickly customize them if necessary.
Don't schedule too far in advance
Of course, automating social media marketing allows you to put it aside and focus on other business tasks. But putting aside doesn't mean forgetting about it.
When planning too far ahead, you risk publishing irrelevant content (if the situation changes quickly) or do it at an inappropriate time.
Scheduling for more than one or two weeks may be dangerous. And even if you stick to this schedule, don't hesitate to change it if you suddenly come up with a good idea.
Customize posts for each social network
Social media platforms differ in many aspects. Besides, people who check all their social media accounts won't appreciate seeing exactly the same post on all of them.
Therefore, customize everything. Crop images to fit the required dimensions; shorten or lengthen the text and change the headline. You may even want to adapt your message to the platform's style as some are more formal than others.
Don't spam
The more doesn't mean the better. Posting too often can be as harmful as posting too seldom. You can experiment to find the golden mean or stick to what digital marketers recommend:
– Twitter: 2-3 times a day
– Instagram: 1 post per day
– Pinterest: 4-7 times a day
– Facebook: 1-2 times a day
Use hashtags
Using hashtags is a must if you want more people to see your posts as relevant:
– Facebook: up to 2 hashtags
– Twitter: 2-3 hashtags
– Pinterest: 15-20 hashtags
– Instagram: up to 30 hashtags
Post at the right time
Automating social media management is great, but not knowing when to post can ruin the whole strategy. Remember that the best time for publishing depends entirely on your target audience and mostly their place of living.
Check the analytic tools implemented in social media to understand when the users' activity is the highest and then experiment with your posting time if you wish.
Automating social media promotion with the Social Rabbit plugin allows you to simplify this task greatly and focus on other aspects of your business while staying active and engaging on Facebook, Instagram, Pinterest, and Twitter.