Run SEO Image Optimization With A Brand New Tool For Ecommerce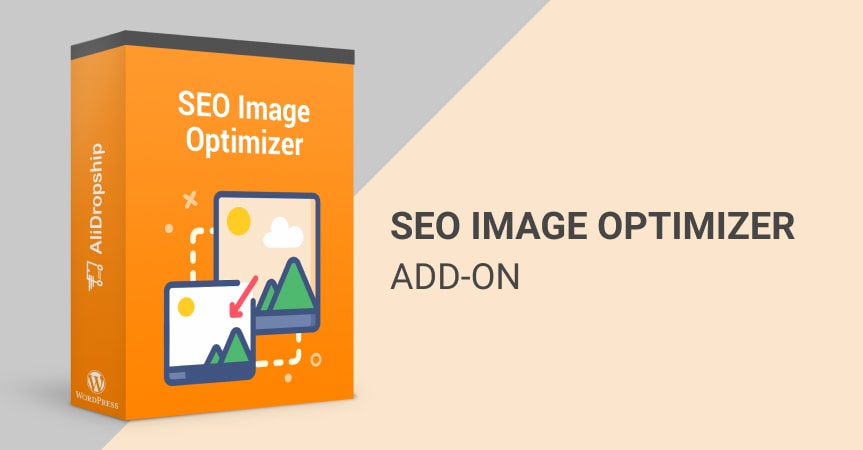 Do you want to make your store work faster? Are you tired of customizing images on your website? Do you want to save time required for performing boring tasks? Say no more! Leave it up to our new solution and start SEO image optimization with the new SEO Image Optimizer from AliDropship!
SEO Image Optimizer is a new IT solution that is designed to improve the performance of your website, increase page loading speed, perform image optimization for SEO, and automate some aspects of your ecommerce business. Does it sound attractive? Then, stay tuned!
What's the deal with SEO Image Optimization?
Whatever kind of an ecommerce venture you have, it means that you constantly face the challenge of importing lots of pictures into your website. So, you're dealing with basic Google images, or stock photos, or both – it's up to you.
But do you know that a huge number of high quality images will definitely slow down your website operation?
In practice, non-optimized images easily decrease the page loading speed to the point when most part of your potential clients will just leave your store without waiting for the page to be loaded.
By the way, sometimes you may see a situation when a page is already loaded, but the pictures are not. This also results in negative user experience when visitors just give up on making purchases in your store.
Furthermore, if you're running an online business you should know that SEO image optimization is also essential for your store.
If you want your website pages to have high ranks in search engines, you need to write alt texts for all of the pictures uploaded to your website.
In fact, that would be ok but this action can take too much time if there more than 10 images. Actually, you can spend countless hours on this, while it would be better to perform the tasks which really require human participation. Moreover, you are supposed to write alt text in a proper way. Otherwise they won't help your pages to get a high rank from Google.
What is more, nowadays competitors often steal each other's business ideas. It also refers to the visuals.
And if you don't want to make them an easy prey, you should look for ways to protect them from being stolen by your rivals with watermark.
SEO Image Optimizer: why is it so cool?
Now it gets clear that there are some important aspects which can significantly slow down your business and stop you from taking the most of it. That's why, it's high time to look for the way out. Meet our SEO Image Optimizer plugin for WordPress!
Now let's talk in detail what this add-on is going to do for you.
What is image optimization? In fact, our product includes 4 tools to improve your website speed and SEO ranking.
Size minimizer
Alt Optimizer
Title Renamer
Image Watermaker
So, let's get this straight.
As we already know that it's essential to optimize images because non-optimized images significantly decrease page loading speed, it's high time to use our Minimizer! How does it work? In fact, it's a simple matter. It compresses images in your online store by 40-70%. And it does this according to unique compression algorithms which are not about lossy compression. When the tool detects large images, it performs image resize whereby quality levels stay high! As a result, your website works much faster, which in turn allows you not to lose not a single customer when they load your product pages.
What is more, Minimizer has an option of an automatic minimizing new images. That's why it's not necessary to manually optimize each and every image uploaded to your website.
By the way, we don't recommend you use Minimizer if the images on your website are already compressed.
If you want to drive more traffic to your online store, your images must have Alt tags, also known as alternative texts.
Alt tag is a phrase you write in the uploaded image settings to describe this picture and explain what it's shown there.
You may create individual alt texts for each of your products, or use our Alt Optimizer! This tool is going to add already optimized Alt tags to your images. You just need to choose one of the pre-made templates.
So, our Alt Optimizer lets you run the process of Alt text creation on autopilot, meanwhile allowing you to write custom tags if necessary.
Apart from Alt texts, image files have titles. And since your images can become an exceptional source of organic traffic, it's essential for you to write correct titles for them. In fact, Title Renamer works the same way as Alt Optimizer. You are only to choose the template for the title, and Title Renamer will do the rest for you.
What is more, this tool also has an option of manual title writing, as appropriate.
If you want to protect your images from being stolen, our Watermaker is exactly what you need! This tool lets you put a watermark on your images. Actually, you can choose how your watermark will look like – it can be either an image or a text fragment.
In addition, placing a watermark can help when building a strong brand. As a result, when posting such pictures in different social networks, you may reckon on extra promotion.
Furthermore, you have an opportunity to put the watermark wherever you want on the picture or in the text.
What is more, there is an option 'Automatically add watermark to new images'. So, this process can become even more convenient in the future.
How will your website benefit from this image optimization tool?
It's obvious that all of these tools are great, but what how can your business benefit from our SEO Image Optimizer? Let's look at what happens in practice.
Sometimes you may be unaware of the fact that your website is not working in a proper way. You may even lose lots of potential clients and think that your business is at its peak in terms of profit.
That's why we recommend you to go Gtmetrix and check whether your website is well-optimized. This tool lets you compare your website performance before and after you have used our SEO Image Optimizer. The results speak for themselves.
As you can see, all the figures on the website performance have improved significantly. But the main point is that the total page size has been cut down twice. Thanks to that, the fully load time has become twice as lower as well. Sounds really great, doesn't it?
The best thing here is that SEO Image Optimizer from AliDropship lets you perform all these tasks automatically. You no longer need to make each image optimization for SEO manually and spend lots of time on this!
As AliDropship would like to make your business journey as convenient as possible, we'd love to see you enjoying our SEO Image Optimizer tool!
Conclusion
As you can see, our new SEO Image Optimizer is going to become your indispensable tool when optimizing your product pages, blog posts, and other web pages of your ecommerce site. So, grab this add-on and take the most of it if you:
– Don't want most of your potential customers to leave your store because of low page loading speed
– Wish to drive more traffic to your website
– Have a strong desire to protect your product images from being stolen by your competitors
SEO Image Optimizer is included in our new bundle which is called Beginner's Set. Hurry up and improve your store performance!