How We Increase Instagram Posts Engagement With These 6 Tips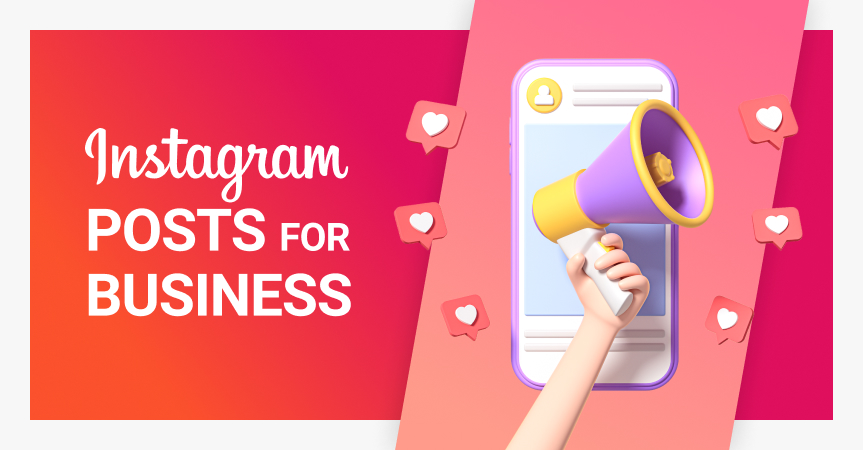 What are the most engaging and purchase-stimulating Instagram posts for business owners? How to increase Instagram posts engagement? Thanks to our first-hand experience of promoting our stores on social media, we have a couple of Instagram marketing tips for business to share with you!
Instagram has millions of active users – and, in comparison to other social media networks, it also has a more engaged audience facing a less intense market competition. It means that businesses have an opportunity to promote their products to a very interested audience and make these ads highly targeted without spending a lot of money on paid advertising like Facebook Ads or Google Shopping. So, it's a good idea to use Instagram for business to boost sales. Whether you want to improve your current Instagram marketing efforts or make your first steps in this social media network, you'll greatly benefit from our tips on creating effective Instagram posts for business.
Tip 1. Create a content plan for the upcoming Instagram posts
First of all, create a content plan for your Instagram account. You can do it with any software: Microsoft Excel/Word, Google Sheets/Docs, Notebook – it doesn't matter! Just choose the tool that you find most convenient.
The content plan should contain a list of topics for every day of Instagram posting. It will help you to save time in the future and plan posts in advance. You can create a weekly or monthly content plan – it's up to you!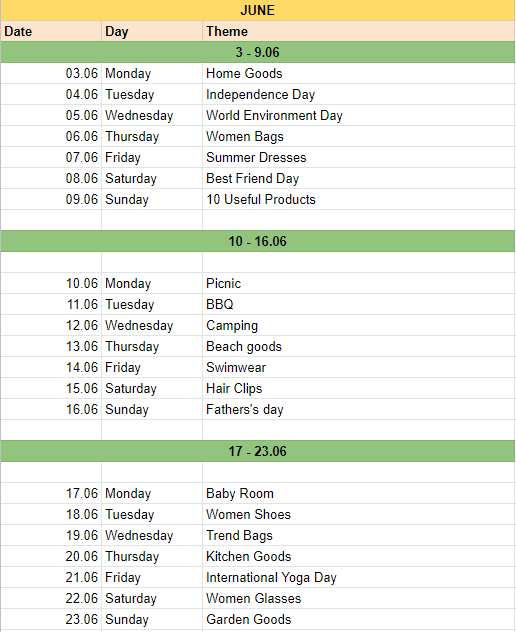 Also, it's important to think about your Instagram posts quantity. If you've just created your store and have a few followers, don't worry – make 6-7 posts in a day to attract more people. When your Instagram account gains popularity, make just 2-3 posts in a day.
Tip 2. Analyze your Instagram audience engagement
One of the most important things in using Instagram for business is understanding your target audience. You should research it to make the Instagram content you create as effective as possible.
For example, it is crucial to let followers see your content at the right time. Usually, Instagram posts have higher engagements at lunchtime when people have a minute to check their feed. But it's not enough for your business Instagram account. Your goal is to have more followers who will love your content and thank you for it with their orders. 🙂
So, it is a good idea to compare your potential audience's time zone with yours and analyze the most popular time for posting. For example, you can check it at SproutSocial.com or at other websites.
Tip 3. Pick the best time of publishing these Instagram posts for business recognition and wider coverage
After your research, you can see that your working time differs from the audience's most effective Instagram posting time. It's not a problem! There are a lot of planners you can use to create scheduled posts: SocialPilot.co, Buffer.com, Later.com, etc.
If the time is similar to yours or doesn't differ greatly, it's great news: you can create posts by yourself using any device!
Tip 4. Create your own design of Instagram business posts
To create the right impression, you need to think about the visual side of your Instagram account really carefully.
Choose one or two main colors of your store. To make your Instagram account more attractive, try picking the colors from the same color scheme. Then, choose an editor where you can create posts. For example, Photoshop, Figma or Befunky. It may be an online or an offline service – just take the simplest one for you.
Start creating templates that will help you save a lot of time in the future. Make them in one style but don't forget about variety!
Below, we will show you a range of post templates that are made in the same style and are variable enough to keep your subscribers' attention focused on your feed.
For example, this is a template of an Instagram post that is based on infographics. There is a space for text and ample space for an illustration.
Let's take a look at two more examples!
These templates are specifically made for posts that include quotes. As you can see, visually, they are made in a similar style, which is great if you want to give your Instagram account a memorable and unique appearance.
What else can you use?
These two templates are designed to showcase your products and, if necessary, add a bit of text to the images. It's a great idea for occasions like a seasonal sale or a new product arrival as it lets the viewer grab all the details without even looking at the post description.
And here are more templates to learn from!
These two are great if you want to benefit from user-generated content and post your buyers' reviews in your feed. Here, you can either focus on the text or combine it with the purchased product images if you want to.
Of course, these are just samples. It doesn't mean that you must only use these particular images for your Instagram feed. However, they demonstrate how flexible and inventive you can be when it comes to designing your posts – and to using various content types to spice up your feed.
Don't forget about templates for stories! Stories are one of the most effective instruments of your business Instagram page! With their help, you can communicate with your followers and notify them about new product collections, sales, giveaways or other important deals.
So, below, we will show three samples of an Instagram story as well.
As you can see, they are also made in the same style in terms of colors and geometric elements – and they are really similar to the regular feed templates we've previously shown. Surely, they contribute to your brand a lot if they support the visual side of your business this way!
Tip 5. Make the right caption & hashtags
The visual part of your Instagram post is what's getting noticed immediately – but the text part gets some attention, too! That's why you need to treat it carefully as well.
The caption of your Instagram post is the place where you can give a voice to the visual content. Your captions should be simple and short. Also, don't forget to include a call-to-action: it's the best way to engage Instagram users and increase the share potential of your Instagram post.
Here are a couple of samples:
As you can see, the texts put in captions here are short yet powerful: they prompt an emotional response from the viewers and can even motivate them to take action.
Create your own hashtag, for example, your store's name. It will help people find your account and posts easily. Also, use the hashtags that are related to this particular post or to your account in general. This is how you will be able to connect users with the same interests.
Don't overuse hashtags – you probably know how annoying it can be. I mean the posts that have no informational value, but use all the hashtags in the world. 🙂 5-6 hashtags are quite enough.
Tip 6. Connect with your Instagram followers
Сonnection with followers is also very important for any business Instagram account. People appreciate it when you keep in touch with them.
To maintain some contact with your audience, write attractive post captions, ask the subscribers' opinion on the post topic, and react to the comments (answer and like them, if necessary.) Don't forget to check direct messages and try to answer them in time. All of that will make your Instagram page look more credible, trustworthy, and purchase-stimulating.
How to increase engagement of Instagram posts for business growth: summing it up
Now, you know a bit more about running your Instagram page like a pro!
Follow this checklist to become even more efficient in your promotions on this social network:
I wrote down what I'm going to post every day
When you have a ready weekly or monthly content plan at hand, you don't spend hours struggling over a proper post topic for today. Instead, you have more free time to get creative in your efforts and create a tiny masterpiece!
I know what my potential buyers need, want, and like
These are the things you need to know about your potential customers if you want your promotions to be really efficient. And these instruments will help you learn more about the people you're going to sell your products to!
I'm making new posts at the best time possible
If you're targeting your business in a foreign market, it's vital for you to stick to the local time with your news and updates. Luckily, lots of tools can make this process automated for you.
My Instagram posts have a unique design
The entries in both your feed and stories should be catchy and memorable enough to motivate the viewers to come to you again and again. If you feel you can't come up with appealing and engaging post templates, you might consider ordering custom design elements from an expert team.
I keep my captions short and powerful
To write captions that sell, pay special attention to the hashtags you're including in the texts. Also, spend some time viewing other commercial Instagram accounts: maybe some of them will give you a hint or two on creating winning captions!
I keep in touch with my followers
If you answer comments and direct messages promptly and politely, you're building a great business reputation and making it more likely for clients to choose your products over the competitors' offers.
That's it!
This is how you can increase engagement of Instagram posts for business growth and prosperity. So, if you're looking for an efficient (and free!) way to promote your dropshipping business on Instagram and boost your store performance, look no further!