Want To Be Trending On Instagram? Here Are 10 Steps To Follow!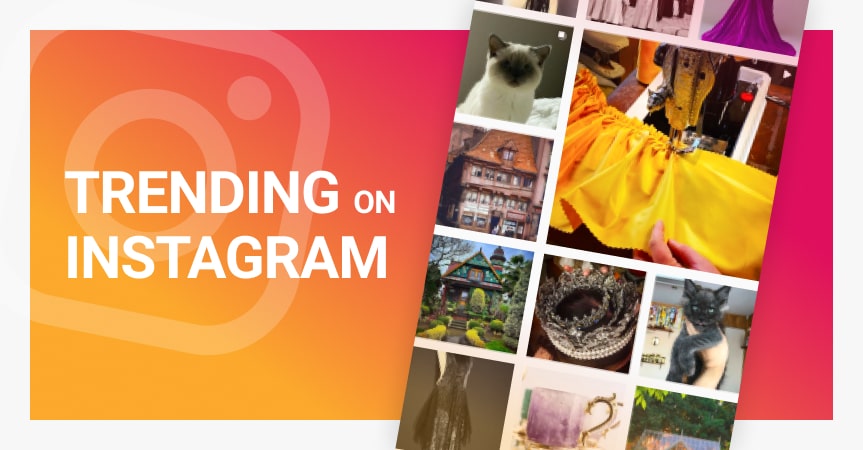 As you might know, Instagram is one of the most effective advertising platforms nowadays. It has quickly increased its user base in the last 4 years to 1.2 billion users thanks to Instagram Stories. Therefore, if you are well-aware about the business tools and strategies working best for this social media channel, you may become a successful entrepreneur and get enormous profits. Checking what's trending on Instagram is one of such strategies, and in this article, we will uncover the secrets of how to do it to grow your ecommerce store.
What does it mean to be trending on Instagram?
For posts (and hashtags), to trend on Instagram means to be shown among the top results of the Explore Page (or a specific Hashtag Page). Why is it important for you as the creator of these specific posts and hashtags? Obviously, it means that your account gets a high level of visibility and your posts are shown even to non-followers.
The Explore Page looks different for each user as the Instagram algorithms show a gallery of posts specifically based on your interests and past user behaviors. The more thematic content a user sees daily, the more posts on the same topic this user will also see on the Explore page. Sounds complicated? Here is an example: if you're someone who enjoys sifting through pets-related content on the platform, your Explore Page will likely display posts related to cats, dogs, and pets products.
Hashtags Trending works a little differently. When someone's post is trending under a certain hashtag, the Instagram algorithm will recognize it and acknowledge this post by adding it to the "Top" content tab of the hashtag page.
Ok, we've dealt with the Explore Page and what does Instagram Trending mean. But how can we make it work for your business?
How to make your content trending on Instagram
#1 Use the right hashtags
What hashtags will be relevant for your posts? To find the right hashtags, you need to have a solid understanding of your business image on Instagram, and the knowledge of the types of hashtags used in your niche. Once you've learned your niche-specific hashtags, you can target your desired audience more effectively. Plus, niche-related hashtags are bound to have less competition than general, broad hashtags. But don't overdo it! Instagram began to show ads with a large number of hashtags less often. That's why 2-5 relevant hashtags will be enough.
You can find trending and relevant hashtags for your posts using the tools like Keywordtool, All-Hashtag and Hashtag Generator Tool.
#2 Create branded hashtags
Since we started our list of tips with a hashtags-focused one, here is another piece of advice regarding them – create your own branded hashtags! The idea is to come up with a brand-specific hashtag and encourage your followers to use it. Your business gets recognition based on the number of people mentioning your branded hashtag.
Branded hashtags not only raise awareness of your business, but also help in building a strong community with lots of loyal followers. These 2 elements are essential if you want to be trending on Instagram.
#3 Create eye-catching content
Of course, neither niche-related nor branded hashtags won't make your account trending on Instagram if your content is poor and non-appealing. What you need is to create unique, high-quality posts which will be attention-grabbing and entertaining for your followers.
Here are a couple of tips to help you create this kind of content:
Learning about the content that big brands make is a great way to learn about the latest events in the world of marketing and of course, Instagram trends. Feel free to borrow ideas, but adapt them to suit your needs. In the future, you will develop your own style and create attention-grabbing content.
Use high-quality pictures only
Remember that visually appealing photos stand out from a lot of content and attract potential customers! Thanks to quality images and videos, your account becomes more interesting for potential buyers. Work with your feed wisely!
As the experience of TikTok has shown, users like short videos. This trend is also being adopted by Instagram. So, tell your subscribers about the product, share store news, or show the backstage – the audience will appreciate it.
And don't forget to post regularity! You need to generate interesting posts for your brand and be remembered by potential buyers. So make a content plan and follow it.
There's no guarantee that your posts will immediately start trending on Instagram, however, quality content improves your chances. Even if you only have one post in your feed that makes it to Instagram trends, it will make a difference in your brand recognition and attracting new followers.
#4 Tag locations and other users
As for locations, it's very easy: people who are looking for something interesting in some specific location are likely to come across your posts. Hence, the visibility of your account gets better.
Another smart way to drive attention to your account is to tag other users. However, you need to be careful with this: you might end up spamming other users with your tags. Ideally, you need to tag the users relevant to your business, or influential shoutout accounts that feature content from other users on a daily basis. The purpose here is to get noticed by these accounts, and as a result, to be featured in their accounts.
That's ok if you don't get featured by the accounts you've tagged: you still can show up in their "Tagged" tab. And from there, their followers can learn about your business.
#5 Learn the best times to post
To use this feature, you need to have a Business Instagram account. Business profiles give a lot of helpful information for you to consider. In this case, we're talking about the "Audience insights". It's a special analytics tool which allows you to get more insights about followers: their locations, age ranges, genders, and what's most important for us – hours and days when your audience is most active. Analyze it and create a schedule to catch your followers at the perfect time.
#6 Make use of the Instagram Explore Page
This will probably be the simplest tip: look through the content trending in your niche and take notes of what themes, designs, formats, and concepts are popular. Take notes, apply them to your content, and become even more popular!
#7 Instagram Reels continue to rise in popularity
Instagram Reels were launched in 2020 and slowly rolled out to all users throughout 2021. This micro-video addition to Instagram was created as a competitor to TikTok, which has exploded in popularity.
Initially starting out as 15-second clips, Reels can now be up to 60-seconds long. Reels generate more engagement than regular videos on Instagram, proving their popularity and why you should be adding this content type into your Instagram strategy.
Many users will simply repurpose TikToks onto this platform, but there are many ways you can take advantage of Reels' popularity.
Ways you can use Instagram Reels
Put together quick how-to guides on using your products or services
Find a trending meme and add your own spin on it
Partner with an influencer to share how they use your products or services
#8 Instagram Stories get even more engaging
Instagram Stories has a number of other features to help engage your viewers.
One of the more recent options is the "Add yours" feature, where you create a prompt and your followers can add their own photo to the prompt by sharing it on their own stories.
Ways to use Instagram Stories
Share behind-the-scenes photos and videos that might not fit in with the content on your Instagram feed
Create stories that you can add to the highlights on your Instagram profile
Use story stickers to engage with your audience, like creating polls or quizzes, linking to fundraisers, asking questions and more
#9 Cross-promote Twitter and Instagram content
If you have any kind of presence on Twitter, you've likely seen link previews in tweets. However, Twitter prevented previews for Instagram links. Thankfully, the platform recently released the ability for Instagram photos to have the same kind of link preview.
Now you can share new Instagram photos with your Twitter followers as a way to increase your following across both platforms.
In addition, you can also share your tweets directly to your Instagram stories. Head to the tweet you want to share, click the share icon then select Instagram Stories from the options.
Ways to take advantage of cross-promotion
Seamlessly hold conversations with your audience on multiple platforms
Share your Instagram photos to Twitter to get more reach and engagement
Post your tweets to your Instagram story when you want to get more insight from followers
#10 Use the Instagram Bio link for your promoted content
As you can guess, people won't be able to buy anything from you unless they see some way to do it. So use this handy feature that allows you to insert a link in the Bio area. You can lead visitors to a specific product, category, or any other page on your site. The link in the Bio can be changed at any time, so change it according to your marketing needs.
Trending on Instagram: summing up
Getting trending on Instagram could be a key to your business success. Using our tips wisely, you can build brand awareness and grow the audience base. As a result, you'll be on your way to get high profits.
Instagram's world may seem challenging and ever-changing, but don't be afraid! It's important to just get started. Start using different tactics, generate content, launch advertising campaigns (we can help!), and don't be afraid to take risks! And you will definitely succeed!