The Most Profitable Niches For Your Dropshipping Store In 2023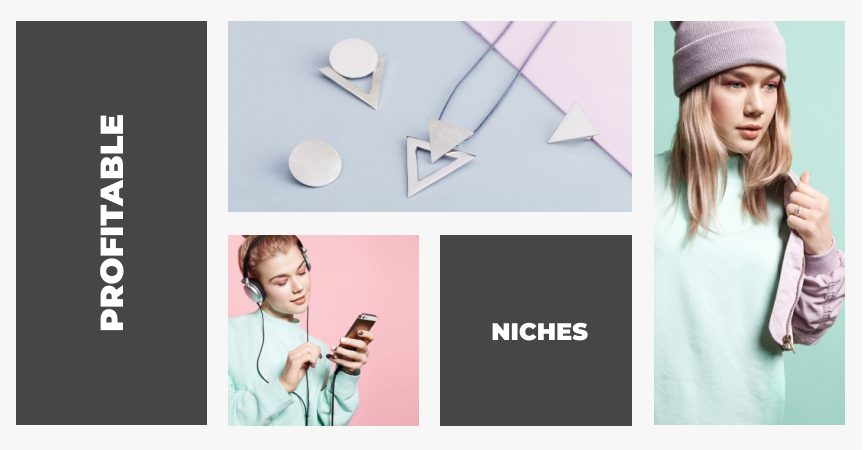 As a dropshipping store owner, you surely want to pick the most profitable niche for your business. We are ready to help you with that!
Take a look at the analytical table below.
To create it, we've performed an in-depth market research to discover winning niche options.
So, here, you can find 100+ ideas on the most profitable dropshipping niches to try!
Click on the '+' buttons to expand the fields and view the research data.
If you're curious to know why we consider these niches to be money-making, please, scroll down to the bottom of the page.
Jewelry
Fashion
Mobile Phone Accessories
Home & Garden
Arts, Crafts & Hobbies
Watches
Baby & Mother Care
Cars and Motorcycles
Home Electronics
Beauty & Health Products
Consumer Electronics
Sports
Styles
Kitchen
Home Improvement & Tools
Computers and Tablets
Toys
Pet Supplies
Wedding & Events
Outdoor Activities
Bar
How we were choosing these profitable niches: the research methodology
Why are we so sure that these niches can actually bring you healthy profits?
We've evaluated them with the help of multiple parameters: here's how we figured them out!
AliExpress product quantity, the niche popularity on AliExpress, trusted supplier, price setting aspects, trends, Instagram promotion, Facebook promotion: please, read this guide to learn how these parameters are evaluated.
Keyword analysis, competition overview, keyword competition, SEO competition with huge retailers: please, go to this article where we explain how these parameters are evaluated.
Trend: we use Google Trends to see how the frequency of this search query was changing worldwide in the last 5 years.
Most popular in: we check the 'Interest by subregion' tab in the Google Trends results (Worldwide, Past 5 years), and write down the top 5 countries from this rating.
Google search volume: we use Keywords Everywhere to check an average monthly search volume of this niche.
Facebook audience: we use Facebook statistics (Facebook Ad Account -> Audience Insights) to add the necessary audience interests (the ones that correspond to this niche). The number we get under in the "New audience" section is the potential Facebook audience that can be targeted with these ads.
Gender interest: we take these details from Facebook audience insights as well.
Related keywords: we take the examples of relevant keywords from Google Keyword Planner. We choose the keywords with the average number of monthly searches from 100 to 10000. These are the keywords that you can use for PPC and SEO to promote a store in this niche.
Peaks of popularity: we analyse the demand dynamics that we get from Google Trends (Worldwide, Past 5 years).
Now, you can see that we really use a super wide range of criteria to help you choose the most profitable dropshipping niches! Rely on this table safely, and feel free to use any of these niches as a foundation for your amazing dropshipping store.