How To Dropship Gifts? Tips & Product Ideas For Any Special Occasion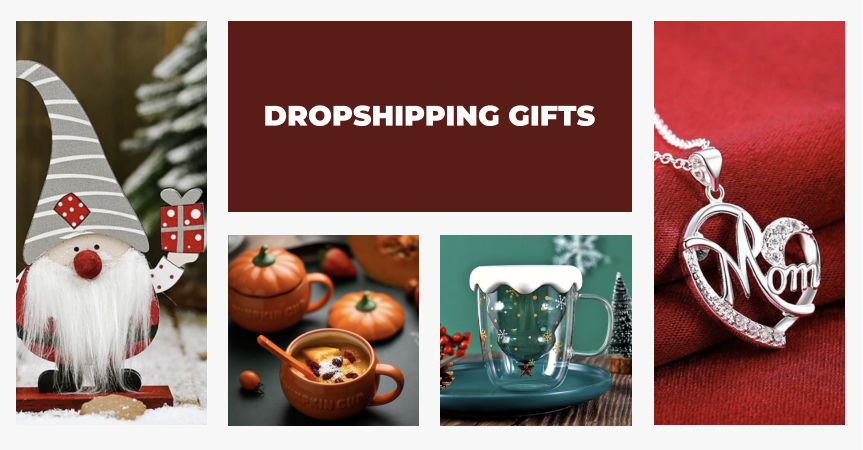 Do you like festivities? Are you good at choosing presents for friends and relatives? Then, you can dropship gifts to turn this talent into a profitable business!
Why it's a good idea to dropship gifts
We give presents all the time
All cultures have gift-giving traditions. They're almost as ancient as our species, and we exchange presents all the time. Think about this – how many presents did you give last year?
For example, if you live in a family of four, over the course of year, you probably need to prepare at least 6 presents: one Christmas and one birthday gift for every family member. And that doesn't include other relatives, friends, colleagues, as well as other holidays and special events you're celebrating.
According to Research and Markets, the gift retailing market will grow by $6.45 billion each year during 2020-2024.
In other words, gifts are evergreen products demanded all the time. Whenever a holiday comes, people will go shopping and browse online stores in search of gifts and souvenirs.
You can't just enter a shop and ask the seller for a gift for your significant other. I mean, the seller will ask you what kind of present you are looking for, what your sibling likes, and so on.
A cute pendant can be a gift. A dinnerware set can be a gift, just like many other things from a video game to a pyjama set. The point is, customers won't get surprised to see a somewhat wider range of products in your catalog including accessories, clothes, souvenirs, home decorations, toys, and other stuff.
On the one hand, this fact makes it really difficult to pick products for your dropshipping store. On the other hand, you're not limited by strict boundaries and can quickly adapt your offer to the ever-changing market.
But it'll require more work and creative thinking. You will have to keep an eye on trends, learn how to notice and test a potentially profitable product, analyze new target audiences and come up with attractive ads.
In other words, when dropshipping gifts, you can't rest on your laurels after succeeding with just one product. You'll have to keep going, which makes this niche not so simple.
The demand for gifts is predictable
It's really easy to predict when the demand for a particular product type will rise and fall. For example, when Christmas comes, obviously we all buy Christmas presents. And that's another reason to dropship gifts.
You could say that seasonality isn't always good because you can't expect a stable income. But in the case of dropshipping gifts, it's not that bad.
First of all, we celebrate not one but several festivities throughout the year. Second, people buy presents not only during season-specific holidays. Weddings, birthdays, anniversaries, special occasions happen all the time and don't always depend on the calendar. So, the demand will never fall completely.
But still, if you want to get the most out of this niche, you must prepare for seasonal upswings.
Gift dropshipping ideas for your ecommerce store
I've already mentioned that pretty much anything can become a gift. Does it mean you have to pick each item for your catalog individually? Not at all!
Although you can import almost anything and call it a gift, there are certain product types that any gift store can have. Let's start with purely seasonal goods.
Christmas presents
Naturally, in this category, you will find hundreds of options: Xmas-themed mugs, clothes, accessories, toys, and so on.
Halloween gifts
Halloween-themed products mostly cover the same categories (toys, mugs, clothes, etc.). But you can also add to your inventory various costumes, masks, and make-up goods.
Mother's day gifts
As I've mentioned earlier, you need to dropship gifts for any occasion including more modest festivities. For example, on AliExpress, you will find a number of goods that can serve as presents for Mother's Day.
Valentine's Day Gifts
Another example of a seasonal occasion that brings a lot of profit is Valentine's Day. Of course, you can't dropship chocolate. But you can sell other products such as fashion jewelry (especially those made for couples), cute plush toys, photo albums, chocolate boxes, and pretty much anything that couples could find romantic.
Custom products
If you like the idea of dropshipping gifts, you simply must consider selling customizable items such as pendants, rings, mugs, T-shirts, etc. A cute necklace can be a very good present. But it's a completely different experience when you get something absolutely unique – even it's just an inscription or a photo on a mug.
Souvenirs
You usually bring souvenirs from far away. But there are plenty of products on AliExpress that are hard to identify, which is why I called them souvenirs. They are mostly useless, yet charming knickknacks: statuettes, fridge magnets, commemorative coins… I even found one with Stalin's profile on it.
Dropshipping stores often earn most of their profit with just one item. Such a flagship product is used to attract customers, make them click on your ad and visit the website. However, it's also important to offer high-quality complementary goods as this is how you can increase the average order value of your store.
If you decide to dropship gifts, try out the following products as well.
Birthday cake toppers
Whenever a person buys a gift, it's most likely a birthday present. So, it's logical to offer complementary products for a birthday party, and I recommend cake toppers.
On AliExpress, there are plenty of these products; they are affordable and can be sold in numbers. For example, a parent could stock up on "number" toppers for a few years to come.
Gift wrapping supplies
Another complementary product type that could benefit your business is gift wrapping supplies. These goods include boxes, wrapping paper and tape, ropes, ribbons, envelopes, cards, and similar stuff.
Balloons
Can you imagine a celebration without balloons? These items work well as complementary goods as long as they are affordable and/or unusual. In addition, you can also dropship related products such as balloon stands.
Final thoughts on dropshipping gifts
This niche isn't simple. It will require creative thinking and lots of research. Nevertheless, it has potential as it lets you sell almost anything that enjoys high demand. Here are a few tips for those who got interested.
Follow current trends. Look for hype products on the market.
For advertising, choose products with high emotional value as they can trigger impulse purchases.
Offer lots of bundles and volume discounts to increase customers' order value.
Prepare for holidays in advance to make the most out of seasonal peaks.
Whenever possible, import products with fast shipping options and make sure your clients know how long shipping will take. Otherwise, you'll face lots of refunds. That's another reason to start advertising your goods long before the holidays.
Would you like to dropship gifts but have no experience in building websites? No worries! The AliDropship team can create a Custom Dropshipping Store according to your instructions and preferences.