$1,284 In One Week: How We Test Product Ideas For Our Premium Products [Case Study]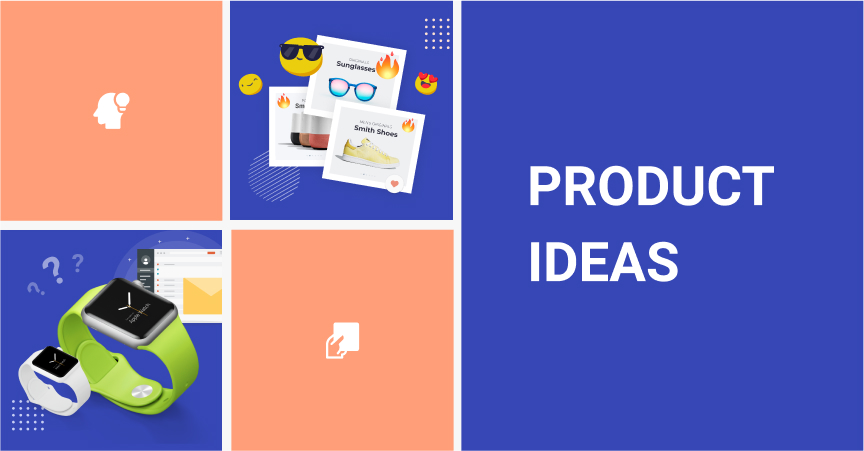 Finding promising product ideas often isn't enough to make a profitable offer. Even if there seems to be high demand, ecommerce businesses still have to define the target audience and come up with the best possible promotion materials. In this article, you will see how AliDropship's team creates Premium Products which come with all these details when you subscribe to this service.
Imagine you have found a promising idea. It's a trending product that solves a problem, and, according to Google Trends, people seem to be interested in it. You have found this item on AliExpress and Amazon, compared the prices, made some calculations, and you can see that making money with this product is possible.
In theory, you can import it to your store and start promoting it right away. But things don't always go so smoothly.
Good product ideas are highly important for your business success. Still, there are still many details you should test before goods can start bringing income. Testing requires investments, and sometimes you have to spend a lot of money before you can find proper advertising materials, slogans, calls to action and of course a target audience.
AliDropship's Premium Products subscription means that you get the most trending and demanded products imported to your store AUTOMATICALLY on a weekly basis, along with marketing materials and targeting options picked and recommended by our team. You receive only the hottest items with winning promo materials that demonstrated the best financial results during our testing and research. This way you don't have to spend hundreds of dollars on blind attempts – we did it for you!
In this article, I will show you how a consumer product can get to the list of our Premium Products and why it's a good tool to get your market share.
Step #1: Getting product ideas
Ideas for a new product can come from anywhere. Sometimes we deliberately look for new product ideas on AdSpy. Sometimes an idea comes up during a conversation. Or you simply want to buy something and ask yourself, 'Hey, maybe other people want it too?'
This particular story began with one of our self-owned shops that sells stuff for gamers. The team was trying to figure out what problems they often face and came up with the idea of a posture corrector:
The product was a success, but we used to sell it to gamers only. After a while, one of the managers decided to test it on a wider audience. And it appeared that not only gamers want this product.
That's how we realized it has potential.
Step #2: Creating a perfect product page
After realizing a product can become a best-seller, the team creates a high-converting product page for it.
For an online store, it's very important not only to attract potential customers to the website, but also to keep them on the page. That's why product pages should contain a number of elements aimed at convincing people that the goods are worth buying. They include high-quality photos, videos and gifs (if available), positive reviews with customer-made photos, etc.
We discussed how to create a money-making product page in another article, so make sure to read it if you want to know more.
The items you automatically receive as the Premium Products subscriber come with manually pre-edited product pages with multiple elements that are geared to convert visitors into buyers. They are identical to the high-conversion pages we've been long working on for our own stores.
Step #3: Testing the product ideas & their promotion
As I mentioned above, having good product ideas isn't enough to start making a lot of money. At this point, the team knew the posture corrector sells well when it comes to gamers and other buyers are interested in it too. But they still had to figure out a lot of details which requires testing and investments.
1. Making and testing videos
Social media promotion is the key tool for any online business. AliDropship's team strongly recommends promoting dropshipping goods on Facebook as it has a vast audience of users you can reach and convert into buyers with carefully planned ads.
During the first stage of testing, the team creates marketing materials they are going to use for the campaigns. After that, we launch a Page Post Engagement (PPE) campaign targeted at a wide audience.
The goal here is not to sell products: at this point, the cost of conversion would be too high. Instead, the idea is to engage people and pick the most influential videos. The team tested many options and picked 6 most successful videos. These are the materials we share with our customers:
2. Testing Facebook interests
After we receive the initial data, it's time to test what interests work best.
Sometimes testing interests brings no surprises at all. But often it's really hard to predict which of them will make more sales and which will turn out a total failure. At this point, dropshipping business owners have to pay for ad sets each day and keep an eye on how they're performing to turn off those that consume too much money.
To learn more about how AliDropship's team finds and tests Facebook interests, read this article.
After the tests are over, we pick the most profitable interests and remove the ones that failed.
The targeting details which you can download along with Premium Products include only Facebook users who share the most successful interests.
3. Testing demographic data
Another way to make sure the product ideas we pick will bring our customers real income is to analyze various demographic data. After we collect enough statistics, we usually check what genders and ages buy the product more often. We also look at what countries they come from.
For example, the tests showed that males are more interested in posture correctors than women.
4. Creating and testing banners
AliDropship's team often uses retargeting in their marketing strategy. We recommend that dropshipping entrepreneurs do the same because such campaigns can be very efficient. However, retargeting requires proper materials.
That's why the team creates various banners for this type of campaign that demonstrate products from different perspectives, offer a discount, a promo code, etc. We test them and pick the most successful ones to offer them to the Premium Products subscribers.
Step #4: Identifying the best targeting settings for these product ideas
After testing the initial interest campaigns, the team keeps running the most successful ones to gather more statistics and see how profitable they can be.
For example, the overall revenue of such campaigns during the testing period of 7 days was $1,284.66.
What you receive by subscribing to Premium Products
Ideas for a new product aren't always successful. Before advertising it, ecommerce entrepreneurs have to test a lot of things concerning the potential target audience of the product. To get reliable data, you have to invest some money in testing. Besides, you will also have to create advertising materials and test them.
All this requires time, efforts and money. However, by subscribing to Premium Products, you get:
A currently trending best-selling product that appears in your store automatically every week
Product page data that contains high-quality photos and customer reviews to maximize the conversion rate of the page.
Advertising materials (videos and banners) made by professional digital marketers and tested by AliDropship's Ecommerce Department.
Best converting target audience with clearly defined demographic data and interests to create the most efficient Facebook advertising campaigns for the new product. You can use this data to gather further statistics and create your own lookalike and custom audiences unique for your dropshipping stores.
Moreover, after receiving a Premium Product to sell online, you can keep experimenting with new demographics, locations and interests. Premium Products provide an easy and money-saving start for Facebook advertising campaigns.
So, if you're looking for new product ideas and don't want to spend time and money on testing them, subscribing to the Premium Products service can become a perfect solution!