35 Free Affiliate Marketing Tools & Platforms For Newcomers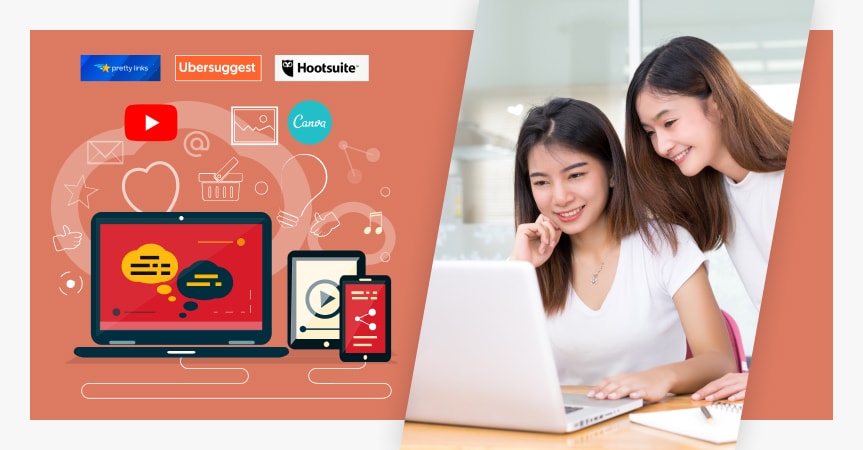 Becoming an affiliate marketer is one of the easiest ways to start your own online business with low startup costs. In this article, we'll go over 30 affiliate marketing tools and platforms that require no payment and let you proceed with your enterprise as soon as possible.
Shall we begin with a little recap (just in case)?
Simply speaking, an affiliate marketer is a person who promotes someone else's products or services online and receives a commission for every sale that happens through these efforts.
Surely, this business seems tempting to people interested in launching a low-cost business. To become an affiliate, you don't need to create, or buy, or manage any products or services. All you need to do is spread the word about them in an irresistible way 😉
It's not unlikely that you will still have to bear some expenses. For example, you might need to buy a domain and hosting for your blogging website, or pay a subscription fee for using a mass mailing service, or something like that. However, there is a range of free instruments and resources that can help you greatly – and save you a good deal of money. That's exactly what we're going to talk about today!
The basics: free link management tools
Okay, first things first.
Your affiliate link is the basis, the foundation, and the most essential part of your business activity. Tracking the unique ID included in your affiliate link, your sponsoring company will be able to estimate your input in their sales volume, and therefore, calculate your commission.
This is why it's so important to keep your links in the perfect working order! The services and platforms listed below can help you sort this out without extra expenses.
#1 Bitly
You are probably familiar with this service – or at least with the type of links it creates.
Bitly is a URL shortener, designed to transform long and scary-looking links into short, neat, and neutral ones.
Registering as an affiliate, you receive your unique link that has a very distinctive feature: a specific customized part. This fragment of your link clearly indicates that you're an affiliate, and lets the company tell you apart from other affiliates. Distributing this link through various advertising channels and materials, you need to motivate your readers/viewers to click on it and proceed with their orders shortly after.
However, your affiliate link itself might seem a bit suspicious to your audience. Due to this uniquely generated ID part, most likely, your link will be long and slightly weird – probably, even spammy-looking. Unfortunately, it can prevent cautious internet users from clicking it, which is genuinely disappointing.
Bitly service lets you shorten these links safely, without losing readers' trust – or your affiliate data. The company will still be able to track purchases originating from these shortened links, which means your affiliate commissions won't be affected in any way. At the same time, you'll be able to conveniently put nice and good-looking links in any types of your promotional materials, from blog entries to Twitter posts, without taking too much space and bothering your readers.
#2 Cuttly
Cuttly is another URL shortener tool you can use for free.
It allows more than just cutting down the length of your affiliate links. As a noteworthy addition, it also provides you with detailed real-time analytics on your links performance. Besides, it lets you customize and optimize the URLs you're creating, and even generates a QR code you can also successfully use in your promotional activities.
#3 Pretty Links
An important thing about Cuttly and Bitly is that they use their own domains as the central part of the shortened link. Therefore, whatever your original link is, after the transformation it will look something like http://bit.ly/sometning or http://cutt.ly/something.
Pretty Links, on the contrary, leaves your own domain name as the central part of the newly generated link. Surely, that's a solid competitive advantage! Moreover, this plugin tracks your link clicks, shows their number and reports where they originate from.
#4 Google Analytics

If you want to go for an in-depth tracking of your affiliate site performance, Google Analytics is a killer solution. It lets you get accurate data on the way people interact with your affiliate links, figure out the links that bring you the highest revenue, and discover the pages generating the biggest amount of affiliate sales. This way, you are able to see the areas of improvement for your promotional strategy and content creation efforts.
And it brings us to the next part!
Free platforms you can use to create your blogging space
Now, when you've figured your links out, it's time to consider the following. How can you, as an affiliate, reach out to internet users?
Obviously, you need some kind of channel to distribute your promotional materials through. Let's begin with this part!
#5 WordPress
WordPress is a globally known, used, and trusted content management system. Millions of users choose it as the foundation for their blogs, websites, and even apps.
Earlier, we've already explained why choose WordPress for ecommerce websites (and any other sites, actually). The thing is, this platform is free, user-oriented, and really easy to operate and manage. Basically, even a newcomer with no previous experience in website development can start working with it quite conveniently.
So, if you want to create a blog to put your affiliate articles there, WordPress is a great choice! Even though you'll need to pay for your blog's domain and hosting, the site 'foundation' itself will be completely free for you – and that's a nice advantage.
#6 Facebook
Let's suppose you don't want to pay anything for your promotional affiliate resource at all.
In this case, it's quite logical and reasonable to create a dedicated page, group, or channel on social media, and perform your affiliate activities there.
Facebook gives you the perfect opportunity to post informational, educational, entertaining and promotional materials in multiple forms. Whether it's a piece of text, a video, or an infographic, you can post it in your community conveniently and accompany it with your affiliate link.
#7 Instagram
Well, why not?
This social media is perfect if you're promoting a product or service that can be vividly illustrated with catchy visuals. Much like Facebook, Instagram lets you interact with a wide audience freely, build a loyal community of followers, and even partner with more established and influential accounts in a combined effort to mutually promote your products or services.
#8 Twitter
Not a very obvious choice for an affiliate resource, but definitely an interesting one.
Twitter is characterized by a highly specific users' community and style of interaction. It makes this social media a winning choice for the affiliates who'd love to connect to their audience in an informal, witty, and engaging way.
So, if you're promoting a product or service designed for a younger audience, and are up for a challenge of expressing your idea in 280 characters or less, Twitter can be a great place to create and expand your fanbase.
#9 YouTube
Do you need to promote some service or product that is not easy to illustrate through Instagram posts or short Twitter entries? In this case, YouTube videos might be an excellent way out for you!
Judging by the first-hand experience of affiliates who promote AliDropship solutions, an informative and well-maintained YouTube channel is a blessing for anyone who needs to cover complex technical products. Plus, much like any other social network, YouTube will let you interact with your audience freely, gather and utilise genuine feedback, and even explore the opportunities of paid promotions if necessary.
Speaking of social media, let's move on to the next point!
Moving on: free affiliate marketing tools for social media management
Whether you use your social media pages as the primary affiliate channels or supplementary ones, you certainly want to manage them in the most time-saving and efficient way. There are a couple of great free tools to help you with it.
#10 Buffer
If you need to conveniently manage up to 3 social accounts at a time, take a look at Buffer. Through it, you can create a posting schedule of tailored posts for Instagram, Facebook, Twitter, Linkedin, and Pinterest.
After your free day trial expires, you can either upgrade to a paid version, or downgrade to a free basic plan. It's a real catch for affiliates who'd like to plan and execute their multi-channel marketing campaigns with no worries or extra spendings.
#11 Hootsuite
This social media management platform is quite similar to Buffer in its functionality, but has an extended range of appealing features.
Hootsuite lets you automatically schedule posts, track the results of your social media activity, and even find social conversations by keyword, hashtags, or location. In other words, it gives you quite detailed insights into your niche market, clients, and even competitors.
What is especially nice, this solution comes with a free plan allowing you to work with up to 3 social profiles and plan up to 30 scheduled posts. It should be quite enough for a newcomer to affiliate marketing!
#12 Followerwonk
If you'd like to up your Twitter game, Followerwonk is an amazing solution to try. With its help, you get a deeper understanding of your readers' audience through analyzing, tracking, and sorting your followers. Therefore, you can enjoy the opportunity to improve and tailor the content you share on Twitter, making it more relevant and engaging, and even build long-lasting relationships with influencers!
Free affiliate marketing tools for effective content creation
Okay, so, you've figured out your affiliate links, decided on the platform/channel you'll use as your affiliate playground, and picked some software to sort out your social media posts.
And here's the thing…
Do you already know what exactly you're going to make your affiliate posts about?
Don't worry if you have no idea yet – here are the solutions to help you out!
#13 Buzzsumo
Whenever you need to get an idea or two on your upcoming posts, Buzzsumo is the right destination to check out. This platform lets you find out and investigate most shared and discussed social media content.
Therefore, typing in your affiliate niche or product name, you can clearly see what kinds of content are the most popular with the audience, stumble upon interesting topics to share in your own posts, and even find influencers for your potential future collaborations.
#14 Feedly
If you're an affiliate in a some hi-tech niche that requires you to stay informed of the latest industry news, think about using Feedly. With this news aggregator, you can create your customized news feed with publications coming from different sources, ranging from blogs and newspapers to tweets and YouTube channels.
It's more than just a comfortable and time-saving tool letting you stay aware of everything important going on within the market. This is also a winning solution helping you generate more ideas on relevant and valuable posts you can share with your audience.
#15 Google Alerts
With Google Alerts, you can track some specific search terms. It's a highly user-friendly solution to discover as many details about your area of interest as possible. All you need to do to start using it is specify the discussion topics you'd like to monitor.
Whenever Google finds web pages that contain the keywords you've specified, it sends you an email about it. Therefore, you don't need to do the searching by your own effort!
#16 ShareASale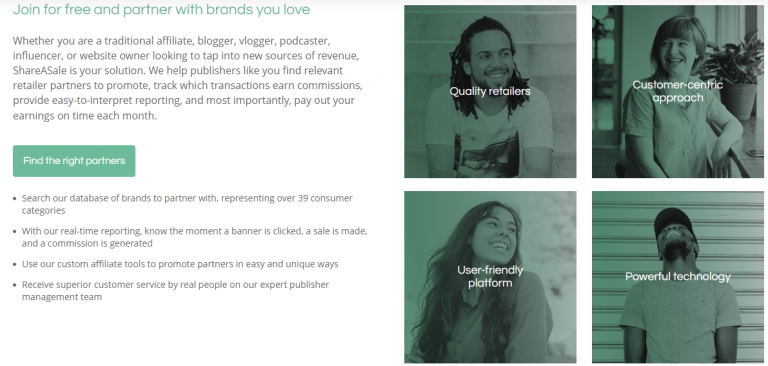 Affiliates use ShareASale to find products to promote, and earn commission for referrals on those products.
As an affiliate, you select any of the ShareASale merchants and attempt to direct sales to the merchants' websites. The merchants will then pay a commission for sales resulting from the affiliates' referrals. As an affiliate, you decide the specific merchants you would like to promote and how you want to promote these merchants. Affiliates can also log into the ShareASale website and check their stats and earnings in real time.
Free affiliate marketing tools for keywords search
Since we've started talking about keywords (which are absolutely essential if you want your affiliate resource to rank higher on Google), let's move on to this exciting topic.
#17 Keywordtool
This solution is commonly known as a free alternative to Google Ads Keyword Planner, and is widely used for the purposes of SEO and PPC keyword research.
Keywordtool gives its users multiple suggestions for every search term they test. What's notable, it generates plenty of so-called long-tail keywords that are exceptionally valuable when you want to improve your site position on search engines.
#18 Semrush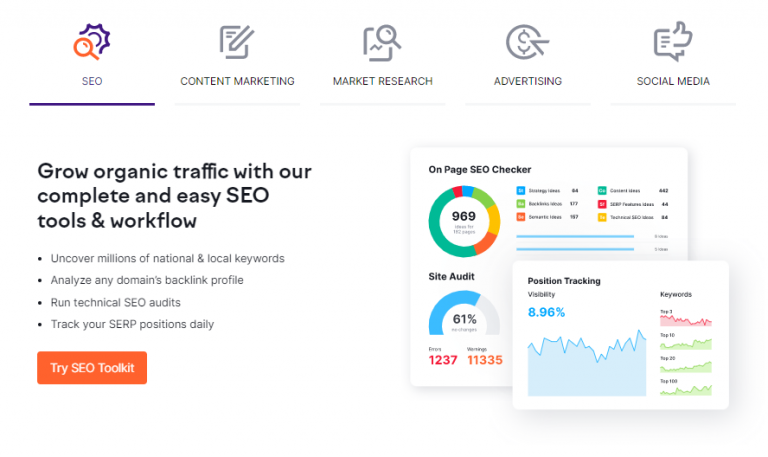 SEMrush is trusted by internet marketers all over the world.
It is also used by a number of businesses, big and small. Major companies such as Philips, Forbes, PayPal, Hyatt, etc. use this tool. SEMrush has a massive database of over 46 million domains and 120 million keywords. It tracks so many things, such as the organic position of a domain or landing URL on Google's SERPs (search engine results pages), copies of AdWords ads and their positions, CPC ads, competitor analysis and so much more.SEMrush helps with your content marketing, and that is the most important thing it does. But before I tell you more about how the SEO tool does it, let us talk a bit about content marketing and why it is so important
#19 Ubersuggest
This is another awesome keyword generation tool you can freely use for your affiliate purposes. Ubersuggest also lets you get insightful and inspiring insights into promising keyword ideas for your SEO-friendly texts and posts that meet the audience's demand.
Plus, you can conveniently filter the generated results by location and the types of content you're specifically focused on, getting an even clearer picture of the audience's expectations and preferences in terms of content.
#20 SpyFu
Do you want to get a peek at your competitors' activity? SpyFu is an interesting keyword research solution letting you see the keywords that other companies buy on Google AdWords in order to rank higher on search results page. On top of that, you can also see their ad variations!
#21 Soovle
This free online tool works like a miracle if you want to analyse search stats on Google, Wikipedia, YouTube, Amazon, and several other platforms. Soovle looks through the keywords that are most commonly typed into the search fields on these platforms, and gives you invaluable ideas of valid, high-priority topics to cover in your affiliate materials.
#22 Ahrefs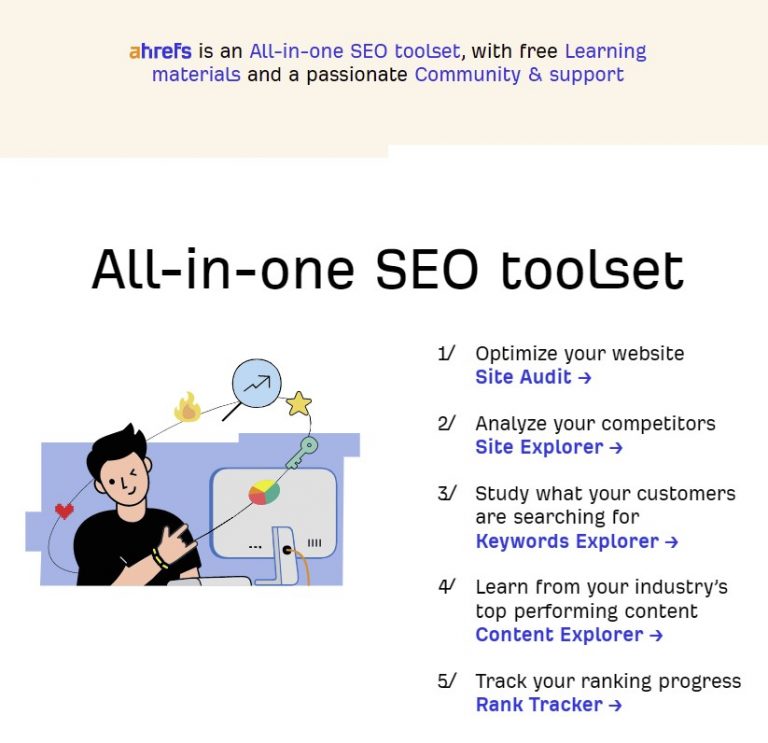 Ahrefs is an SEO software suite that contains tools for link building, keyword research, competitor analysis, rank tracking and site audits. Most of the features inside of Ahrefs are designed for marketing professionals.
Shortly: Ahrefs is a popular SEO tool that people use to get higher Google rankings.
Free affiliate marketing tools for content management
Now, you have a relevant idea for your engaging affiliate message, and know how to optimize it for search engines. Don't forget to make it appealing to readers, too!
#23 Grammarly
This tool lets you find and correct grammar and vocabulary mistakes, as well as perform plagiarism checks. Whether you're working on a brief Twitter entry or a lengthy blog post, with Grammarly, you can be sure your text is authentic and well-written. If you're targeting an English-speaking audience while being a non-native speaker yourself, surely, that's an incredibly helpful solution!
#24 Copyscape
In fact, using copy-pasted content, you don't only annoy your readers who expect unique content from you. You also weaken your website position on Google, making search engines believe there's nothing special on your site.
This is why Copyscape will be of great help to you. This tool lets you see whether your content is simply copied from some other resource, shows whether you have duplicated information on your site, and even reveals if another blog or site has copied your text materials. Thanks to these insights, you'll easily make prompt edits if necessary!
#25 Yoast SEO plugin
If you're publishing your affiliate articles in a WordPress blog, Yoast SEO plugin is a must have. This tool doesn't simply show whether your page content is SEO-friendly. It also evaluates how easy it is for a visitor to read and understand your text, and gives you clear recommendations on making your materials more interesting to the audience.
#26 Hemingway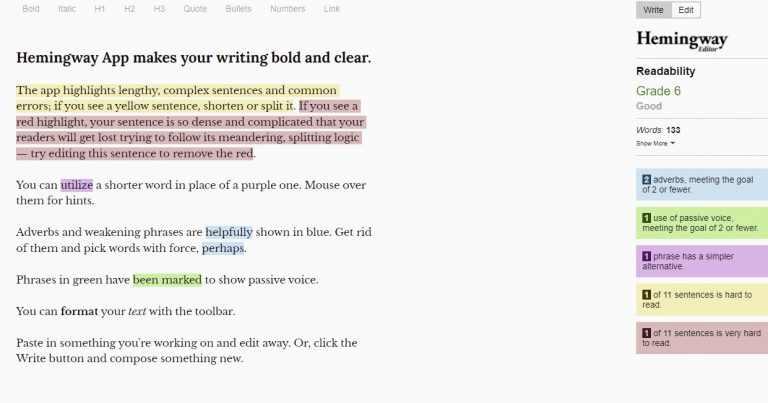 The Hemingway app is designed to help you polish your writing. More specifically, to simplify your text.
The editor highlights and corrects grammar, fluency, and sentence structure in order to help your writing read and look better. So, by using the Hemingway App you get as close as possible to bringing your true vision to life.
#27 Portent SERP Preview Tool
After users type something in Google search box, they see a list of web pages that might make them interested. In this list, they only see the pages' previews containing URLs, titles, descriptions, and phrases matching their search query.
So, if you're running an affiliate blog or other kind of website, your goal is to make your materials look good even in this shortened preview form. Portent SERP Preview Tool lets you check how these previews look at 8 types of devices, and see whether they are enticing enough to be clicked on right away.
Free affiliate marketing tools to create appealing visuals
It's not always about the texts, right? Imagery is a crucial part of a catchy Facebook entry, viral Instagram post, entertaining blog article – and basically, anything else. Let's go through some free tools you can use to work with images like a pro!
#28 Photopea
Basically, this online photo editor is a solid alternative to Photoshop. Photopea supports a wide range of file formats and lets you edit pictures on a professional level – just like you'd do it with Photoshop. And yes, it's available free of charge 😉
#29 Canva
Need a beginner-friendly design tool? Take a look at Canva! It goes with an informative Quick Start guide and lets you work with photos, vector images, and fonts effortlessly. A part of its numerous built-it templates is provided for free, letting you craft lovely visuals with no extra spendings or headache.
#30 Infogram
Sometimes, you need to interest, surprise, and captivate your audience with boring stats and numbers. In this case, the best you can do is turn the data into an infographic. Infogram lets you do just that in a matter of minutes and enjoy bright, engaging results you'll be proud to share with your followers.
#31 Unsplash
If you'd like to go beyond the 'usual' stock photos looking like they were taken in the 2000s, check out Unsplash. It grants you free access to its impressive database of over 1,5 million photos. Without any doubt, you'll find the perfect image to illustrate your affiliate messages there!
Free tools to use for email marketing purposes
Wouldn't you like to deliver your valuable, informative, helpful affiliate content to a larger circle of people? If you want to go beyond your affiliate website or social media account, consider the opportunities of mass mailing. Thankfully, there is a range of solutions letting you deal with it at zero cost.
#32 Mailchimp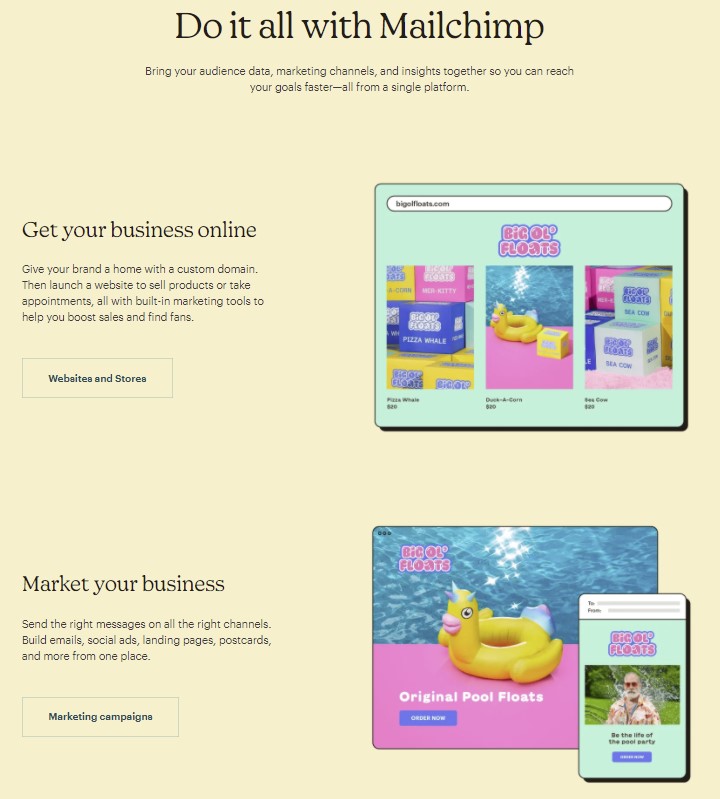 Mailchimp is an all-in-one too, designed and developed for businesses using emails to reach their audiences.
You can manage your mailing lists, create custom email templates, and nurture and automate your entire marketing campaigns. Enterprises looking to leverage email marketing need a tool, such as Mailchimp, to run their campaigns like a well-oiled machine.
#33 Sumo
Are you looking for a handy and free solution to grow your email list? Sumo is an impressive tool letting you put catchy email capturing pop-ups on your site. No coding skills or IT background is necessary! What is more, this tool even lets you schedule emails to stay in touch with your customers and improve your conversions.
#34 Constant Contact
A great thing about Constant Contact is that it goes with mobile-optimized templates and a user-friendly editor letting you achieve clean and professional look of your emails. In addition, this tool helps you build an ample email list, and makes it possible to automatically send welcome emails and whole email sequences to your subscribers.
#35 Mailerlite
Speaking of email automation, we certainly need to mention Mailerlite, too! It covers multiple areas of your email marketing efforts, from newsletters creation and subscribers management to smart email delivery and campaign results tracking. It's surely worth having such a multifunctional tool at your disposal!
That was quite an extensive list of free affiliate marketing tools to explore! We hope you'll give these solutions a try. To be honest, we can't wait to see them making a great difference to your affiliate efforts!