How To Dropship Party Supplies For The Maximum Benefit?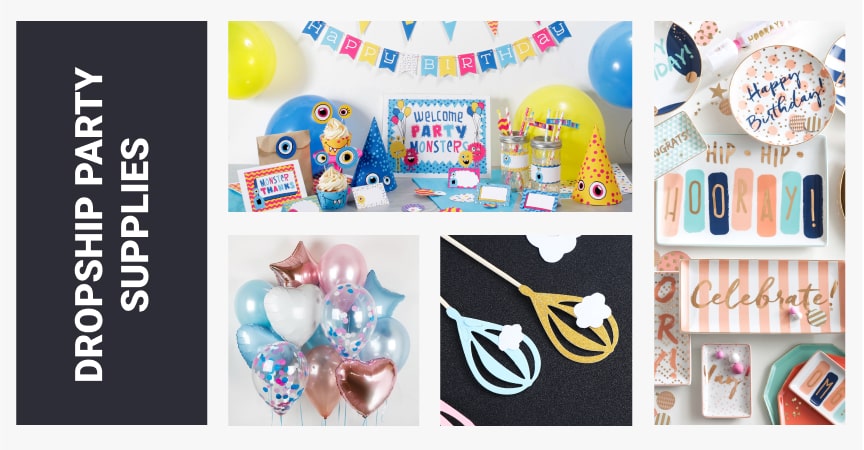 Are you eager to know how to dropship party supplies right for the maximum benefit? Here are some ideas!
As a rule, it is not super wise to fill your dropshipping store with the items of seasonal demand only.
The reason for this is simple: your dropshipping store will only be interesting to buyers in a limited period of time, and, during the rest of the year, you will have little to no sales.
Still, nothing can stop you from selling festive & party supplies if you want to!
In which case is it profitable to dropship party supplies?
There are a least 4 reasons to consider this product category when you are thinking about starting your profitable dropshipping business:
Lots of the holidays and special events are not tied to specific calendar days – actually, they may happen at any time.
Think of the events like birthdays, housewarming parties, weddings, baby showers, family get-togethers, and other kinds of personally arranged celebrations. Mostly, they don't depend on the season, and only happen thanks to someone's personal choice.
It means that throughout the year, there is a huge amount of occasions that may require awesome party supplies – why not try to benefit from them?
Below, you will see 2 Google Trends graphs dedicated to 2 specific product categories. They describe the amount of worldwide Google searches during the last 12 months. And, as you can notice, the interest in these items is pretty stable throughout the whole year.
As I have already mentioned it, there are lots and lots of reasons to throw a party.
Each of these celebrations requires a special type of gifts, decorations, tableware, etc. (imagine bringing bachelorette party games to your grandma's 80th birthday celebration…) So, you can fill your party supplies store with hundreds of amazing items that are a great addition to one party or another!
Alternatively, you can create a basic set of festive items that will look appropriate on every special occasion – that's exactly what we would like to recommend you do!
In a dropshipping store, it is vitally important to create the right atmosphere for impulse purchases.
Festive supplies are a perfect solution! If your product pages are well-edited, they generate warm feelings and positive emotions that motivate the visitors to forget the doubts and proceed with purchases without a second thought!
If your store is already dedicated to parties and celebrations, it will be super easy for you to update your store offer prior to seasonal holidays.
These updates will be met really well, and your customers will even expect you to offer something extra special for the upcoming holidays. So it's a great chance for you to meet the audience demands and double your profits!
Well, are you excited with the opportunities? In this case, it's time for you to start a dropshipping business and dropship party supplies or expand your profitable business and master one more profitable niche. But how to dropship party supplies right for the maximum benefit?
How to dropship party supplies right in order to succeed?
If you have firmly decided to start dropshipping party supplies, you need to learn more about this niche in order to make the most of your business. So here are several tips AliDropship experts are happy to share with you!
Strategy
When starting up a party supplies dropshipping store, it's a great idea to pay particular attention to the following aspects.
Focus on the products that are in high demand throughout the year, but not only shortly before Halloween, Xmas, etc.
Try to add a large number of products to the product range of your online store in order to provide each of your potential customers with an opportunity to find something interesting
When considering the product range of your online store, we would recommend you look for interesting and unusual items – try to amaze your potential customers, blow their minds, etc. And they will definitely want to amaze their friends and family as well!
Forget about usefulness and practicalness, we are speaking about party supplies. Focus on attractive and eye-catching stuff only!
If you want to make the most of holiday shopping, you should launch your ad campaigns well before a holiday (a month – month and a half in advance is a good choice)
Suppliers
What's more, if we are speaking about dropshipping party supplies, you should pay particular attention to the selection of dropshipping suppliers you're going to deal with. Primarily, this is due to the delivery time since. In most cases, your customers will order party supplies from you shortly before this or that holiday.
That's why this is essential for you to find reliable suppliers who are able to provide you with prompt delivery, meanwhile, send only high-quality goods!
Where to find trusted and time-tested suppliers for your dropshipping business? Well, it's high time to use Sellvia!
Sellvia is a groundbreaking ecommerce ecosystem aimed at covering plenty of online business areas – from product sourcing, storing, and packaging to branding and promotion.
Do you want to start an online business and become one step closer to financial independence? Go to Sellvia and try out this great solution for free!
Products to sell
And here is a question that is supposed to be on everyone's mind: what should you sell in your party supplies store for the maximum benefit?
Well, based on our experience of managing successful dropshipping stores, we have prepared for you the list of 100+ trending products related to party supplies you should definitely pay attention to if you want to make the most of your dropshipping business. Here they come!
Artificial flowers and other party decorations
Bows
Cake decorations
Customized party supplies
Fruit picks
Garlands and confettis
Ice trays
Lanterns
Party balloons
How to dropship party supplies and make a fortune: summing it up
Well, how to make the most of your party supplies dropshipping store? What rules to follow? And what should you pay particular attention to?
In fact, this niche doesn't differ a lot from other promising dropshipping niches. However, there are some aspects you should consider carefully when starting or expanding your dropshipping business.
Items in your online store need to be interesting and eye-catching
Don't focus on the product usefulness – it's party supplies!
Try to amaze your potential customers and they will definitely want to amaze their friends and relatives
And so on and so forth. Beyond this, you should remember that this niche requires cooperation with trusted and time-tested suppliers only. Fortunately, you can find them in the AliDropship Insights database.
And we also do hope that the list of trending party supplies will also help you make the most of your dropshipping business.
Now, you have learnt enough about how to dropship party supplies in your online store. Don't you still have your own profitable online business? So it's high time to start your dropshipping journey and make the most of it!