6 Facebook Updates 2020 That Everybody Is Talking About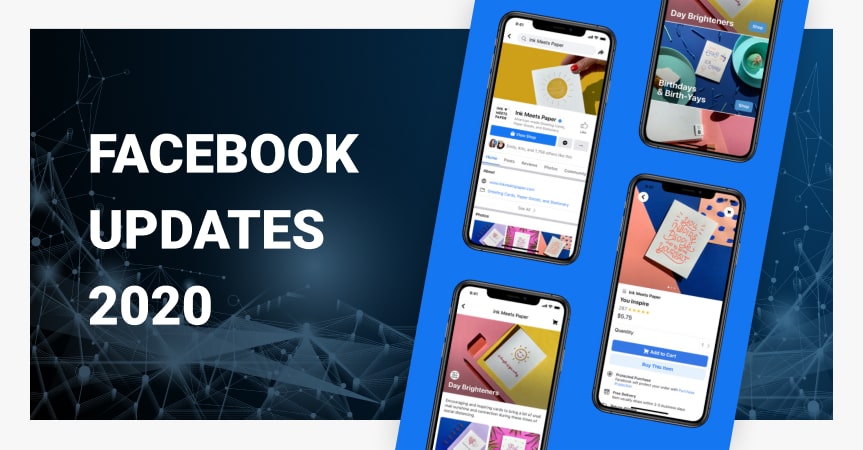 What a year! Thankfully, it's slowly getting to the end (have you planned your cozy home Christmas evening already?) 😉 With so much going on in the world, Facebook kept up. New and new Facebook updates were released in 2020, and needless to say, they can have a significant impact on your dropshipping business!
So read on to learn about the most important Facebook updates of 2020 and how to benefit from (or get ready for) them when promoting your store!
1) Facebook Business Suite
Is your store present on both Facebook & Instagram? Well, behold the new feature, Facebook Business Suite! Here, you can manage Facebook and Instagram pages of your store from one dashboard.
It'll definitely save you some time which you can spend on growing your business or doing some things you love 🙂
Currently, Business Suite allows posting, messaging, insights, and advertising which helps you manage your business on both apps conveniently. Among the most handy features there are the opportunity to easily compare your store performance on Facebook and Instagram, and to schedule the same post on both social networks at the same time.
If Facebook Business Suite is available for you, you'll be redirected there when you go to business.facebook.com.
If you're already using the Pages Manager app (on mobile), you'll automatically see the option to use Business Suite.
2) Instagram & Facebook Shops
If you live here (yeah, and nowhere else), you're welcome to enjoy the Instagram Shop feature released this summer. Using it, you're able to enjoy selling stuff right on Instagram without making people leave the cozy Instagram app.
How this works: basically, you create a product catalog within your Facebook Business Manager (Facebook Business add-on will be extremely useful here), submit your shop for a review, and, if approved, enjoy using Shopping Tags or stickers in Feed or Stories.. and coming sales!
It's a really exciting feature, especially for some visually pleasing niches like apparel, jewelry, and home decor.
See the full Instagram Shopping setup guide from the Instagram team here.
As for Facebook Shop, it's a similar thing, but on Facebook.
Facebook already has the on-platform shop option, but it has new features now. You can customize the way your virtual storefront looks, tailoring fonts and colors, putting products on sale and creating coupons. Users will be able to convert and make purchases without even having to leave the app!
See the instructions on how to set up Fb Shop here.
3) Ads limit per page
One of the biggest Facebook updates of 2020 — and must-know news for active advertisers! It was announced that Facebook will put limitations on ad volume already in several months. This will affect the number of ads you can run at the same time per page.
What are the ad limit numbers?
250 ads per Page

for small to medium pages
Small to medium pages are the ones having less than 100K in ad spend in their highest spending month over the past 12 months.
1,000 ads per Page

for medium to large pages
Medium to large pages are the ones having spended from $100k to $1M on ads in their highest spending month in the past 12 months.
5,000 ads per Page

for larger pages
These pages have from $1M to $10M in ad spend in their highest spending month over the past 12 months.
20,000 ads per Page

for the "largest" pages
These are pages with over $10M in ad spend in their highest month over the last 12 months.
Why does Facebook bother about the number of ads per page in the first place? Well, they claim that high ad volume isn't equal to high performance.
At first sight, it seems like the more ads you launch, the more sales you get, right? But that's not that simple. Let's take a closer look at how it works.
Each time an ad is shown, the system learns what places and people are the best to show the ad to.
The more an ad is shown, the better the delivery system optimizes the ad's performance. So, turns out, when you run too many ads at once, each of them delivers less often. In this case, fewer ads exit the learning phase, so you spend more budget before the delivery system can optimize the performance!
"We discovered that four in ten running ads fail to exit the learning phase, and many of these ads come from advertisers running too many ads at the same time.
For this reason, we're implementing a limit on the number of ads each Page can run at once."- Facebook
So, all in all, the news looks like a good thing, even though active advertisers might find it a bit inconvenient.
4) Connecting with businesses on WhatsApp
Now connecting with your business on WhatsApp is easier than ever! Just feature a QR code on your site, FB page or in a chat with a client – and they'll be able to contact you on WhatsApp in one tap.
The easier it is for your customers to reach out to you, the more loyal and ready to buy they are. You can also share your business catalog on Facebook or share products as links on WhatsApp – use it to answer questions, suggest the best items, and promote your products.
5) 20% text rule on images
Facebook stopped banning ads with texts covering over 20% of the images. Earlier, such ads were disapproved or suffered from a limited reach. But now advertisers are finally free to use as much text as they see fit!
Some believed it was just a rumor first as there was no proper documentation. However, at some point, the Text Overlay Tool, previously used to check if FB approves the amount of text in the image, stopped working 🙂 Now, it redirects you to the pretty innocent About text in ad images page instead! Then, people started getting official messages about the 20% rule cancellation from the Facebook team. And, finally, FB updated its guidelines and now it's official!
What does it mean for advertisers? Should we make ads in a different way? Frankly speaking, no 🙂
The purpose of the 20% text rule was to make the media space less cluttered and the user experience more pleasant. However, it's pretty obvious that the less text in the picture you have, the more clearly users can see your product (and get interested more easily).
So, even though the restriction was lifted, it doesn't mean you have to rush and write about your best offer in big letters in the ad image. Minimalism is a pretty popular (and well-working!) trend today, so keep things simple when it comes to advertising creatives.
6) iOS 14 update
The upcoming iOS 14 update asked users to opt-in to data collection so they no longer have to look up how to opt-out themselves. It's great news for those who worry about their privacy, but not so exciting news for advertisers. Why?
This update may result in a large number of your audience automatically opting-out to anonymous data collection. As a result, you won't be able to show them your retargeting campaigns based on actions those users took on your site.
So, keep in mind that website-based retargeting can probably experience kind of a hit, and be prepared! Watch your campaigns closely to amend them quickly if necessary.
With the update, Facebook also reminds users about how their info is used on Facebook and shows them a summary of the off-Facebook activity which businesses send to Facebook – so they can disconnect it.
That's the end of the article, but not the end of Facebook updates 🙂 There are much more teeny-tiny and bigger ones (e.g. Facebook Messenger API supports Instagram messaging now)! That's why our advice is to keep up with all the Facebook updates 2020 & 2021 to effectively grow your dropshipping business with Facebook.