Is It Worth Becoming A Home Decor Dropshipper? Sure!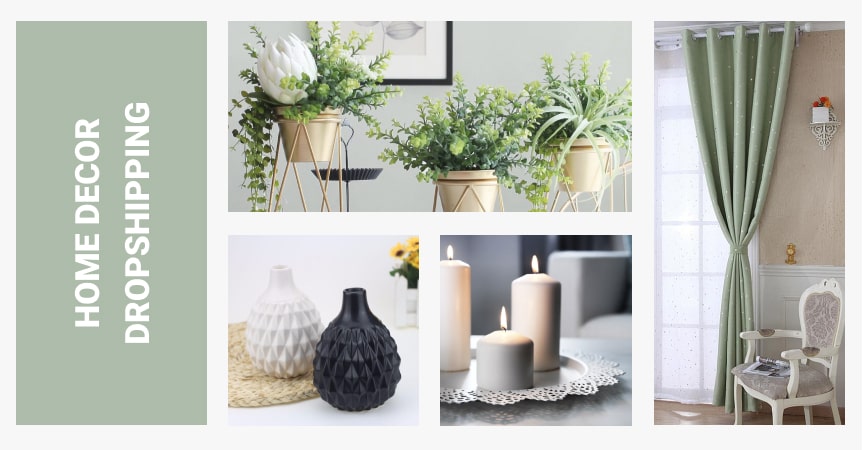 Are you fond of home decor and cozy accessories? Do you know that you can not only spend lots of money on it, but also make a fortune with your hobby? In fact, that's really possible if you opt in to dropship home decor!
As we are staying home more, we're starting to pay a closer attention to the convenience and appearance of our own apartments. It makes market researches think: what if there actually is a whole promising niche with a large target audience and strong demand? So, for the purposes of this article, we decided to check whether home decor items truly have an attractive potential for those willing to start a dropshipping business!
Is it profitable to become a home decor dropshipper?
Certainly, when you start your business, one of the most important aspect you should pay attention to is a business idea. So it's necessary to understand whether it's profitable to dropship home decor.
We can safely say that the answer is yes!
First of all, let's see what Google Trends can tell us about home decor dropshipping.
And Google Trends clearly shows that the users' interest towards home decor is stable and consistent – this year, as expected, it's over the roof!
This market segment proves to be financially appealing, too. In 2019, the global home decor market was valued at $616.6 billion. What's more, analysts expect it to grow by 3,7% every year in the next 7 years and reach $838.6 billion by 2027!
So there is a strong demand for home decor products that doesn't seem ti be ending any time soon. Does it tell us that this is a promising ecommerce niche? Yes, it is! And if you go on considering dropshipping home decor, you will see lots of its other benefits:
Lots and lots of products categories (from candle holders to pictures!)
Extremely low initial price = higher markup
Low prices = impulse purchases
Possibility to build a cool online store with eye-catching products
How to become a home decor dropshipper and make the most of your business?
Definitely, there are lots of home decor features that tell us that this niche has all chances to become your gold mine. But how to start your business right to get the maximum benefit from it?
Basic
First, decide if you actually want to work in this particular niche. If you'd like to take some particular, narrower segment within it, you're welcome to go for the Deep Niche Research service.
Remember that if you want to successfully start and run your home decor dropshipping business, you need to know a lot about home decor, follow the latest trends in this area, and have some creative spirit to create the most outstanding offer for your store visitors. And of top of that, of course, you need to keep the boring routine business tasks in order, too!
Where to pick up trending products to sell?
Well, if you are going to start home decor dropshipping, you should also pay special attention to the products you will import into your online store.
First of all, we often recommend that newcomers deal with low-cost and moderately priced products in order to facilitate running of their businesses and minimize all the risks. Actually, we believe that high-ticket dropshipping is perfect for experienced entrepreneurs and those who've tried lots of options to expand their business.
Then, if you're a home decor dropshipper, you should understand that tastes differ. And since it's challenging for an online store owner to focus on each home decor product group, we would like to recommend you ignore all the too bright and annoying items.
Meanwhile, don't forget about classics. And the most interesting fact about classics for you is that it's also in strong demand. That's why try to focus on something neutral, like all-time favorites and common for people to have in their households.
By the way, home decor products are often made of glass. These are the products we also recommend you don't deal with because they can be damaged when transporting. So if you're running a home decor online store, we would recommend you focus on plastic products since they suit the dropshipping business model perfectly.
Furthermore, it's great if you ignore large products since there is also a risk of getting it damaged.
And now, here is a compilation of 150+ home decor products for you to benefit from!
Anti mosquito curtains
Curtains
Curtain tiebacks
Window film
Chair covers
Sofa covers
Tapestry
Flower pots
Crystal soil
Candle holders
Wall clock

Wall stickers
Christmas lights
Letters
Frames
Pictures and DIY
Diffuser sets
Music boxes
Becoming a home decor dropshipper: final thoughts
Well, statistics say that home decor is a perfect niche for your business. In fact, that's the way it is. And if you're an aspiring entrepreneur and just fight to find yourself, home decor dropshipping is supposed to be your brilliant choice.
So, now you know which products you can safely sell in your online store, where to find reliable suppliers on a permanent basis, and more. Well, are you eager to become a home decor dropshipper and start your own profitable business now? You've got all it takes!