How To Dropship Work From Home Clothes And Essentials For Profit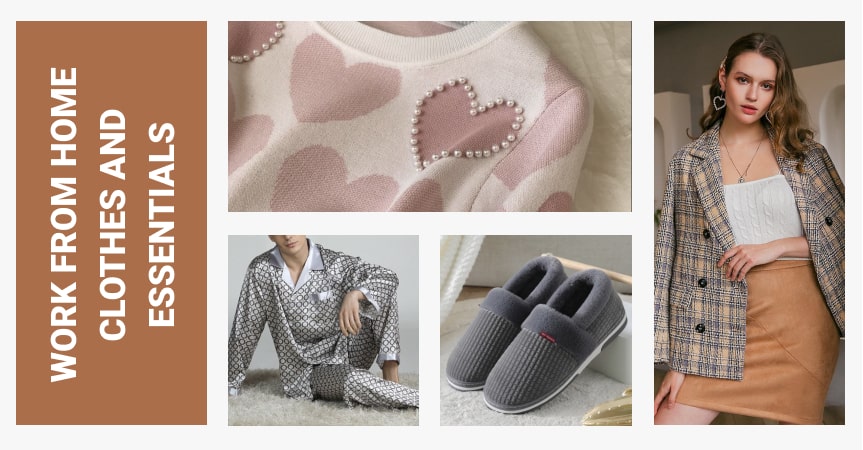 Are you looking for a new niche to target? Well, dropshipping work from home clothes and essentials can be a very promising business opportunity!
Everyone wants to feel as comfortable as possible at home and there's nothing quite like having that warm fuzzy home welcoming environment. However, a lot of factors play into creating that special atmosphere.
What type of clothes do you prefer to wear? Which essentials make you more comfortable? What will help you sleep tighter at night? These are just a few questions that can help you create an attractive online store that dropships home clothing.
Nevertheless, the current situation in the world can't be ignored, as the circumstances can play a crucial part for success in any niche. And due to the worldwide pandemic, many are forced to work from their homes. How to adapt a store selling home clothes and essentials to the new normal?
The main challenge people have to face when working from home is staying effective. To make sure they are as effective working from home as they are in the office, many try to stick to the familiar daily routine. Wearing something similar to what you'd normally wear to the office can help!
Therefore, with that in mind, you have a chance to create a unique product offering of clothes for those who have everyday video conferences with their colleagues and those who want to simply feel comfortable at home.
As you might have guessed by now, in this article, we will discuss whether it is profitable to sell home wear clothing and see what type of products you can offer.
Let's get right into it!
The global clothing and apparel market: why it can be a profitable business opportunity
As you can see from the results of Google Trends, the number of online searches for home clothing is consistently high and in fact, this year it has significantly gone up.
Of course, this is most likely due to the recent worldwide events. They led to a massive increase in sales of products for home, and home apparel wasn't an exception.
Even without the pandemic effects, back in 2015, the global apparel market was worth $1.3 trillion and was estimated to increase to $1.5 trillion in 2020. This indicates that the demand for clothing is bound to be increasing steadily.
On top of that, the ecommerce clothing industry is also thriving. Back in 2018, the sales on the ecommerce U.S. market accounted for more than 20% of the total market and the total revenue amounted to $102 billion. Moreover, it is estimated that in the coming years the revenue will grow even more, and would amount to $146 billion by 2023.
So, what should be your action plan if you want to benefit from home clothing and start an online shopping venture?
Key steps to making a booming home clothing store
Creating a successful dropshipping store right off the bat is truly challenging. That's why we are ready to share with you some simple tips that will make it much easier for you to create a successful dropshipping store.
Find trusted suppliers
Any successful dropshipping business is based on cooperating with reliable suppliers who have high-quality products. Luckily, as AliExpress has tons of sellers, all you need to do is choose.
Here are some things to consider when selecting suppliers for your work from home clothes and essentials store:
The overall store statistics (store rating, amount of subscribers, etc.)
The longevity of the seller (how long has he been operating)
The reviews (thoroughly look at what real consumers are saying about a particular seller)
Choose unique products
There are lots of clothing brands out there, so to compete, you need to make sure the products are high-quality and unique.
To ensure the product is worth adding to your store, make sure that:
There are lots of orders (100 at the very least)
The rating of the product is more than 4 stars
There are mostly positive reviews
Think your pricing strategy through
Another key aspect that will let you stay competitive in this market is your products' price range. Make sure your offers are affordable, and you can easily find a target audience for your product.
What's more, finding a supplier that will ship your products at no additional cost is even more beneficial, so keep that in mind.
Focus on customers
Upon establishing your online presence, you need to think about who your target audience is. The clothing market is one of the most popular industries, which means there are tons of potential customers to target. It is no secret that shopping behavior patterns differ depending on the buyer's age, gender, location, income level, and more. When focusing on your ideal customer audience, you need to thoroughly understand that and create a completely separate customer approach for each segment you identify.
Work from clothes you can dropship
Now, let's look at some of the best work from clothes you can source from AliExpress.
Clothes for working from home for men
Shirts
Blazer
Vest
Pants
Loose Shirt
Shorts
Casual work from home clothes for men
T-shirt and shorts
Shorts
Sleeveless shirts
Sports suit
Clothes for working from home for women
Blazers
Pants
Suits
Casual work from home clothes for women
Casual suits
Yoga sets
Blouses
Work from home essentials for men
Robes
Pajamas
Slippers
Socks
Work from home essentials for women
Pajama sets
Robes
Slippers
Socks
General home essentials
Blankets
Decorative pillows
Clothes steamer
Hand warmer
Final thoughts on dropshipping work from home clothes and essentials
The home wear product category is easily one of the most popular categories out there. As you can see, there is a large product offering for you to import to your dropshipping store.
No doubt that dropshipping work from home clothes will be challenging at first. However, if you are willing to succeed, you must be patient and thoughtful about your venture. This includes researching the niche, finding the right target audience and trusted suppliers.
Approach this with due diligence, and you will have a prosperous dropshipping store in no time.
Now, what are you waiting for? You have a promising dropshipping opportunity right in front of you. If you still don't have an online store, you can easily get one that fully meets your needs and start your dropshipping venture!