This Is Why AliExpress Shipping Time Won't Hurt Your Dropshipping Business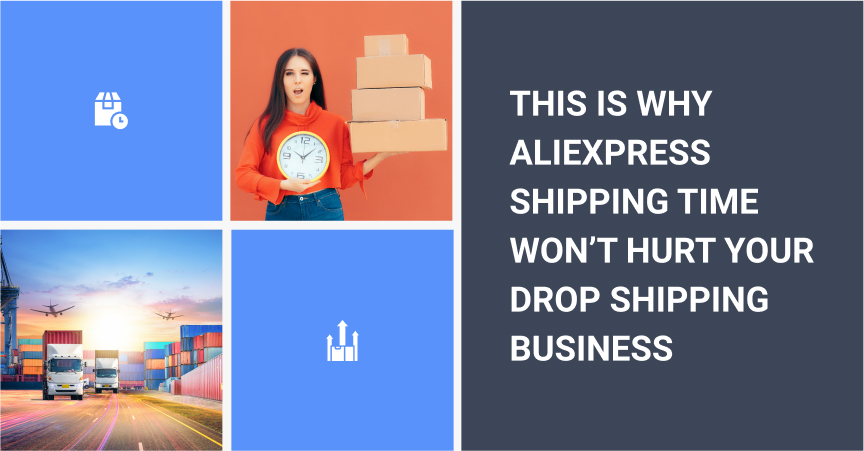 AliExpress can be a great dropshipping supplier. However, AliExpress shipping time often scares away people who want to launch their own dropshipping business. Of course, long shipping isn't good for an ecommerce store. But in this article, I'm going to prove that it's not a critical problem.
Future store owners worry that people won't buy anything from them because of the delivery time. Typically, online stores deliver your orders in about 7-14 days, while with AliExpress shipping time mostly takes 15-45 days.
But why do you think that it makes a difference?
Here are 5 reasons why shipping time shouldn't EVER be your worry!
1. Hot items are worth the wait
Did you make enough effort while choosing the best products for your store? If they are highly demanded and have great value for your target audience, your store visitors won't mind the delivery time. It is especially true for unusual products that are not so easy to find in other places!
If a person orders a truly unique item, he or she will most likely agree to wait even if takes up to 60 days!
2. These are not life-critical products
The whole idea of dropshipping stores is to generate impulse purchases driven by emotions. You're not selling prime necessity items like food or medicines, and your customers don't have an urgent need when they buy from you. They are not placing orders because of a burning reason. They just (ideally) fall in love with your items, and make a quick and easy purchase simply because they liked something. In other words, they CAN AFFORD to wait.
3. You can always put a disclaimer
To be honest, this is absolutely necessary. Write the shipping time information in a visible place for your customers' convenience – and for your own safety! If the product description starts with a phrase like 'Please note: the average shipping time is 30 days', the page viewer will know what to expect from the purchase.
4. Customer support is your ultimate advantage
Upset clients start to storm you with letters when they think that their item is lost and the whole thing was a fraud. Keep calm and be patient! You can sort this issue out in 3 simple steps:
When you send your client the confirmation email, include the shipping times in it ONCE AGAIN – not everyone is attentive enough to read even basic information in the product description. When you congratulate your customers on making their purchases, it's appropriate to remind them about the expected delivery period. For your own convenience, you can safely use the AliDropship Plugin: it automatically notifies your buyers that the order was processed and the package was shipped.
As soon as you get the tracking code from your AliExpress supplier, email this code to the buyer and explain how to use this information to learn about the current location of the package. Again, the AliDropship plugin will do this automatically, so if you have the plugin installed, you won't waste your time and energy doing these tasks manually.
Make your refund policy very clear: kindly explain that you will surely make a 100% refund IF the item is not delivered AFTER the end of the delivery period you've promised. If you wrote it on your product page that the item will be delivered in 30-45 days, the buyer will ONLY get a refund from you in case the package is not there by the 46th day!
5. Find AliExpress products with fast shipping
As you probably know, AliExpress free shipping is usually the longest one. Other shipping methods are not an option since they cost several times more than the product itself. However, AliExpress delivery time depends on the location of the warehouse.
Where does AliExpress ship from? Most goods come from different locations in China. But some sellers keep some of their products in warehouses located in European countries and the US. If you order products from one of them, shipping can take just 5-15 days.
So, if you want to dropship goods to America, try looking for products with cheap or free shipping from a US warehouse.
6. Use alternative suppliers
Some entrepreneurs who are not happy with AliExpress shipping time may want to try other dropshipping suppliers with faster delivery. If you own an AliDropship or WooCommerce store, consider trying Sellvia.
Sellvia is an ecommerce wholesaler with hundreds of products belonging to broad niches. Some of them come from AliExpress, some are made by American manufacturers. But most importantly, Sellvia's warehouse is located in California. As a result, your customers can get their packages in 1-3 business days after the order was processed!
Sellvia is fully compatible with the AliDropship plugin and suitable for dropshipping.
As you can see, long AliExpress shipping times can't actually hurt your business when you have all the processes smoothly organized. So, if it was the only thing holding you back from getting your own dropshipping store, put the worries aside and go on the adventure!