Using TikTok For Ecommerce Business: Tips, Strategies, Examples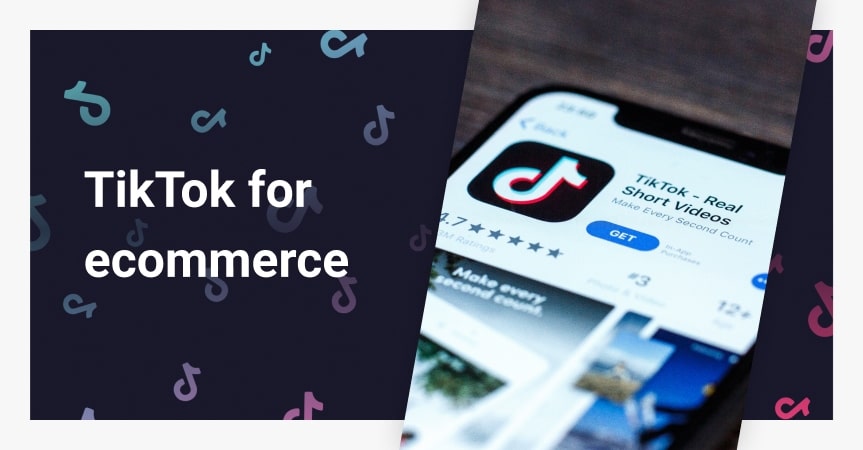 More than just a fun place to share viral dances and challenges, TikTok is also a rising star in the world of digital branding and social media marketing. Does it mean you can use TikTok for ecommerce business successfully to boost your promo campaigns' efficiency? Let's take a look!
Today, let's explore what TikTok is and how it can be a powerful tool to market your online business, especially to a younger demographic.
What is TikTok?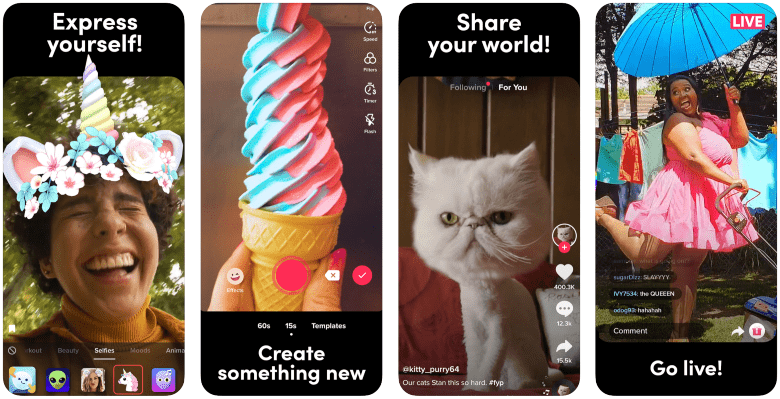 TikTok is available on iOS and Android.
TikTok is a video-sharing app that exploded in popularity within the past three years mainly among the younger millennial and generation Z crowd. Launched in the U.S. in 2016, the app features the ability to create quick content in short clips up to 15 seconds and looped-clips up to 60 seconds. It's quickly grown to be one of the top social media platforms of our time, with over 2.6 billion downloads worldwide as of December, 2020.
Why is TikTok so popular?
Like with any social media platform that's made it big in the past decade, it's a wonder why some apps and platforms just explode in popularity. There are many factors for TikTok's success, but this tech piece from Forbes pinpoints a few factors: the ability to go viral, the way the app's content capitalizes on short, quick content, and advanced AI algorithms to better cater to user preferences. Plus, much of TikTok's target audience already uses platforms like Instagram, and tend to share their TikTok videos on Instagram as well. This creates awareness and brings Instagram users over to TikTok.
How can you use TikTok for ecommerce business?
Jumping on the trend of any growing social media platform is key to being at the forefront of what's cool and capturing a younger, tech-savvy audience (if that is the target for your store). According to Statista, as of March 2021, 47.4% of TikTok's US user base is in the 10-29 age range, with 21.7% also being in the 30-39 age range.
Like with any other platform such as Instagram and Twitter, TikTok can help boost your brand presence. You can utilize hashtags to create campaigns and trends to inspire and attract users.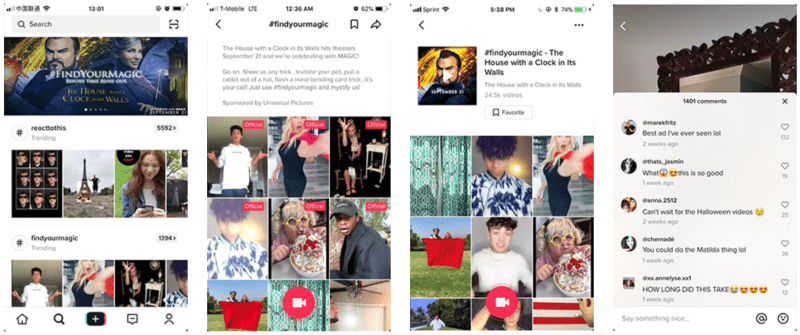 Image Credit: TikTok Business
TikTok Business even showcases a 2018 campaign by Universal Studios in which the hashtag #findyourmagic was used to promote the movie "The House with a Clock in its Walls." The movie studio partnered with 10 TikTok influencers to create videos with music from the movie (which is about magic) to perform something magical.
How to advertise on TikTok for ecommerce promotion
In a similar fashion to platforms like Snapchat and Pinterest, TikTok also allows you to create paid ads.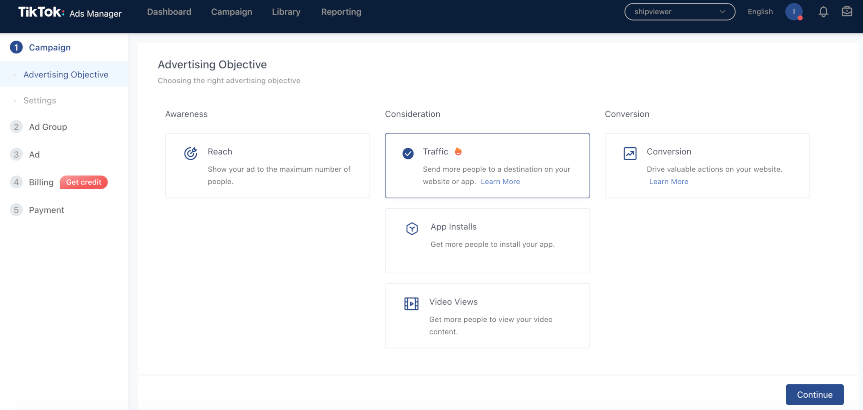 By signing up for free on TikTok Ads Manager, you can build and create campaigns with video that can bring users to drive traffic to your website, install your app (if your business has one), view your content, make a purchase on your website, or just have general awareness of your brand.
TikTok features five ad types you can utilize:
TopView ads
These ads are 60-second videos that play right when you open the mobile app. TopView ads are ideal spend because they basically gurantee the most viewership in an ideal space.
Brand takeovers
A brand takeover ad is shown on the TikTok app launch screen. These ads are available as either a three-second still image or a three-five second video without audio.
In-feed ads
Displayed in the "For You" feed, in-feed ads are similar to sponsored posts you see on Instagram, Pinterest, or Facebook feeds. This ad gives brands up to 60 seconds of video with sound, making it an ideal ad type to spend money on to tell a deeper, richer brand story or message about a product or service.
Branded hashtag challenges
Unique to TikTok and the most popular (you've undoubtedly seen a few of those "viral challenges"), this ad format encourages user-generated content by coaxing users to use your hashtag and film something to spread awareness. All content filmed using the hashtag is compiled in a hashtag challenge page for greater impact (think searching a hashtag on Instagram).
Branded effects
Similar to Snapchat lenses or branded Instagram filters, TikTok's branded effects allow you to create a unique, branded visual effect that users can add to their videos. Here are some branded TikTok examples:
How Clean & Clear uses TikTok for ecommerce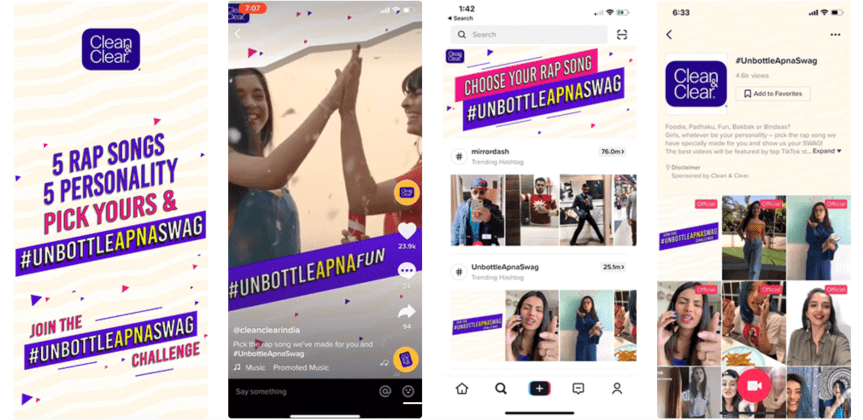 Image Credit: TikTok Business
Skin-care brand Clean & Clear utilized to drive brand awareness among teens. Utilizing the ever-hot hashtag challenge (#UnbottleApnaSwag), the brand created five bottle styles and five personalities for users to identify as. The brand furthered the power of five by releasing five rap songs with five top female TikTok influencers to drive the campaign. Users, like the influencers themselves, are able to interact with the campaign by choosing their own bottle style and personality type to share video content. Clean & Clear earned more than 1.96 billion video views and 2.62 million user-generated videos from the campaign, which resulted in a 9% increase in purchase intention.
What Guess does on TikTok to promote the brand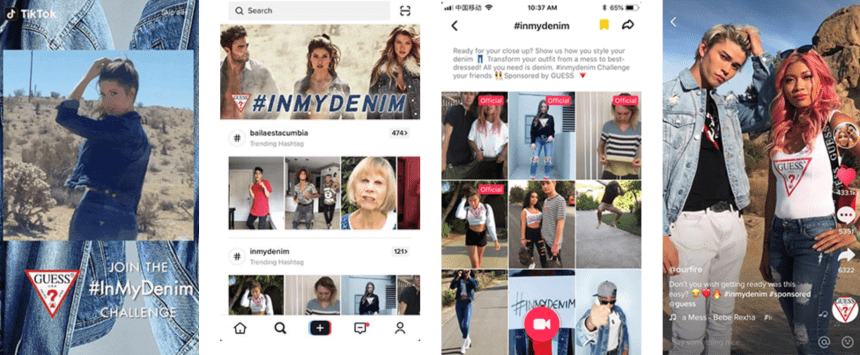 Image Credit: TikTok Business
The all-American luxe fashion brand, known for its curve- and shape-hugging denim, launched a #InMyDenim via a – you guessed it – hashtag challenge. on TikTok and called for consumers to show their fashion style in denim. The campaign utilized pop artist Bebe Rexha's "I'm A Mess" to drive home the idea that any messy outfit can become a best-dressed look with just Guess's denim.
Guess also invested in a brand takeover for immediate awareness and secondary traffic draw to its hashtag challenge. The fashion house also enlisted four fashion influencers to record video to kick off the campaign #InMyDenim brought in a whopping 5,550 user-generated videos, 10.5 million video views, and a 14.3% engagement rate.
How eBay's TikTok presence strengthens its ecommerce efforts
Image Credit: TikTok Business
In the United Kingdom, eBay kicked off a #StrongerAsOne campaign as the coronavirus rocked the world and caused many small private businesses to suffer. Using a stellar TopView ad, eBay had a ten-second ad showing many small-business owners going throughout their business day, such as packaging and shipping orders and being on video calls with suppliers and partners. The campaign garnered more than 16 million impressions in the first day of its run
A call-to-action button took viewers to an eBay landing page with more insight and information on the campaign, with quotes and stories from small-business owners on how eBay was helping them stay afloat during such a difficult time.
As we've journeyed through its myriad possibilities, from engaging video content to immersive shopping experiences, it's clear that the platform holds immense untapped potential for ecommerce businesses. The examples highlighted showcase just a fraction of the success stories born from innovative TikTok strategies.
But the true magic lies not just in understanding the platform, but in marrying it with your unique brand voice and offerings. It's time to transcend traditional marketing methods and embrace the vibrant, creative, and interactive world of TikTok.
For those contemplating diving into the dropshipping realm, now is the golden hour. Harnessing the power of TikTok could very well be the game-changer you've been searching for, propelling your online business into new spheres of profitability and brand recognition. Let the world see what you have to offer, one TikTok at a time. Embrace the future, and let your dropshipping story unfold.