Social Media Shoutouts: How To Get Traffic From Others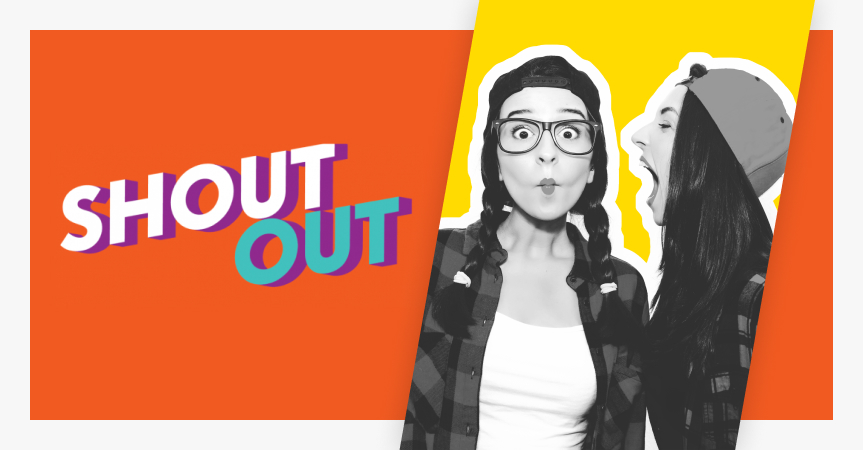 Getting a social media shoutout can really boost your business. Shoutouts are a part of digital marketing widely used for business promotion along with other methods. Keep reading to learn how to get paid and free shoutouts.
What is a shoutout?
Centuries ago, if you saw a new painting or a piece of jewelry at your neighbor's place, you could ask, 'Hey, where did you get that?' The neighbor would tell you about a good painter or a jewelry store.
The same thing happens even nowadays as we share our experiences with relatives, friends and colleagues, as we recommend certain goods and services.
A social media shoutout works pretty much the same way. Whenever a social network owner mentions another account, page or channel and provides a link, it's a shoutout. The idea here is that an owner of a social media account advertises your brand or social media account to his or her own followers.
Let's suppose I have a kitchenware store and I've found an Instagram account that posts food, recipes, etc. If its owner agrees to post my materials with a link to my web store (i.e. to give me a shoutout), this person's followers will see my wares and may want to buy something or at least visit my store.
Simple, right? In fact, you probably see at least one social media shoutout every week. We do it all the time by liking posts, reposting, etc. Except we don't do it in order to help someone make money.
Brands usually ask popular influencers to give shoutouts because these people have large and loyal audiences that follow their recommendations. From this perspective, shoutouts are integrated into influencer marketing. However, we will see that you can get profitable shoutouts from people with tiny audiences too.
Who can give you a social media shoutout?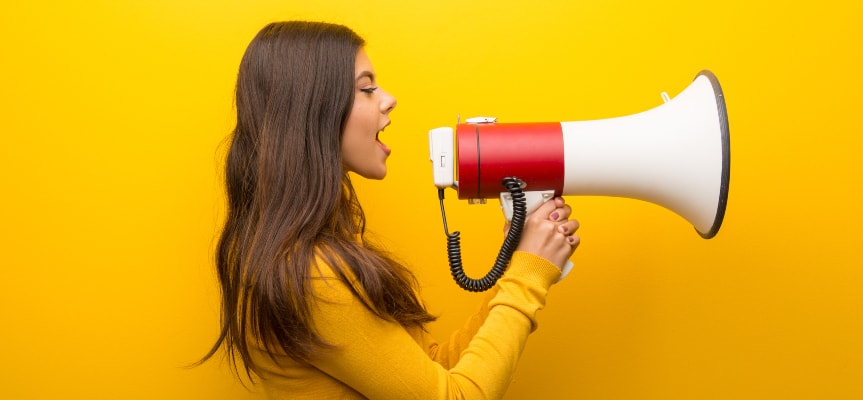 You can guess that it's no use asking any random account owner to promote your product. For example, if I sell kitchenware, a shoutout from an account owned by a heavy metal band will look like a joke. There are three main criteria you should keep in mind.
1. Similar niche
This is what I've described: if you want a shoutout to bring you visitors and clients, you need to find an influencer who works in the same or similar niche. However, be reasonable: you can't ask direct competitors for shoutouts. Instead, look for people who may truly, sincerely recommend your product to their followers.
2. Social network type
Even if you've found a good account with a similar niche, whether it could give you a good shoutout depends on what type of social network it is. For example, an Instagram account owner could mention your article, but people browsing Instagram usually don't want to read anything. So, this shoutout may not be as effective as you expected.
3. Different audience
Lastly, a similar niche doesn't necessarily mean a given account has the same kind of audience. Be it gender, age, marital status or anything else, it can make a huge difference.
How to get a free social media shoutout?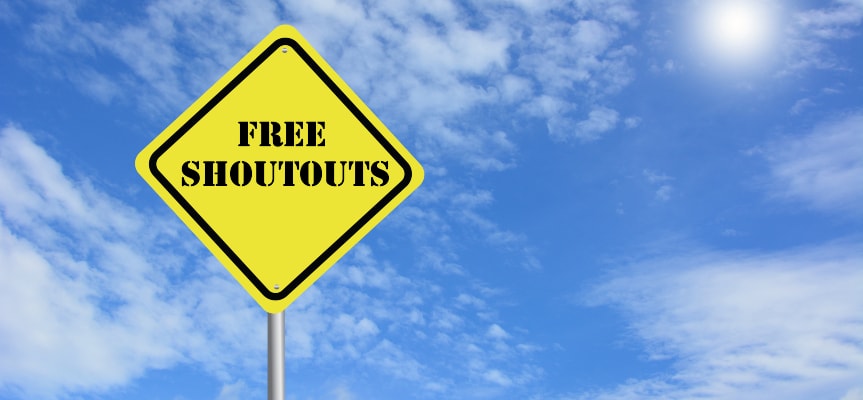 Let me make it clear right away – very few influencers will agree to give a shoutout for free because if you want something from them, you probably have no other choice but to pay. Still, some people get lucky.
Find influencers
First of all, you'll have to manually find an influencer. Use hashtags to browse social networks in search of accounts with a similar niche. Sounds simple, but depending on your niche, it can take a while before you discover a really interesting page.
Avoid influencers with a lot of followers because they get interesting offers from entrepreneurs (who agree to pay) quite often. So, an account with 100,000 subscribers is not good! Instead, look for accounts with a similar number of followers as you.
Before making contact and asking for a favor, I recommend spending some time liking and commenting on their content. Get noticed and show yourself as an active subscriber.
Contact account owners
Contact the account owners. As soon as you've found a number of interesting pages, subscribe to their communities and only after that send a message to them.
Don't ask for a shoutout right away. Don't ask them to visit your page. Lines like these irritate people because it becomes absolutely clear what you're after.
Instead, start with praising their content and be sincere. There's a chance the person on the other side might get interested in your content as well.
Offer S4S
After that, you can offer co-operation. Since you want a voluntary shoutout, your only option is the so-called S4S model, i.e. shoutout for a shoutout. Simply speaking, you and the other guy will promote each other.
If the other party agrees, it's a good idea to discuss the plan in detail – who's going to post what, how and when. Remember, you two are in the same boat, you're partners, so you both have to take it seriously.
How to get a paid social media shoutout?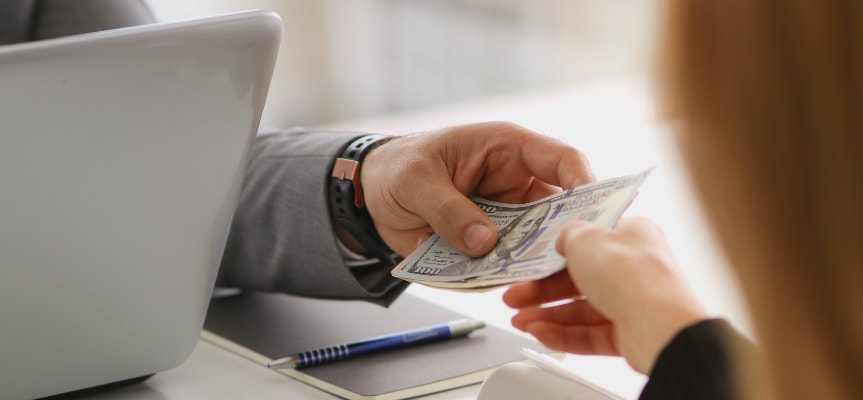 Selling shoutouts is a common practice in influencer marketing. Paid shoutouts on large accounts can help you reach a much wider audience, thus bringing you subscribers or sales.
Follow the same steps and ask the account owner if he or she makes paid shoutouts. Ask for prices as well.
If you don't want to manually search for influencers, you can use one of paid apps and services such as Shoutcart. They can save you hours and days by providing a list of influencers along with detailed statistics. You will see what niche these people occupy, how many followers they have, their average efficiency, prices, etc.
Tips on getting more shoutouts
One social media shoutout can hardly affect your total sales, so the more you get the better. Follow these tips to get more shoutouts.
1. Contact influencers personally
Never ever offer collaboration to influencers in comments or anywhere else where other users can see your conversation. Your potential partner will definitely not like it. So, keep your business conversations private.
Also, I recommend checking the influencer's profile to see how they prefer you to contact them. A person ignoring such requests clearly demonstrates that he hasn't seen the profile and doesn't really care about the influencer.
2. Make high-quality content
Not all influencers will agree to collaborate with you even if you're offering money. If your account looks unprofessional or the content you create doesn't appeal to the influencer, he/she may simply not want to have anything to do with you.
So, make your account look good and create truly interesting content related to the niche of your business. The other guy too wants to share an interesting and useful post or a couple of photos and videos related to their topic. And your task is to become the source of this content.
3. Give a shoutout first
Instead of asking for a shoutout, you can try giving one instead. If there's an account with really good content, share it with your followers. Do the other guy a favor, and maybe he will feel obliged to you.
Are shoutouts worth it?
It's really difficult to judge whether shoutouts can or cannot boost your business. A lot depends on your niche: certain things are popular while others have a narrow audience. As I mentioned before, an influencer's audience is also important. And you can't be sure this influencer won't do the job half-heartedly.
As a result, there's no guarantee it'll work. So, if you decide to ask for shoutouts, either try doing it for free (S4S) or try a small budget to see whether the result is worth it.
Along with social media shoutouts, you may want to use Facebook and Instagram ads as these platforms have proved very effective for small businesses. Save time and get better results by using this service!