Beware Of These Social Media Mistakes When Promoting Your Business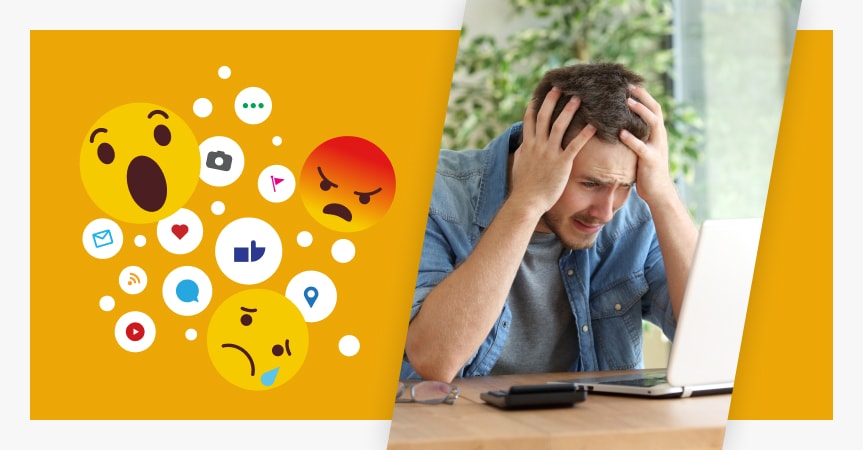 In dropshipping, most entrepreneurs can't do without social networks because they serve as great platforms for promotion. At the same time, people tend to make the same social media mistakes in marketing. Today we are going to discuss the most common among them.
42% of the world's population uses social media. Just think about it. Almost half of humanity! That's 3.2 billion people. That's why social media serve as important marketing platforms, especially for a small business like dropshipping.
However, many entrepreneurs do not fully understand how to benefit from social networks to promote their companies and brands. So let's explore the most common social media mistakes they make.
General social media marketing mistakes
It's obvious that all promotion channels have one and the same goal – it's to turn people into customers. And social media are no exception. Therefore, people often start advertising the brand, which is the right thing to do, but the problem is the quantity of ads.
Don't treat social networks as virtual billboards. They work best for content marketing, so focus 80% of your marketing efforts on valuable content and only 20% on direct advertising.
Having no strategy and objectives
This is a common problem for any business type and marketing method. Before doing something, one needs to decide what to do. In SMM, you should set a clear goal, think of how you can achieve it (what social media to use, what type of content, etc.) and… how to measure the results.
In order to understand whether your strategy worked or not, you need to measure the results. Promoting a brand is not a goal because there's no clear line that could show that you're done. So, use statistics such as the number of followers/unfollowers, number of leads or sales, etc.
And don't forget: attracting followers and engaging them is great, but if all this doesn't influence your sales, it's still a failure meaning you'll have to change your strategy.
Not defining a target audience
When you promote your business, it's essential to know who your customers are. You need to know their age, sex, place of residence, level of education, etc. All these aspects are necessary to create ads that convert like crazy. Otherwise, if you're not going to define your target audience, you risk ending up with nothing.
Arguing with your target audience
Social media allow you to communicate with the audience directly. However, some marketers fail to make use of it. They tend to oppose their customers instead of admitting mistakes and fails, apologizing, and trying to improve.
We've already mentioned that you need to know your target audience well, especially your customers' level of education. You say, why? You have to choose the tone to use for communication. In practice, the most important issue is to understand whether your customers are young guys you need to use hype expressions for, or they're aged people you will look pale in front of them with such a communication style.
Selling a product, not a lifestyle
Nowadays customers tend to buy not a product, but emotions it provides them with. Don't forget that when you promote the products you sell. So describe what it is in detail, tell them how it will make their lives easier or more glorious, show it in use, etc.
While it's very tempting to pay for fake followers in order to increase numbers, this method will not improve your actual social media presence. A fake audience is an empty and inactive audience. Besides, social networks today keep an eye on such acts and can delete fake accounts, thus causing serious reputational loss: everyone will see that more than half of your subscribers were actually fake!
Hide people behind the brand
Customers prefer to see whom they deal with. So if you have a whole team working on your project, feel free to introduce them to your staff. In case you're the one who maintains your business, it's a great idea to show your daily routine. Be sure, they will adore that!
Not optimizing for particular social media
One of the most common social media mistakes is to use the same approach when dealing with different networks. My guess is that people find it easier that way. However, all the channels have specific features and require different methods and strategies because they have different audiences and mechanics.
Here's an obvious example: you can post a text on Facebook but you can't do that on YouTube. You'll have to repurpose your content and turn the text into a video. Similar differences apply to other networks as well.
Registering 5+ social media accounts at once
That's how it happens. A person decides to promote a business via social networks. He finds out which of them are the most popular and registers in each of them hoping to engage the maximum number of users.
However, very soon, the person realizes that managing all of them is simply impossible. Moreover, only one or two actually bring sales. The advice here is to focus on one, two, or three social networks. Though you can still try other channels to see how efficient they are.
Another common mistake is to neglect the promotional opportunities offers by hashtags. They are very helpful when you treat them wisely – check out this article to learn more on how to use Instagram hashtags for likes and profit.
The more doesn't necessarily mean the merrier. One may think that more posts will make the brand more popular, but there's a limit to how much your audience can 'swallow' without unfollowing. So, post regularly but don't spam.
This is great when your customers share their feedback with you. Yet, there're situations when a client is not satisfied with your products or service, and they leave negative comments. The point is that it's not a good idea to delete them. Try to find a solution for each client who has a negative experience with your business. As a result, you'll benefit from that a lot: you'll show your customers that you not only sell high-quality goods, but you also provide 5-star client service paying attention to each customer in your store.
The last mistake may seem minor, and people actually don't really care about spelling on the Internet – but not when it comes to serious companies. It's alright to misspell on your personal Facebook page, but not when you post on behalf of your brand. So proofread each of them.
Social media mistakes: common Facebook marketing mistakes
A lot of social media mistakes fall at Facebook as one of the most popular networks and most efficient tools for digital marketing. Here are the most dangerous of them.
Focusing on likes too much
Certainly, the number of likes is one of those indicators that can tell you how well you're performing. However, shares are much more important because they reflect how many people advocate your brand.
Touching on questionable topics
When trying to engage audiences, brands often bring up complex subjects such as politics, gender equality, disasters, accidents, etc. However, such type of content requires the most careful approach, otherwise, you risk hurting someone's feelings and driving the audience mad. Think twice before bringing it up.
Not paying for advertising
Like it or not, but Facebook's algorithms will probably lose your post among many others, and few people will see it in their feeds. If you want to promote an account, you will have to dip it into your pocket. It doesn't mean you have to pay a fortune, but hoping that promotion will work for free is a mistake.
Not sticking to your theme
I already mentioned that a brand should focus on content related to a certain theme or niche. But often companies publish posts that have little or nothing to do with it – only because everyone is talking about it right now. Such posts look weird and puzzling.
People don't like reading, especially if it's one of many posts in their feeds. So, make your messages short even if it means omitting important information. Just place a link leading to your blog so that people could learn more, instead of copying the whole text, because some users will not even look at what the text says after seeing how long it is.
Boost your Facebook marketing efforts with our Facebook Business add-on. It saves you time, helps run advertising campaigns on FB, and more.
Social media mistakes: common Instagram marketing mistakes
Instagram is another social network often used to promote businesses, especially those dealing with visually appealing products like clothing. Besides the typical social media mistakes mentioned above, people often make these too.
Posting low-quality photos
Although it seems obvious that Instagram followers want high-definition pictures, some marketers publish photos that could be much, much better. Don't do that. In a best-case scenario, people will simply skip your post, but they may also associate such photos with the quality of your products.
Not following your followers
It's always a good idea to follow your subscribers because it helps you better understand the target audience. Knowing what makes your followers happy and sad, what they like, and what they expect allows you to adjust your social media marketing strategy.
While following subscribers is a good idea, stealing their photos and videos should be considered a taboo because it'll hurt your reputation. But you can still ask followers for permission to repost their content (with due credit of course) or even ask them to share photos with your product as a part of a giveaway.
Publishing the same posts over and over
Another common mistake (actually made on all social media platforms) is posting the same things again and again. Sometimes you may have a good reason to do it, but experienced marketers recommend avoiding it at all costs. After all, most of your followers want unique content.
Paying no attention to the bio
The Instagram bio contains all the information followers need to understand what your business is and how to get to your website. Yet, many entrepreneurs neglect this section. So, make sure your Instagram bio looks appealing and informative and contains a link to your online store.
Social media mistakes: common Twitter marketing mistakes
Underestimating the profile importance
Such social media mistakes can actually refer to any platform, but on Twitter, it's even more important. The network is very limiting when it comes to the length of your texts. That's why one must get the most out of the profile including the header image, bio, and so on. Remember: this is what gives your audience all the information about the brand.
As I already said, you should optimize content for each of your social media channels. And again, since Twitter limits you to 280 characters only, this task becomes even more crucial here.
Some account owners can afford simple text tweets, and people will read them anyway. But most of them are celebrities, video game designers, and politics saying what's considered important by millions of people. Small businesses have to fight over their audience, and visuals work best here.
Using analytics and various tools is crucial for any digital marketing strategy. Fortunately, Twitter has lists to help you find groups of people with similar interests. So, make sure to use them.
Not using the search function
Surprisingly, many companies don't use the '@' handle in tweets, which means they can't monitor what people say about their brand.
Social media mistakes: Pinterest marketing mistakes
Posting low-quality images
Since Pinterest focuses on visual content, neglecting the quality here is inappropriate just like on Instagram.
On Pinterest, you can include prices in your pins, and it's super important for online stores. However, some marketers don't do that, which results in fewer likes and engagement.
Placing no link to product pages
If you advertise a certain product on Pinterest and even show the price, your followers may share the pin. But those who see this pin after them may not visit your Pinterest homepage where all your information is listed. So, including links in such posts is a must.
Some people leave their boards with no descriptions at all! In the meanwhile, they actually allow you to type up to 500 characters, which you can use both for search engine optimization and promotion.
Posting too much is a common social media mistake, but posting too little isn't good either. Some marketers or small business owners start promoting on Pinterest with just a couple of photos, and everyone can see their empty boards. This shows your potential audience that this profile is probably a lazy spammer who's going to post purely commercial pins once a month at best. Don't be like them.
Final thoughts on social media mistakes
Experience comes with practice, and to err is natural. However, some of them may cost you reputation and potential customers. So, learn from this list and avoid the most common social media mistakes.
Many people make these social media mistakes because managing both the business and the accounts isn't easy. To help you with it, we've created Social Rabbit plugin that automates posting, manages files, and gathers statistics.