Martin DOUBLED His Average Monthly Sales With AliDropship – Here's How!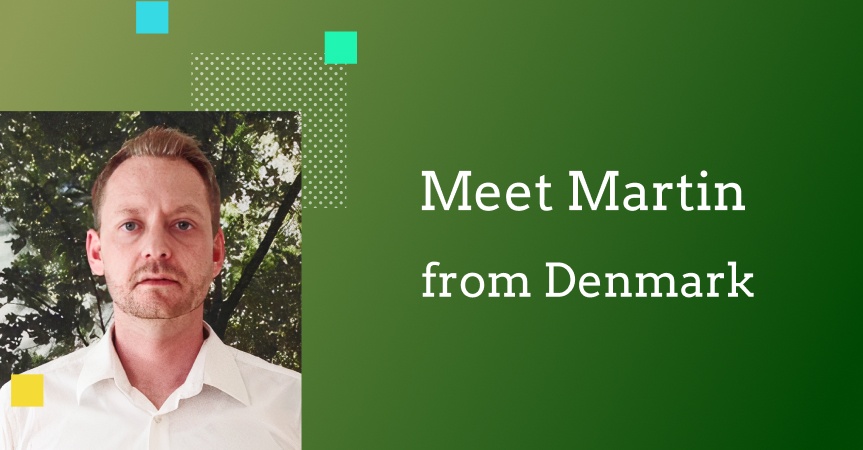 Hello everyone, today we're talking to Martin Dressler, a 43-year-old professional from Denmark, with a bachelor's degree in Business and Economics. He has worked in sales and marketing for a significant portion of his career. He's also an AliDropship user and has had quite the journey in the world of online business. Martin is willing to share with us his story on how to grow an ecommerce business — he managed to double his monthly revenue with AliDropship. Here he goes!
Hi, Martin! Please introduce yourself!
Thanks for contacting me! I'm excited to share my story.
In March 2021, I decided to start my online business. As I was a total newbie in the world of ecommerce, I chose AliDropship's Premium Store, a replica of an already successful store that focuses on fitness and health products.
I was drawn to the AliDropship's Premium Store because it seemed like a great way to get started without starting completely from scratch. And the focus on fitness and health products was a great fit for my own interests.
The store went live and had a steady but modest run for the first seven months. The sales figures from March to September were satisfactory for a beginner. Sure, I faced some of the common challenges most dropshippers have to overcome as well.
I was reselling products from AliExpress, which led to longer delivery times and some customer complaints. I was spending more time addressing these issues than actually working on growing my business. That's when I started looking for alternatives.
How do you navigate challenges? Have you found a solution to make your store perform well enough?
If there are some issues arising, it means you're on your way. When you run an online store, there are some critical factors that influence your business significantly. Specifically, delivery time influences customers' satisfaction a lot. I found that the extended delivery times of 4-6 weeks that are common with AliExpress were causing customer dissatisfaction, leading to complaints.
It wasn't just the long delivery times. I also had to handle complaints about the product quality and, in some cases, orders that never arrived. It was a lot to handle, especially for someone new to the business.
Eager to find a better way to run my business, I explored alternative suppliers, including Wholesale Central. I soon came across an email promoting Sellvia, an ecommerce supplier that promised ready-to-sell products from a warehouse in California. It sounded really tempting.
What attracted me to Sellvia was the promised 1-3 day delivery time, which was significantly better than the usual months of shipping I was dealing with. I figured it would solve my delivery issues, and after checking it out, I found it was easy to use, and the delivery time was as promised. This meant I could focus on sales and marketing instead of managing customer complaints.
You've decided to give Sellvia and AliDropship a try. What next?
Opting for AliDropship's services, I saw my business change for the better. This decision led to a significant 35-40% increase in sales and revenue within just a month.
Switching to AliDropship has been a game-changer for me. I saw a significant increase in my sales in October, and that was just within the first month of using their services.
How to grow an ecommerce business with AliDropship? Were there any pitfalls?
It was really easy to incorporate AliDropship into my business.
As a novice in online selling, there were many things I had to tackle before I could say my business was running smoothly. I needed an online store, a selection of products to sell, and a strategy to attract customers.
With AliDropship, I found solutions to all these concerns. Their services included creating a functional online store, providing access to a catalog of best-selling products stored in a California warehouse, and equipping me with promotional materials.
Your decision to switch to AliDropship had a significantly positive impact on your store's performance, hadn't it?
Yes, sure. My revenue almost doubled in the month after the integration. For an ecommerce newcomer, this was a considerable achievement I suppose.

In the seven months preceding my switch to AliDropship, I had made 194 sales with a total revenue of $5,562. But after the switch, I made half the number of sales I had previously made in seven months, in just one month. This increase led to a significant boost in my revenue.

How do you promote your store? What's the secret behind your marketing strategy?
Nothing special, actually. To maximize my store's visibility, I used Facebook ad campaigns and boosted my store's social media presence. I also began exploring other promotional opportunities provided by AliDropship.
I'm still learning about different promotional platforms. I used Sellvia as a reliable supplier recommended by AliDropship. What's important, Sellvia not only provides a range of products but also promotional materials, which I can use to advertise these products. This helped me significantly, especially since I had no background in advertising.
From struggling with customer complaints and delivery issues to experiencing a significant boost in your revenue, your journey has been full of learning and growth. Right?
This is my first online store, and it has been an incredibly rewarding and life-changing experience. I'm trying to learn everything I can about marketing, supply chains, and customer interaction. AliDropship not only gave me a robust platform to start my online business but also provided me with continuous support in running it.
What next? Do you have great plans for the future? Will you develop your store further, set new goals and achieve them?

With AliDropship, I found a way to manage my business better. It gave me the confidence to scale up and expand my business into other areas. Now it's promising a future of increased revenue.
At the moment, I'm not worried about getting buried in customer complaints about long delivery times. I'm looking forward to expanding my business and increasing my revenue. I'm excited to see where this journey with AliDropship and Sellvia will take me. Time will show.
How to grow an ecommerce business: a first step to greater heights
Martin's story is an excellent example of how a business can transform with the right tools and resources. From facing challenges in the beginning to experiencing a boost in revenue within just a month of switching to AliDropship, his journey has been one of resilience and determination.
As we see from Martin's successful journey, having the right support system can propel your business to new heights. It's about taking that first step, learning, and growing along the way. And with a partner like AliDropship, even the sky isn't the limit!
Now you know well how to grow an ecommerce business you'll be proud of. A first-time entrepreneur started his ecommerce business and doubled sales with AliDropship. Sounds inspiring, right? Now you can easily repeat or even surpass Martin's success with solutions by Sellvia — book a call with our business advisors willing to help you get started and succeed!