3 Landing Page Tips To Increase Your Online Store Conversion Rate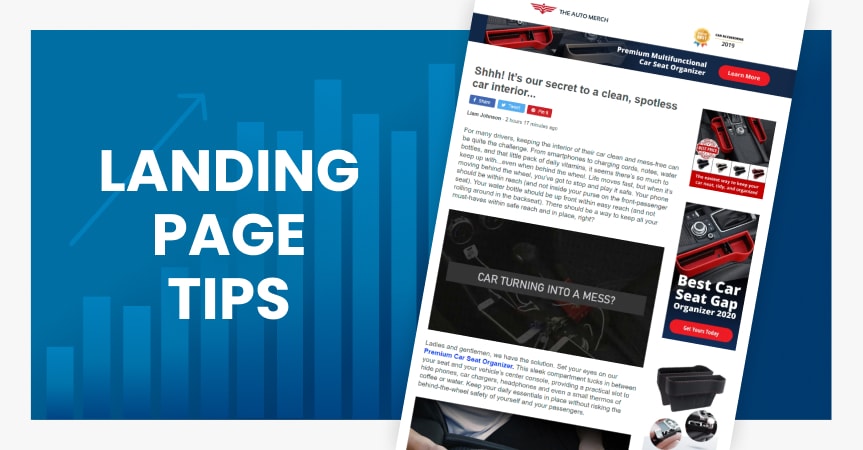 Are you looking for ways to increase the conversion rate of your online store? Have you ever considered using landing pages to boost your sales? Or don't you know how to create a landing page that is able to generate lots of leads? Well, here are the most useful landing page tips for you!
Do you remember our best performing Premium dropshipping store? Right, this is the business run with the use of groundbreaking managing techniques and perfected by AliDropship specialists.
And this is the store that managed to overcome a $500,000+/month mark due to its creators' efforts.
We have already revealed the tactics that let the team behind the store come this far. They are glad to share their invaluable experience to give everyone the opportunity to repeat their success or ever surpass it!
They have already explained how to craft a highly effective product strategy, how to create product pages for the maximum conversion rate, how a perfect Facebook ad should look like, and more.
However, we have not touched upon one more issue that is a decisive factor in its success story – its landing pages! Fortunately, the store creators kindly agreed to share their unique self-discovered landing page tips for creating the pages that really convert and bring profit!
Disclaimer: The main part of this article comes in the form of an interview with the creators of our dropshipping store that makes over $500,000/month. The store is available for copying as a part of our beginner-friendly Premium Stores offer for newcomer entrepreneurs.
What is a landing page and what is it for?
Landing page is a specific type of website page optimized to motivate an Internet user to make a purchase. Traditionally, a landing page describes an item, tells potential customers about its main advantages, and convinces them to buy it. Even a person unfamiliar with a product should be tempted to place an order after visiting a catchy landing page.
An interesting thing about landing pages is that you can't leave them to view other pages on the site. Landing pages have no navigation at all: their goal is to focus the visitor's attention on the product, so you can't go and see the parent category, or the Homepage, or anything else. That's why, if you take a look at our landing page, you'll see you can only go to the checkout page from there 🙂
This landing page itself includes a profound article about the product and a detailed description of its advantages. The checkout page where you are taken after clicking on the 'Check Availability' button is designed to convince website visitors to buy a product.
The main factor here is a huge discount motivating to buy in bulk (as a gift for friends and relatives). These are the very measures that let us increase the average order value in our store significantly. Meanwhile, we achieved it without increasing the conversion cost.
Why did you decide to promote your products through landing pages?
The point is that we used to count on single products pages only. However, in this case, it's not always possible to achieve all the objectives such as increasing average cheque, motivating to buy in bulk, etc. To date, landing pages account for 70% of the whole website traffic. Meantime, single product pages account for the remaining 30%.
We have noted earlier that the store visitors wish to buy products in bulk. However, if speaking about our landing pages, people are a lot more likely to buy in bulk due to the special offers we always provide them with.
What are the landing page tips you've discovered?
We have tested multiple landing page layouts and managed to find certain patterns of influencing the buyers' actions. As a result, we found the way to create a perfect landing page that has a high conversion rate. So now we are ready to share the most useful landing page tips with you!
We were working on the texts, gallery image, CRT, discount sizes, feedback section, etc.
In our case, it was the team of AliDropship developers who did the most part of the job. We, in turn, prepared the technical requirements, showed them the examples of landing pages that we had been inspired by, found the pictures for the gallery, and wrote the article. While testing, we were pointing out the aspects that required particular attention.
After all the changes, we analyzed current conversion rate to decide what worked best. Here are our top findings!
Landing page tip #1: how to evaluate a landing page performance
There is nothing challenging about tracking and analyzing the results of your landing page performance. So let's consider the car organizer, one of our bestsellers, and find out which ad campaigns are more successful.
Facebook ad campaigns for single product pages (November, 9th)
Facebook ad campaigns for landing pages (November, 9th)
As you can see, ad campaigns for landing pages have a lot higher purchase conversion value and ROAS. Meanwhile, the average order value for single product pages and landing pages is $54,81 and $61,89 respectively. Unfortunately, Facebook Pixel is not able to track all the sales. However, if we recalculate manually, we will see that the average cheques are higher, so does the difference between them.
Landing page tip #2: how to choose the items to display on separate landing pages
When running the store, we try to analyze the customer behavior and highlight the items that people often buy in bulk. So this is a signal that we should consider creating a landing page for such a product. What's more, we are now creating some combo offers, and we would like to promote them by means of landing pages.
Landing page tip #3: how to build landing pages in a couple of clicks without any experience
Initially, while creating a landing page for our well-performing product, we had to ask for our developers' team help as we had to create the page from scratch.
We saw the need for a smart solution that would simplify this specific task. So the AliDropship team of developers started working hard on a new AliDropship tool.
As the result of the cooperation between AliDropship emarketers and developers, Landing Page Add-on was introduced. Kindly read this article to see how Landing Page Add-on works and what it's capable of!
With this solution created thanks to the cooperation between developers and digital marketers, you can easily make as many landing pages as you want even if you're doing it for the first time in your life. Sounds tempting, doesn't it?
And here's another exciting benefit to note. The landing pages that you create by means of the Landing Page Add-on have a feature that our manually made ones were lacking. This is all about the opportunity to add the shopping cart to a landing page!
In practice, our buyers have been really looking forward to this feature. It would give them the opportunity to buy several variations of the same product and still get the discount for bulk buying. Well, now we are happy that we can improve our offer. So can you!
We hope that the landing page tips of our thriving store creators will help in making the most out of your ecommerce business. Don't forget that a right landing page is a key to success. And since you are able to build up landing pages in several clicks without any efforts, this success is even closer to you!