Instagram Sponsored Posts: Influencer Marketing On Guard Of Your Sales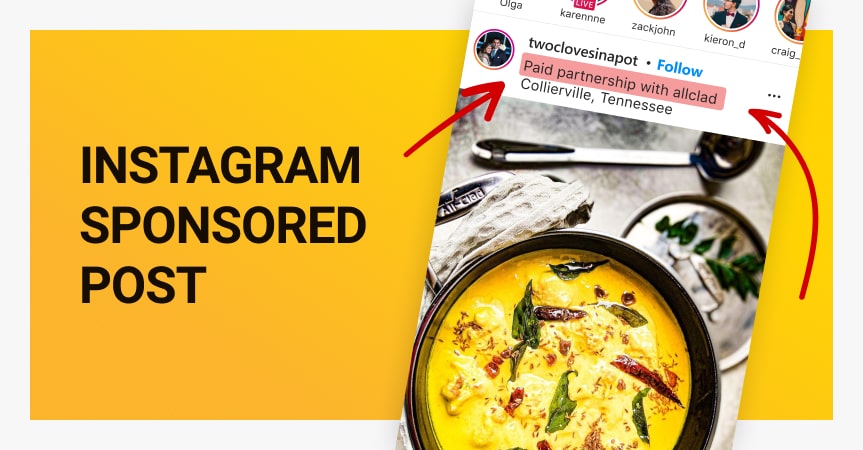 Is your business present on Instagram? If yes, are you sure you get the most out of this social media platform, financially speaking? 500 million users engaging with Instagram content every day isn't a joke! And there are definitely lots of your potential clients out there – they just don't know about your products yet. Let's help them out! Today, we'll talk about influencer marketing and how Instagram sponsored product posts can help you jump-start the Instagram presence of your business and do I-got-a-lot-of-profit diggy dance.
What is an Instagram sponsored post?
Well, have you ever seen posts like this? They have a special "Paid partnership with [brand's name]" tag and usually tell about the brand/products. These are Instagram sponsored posts.
We're sure having someone to promote your store like this and highlighting your brand name in a cute tag will not only make you feel proud, but will also help with your brand promotion and brand awareness increase.
How do sponsored posts work? Well, a brand and an influencer engage in a collaboration, so the influencer creates a post promoting the brand and publishes it in his/her own account – of course, not for free.
This tagged partnership grants the business partner access to the organic insights – reach and engagement metrics – of the posts that they're tagged in. They let you see if the collaboration with the influencer was lucrative.
If you're creating Instagram sponsored posts, you must use this paid partnership feature. It makes Instagram favor you as you provide full disclosure of sponsor content which is required by FTC (Federal Trade Commission).
How to sponsor a post on Instagram?
#1 Spot an influencer
Don't forget that the number of subscribers has a direct impact on the cost of the sponsored post. If you're just a beginner and don't have a bag of money in your closet (eh, we all wish we did), we'd recommend going for micro-influencers with a couple of thousands of followers.
#2 Do communication stuff
Reach out to the influencer in DM or via their personal site, and discuss the terms.
Agree on the text: decide if you're providing the post text and picture, or if the influencer is eager to do all that in their own style and then submit everything for your approval.
Discuss the money: decide if you're paying upfront (we recommend PayPal – the system will help you get money back if something goes wrong) or send a free product sample as a payment.
Ask the influencer to send you some screenshots of audience insights to make sure their followers base consists of your target audience. Also, ask for confirmatory screenshots showing the audience is lively and active.
#3 Set up the branded sponsorship on Instagram
To do this, go to "Settings" in your Instagram account and find the "Business" option. Then go to "Branded content," and choose the "Approved Business Partners" option. That's how you can add a public business or creator accounts as a partner.
You can also turn on the "Manually Approve Tags" toggle to be able to accept a sponsored tag before it displays (crucial for brand safety purposes).
Once an influencer tags you in their content, you'll get a notification and will be able to approve the tag. You can easily delete a sponsored post on Instagram at any time – just remove the tag when viewing the post.
How does it work from the influencer's side?
Yes, you need this info as well! Don't forget that you can be on the other side of the sponsorship coalition 🙂
If your brand is strong, why not become some sort of an influencer yourself? You could make Instagram sponsored posts promoting some other brand (for money! everybody loves money!). Plus, there's a great possibility of cross-promotion when you and some other dropshipping store promote each other and benefit from it.
How to become an influencer in a sponsored partnership
Build up a strong community around your store's Instagram profile
In an ideal world, you need several thousands of followers that read your content, like, and comment to catch a sponsor's attention. Don't think many followers and the creation of the community matter? It's totally possible to sell through posts without spending a penny! You just need to create exciting content and showcase cool products.
Get well-known for something
For example, if you have an online store with eco-friendly stuff and people see you as an expert in zero waste life hacks, it is very likely you'll do as an influencer. People trust your opinion and will pay attention to your recommendations of another brand.
You need to make your Instagram account visible to the public and have a business or creator Instagram account status.
How to create a sponsored post on Instagram?
#1 Set up a branded sponsorship with a business
Ask its representatives to add you as a business partner in the settings of their Instagram account. This way, you'll be able to tag them in your post.
#2 Prepare the content
Get the visuals and text ready. Don't forget that both you and the sponsor should like the post!
#3 Upload a sponsored post on Instagram
Start creating a post as usual. For an in-feed post, go to "Advanced Settings," and just select "Tag Business Partner."
For a Story, just click the link on the icon toolbar – it will show the "Tag business partner" option.
How to attract sponsors?
If you have a cool & large community of followers on Instagram and would like to start creating sponsored posts, here are a couple of ways you can use to get noticed by potential sponsors.
Just write to them!

Explain what the brand will gain from the partnership with you, tell them you love their products and ask if they are ready for collaboration.

Tag them in a post.

When you create posts, just give the desired sponsor a shoutout (a relevant one, you know) – it's a good attention-grabber.

Use their hashtags.

Let the sponsor discover you – look at the hashtags they use in their posts and add these to your own Instagram narrative.

Be responsive.

Reply to direct messages quickly and make sure your contact info or site address are visible in your bio.
How to promote Instagram sponsored posts in the Ads Manager?
Yes, if an influencer published an in-feed post about your store and tagged you there as a sponsor, it's a solid permission for you to promote this post. If you want to promote a Story, the creator must have Stories archived.
So, to promote the post you sponsored, feel free to just go to the Ads manager, create an ad as usual, choose the "Use Existing Post" option. And voila! – the sponsored post will be suggested among your usual posts available for promotion.
Complete the ad creation process, and publish your ad. Your collaboration with an influencer will now be seen by an even larger audience than the initial organic one.
Well, that's it about Instagram sponsored posts topic! Hope this article was useful for you and let you understand there are more effective promotional initiatives than usual ads only. And you should use all of them to promote your dropshipping store productively!