Grow Your Email List With Our New Irresistible Lead Magnet!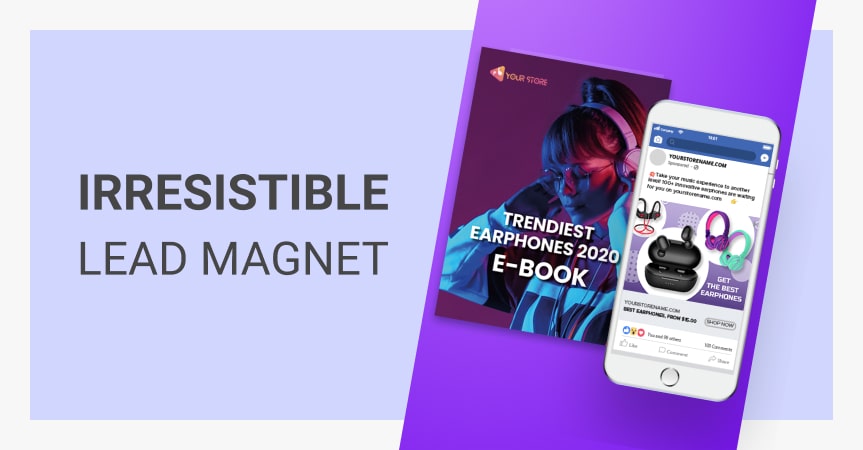 Do you have any difficulties with lead generation? Are you looking for ways to grow your email list and win lots of potential customers? Meanwhile, do you want to make your online store stand out of the crowd? If so, consider Irresistible Lead Magnet from AliDropship!
What should entrepreneurs do if their online store can't boast a huge number of sales? In fact, there are some paid and free ways to generate leads you can follow to improve your business performance.
But how to get several times more customers? How to grow your email list significantly in order to convert your website visitors into customers easily? Well, we have a solution for this purpose also: meet our new Irresistible Lead Magnet!
Attention: at the end of the article there is a bonus for you, so stay tuned.
How to boost your sales: growing your email list
It's a common question for entrepreneurs: how to boost your sales?
Certainly, you can't just buy an online store and leave it in a bid to bring you profit on its own. Despite the fact that this kind of business does not require lots of time to manage it, anyway, you need to do this. Otherwise, you can easily use the dropshipping automation software AliDropship has developed for you to benefit from.
But what should you do if you have already faced this question or decided to think this ahead? So one of the most efficient ways to boost your sales is to grow your email list.
If somebody is not familiar with email marketing, here is what it is.
Email marketing is the way of contacting your potential customers by means of email.
So growing your email means you should make more potential customers leave you their emails. In that case, you will be able to work with them further and make them buy something from you.
But are there any efficient ways to do this? In fact, there are!
How to grow your email list easily: Irresistible Lead Magnet
In practice, there are different ways you can make customers leave their emails. As a rule, dropshippers use a regular subscription form: you suggest your website visitors leave their emails in return for newsletters related to discounts, new arrivals, etc.
But how to make the right use of the subscription form? How to attract new visitors, make them leave their email, or even make an immediate purchase from your website? Are there any efficient solutions that can let you significantly increase your website traffic and brand awareness, and, on top of that, get several times more customers?
The answer is simple: consider using our new service – it's Irresistible Lead Magnet!
What is it?
Well, what is our new service about and why is it so tempting? Let's figure this out!
Irresistible Lead Magnet is a set of marketing tools and materials for you to promote your online store and boost your sales.
What do you get in case of ordering Irresistible Lead Magnet?
Well, let us enumerate what you will get in case of ordering Irresistible Lead Magnet:
This is going to be an ebook designed for you individually. It aims at presenting the products you sell in an engaging way.
Set of advertising materials (1 pic, 1 text, and target audience)
Here we are speaking about ad materials you will use when promoting your online store. So we provide you with all the stuff that is necessary to run ads: image, text, and a detailed description of the audience you should target.
1 pic for your pop-up (optional)
Our marketing experts will also prepare an image for your pop-up. In case you have already used our Lead Generation Pop-up, some extra job is not required. If you haven't done this, we can offer you an option that implies the pop-up setup.
Ebook is a perfect idea for your business, but how should you use it? Well, this is not a problem for you: our team will integrate it into your existing welcome follow-up or create a welcome email from the ground up.
And here is the icing on the cake: if you order this service, you will also get a step-by-step guide on how to launch the ads so you will be able to do this yourselves later.
This is tempting, isn't it? Beyond this, what if I tell you that Irresistible Lead Magnet is not just about these separate benefits, but this is a single mechanism aiming only at growing your email list and boosting your sales?
How does it work and what are the benefits of Irresistible Lead Magnet?
How does this work? In fact, there is absolutely nothing challenging about this or nothing to be worried about.
Ebook
When you order Irresistible Lead Magnet, first of all, our team of marketers and designers do their best to create an ebook for your online store.
This ebook is unique and made for you personally.
Moreover, when creating it for you, we are going to ask you about the topic of your ebook, trending products you want to place in it, etc. Great, isn't it? But there is more.
Your ebook won't be annoyingly persistent: it will be done in an informative manner. Meantime, all of its pages will include your products. And what's most important about it is that there will be ACTIVE LINKS to the product pages in your online store! Isn't this great?
In practice, it looks good and efficient. That's you really hit the spot, right?
And pay attention to the fact that at the end of your ebook we will also put a coupon that will encourage them to get through it all. That's very simple, meantime, efficient.
Ad materials
Besides this, we will prepare for you an image and text for your ads.
What's more, we are going to provide you with the detailed description of the audience you should target: age, sex, location, etc.
Meanwhile, it's you who will choose where your ads lead to: homepage, category page, etc.
Pop-up
Then, we move to pop-up. So our specialists will either make a pop-up setup on your website, or create an image for it.
This pop-up will ask for a subscription in exchange for a discount. Furthermore, our marketers will do a welcome email that your new followers will receive after completing the subscription form.
BTW, we understand that you would like to make the most of this ebook for your business.That's why we will provide you with this ebook in PDF so you can distribute it in your social media accounts, use for Lead Ads, etc.
How to get Irresistible Lead Magnet?
If you commended our new service and finally realized that it can dramatically improve your business performance, it's high time for you to know how to get Irresistible Lead Magnet.
And there is nothing challenging about it: all you need to do is to go to Irresistible Lead Magnet page, choose the packages that suits you more, and click 'ORDER NOW'.
If you need the detailed description of Irresistible Lead Magnet packages, just scroll the very page down. The service delivery time is 7 business days.
Irresistible Lead Magnet: final thoughts on growing your email list
Originally, this service was considered as an instrument that lets you grow your email list and subsequently increase the number of your potential customers you may feel free to work with later. As a result, you are supposed to get a substantial growth of sales.
But the statistics show that beyond the growth of your email list and sales, Irresistible Lead Magnet can significantly increase your brand awareness, incoming traffic, etc. And here is one of the most essential benefits for you as a business owner: you're able to present your products to many users, welcome them to your store, and reap the benefits. Sounds impressive, doesn't it?
Well, aren't you satisfied with your business performance? Do you want to grow your email list and boost your sales considerably? Are you worried about your brand awareness? SAY NO MORE! Try Irresistible Lead Magnet since it is designed to exceed your expectations. P.S. Use the 'CLUB10' coupon to get a 10% discount on this service.