How To Start Dropshipping in Malaysia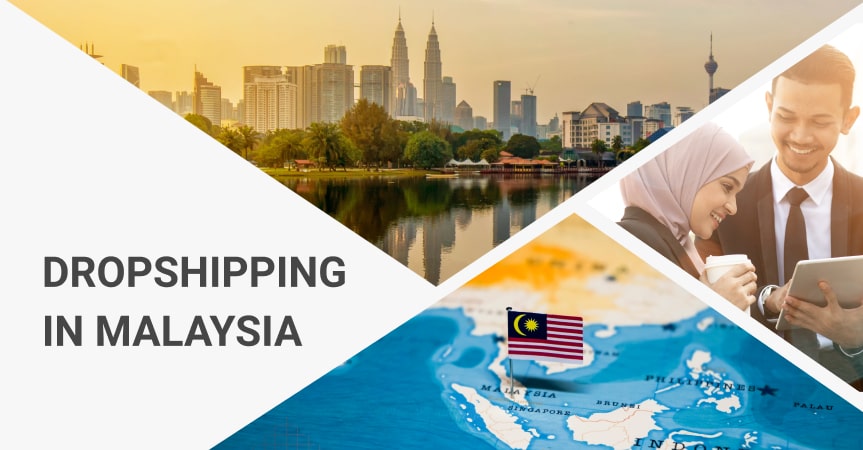 Are you living in Malaysia? Do you want to start a dropshipping business? Well, you came to the right place! Let's see how and why you should start dropshipping in Malaysia.
There is no question that the dropshipping business model is a highly accessible and beneficial type of business. People of all ages, all over the world, with different backgrounds and experiences, are already establishing dropshipping businesses. And by looking at the benefits of dropshipping, you can understand why it is so popular.
For some time now, the ecommerce market in Malaysia has been on the rise. And we felt like it was important to research this market more closely.
That's why in this article, we will cover the basics of a dropshipping business and what you need to know about dropshipping in Malaysia.
Dropshipping in Malaysia: The Malaysian ecommerce market
We have mentioned that the ecommerce market in Malaysia is developing rapidly. However, let's go in a little more detail to get an understanding of the industry and the consumer's activity.
The ecommerce market in Malaysia is worth $4.4 billion and by 2024 the revenue of this market is expected to increase to $8.6 billion. This means that establishing a dropshipping venture in Malaysia is a promising business opportunity for new and experienced ecommerce entrepreneurs.
What about the consumers? The Malaysian market is a tech-savvy market. According to a recent report on Malaysian online shopping behaviour, 82 percent of respondents shop using their smartphones. With that in mind, you have to create a mobile-friendly online store to reach more potential customers.
Finding and reaching your potential customer audience in Malaysia is as easy as ever. Malaysians are incredibly fond of social media, with almost 26 million active social media users. And with a population of 32 million, you can see that the social media penetration level is very high. To top it off, Malaysians spend almost 8 hours (7h 57m) daily browsing the Internet.
Taking all of this into consideration, you have a certain recipe for success dropshipping in Malaysia.
Dropshipping in Malaysia: Where to start?
Starting a dropshipping business in Malaysia is no different than starting it anywhere else. Let's go step by step.
Business registration
In Malaysia, any business activity, including ecommerce, needs to be registered with Suruhanjaya Syarikat Malaysia (SSM) or the Companies Commission of Malaysia. When you register your venture, you get certain benefits which assist businesses. This includes various tax incentives, a credible image, and perpetual succession.
When you register, you need to choose a business type. Depending on your business needs, you should choose one that fits your business best:
You will run your business by yourself, your business liability is also your personal liability.
The costs of this registration also varies. If you want to register your business under your full name it will cost you RM30/year (about $7.23). If you want to give your business a proper business name, it will cost you RM60/year (about $14.46).
You will run the business with one or several of your partners, where all the partners are bound by the liability of the business.
Registering under the Partnership will cost RM60/year (about $14.46).
Limited Liability Partnership a.k.a LLP
The business is a separate entity and you hold limited liability.
This registration costs RM200/year.
Sendirian Berhad company a.k.a Sdn. Bhd.
This type of business is the most complicated one. You will have a completely separate entity from your business with limited liability.
It is very costly to set up, from RM4,000 – RM5,000/year.
Carefully evaluate each type of business registration and make sure to choose one that will be most beneficial to you. Keep in mind that the business registration is only required for your bank account needs and to manage customer orders. It is not required for your online store setup.
Speaking of which…
Setting up a dropshipping store
Dropshipping has multiple key perks that make it accessible. Among them, we want to highlight how easy and cost-effective it is to start such a business. Basically, anyone who is willing to dedicate their time and put some effort into it can create a successful business.
However, what should you focus on when launching a dropshipping business?
Find a lucrative niche
Finding a profitable niche is the key to a successful dropshipping business. So, you must carefully research various markets and audiences to find a promising one.
However, most importantly, in this type of business, it is crucial to be an expert in what you offer. So, make sure to choose a niche that matches your interests and allows you to sell the products you want to sell online.
Search for trusted suppliers with high-quality products
Another key aspect to a successful dropshipping store is finding and cooperating with reliable suppliers with high-quality products.
The Internet is full of different databases with such suppliers. You can turn to them or look for the needed products on various online marketplaces, like AliExpress.
There you can easily evaluate the products yourself and choose the best ones. For that, filter out the results the following way:
Sort the products by the number of orders
Tick the 4*&Up box
Check the box with Free Shipping
These search filters will show you the best-offered goods and allow you to save on additional costs.
Check out this section of our blog to find more tips and information about the most promising products to sell in a dropshipping store.
Create a distinctive online store
When you have chosen your niche along with the supplier who will be responsible for packaging and shipping the products, you need a place to sell these products. So, you need to create an online store.
Nowadays, there are multiple ways to get a fully functional dropshipping store without having to possess any specific knowledge or be a technical expert. Here are some store options you can get from AliDropship:
By the way, you have a chance to purchase a Premium store that makes over $2,000,000/year! You can get an exact copy of that store at an affordable price right now and start making a profit instantly!
Promote your online store
Now, when your dropshipping store is set up, you need to find a way to reach your target audience.
To find and reach your target audience, many ecommerce entrepreneurs advise establishing a social media presence. Creating a social media account, you have the chance to promote your products and services conveniently on a wide-reaching platform. Additionally, it can also work as a feedback channel for your clients, providing them with more user-friendly customer service.
Nevertheless, there are multiple extra ways to promote your products and services. The most popular methods are Facebook ad campaigns and Google AdWords advertising. Though, don't forget about other useful online digital marketing methods such as email marketing, SEO, Instagram promotions, content marketing, etc.
Be creative and see what works best for your dropshipping business!
Implement safe payment gateways
In order to receive the incoming payments from your buyers, you will need to integrate a secure payment gateway. Luckily, the world's most popular and secure payment gateways are available in Malaysia, such as:
With these payment methods, you can safely manage and receive your hard-earned profits.
Tax regulations
Like any other country, Malaysia has a complex tax system.
And if you're a resident of Malaysia, this is especially important to know this. Since you will make a certain amount of income, you are going to have to pay personal income tax. Your tax rate will vary, depending on your level of income.
If you decide to cover up your income, you risk dealing with the Inland Revenue Board of Malaysia. And this can lead to hefty fines, imprisonment, and being barred from leaving your country. So, it is in your best interest to be upfront about your taxes.
However, if you're living elsewhere and plan to sell products to the people in this country, Malaysian taxes shouldn't concern you.
Nevertheless, goods imported into Malaysia are taxed more heavily and must comply with more stringent regulations (e.g. the duty-free limit is set at $160). If the goods exceed the limit, the entrepreneur will have to pay certain taxes (sales, value-added tax, etc.).
Please keep in mind that if you want to know more about the taxes in Malaysia, consult your local law adviser for expert advice.
Dropshipping in Malaysia: The local market
The Malaysian ecommerce market is pretty diverse. And to build a successful dropshipping store, you would want to sell products that are emotional, inspiring, and unusual. Basically, focus on items that can get the customers' attention and trigger visitors to complete impulse purchases.
Nevertheless here is a list of product categories that are in high demand in Malaysia:
Bear in mind that with the dropshipping business model, you don't have to limit yourself to only one specific regional market. You can target any market in the world. Dropshipping allows you to manage your dropshipping business anywhere, as long as you have a computer and an internet connection. So, broaden your reach and look for more opportunities in different markets.
Final takeaways on dropshipping in Malaysia
Needless to say, if you are looking to start an online business, dropshipping in Malaysia is a very promising opportunity.
The dropshipping business model can be great for both new and established ecommerce entrepreneurs. It is incredibly easy to set up and doesn't require a large start-up cost.
Moreover, looking at the ecommerce market in Malaysia, you'll notice the population is heavily tech-oriented with most of the population actively using the Internet and its various intangibles. All of this makes for a very promising market to sell to.
Diving into this market, don't forget about the local nuances that are specific to Malaysia. It's essential to know what and when Malaysians like to purchase, as well as the local traditions, holidays and special events. All of these aspects can heavily influence the shopping behaviour of the local customers.
Want to start dropshipping in Malaysia but skip the planning phase and get straight to earning? Well, we have a solution! You can purchase an exact copy of a store that is already making profits. After you receive it, you can start promoting and selling products right away – and even use the ready promo strategies we've already tested!