Why You Should Dropship Art: A Niche Of Unrealized Potential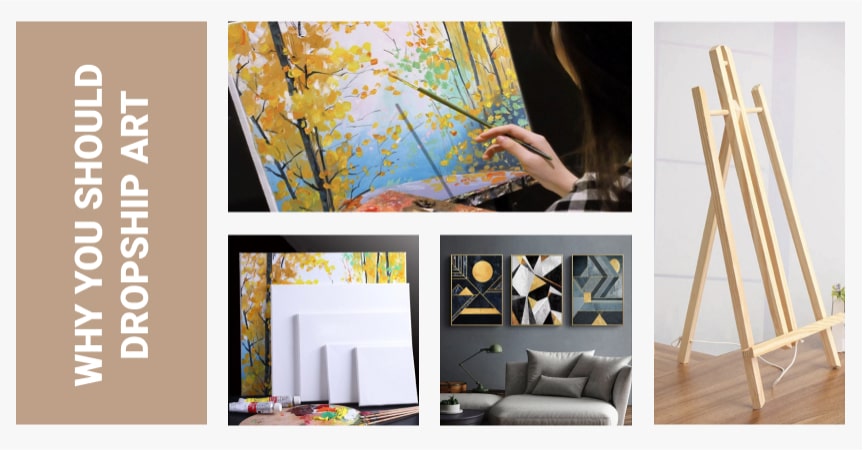 Do you want to dropship art? If you are passionate about art, you have an opportunity to turn your hobby into a constant source of income. With the dropshipping business model, you can easily dropship art prints, posters, and whatever you fancy.
The truth of the matter is that many people love art and everything like that. Given their desire to decorate their homes and offices with posters, art prints, or other art objects, it's fair to say this particular niche is certainly full of potential.
Art supplies is another regularly in-demand product category that can be a noteworthy addition to your dropshipping store. From various pencils and paintbrushes to easels and canvases, art lovers purchase these goods for their work and leisure activities.
And if you wish to dropship art in your own online store, you can join this rapidly expanding industry.
Why you should dropship art: the global art market
The global art market is increasing and expanding annually. In fact, according to Statista, in 2019, global online art sales amounted to approximately 4.82 billion dollars, up by 4% from the previous year. Furthermore, by 2024 online art sales will increase to 9.32 billion dollars. The whole market is valued at 64.12 billion dollars, with countries like China, United States, and the United Kingdom being the worldwide market leaders.
If we look at Google Trends, we can clearly see that art is a widely popular search query worldwide. And throughout the past five years, the interest has been consistent with no significant seasonal changes.
What's more, while researching the market, ecommerce entrepreneurs can find even more sub-niches because there is a wide variety of products to sell. Therefore, a sea of opportunities lies in front of the business owners for their online stores. A broad range of products will cater to the interests of different audiences such as professional artists, hobbyists, office workers, homeowners, etc.
People love art, all that is left for the ecommerce entrepreneur to do is to find the right target audience.
Now, let's check what products you can import in your online store from AliExpress.
What type of products to focus on when you dropship art
It is no secret that AliExpress features an extensive range of items in lots of different product categories. Let's look at what you can find for your art-focused dropshipping store.
To make sure the products are not only in demand, but of great quality, and come from a reliable supplier, we have carefully selected them relying on a specific list of criteria.
First, we chose a product category, in this case – art. The search results will show you related subcategories to the one you picked. There you can select a subcategory to your liking. After that, you need to sort out the products with the following criteria:
Sort by the number of orders
4* & up
Free shipping
These settings will show the most popular products that have the most orders, with the best suppliers and shipping options.
Furthermore, upon choosing a product for your dropshipping store, it is useful to look at the feedback left by other customers. Since you can't touch or feel the items, reviews can be helpful to understand the supplier's services and the quality of the products.
Art paintings
Vintage posters
Canvases
Easels
Frames
Wall stickers
Art markers
Paint brushes
Pencils
Watercolor paint
Figurines & Miniatures
Final thoughts on dropshipping art
It's safe to say that if you want to dropship art supplies or objects like posters and paintings, it is a big market with lots of customers to cater to. High product demand from potential customers also helps, which is another reason for an ecommerce entrepreneur to try their hand in focusing on this niche.
All in all, if your goal is to find promising products to sell in your dropshipping store, and discover lots of potential audiences – you should consider dropshipping art. In practice, this can provide lots of benefits and ensure the growth of your ecommerce business. And what else do you need as a successful entrepreneur?
If you're thinking of starting your own ecommerce business but don't know where to start, we suggest looking at what AliDropship has to offer to you. Take a look at your options for launching a store and choose which one fits you best.