10 Critical SEO Mistakes That Ruin Your Progress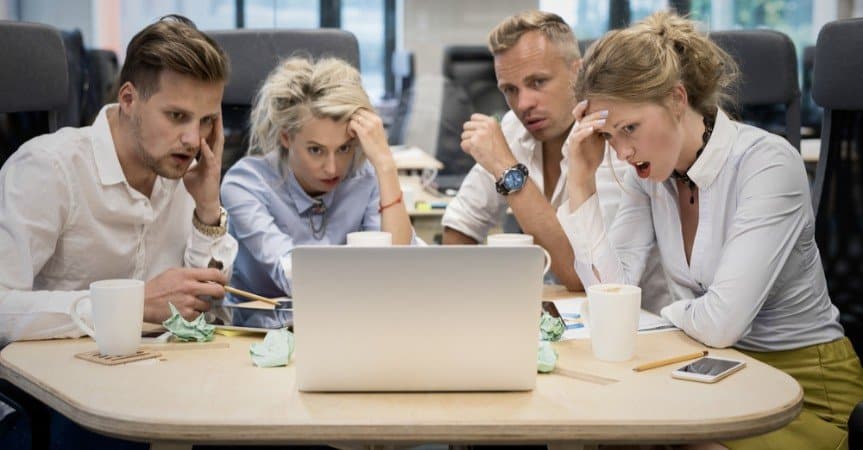 There are many reasons why your eCommerce store isn't shown on the first page of Google. It could be a poor-quality content, a low speed of your website or just the lack of SEO. In this article, you'll find 10 crucial SEO mistakes that are most likely to get in the way of your progress.
Actually, search engine optimization is one of the things that yields results in a long-term period. You can test different SEO tricks today and see significant changes only in a couple of months, for example.
Of course, it often throws SEO experts off balance. They can't immediately evaluate the effectiveness of their efforts and improve something in their strategies. What's more, this frequently leads to overlooking mistakes and, as a result, to the decrease of their websites' ratings.
That's why we dedicated this article to 10 serious SEO mistakes. At some point, we were making them ourselves – and we would like to warn you about the things that can go wrong.
Let's go!
1. Title tags duplication
Search engines use titles to determine what this particular web page is about. When you copy titles from your other web pages, you make search engines confused. They just can't understand which page must be shown to web users in a response to a specific keyword.
To get a better understanding of this problem, let's imagine the following situation.
You want to buy a book about the history of computers, for example, and you go to a big bookstore. The store has lots of materials on your question, but all the books look the same and are called "computers". Which book would you like to buy and why? How would you choose it?
I guess it would be difficult for you to select the most suitable and interesting book. You'll either need to spend lots of time looking through all the books or just leave this store and go to another one, with the books that have more meaningful titles.
Search engines face the same issues when they find duplicated title tags. They're at a loss and don't know how to select the best page for a search query. So they usually choose and index only one page. As a result, most of your website pages remain invisible for them, which, in turn, negatively affects your website ranking.
2. Too short or too long titles
Also, one of the common SEO mistakes is a wrong length of title tags.
If it is too long (more than 70 characters including spaces), search engines will cut it off. So web users will easily miss your message if you place the key information at the end of the title tag.
On the other hand, if your title tag is too short, search engines assume that this page doesn't have much useful information.
For example, the title above isn't really informative both for web users and search engines. Nobody can be sure that they'll find something useful there, so this page is displayed on the 18th page of Google.
Besides that, we recommend you to focus on the quality of title texts. If your titles are ok in length but not informative, Google will also decrease the ranking of your pages.
3. Lack of product descriptions
What do you usually do when you want to buy something?
I guess you read other buyers' reviews, study product descriptions and try to get as much information about these products as possible. And you know, search engines do the same.
Of course, they aren't going to buy any goods or services, but they regularly use product descriptions to receive the data about a website and evaluate if it's worth showing to other web users.
If people can see product pictures and use them to understand how great the goods are, search engines, sadly, can't do it. They're just able to regularly scan web pages and learn everything about their content from the descriptions.
Thus, when you don't describe your products, you automatically block the development of your business because to search engines, your website looks like a blank piece of paper. They have no idea what your web pages are about and prefer not to show them to other users. That's why you need to add descriptions to all your products.
However, you can't just copy them from AliExpress and paste into your product pages. As you know, search engines don't like duplicate content and can penalize your store for doing this. Thus, you always need to create unique, one-of-a-kind content.
In case unique product descriptions creation is impossible for one reason or another, you can just put a no index meta tag on all the product pages you can't make up unique content for. Search engines won't see these pages and won't take them into account when scanning your website. But in fact, this is a bad decision.
If you have any trouble when writing product descriptions or even when finding the best products to sell, you can ask our team of experts for help. They will choose the finest items on AliExpress and edit all the product titles and descriptions for you. The only thing that will be left to you is enjoying the results and getting more traffic.
Or, you can get an access to a database of manually selected AliExpress products with pre-edited titles and descriptions – how do you like this idea?
4. Lack of product reviews
Often, SEO mistakes go hand in hand with your social proof strategy. For example, if you don't import reviews from AliExpress to your eCommerce store, it affects your SEO efforts as much as your reputation.
Search engines love active websites. It means they like it when you publish new content regularly and update something on your website. In addition, they like it when web users upload their own materials, actively participate in discussions, and leave comments.
When you don't add product reviews to your store, you give the search engines a good reason to think that your store is of no value to web users or that it's even dead. Anyway, your website will have a low ranking.
That's why we strongly recommend you to regularly monitor new product reviews on AliExpress and import them to your store. It'll help your website look better in the eyes of search engines. At the same time, you'll get user-generated content which makes a huge difference for SEO.
By the way, to make your life easier and significantly increase the credibility and ranking of your store, you can try out our Reviews Page add-on. It will allow you to create a catchy page full of positive reviews on your products, demonstrate the reviews that contain customers' photos, and as a result, make your store more appealing to both search engines and potential customers.
5. Focusing on external link quantity over link quality
You probably know that in order to be ranked well on Google or any other search engines, your website must have lots of external links. It means the more web resources link to your website, the more value it has for search engines. However, in the pursuit of link quantity, most SEOs forget about their quality.
Search engines use many parameters to determine the value of external links. They usually evaluate:
The trustworthiness and popularity of the linking domain
The relevancy of the content
The ownership relationship between the source and target domains
The number of root domains that link to your store
For example, when you buy links in bulk, you don't know which exact websites will refer to your store. So, it's possible you'll get lots of links from suspicious websites and make things worse. With multiple untrusted websites linking to your store, your site rating will decrease.
That's why we recommend you to focus on the quality of the external links rather than on their quantity. Sometimes it's better to get one link from Forbes than 100+ links from unknown websites.
6. Choosing irrelevant SEO keywords
The list of crucial SEO mistakes also includes a selection of the "wrong" keywords. It usually happens when business owners don't use keyword research tools and solely rely on their instincts.
Let's say you're selling books. You might think that your potential buyers use Google search box to type in something like "the best classic books" or "top books to read this spring", whereas their actual queries are "buy books online" or "buy cheap books".
As you have a store, the former keywords won't be relevant for you. They are great for a thematic blog, for example, but not for an eCommerce store. So if you use them, the chance that your store will be found is too low.
To monitor which search queries let Internet users see your website and how often they click through for these queries, we recommend you to use Google Search Console. This free tool will help you understand how Google sees your website and fix any problems related to its search performance.
7. Adding too many SEO keywords
If your keywords are suitable for your website, it's high time to check how many of them you use on a single page.
Many eCommerce entrepreneurs think that the more keywords they place on a web page, the better it's for SEO. But this is not true.
When you use too many keywords in your titles and product descriptions, you drive the search engines crazy. They can't understand what exactly you're offering and decrease the ranking of your website.
To avoid this, you must use one main keyword and 3-4 semantically related keywords, phrases, words, and terms per page. It'll help you show search engines that this web page has lots of valuable information, so it's worthy of a high ranking.
If you don't know how to choose the most suitable keywords and make your website more visible to your potential buyers, we recommend you to take a look at our SEO copywriting services. Our team of experts will write unique SEO copies to help you win the competition easily.
8. Targeting high volume SEO keywords only
One more SEO mistake most people make is If you're concentrating on popular keywords and ignoring the low volume ones, you're making one of the most typical SEO mistakes.
High volume keywords (millions and hundreds of thousands of search queries a month) are extremely competitive and you'll never get on the first search engine results page when using them. The only possible way to do this is to have a very popular website with thousands of daily visitors.
That's why when running a dropshipping store, it's better to focus on the low search volume keywords which have up to 1,000 searches a month (yes, the keywords that get 50 – 100 search requests should also be considered). These keywords helps you reach your target audience and get valuable search traffic that converts easily.
9. Using large images
Although pictures are worth a thousand words and help your potential buyers visually evaluate the quality of your goods, there are some crucial aspects you should focus on before placing them on your website. One of them is the size of pictures.
When you add one large image on your website, you decrease its speed. When you place lots of large images on it, you make your website slow as a snail.
Both people and search engines don't like slow websites. And if the former can just become angry and close a website, the latter can easily lower its ranking because the website's speed is one of the most important SEO ranking factors.
We recommend you to check the size of all the pictures you want to add to your website and make them smaller, if necessary.
10. Missing ALT attributes
As you know, search engines can't look at the picture and describe it as we do. They scan a text and get all the necessary information. So that they could understand what's in the picture, people created alt attributes or alt tags.
In simple terms, an alt tag is a descriptive text which you see when a picture can't be displayed for any reason.
When you don't write alt tags, you don't give search engines a chance to understand what a page is about. And you sink your website. Again.
Otherwise, when you add alt attributes, you improve its ranking. Of course, as you have an online store, you also have lots of pictures and describing all of them is a really tough thing. But if you write alternative texts at least to 2-3 pictures per a page, you'll make your website more attractive to search engines.
Here were 10 grave SEO mistakes that can drop the ranking of your website and ruin your dropshipping business. Have you found yourself making any of these mistakes? Don't worry! It's never too late to do things right. Just use our tips and you'll get ahead!