Matisse Woo
Willing to turn your one-product store into a real attention getter? The Matisse Woo theme is built to help you kick off like a pro and make a great first impression with an eye-catching and playful, but yet balanced design. Gentle animation is bound to make the customer journey even more enjoyable!
Buy Theme
View Demo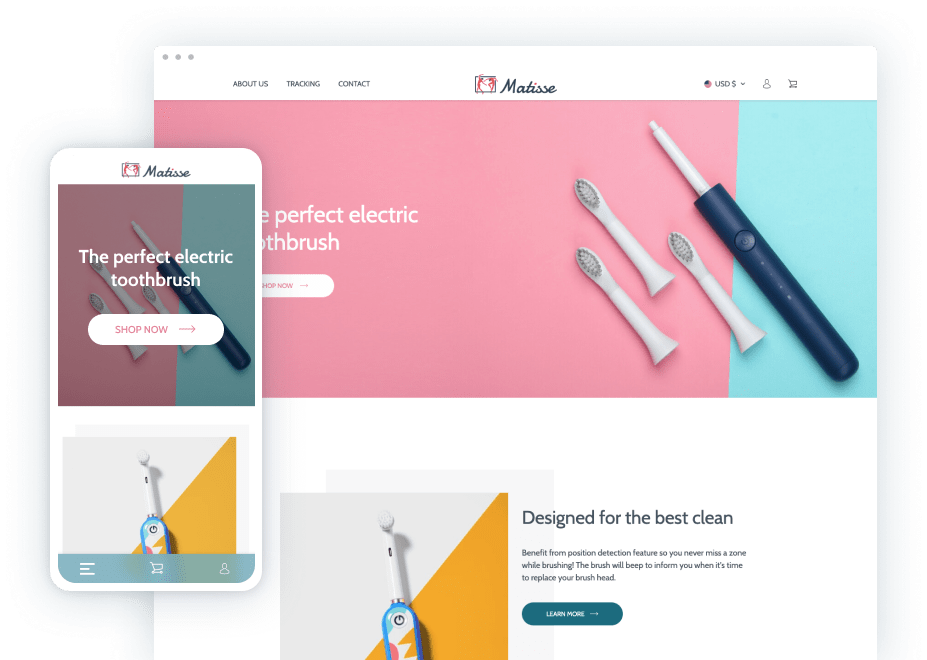 Version 1.0.17 - 19.09.2023 (Current version)
Compatibility with latest woo version Shopping cart pop-up fix
Version 1.0.13 - 01.02.2023
Compatibility with latest woo version Fix for php8 Autofilling updates Minor improvements
Version 1.0.10 - 24.03.2022
'Back to Shop' button fixed
Version 1.0.8.3 - 14.01.2022
Update for compatibility with the latest version of WooCommerce
Version 1.0.8.1 - 05.02.2021
Google Analytics Enhanced Ecommerce add-on compatibility added
Version 1.0.7 - 12.11.2020
'Premium Products' support added
Version 1.0.6 - 04.09.2020
Variation bug fixed
Version 1.0.5 - 04.09.2020 (Current version)
WooCommerce 4.4.1 compatibility added Checkout translations updated
Version 1.0.4 - 14.08.2020
WordPress 5.5 support added
Version 1.0.3 - 24.07.2020
YouTube and Vimeo videos fixed on Homepage Subscription Form default code added WooCommerce 4.3.1 support added
Version 1.0.2 - 25.06.2020
Now you can import video to product gallery (make sure you have the latest versions of AliDropship Woo plugin and AliDropship Woo Product Video add-on) Favicon added
Version 1.0.1 - 10.04.2020
Now you can display media content from your Instagram using Access Token
Keep your finger on the pulse
To enjoy the full range of features, please download the latest version of the theme
Show less
View more
Theme features
Bottom tab bar
All the important navigation elements are in the thumb zone so your website looks and feels like a native application
Review grid
Let your customers share their positive shopping experience
Full-width video
Create a profound visual impact and make your store stand out
Frequently asked questions
Answers to all the important questions close at hand
Three product gallery types
Choose image gallery that suits your website style best
Mobile-first design
Matisse Woo is designed specifically for handheld devices to help you convert more mobile shoppers
All AliDropship themes include
Free theme updates and new features
Free customer support
Wide range of customization options
Side Shopping cart
Shopping cart page
Blog section
Live search
Social media icons and widgets
Built-in cross-sell
Free translation platform
Why our customers love this theme
Gustave Alix
France
"I'm super newbie here... this is my first wordpress theme ever. Matisse is very user-friendly and easy to use. I have never had problems with anything. Consider this a success :D"
Patrícia P.
Brazil
"It's hard to pick just one reason to rate Matisse highly. It's flexible and has lots of features. Keep up the good work!"
Khalil Shariq
Lebanon
"I highly recommend this theme to all without wasting time on previewing other themes. No matter what you are selling, Matisse is definitely the theme you need. Plus, it took me just an hour to set up my one-product store. Incredible, don't you think?"
Flavio M.
Italy
"I was completely satisfied after installing matisse. Guess soon I'll buy more licences for my other sites. the support team has gone far and beyond my expectations. thank you guys!"
Ellie Warren
USA
"Very comprehensive in terms of features and highly customizable. Love the Customer Gallery feature and the default colors! "
Henry Hawkins
USA
"The theme deserves even more than 5 stars, jokes aside. It is terrific to work with!"
Roman
Poland
"What a theme!!! I like it so much. It is so beautiful and easy to customize. Excellent job!"