Start A Special Store With Frida: New Stylish Theme By AliDropship!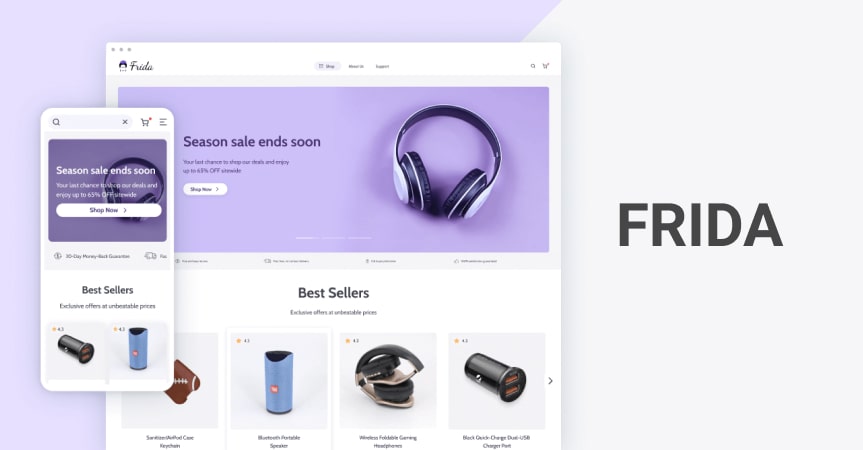 Would you like to have a really cool, SEO-friendly online store with perfect design? Do you want to get ahead of your competitors and bond with your customers as much as possible? In this case, you should definitely look at a new stylish theme by AliDropship – it's Frida!
Meet Frida: a brand new stylish theme designed to impress your customers
There's no secret that it's not challenging to start an online store. In fact, it doesn't even take long to build an online store from scratch. It depends on the niche, number of products, services to be applied, etc. You can simply use a basic solution lots of people prefer and launch a generic yet fully functional store quite quickly.
But how do you start a store that's really cool in all aspects? What if you're looking for eye-catching design, SEO-friendliness, high-converting product pages, easy navigation, and more? The answer is simple: exclusive online store themes by AliDropship are here at your service!
AliDropship has been developing premium themes for your dropshipping stores on a permanent basis. Today we'd like to announce our brand new solution – it's the Frida theme!
Introducing Frida, a stylish theme made to boost your online store sales
What's so special about Frida? How is it different from other themes by AliDropship?
In fact, we develop specific themes for different tasks.
Frida is a theme designed to make a strong first impression and establish close contact with your customers.
How is this achieved?
Frida is intended for online stores with a small inventory. The idea behind Frida is to put each product in the spotlight.
That's exactly why Frida has no built-in submenu, for example! With small inventory stores, it would complicate the navigation through the store and distract your customers from the main reason they visit your website: to buy the product they're looking for. And Frida is all about capturing and focusing your visitors' attention to make the buying process absolutely natural and seamless!
Excited to see how it works? You're welcome to check out a demo site built on the Frida theme and read further, of course: let's take a closer look at it!
How do you benefit from the Frida theme?
So, what does this powerful and stylish theme allow you to do to maximize your revenues?
Create one or several featured single product pages
Frida is designed for those who are eager to concentrate on a small range of the most trending products to sell. However, this theme allows you to highlight several most valuable products due to the featured single product pages you can create.
This will let you describe your leading products in detail and aim all your marketing efforts at them. As a result, you are sure to establish closer contact with your customers by making the product absolutely clear for them.
If you want to bond with your customers a bit more, Frida is glad to offer an option of product comparison. This clean and easy-on-the-eyes section will help highlight your product features by comparing them with what your opponents offer on the market. Here's one more space where you can put a product in the spotlight — just find the right words.
Make a memorable About Us page
With Frida, you're able to provide your store with an About Us page to help you introduce your team on your own terms. This is a great opportunity to share your values, tell a story behind your goods and show who creates them. Thus, you get another chance to build trust and сreate a strong bond with your customers.
Frida lets you add a video to the homepage slider. If you choose the right piece of video, your store will interest anyone who visits your website since it looks really cool!
Here's one more feature Frida can boast: with this theme, you're able to add pictures to the product categories! Grab your chance to present product categories in a visually appealing way. Your potential customers will see category thumbnails in your Top menu regardless of what device they're viewing your website on. With this feature, visitors have proven to stick around longer and convert more.
What else can Frida offer?
Besides all the above mentioned, Frida has the whole range of handy features we use in other AliDropship themes for users' maximum benefit.
Don't forget video content matters for online stores! Nowadays, people always tend to look for an opportunity to watch a video instead of reading some piece of text. And in online shopping, videos are one of the most important sources of information for everyone making a purchasing decision.
With the Frida theme, you can strike up incomparably more trusted relations with your customers. Moreover, it's a chance to elevate your brand to greater heights by easily featuring video reviews on your Homepage. Profit!
User-generated content is one more crucial aspect that business owners sometimes overlook. However, it plays a key role in product perception, and this is the very tool you can use to boost your store sales significantly.
We know well how user-generated content is important. So in product reviews, Frida features a special section to give your customers-to-be a better understanding of what you have to offer. Convince them that the product they're looking at is a real find, and leave no room for refusal!
As you can see, Frida suits those entrepreneurs who don't want to be overstretched but focus on a small number of hype products only. With Frida, you are able to provide a customer with full information about your best sellers and leave them no choice but to place an order in your store.
By the way, Frida is now the fastest theme AliDropship is happy to offer. If you want to build a really fast online store your customers won't be disappointed with their shopping experience.
So are you ready to try Frida, a brand new stylish theme by AliDropship?