The Split Test Add-On: A Smarter Way To Scale Your Business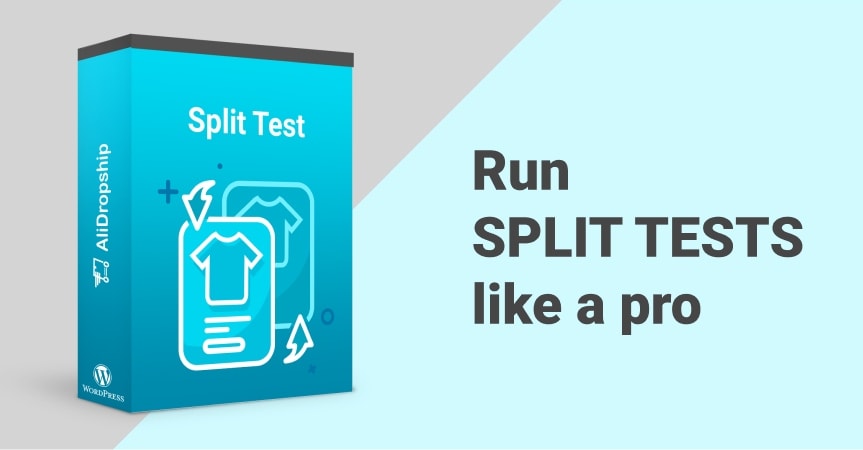 When it comes to selling products, the devil really is in the detail. One small difference can make or break product performance. Even now reading this article you might be struggling to figure out how your perfect product should look. What title works better? Is the description you wrote engaging enough? Do product images really pop? Will those six reviews do or should you add more? What about pricing?..
No biggie, you can go ahead and make the changes you think will save the day and hope for the best (fingers crossed!). The bad news is that sometimes your intuition just isn't enough.
We've got a much better idea. How about split testing product performance and making data-driven decisions? Sounds way better, right? 🤓 This is when split testing comes in handy. As complicated as it may sound at first, in fact it doesn't require any specific knowledge or previous experience.
What is split testing?
Split testing (you might already know it as 'A/B test' or 'A/B/n test') is an insanely powerful tool that allows you to compare different versions of a product page against each other to understand what makes the ideal product.
When a split test is launched, your traffic is randomly and spread over the different versions of your product pages and distributed evenly among users. For example, traffic is split 50/50 if you test 2 products against each other (i.e. 50% of users will see your original product, 50% will land on its variant). If you compare 4 products, each variant will get 25% of traffic.
The add-on uses cookies (files with small pieces of data) to identify your website visitors. When they land on a test page for the first time, the add-on tracks the page they see and shows the same page to them during their subsequent visits. In other words, your customer will see the same product if they refresh the page or visit this page in a few days (unless they delete cookies manually in their browser settings).
To help you optimize your conversions, we've developed a new automated and accurate testing solution. With the ridiculously easy-to-use Split Test add-on, you'll try your hand at real-world testing to understand what exactly drives your customers to purchase from your store.
The add-on will seamlessly integrate split testing into your day-to-day business life to help you thrive in a highly competitive market environment. If we were to say in one sentence what the Split Test add-on is, it'd go like this: 'It's all about product optimization'. In this article, you'll learn why you should start doing split testing and why experiments are an essential component of a successful business.
Why start doing split testing?
It helps scale your business and grow smarter
Knowing what exactly brings in profit you'll easily squeeze more conversions. You won't have to rely on pure guesswork in deciding what works best for your store. Instead, you'll have solid facts that will give your business a major leg up – customer insights and conversion rates. Smarter wins with less efforts!
It optimizes your marketing campaigns
We all know how expensive and time-consuming advertising might be. With split testing, you can make your campaigns much more effective in terms of both time and investments.
It gets you more happy customers
It's your customer who drives your business. So it's in your best interest to include them in your decision-making processes. Understanding what your clients like more will help you provide a better customer experience, connect with your audience, and reduce bounce rates.
You won't run the risk of ruining your fragile business ecosystem, no worries. Even if the changes you've made to the product don't wow your customers, half of your visitors will see the original version and convert at your usual rate. Plus, you can use this outcome as a learning experience: the more hypotheses you test, the closer you are to that ultimate version of your product. With more practice, you'll see more conversions and learn more about your customers, their preferences and needs. If you're not testing, you're not learning.
It's not rocket science but lets you play scientist
Formulating a hypothesis, setting up an experiment and making decisions based on data (for real!) – this is going to be a thrilling experience!
At AliDropship, we're huge advocates of split testing as it helps us grow our business by making data-backed decisions. Hopefully by the end of this article you'll be as enthusiastic about testing as we are. The secret to getting ahead is getting started. Let's dive in!
In a nutshell, the Split Test add-on works like this:
Now, let's look into each step to get a better understanding. Great ready to learn some best practices you'll certainly want to follow.
Step #1: Decide what to test
So, you've chosen a product that you think has an unfulfilled potential. The next thing you want to do is decide what exactly you'd like to change. There are a number of elements out there you can split test:
Product title
Attributes
Descriptions, copy, and headlines
Value proposition
Images
Videos and video thumbnails
Prices
Shipping
Scarcity and urgency
Social proof
Trust badges and payment icons
The most incredible thing about these testing ideas is that you can implement them yourself in no time. The Split Test add-on will save you the trouble of hiring a developer to adjust one thing and remove another.
Step #2: Create a duplicate and make the adjustments
Now that you've decided what to test and why, create a duplicate product and make the necessary changes. You won't run the risk of exposing two virtually identical items in your store: the add-on will hide the duplicate on your website. The only place visitors can see the duplicate is the Test URL they land on.
Step #3: Set up the test
It's time to set up your test. We'll guide you through the setup here. In fact all you need to do is add products to the test and think of a custom test URL. Having landed on this URL, your visitors will be redirected to one of the products you're testing.
If you want to schedule it for a specific day, use the date picker. The test will start automatically when this day comes.
Step #4: Connect analytics
To be able to track products' performance and see the most important ecommerce metrics right in the add-on settings, you need install the Google Analytics Enhanced Ecommerce add-on. It's an amazing analytics tool that you can download for free here. All you need to do to set it up is to add your Google Analytics tracking ID. Check this guide to learn more.
⚡ PRO MOVE ⚡ Step #5: Launch a marketing campaign (optional)
The more traffic you have on your website, the faster you get conclusive results. So, if your traffic is low, you might want to drive traffic to the Test URL to get more people to check out the items you're testing. With more visitors interacting with your products, you'll get actionable insights and implement the more profitable item into your store faster .
Step #6: Check your stats
It's recommended running experiments for about two week to see reliable results.
The Split Test add-on processes data collected from Google Analytics and shows only those metrics that really matter to an ecommerce store. You won't have to deal with heaps of information in your GA account – you can find valuable product insights right in the Report tab of the add-on.
Step #7: Make the change
Got a clear winner? Now you can disable the test, remove the low-performing product and keep the crowd-pleaser. High conversion rate is guaranteed by real customer insights.
Okay. Hopefully, now split testing is all clear to you!
Why should the Split Test add-on become your go-to testing solution?
With its simple and intuitive interface, it only takes a few clicks to set up a test. You don't need to have a degree or previous experience in testing to run your own experiments or an analyst to set up reports. In fact, launching tests with Split test is so simple that you'll want to run experiments again and again.
Unlike many other split testing solutions, the Split Test doesn't make you select just one element from the set list. You're free to test a few hypotheses at once.
The Split Test add-on is a lightweight testing solution that doesn't affect page loading time. Your customers will keep coming back for more!
Page flickering, or Flash of Original Content, is a very common issue when it comes to running tests. But you won't have to worry about it if you run experiments with the Split Test add-on as it makes redirects smooth and absolutely unnoticeable to visitors.
Unlimited number of tests
We want your business to be profitable so there are no limitations on the number of experiments you can run. Feel free to test as many ideas as you want! How cool is that?
Unlimited number of product variants within one test
Planning to give a few ideas a try within one test? Not a problem with us.
Take advantage of detailed and accurate ecommerce statistics to determine which product works better. All you need to do to track products' performance is install the GA Enhanced Ecommerce add-on (it's free!) and connect your Google Analytics account.
It doesn't require high investments
With a one-time payment for the Split Test add-on, you can run an unlimited number of experiments with an unlimited number of product variants within each test. $39 is a ridiculously low price for the opportunity of endless testing, free updates, and life-long support.
Some final thoughts
What if…
Replacing a professional image with a photo of a happy customer using your product could result in a 20% increase in sales?
Increasing price by $15 could add up to the perceived value of your product and lead to the spike in conversions?
Changing a product title could contribute to your revenue?
Adding an engaging long copy instead of the short bulleted list could bring about 2X more sales?
These are tough questions and sometimes it's hard to say how things are going to play out. We're here to help you understand what makes the perfect product your customers really want to buy. With the Split Test add-on, you can have all the answers.
Learn more and guess less. Welcome to the brave new world of split testing! 🙌