How To Dropship From Spain To The USA: Mihai Shares His First Steps!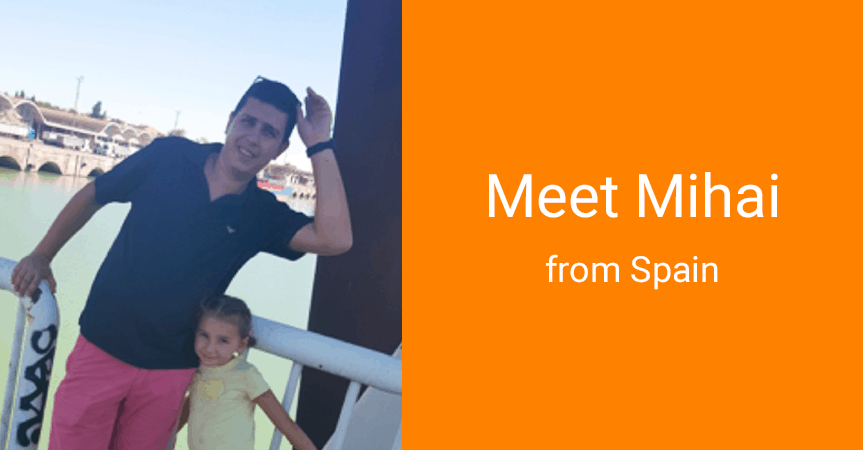 What countries can you target with your business if you do dropshipping in Spain, for example? The answer here is – ANY COUNTRY!
Mihai from Spain proves it by his example: he targets foreign customers and plans to start dropshipping worldwide as he sees a huge potential in this business. Let's see what we can learn from his experience!
Disclaimer: all the success stories published in AliDropship blog are the results of interviews conducted in the written form. Even though the editors may make some minor changes to the grammar, spelling, and/or punctuation, the respondents' writing styles, views, opinions, stores screenshots and personal photos are left unchanged.
Hi, please introduce yourself!
Hello, my name is Mihai Dobre. I am a freelance Web Designer.
I live in Marbella, Spain, and I just started running my 2 USA-aimed dropshipping stores from here. Also, I do website design while working with WordPress + WooCommerce.
Not so long ago, I started my journey in the world of dropshipping web design and business after I have tried AliDropship's services and have failed with Shopify. I can say now it was a bit short and limited to my ideas.
Before you started dropshipping in Spain, did you have any previous experience in eCommerce, or in trade, or in online sphere generally?
Yes! Before I started dropshipping with AliExpress, I gained the experience in the eCommerce world doing websites for more than 190+ clients. I made clothing shops, online food ordering sites, etc. Also, I still have 5 shops working on Amazon (Amazon Affiliates) on long tail keywords in Spain.
Why and how did you choose the dropshipping business model, after all?
Hehe this can sound funny… but I started with dropshipping because was the last one in my list to try.
Before I started with the dropshipping business, I have earned good money with several websites doing the Amazon Affiliate program in the USA, UK & Spain. But, I ended up with too much competition and poor support, so I decided to get something to be fully mine: something I would have a 100% control over.
One day, while browsing Facebook, I saw an advertisement from AliDropship services. After reading the reviews, checking the website, SEO etc,. I was able to see there was NO LIES in what they were saying. I said 'Ok, I will give a try" and opened the first store using their custom store development service.
How exactly were your stores created?
In 2 weeks after my first custom store was made, I was able to reproduce from zero by my own. That's right – I also bought AliDropship plugin and used it to create a dropshipping store by myself. Through this store, I sell vintage products in the USA.
I can say that using the plugin is easier if you know how to work with WordPress + WooСommerce… and as I said earlier, I have a 7+ years experience in WordPress and WooCommerce.
The custom store is even a better idea because you get the results from specialists in this field and you save tons of hours of searching, testing, SEO and more… I liked both options, but as a preference, I would personally opt for a custom made store.
How did you choose the niches?
Well, when the AliDropship team was designing my custom store, they asked me what I would like to sell. When I said I don't have experience in niches, they recommended several options, and I picked sports clothing.
With my second self-made store, I did the research myself: name, keywords, niche competition etc. That's how I understood I can start selling vintage things.
How did you choose products and suppliers for your stores?
With the custom store, the team did all the job.
To fill the second store, I took an easy way: I used DropshipMe add-on to import 50 products for free from their database of best suppliers and demanded products with edited title names + descriptions. Can say they saved me a lot of time.
The strategy for updating my products is easy. I follow the blog of AliDropship, check Google Trends regularly, and watch what people are sharing on Instagram and Facebook.
How do you define and research your target audience?
To tell you the truth, I didn't had any idea about how to find my target audience at the beginning.
I only knew I want to sell to USA because is a good market to sell on 🙂 They are a little bit more open-minded then some of the European countries and in the USA, you can sell your products online more easily.
Right now, I am targeting English-speaking buyers from the USA. So, to write the texts in English, I hired someone, and also wrote some texts myself. And to create well working ads for this audience, I have contracted the extra services from AliDropship – thanks to them, I made my first sale!
Can you tell us more about the first sale you achieved?
I ordered the Facebook/Instagram promotional package from AliDropship, and followed their step-by-step pdf guide.
In 2 days after starting a Facebook ad by their recommendations, I had my first sale of $40. The bid, the audience – all ad settings were recommended. So, after I achieved the first sale, I am now able to search for other audiences on the same field or others.
How are your dropshipping stores performing now?
Well, I only made 1 sale so far 🙂 But it's fine: I know how to promote my stores now, and I'm sure more sales are to come. Traffic is not so bad, as you can see.
How do you promote your stores?
I promote my stores on Facebook, Instagram and Google Ads. They cost less than 100€/month. But I don't advertise all the time, so is not 100€ each month: could be less or more… And I think it will be a bit more because I'm planning to make and run 2 more stores.
How much time does it take you every day to manage your stores?
Time… let's say like 2 hours, sometimes even less because everything is automated 🙂 From time to time, I only have to update WordPress's plugins or make adjustments to my PHP and hosting – that's why my shops load under 2 seconds.
There aren't difficult challenges for me as I have previous experience with WordPress and WooCommerce. Sometimes, I deal with everything from the mobile while I am at the beach or fishing 🙂
You run dropshipping from Spain, but sell to the USA. Do you expect any customer service issues?
I hope that the USA buyers don't have the habit of arguing much with business owners 🙂 They stick to rules and regulations, and on the store page footer, they can find all the conditions: shipping period, returns, etc.
But I'm ready to face any of these problems if there will be any, and I will always try to give the necessary help to the client. I give enough contact details: they can call me on the USA number, UK number or Spanish number.
Did you register your business officially? What are the legal requirements for Spain dropshipping?
Well, I registered the 2 businesses in the UK as Mihai Dobre LTD. I've chosen the UK because it doesn't demand as much paperwork as here in Spain: it's not a must to have an office, etc., which of course is easier because I mainly work online with dropshipping stores.
I know it from my personal experience because my other web design-related sites are registered here in Spain. Now, my online stores are registered as the main business and from there, I can open more businesses under the same branch.
Yes as a UK-registered business owner, I have to pay taxes to the UK's government and Spanish one as well. There are no other obligations beside the tax payments and declarations.
Soon, I will open 2 more stores in Spain: for them, the requirements are to be legal as a business, but nothing special. In Spain, it is called Autonomo (self-employed but working as business), you need to pay the taxes and nothing else.
Why did you also decide to become AliDropship affiliate?
Because it's a must! As I offer web design services to my clients, here in Spain, more people are asking for this type of business. So, I can earn extra money from the affiliate program + designing the stores for my clients (when they ask for this service).
And besides all of this, writing and explaining my strategies, I'm helping others to succeed with minimal effort and money. With the earnings from the affiliate program, I can easily pay for my Facebook campaigns 😀
What do your friends and family think about your new ventures?
Since the first moment, I was getting the necessary support from my family and friends because they know me well and they know this is pure passion for me. I love web design in general, but they equally supported me with the 2 shops I run now… They shared them with friends and everything. They believe in me and in my technical skills with the webs 🙂
What are your plans for the future?
Good question ehehe… The plans are easy. I'm planning to expand the business to UK & Spain soon. I want to achieve like 10-20 shops it total running on autopilot so I can enjoy more time with my family and my 2 beautiful girls.
If the shops will work (I hope they will 🙂 ), I will create a Dropshipping Agency with employees to provide services worldwide.
What can you advise our readers – those who already run their stores and those who didn't start the business yet?
Don't give up! Some of the store owners I know had their first sale in the first day, and some of them – after 1 year!
If you really want to make your future from this, work hard and read what others have to say. For those who want to start I can only say DO IT NOW. If it's the business you dreamed about, do it no matter what. Choose your niche and products based on what you know better! It will work.
Here's all you need to know about dropshipping in Spain to fall in love with this business model! Does Mihai's story inspire you to try yourself in dropshipping, too? We hope it does!