Google Ads Audit 101: How To Upgrade Your PPC Campaigns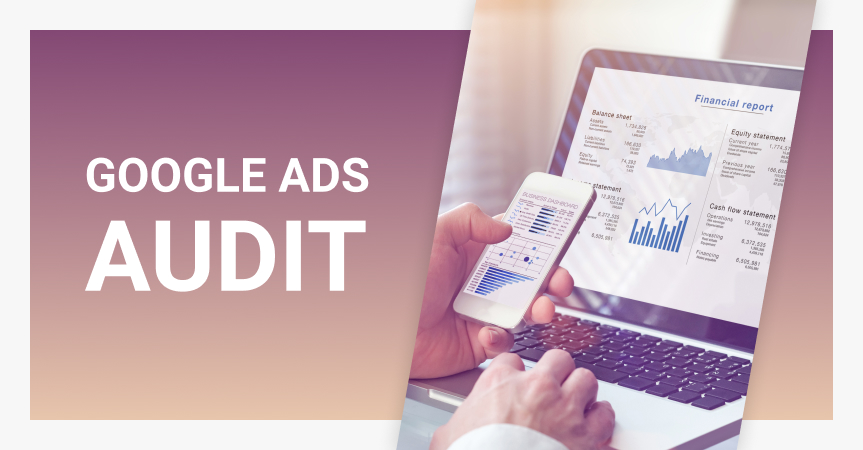 Most online entrepreneurs manage their PPC campaigns themselves. If you don't want to hire a specialist and prefer to cope with this task on your own, it makes sense to carry out a regular Google Ads audit to remove possible shortcomings and save your money.
Ecommerce newcomers often spend the lion's share of their budgets on search queries that do not meet the goals of the PPC campaign, as well as on irrelevant queries. To increase the effectiveness of your promotion, you need to find and fix all the critical mistakes in your Google Ads account. Let's see what steps you can take to improve your PPC performance.
What you should know before starting Google Ads audit
Google Ads, previously known as Google Ads, is a quite complicated, but effective marketing platform. When wisely used, it becomes a great source of relevant traffic.
The effectiveness of the PPC campaigns depends on three basic principles:
Show ads to your target audience
Direct the customer to your landing page
Keep the optimal cost of the conversion
Timely Ads audit will help uncover if you are wasting money on inefficient ads. It allows generating some new powerful campaign ideas. And what is more, audits are good for optimizing your account setup.
Make sure that you have set up goals in Google Analytics and connected your Ads account with GA to track conversions. If you don't know or don't remember how to set up Google Analytics goals, consult our detailed guide.
Besides, before setting any PPC campaign, find out the most popular products in your online store. Using Google Analytics, you can easily define the most visited website pages and find out your bestsellers.
To audit PPC on your own, study the following checklist and find out if everything is correctly configured in your campaigns.
Confirm your Google Ads account settings
Go to the Settings tab to check the basic setting in all your individual PPC campaigns.
You must be sure that you target proper audience, so pay attention to the locations settings. Set up the locations you need to avoid unnecessary traffic and focus on your target countries and regions.
Make certain that you have specified networks for each campaign (search, display, shopping, etc.) in accordance with the chosen Google Ads campaign types.
Check the campaign schedule. If it a limited time campaign, make sure that the start and end dates are correct.
Don't ignore device targeting and select the proper devices for your campaign goals. As a rule, online stores target both mobile and desktop devices, but there can be different options.
Make sure your conversions are working properly. You need conversions and CTR to analyze how effective each ad is.
Optimize Google Ads ad grouping
Select keywords for each bestseller and unite them into ad groups. Well-structured ad groups are easy to navigate and update.
First, check how many keywords are there in each ad group. The optimum quantity that provides the best performance is not more than 5 related keywords in each ad group. So, it is reasonable to have 3-5 ads with similar keywords in each ad group.
Focus on long tail keywords and select some of them to create single keyword ad groups. They prove to be a very efficient way to set up PPC campaigns.
Check all your ad texts. They should focus on benefits of your offer, have a clear call to action and include relevant keywords. They should attract attention as well, that's why using numbers and symbols in ad headlines is a popular practice.
Apply negative keywords in your Google Ads account
Filtering out irrelevant traffic is a must.
Using the negative keywords tool is the easiest way to avoid wasting your money and efforts on the clicks that you don't need. To filter out traffic that doesn't convert, look through your search terms report and find irrelevant queries.
Adding negative keywords is a sure way to improve your conversion rate, so try to do it at least twice a month (once a week would be perfect).
Study your Display campaigns to identify and remove poor advertising sites which provide only invalid traffic or no traffic at all. Note that when the campaign is just started, it is necessary to remove bad sites and keywords more often. If the campaigns are already working for some time, you can do it less frequently.
You can also consider installing special click fraud software or click tracking programs. They allow to track and block bots and reduce wasted ad spend.
Add a relevant ad extension
Proper advertising extensions can improve your click-through rate and maximize the ad performance. Choose the extension that corresponds to your goal. Online store owners usually select sitelink, callout and price extension to direct customers to their websites.
Don't combine too many extensions in one ad – one or two will be enough to attract attention.
Check each campaign and select appropriate extensions – it's a good way to specify your Google ads without extra costs.
Analyze SERP
A great way to improve your Google ads is to study the search results for your main keywords.
Pay attention to the ads of your competitors. What do they write there? What are their ads focused on? What extensions do they use? Are there any numbers, special offers and CTAs in their ads?
Use this information to analyze your Google ads and make necessary corrections.
Check landing pages
Never direct users to your general site home page if the ad promotes a specific product. Otherwise, your bounce rate will be catastrophic.
Check the final URLs in all ads to make sure that you bring users where they want to get. Pay special attention to campaigns with high bounce rate – you must be doing something wrong there, try to select more relevant landing page.
Various keywords and ad groups should lead to unique landing pages. Use Landing page report to measure their performance.
These are the main steps you should repeat from time to time to keep the optimal performance of your Google Ads account.
To spend your advertising budgets smartly, take time to perform regular Google Ads audit. If you follow our checklist, your PPC campaigns will bring more customers to your online store and boost your sales!