Important Social Media Stats & Trends For 2020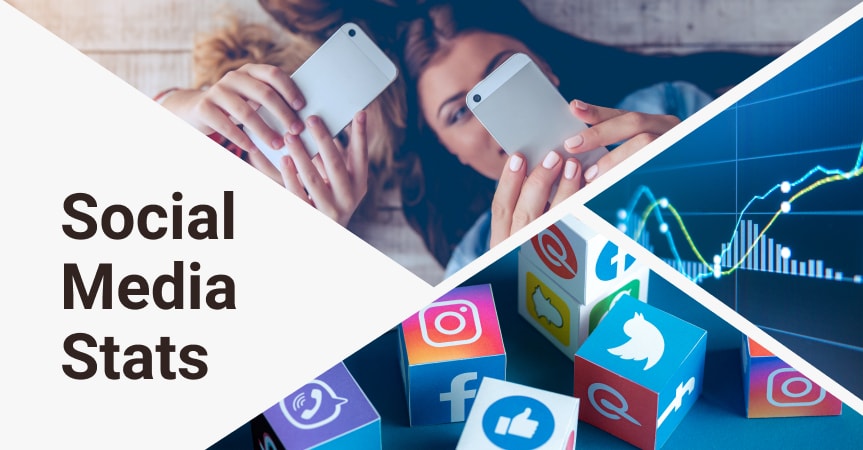 So we've made it into 2020. A new decade means that there's a lot more things business owners should keep their eyes on in the new age. After all, most of today's biggest social platforms blew up in the past 10 years. As you get ready to start new campaigns and strategies for your business in the new year, consider some of these facts and trends about the current state of social platforms.
What are social media statistics
If you're reading this article or have used any form of social media in the past few years, you very likely know what social media statistics or analytics are. They are data based off your account activity and followers – engagement rate, numbers of likes, video videos, what kind of posts do well, what kind don't do well, etc. They're extremely crucial to monitor and care for to ensure success on social media.
Why do social media stats matter
You can post as much content you want, but without statistics or analytical data, you won't know what is working for your brand and audience (and what isn't). Statistics will tell you what kind of posts your followers interact with more in terms of likes and comments, helping you better gauge your overall content strategy – meaning your video, imagery, and even post copy can change – for the better.
However, considering how much social media platforms have evolved in recent years, trends in social media have changed, so factors you should be looking for in 2020 are changing as well.
What social media trends are important now
As we enter the new decade, the emphasis on (and consumer demand for) video content and customized content is greater than ever. This means as a brand, you should shift your focus and zero in on these segments:
Influencers & Micro-Influencers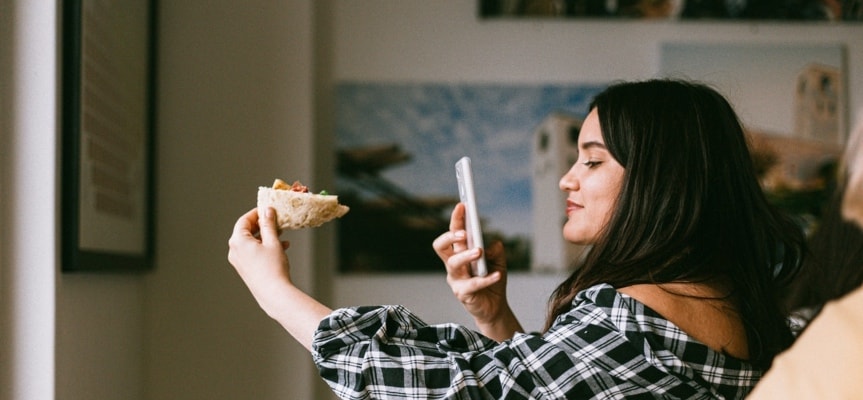 The past decade coined the term "influencer" and a new wave of personalized marketing to millennials and Gen Z. Interactions with influencers are a relatable way to connect to a younger audience for your business. Essentially a spokesperson, an influencer integrates your brand and its products into his or her lifestyle, in turn selling it to his or her audience. With budgets estimated to be at $15 billion for 2020, (nearly $8 billion more than in 2019), influencers are a continued force to be reckoned with in 2020. And there is even a projected trend of reaching out to micro-influencers – online personalities with smaller followers – for partnerships that are deemed more authentic and real (it's speculated that due to a smaller following, micro-influencers are more able to connect and respond to followers as opposed to larger, overly-busy influencers).
95% of people retain marketing messages in video.
It's estimated by Social Media Today that 82% of internet traffic will be for video in 2020. Engaging story-telling in campaigns and ads is a huge trend, and will be what engages audiences as opposed to straight-sell content. If you want to capture your niche and followers, be sure your creative juices and running at full speed in 2020.
If you want to advertise, traditional news feed ads are so last decade. With the rise of Stories on Instagram, Snapchat, and Facebook, Story Ads are positioned as a much more interactive and engaging solution (and some platforms such as Twitter allow for minute-long ads)
One other thing to consider for video for 2020 – short and catchy is becoming a trend, all thanks to the explosion of Tik-Tok in 2019. Giving users the power to publish 15-second video clips, the Chinese-owned app challenges brands and influencers to capture audiences in a shorter time frame.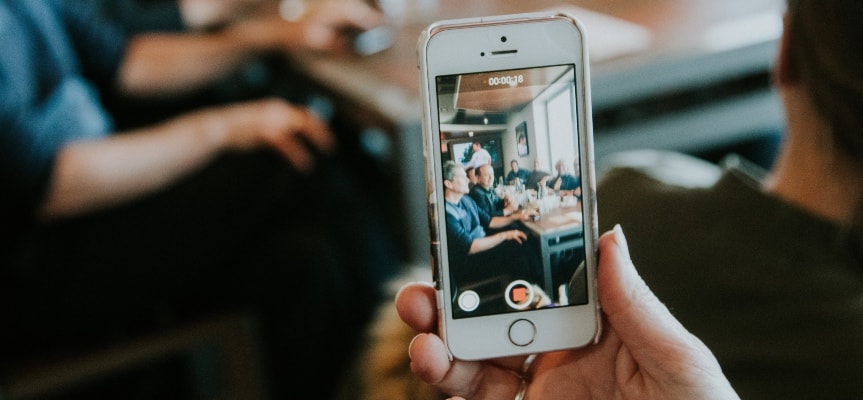 And remember – never neglect mobile for video (you just can't anymore in this day and age). Analysts report that 92% of mobile users share videos with others, creating a great opportunity to have your content go viral. And it's predicted that while 60% of people film videos horizontally on their phones and 75% of users view videos horizontally, there may be a shift towards vertical video in 2020. The reason being is that by default, smartphones are oriented vertically, so it's easier for users to view a video (in full screen) if by default it is already in vertical orientation. This helps boost retentiveness of video messaging without any screen orientation fumbling or black space (which is important), as a whopping 95% of people retain a marketing message when they consume it through video.
Social-integrated shopping
In 2020, shopping on a website might just slowly become a thing of the past. Instagram launched Instagram Checkout in March 2019, changing the way users can shop and interact with brands. By creating a click-to-checkout system, all without requiring a user to leave the app, Instagram elevates the ecommerce game in a social world. Facebook also has a Facebook Shop feature that can allow users to shop right on the platform as well.
It's all about more engaging experiences that are convenient.
Interaction with a brand about its products, services, and inquiries unlocks a true connection.
Greater Authenticity & Connection
Consumers today are more and more about connecting with a brand at a personal level (after all, this makes for a deeper consumer-brand connection, which leads to greater loyalty). In fact, Stackla has found that 86% of consumers value authenticity when deciding on items to like and support.
So what is authenticity? It's the belief that something is true, real, and honest. And Facebook Business states consumers are migrating towards one channel for this – Facebook messaging businesses. People are used to messaging one another and getting responses quickly, so they've come to expect that from businesses and brands as well. The interaction with a brand about its products, services, and inquiries unlocks a true connection – people feel as if they're speaking with a person face-to-face.
And this way of connecting goes beyond Facebook. On Twitter, it's important to have regular conversations with customers and respond to questions and concerns. On Instagram, consumers tend to DM brands directly or have questions in post comments – be sure you are mindful of this, and also what you post. Have informational blog content or studies or publications that relate to your products? Share them through a post. The more you present your brand as a knowledgeable expert in your field or niche, the greater trust and connection you can make with a customer.
Lastly, remember on any platform, user-generated content (UGC) is a goldmine for authenticity. Images and videos from your followers showcasing your items or service are like real-life testimonials to your brand. When users stumble upon this, they gain a deeper sense of trust in what your business can offer.
What social media metrics are important now
So with all you know about current trends and what consumers expect, you should pay special attention to:
Engagement rate on videos
View count on videos
Click-through rate on videos
Bounce rate on shopping
Click-through on shopping
Average response time (how fast you respond to customers)
Customer and follower feedback
These metrics may differ from platform to platform or vary by metrics apps or third-party analytics, but the general idea is to keep eyes on your video performance, how well customers respond to your integrated shopping features (if you plan to utilize this), and of course – how fast you are responding to your customers and how they feel about you as a brand.
Social media metric apps to consider for 2020
So with all these new trends and demands in the new decade, you'll need more advanced metrics to help you monitor your content. Let's take a look at 3 apps and service that can help you handle all that you need to be on top of:
With over 2.3 billion users, Netbase boasts deep monitoring of competitors, customers' likes and dislikes, and image analysis, all the while providing insights such as which influencers work best for your brand and what trends are up-and-coming in different parts of the world (allowing you to have a head-start).
Built to analyze hashtags, follower behavior, conversions – and top influencers and their stats, Keyhole is not to be missed. With Keyhole, you can discover peak engagement times of your audience, demographics of users who hashtag your business, and see real-time data on your competitors (and what your followers are saying about them).
An OG but a goodie, Hootsuite is valuable due to its ability to segment your posts and tasks by social platform, whether it's Twitter or LinkedIn or Instagram. The app also features built-in analytics to monitor performance in one glance so you can have eyes on all your social efforts in one place.
And remember, Facebook and Instagram alone have built-in metrics to capture your ad, Story, and shopping efforts, so be sure to monitor those from time to time to measure your campaigns and their effectiveness.
SUMMARY: With upcoming trends in video and influencer power, the statistics you should have your eyes on in 2020 have changed. Be sure to continue efforts on creating engaging and authentic content and to use built-in and paid metric tools to monitor your dropshipping business performance.