7 Steps Your Sales Process Must Have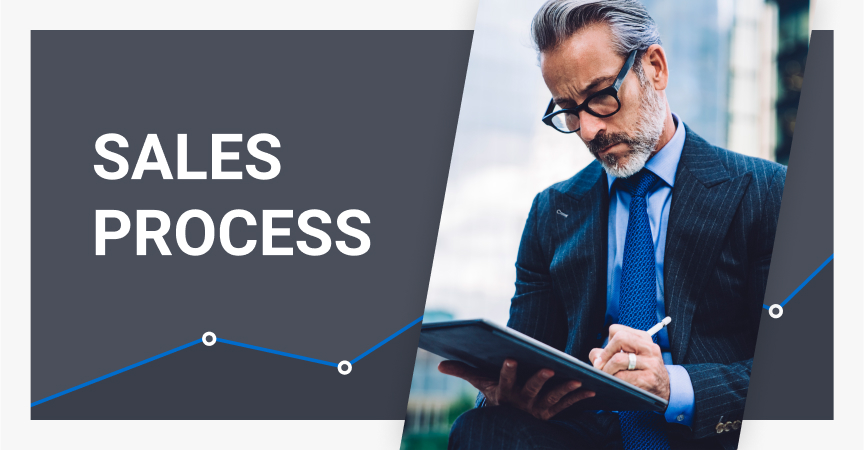 The sales process is actually more complicated than most people think. At the same time, understanding this process is crucial for a successful dropshipping business.
What is a sales process?
A sales process (a sales cycle) is all the actions required to turn a potential customer into an actual buyer. It usually starts with familiarizing people with a given product or service and ends with closing the sale.
In other words, all the steps one takes to successfully sell something are a part of their sales process.
Why should you know your sales process?
Sales cycles are repeated again and again, which lets businesses measure the results of their activities. Any changes in the results (both positive and negative) clearly indicate that you're either doing something wrong or the current strategy works great.
Secondly, when you divide the process into individual steps, you can easily see its pain points and steps requiring more work. Thus, you can optimize the process more efficiently.
Sales process stages
1. Prospecting
This is probably one of the most important steps in the sales process at which one has to identify their target audience. Even if your products are very good and affordable, you will hardly sell a lot by offering them to people who are not interested in them.
To identify your target audience, use Google Analytics, Facebook Insights and the marketing persona technique. Most dropshipping business owners look for potential customers on social media, namely Facebook and Instagram.
Also, check this guide on finding a Facebook target audience.
2. Research / preparation
This stage is usually not used in cases when the sales process works well enough but is required whenever a business switches to new products, services, markets, channels, etc.
Instead of playing by ear, you should try making a plan: where to contact customers, how to draw their attention, how to dispel doubts, etc. It is also important to analyze your competitors to come up with better ideas.
3. Initiating contact
Now that you know who your potential customer is, it is time to make contact. But you don't want to sell yet.
Marketers divide potential buyers into three audience types.
The cold audience are people who know nothing about your offer or even don't realize they have a problem. The warm audience is familiar with the problem and your offer, but they're not sure they want it. The hot audience knows the benefits of your offer and demonstrates high interest in it.
At this stage, you only deal with cold audiences, which is why trying to sell immediately will bring little results. Instead, you want to let them know about your online store, its niche, its social media group where you and other users discuss important issues or about your blog.
Other businesses also use phone calls and emails to introduce themselves to potential customers.
4. Presenting your offer
Now we're getting closer to actual sales. At this point, you want to present your product to the audience by telling how it can solve their problem. Remember to present the benefits buyers can get rather than the features of the product.
In practice, however, this step isn't so easy to distinguish from the previous one. Often dropshippers contact potential buyers with Facebook ads which already contain a certain presentation of a product – a video thumbnail, a picture or a post heading.
5. Handling objections
Even experienced entrepreneurs often think that this is where buyers' journey ends. However, most buyers feel uncertain even after a successful presentation – the audience is warm but not hot yet. So you need a little push to convince them that they're making the right choice.
Depending on what kind of business you have, handling objections can take different forms from answering questions on a personal meeting to additional presentations for corporate clients. In dropshipping, this function is partially fulfilled by a corresponding product page.
Most customers come either from social media ads or from search engines, so the product page can and should contain as many answers to their potential questions as possible.
For example, this is the reason why AliDropship recommends placing customer reviews with customer-made photos of the product on the page. This way visitors can check the quality of the goods and services right away. If available, use gifs as such short videos better demonstrate how a product works.
Here you can learn more about how to create a perfect ecommerce product page in 12 steps.
Of course, at this stage of your sales process, you can (and should) also communicate with potential customers through social media and emails answering their questions.
6. Closing deals
Now you've reached the final stage of the sales process. At this point, potential customers are "hot", i.e. ready to buy. But even here one may face problems.
First of all, something always can go wrong. For example, a customer may find the shipping cost too high in case it was hidden until the checkout. Or a client can't find a variation he or she wanted.
Even if the person still buys your product, it's important to make a good impression hoping he or she will buy again.
At this stage, businesses use a number of incentives such as upsells and downsells, gift marketing, creating a sense of urgency, etc.
7. Follow-ups
Surprised? After buyers get their orders, your business with them isn't finished. Today the sales process also includes post-sale techniques. In ecommerce, marketers mostly use follow-up emails and post-purchase offers.
The idea is to turn previous customers (or leads, i.e. people who visited the site but have never bought anything) into regular buyers.
Sales process has more chances to succeed if you can offer products that enjoy high demand among potential buyers. Try out AliDropship's Premium Products service in order to get a new product idea and marketing materials every week.