Time-Saving Dropshipping Strategy: How To Start And Run Your Business Wisely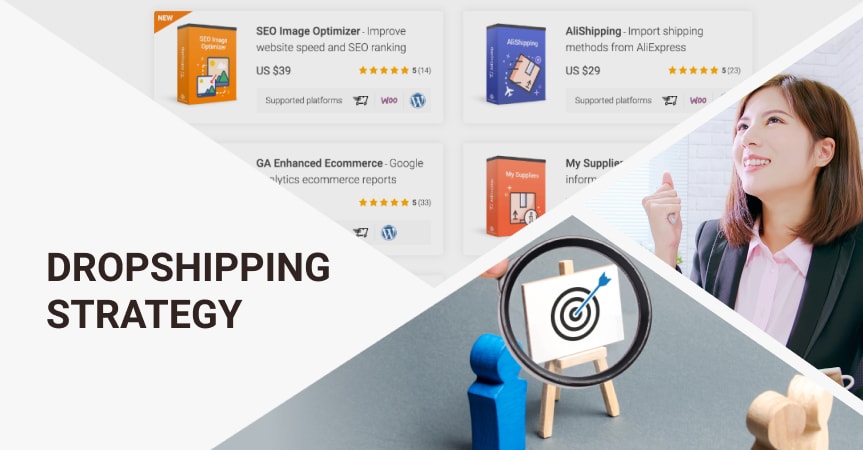 Do you think of starting a dropshipping business or you are already running one? Are you looking for a perfect dropshipping strategy that will save your time and money? Look at what AliDropship can offer you, then!
AliDropship has been permanently designing different IT solutions over a number of years and providing you with lots of services to make your dropshipping business journey as easy and convenient as possible.
So if it's necessary for you to save your time, money, and efforts, meanwhile, you want to benefit from your own ecommerce business, look at the perfect dropshipping strategy from AliDropship!
How to start your own ecommerce business with ease and save your time and efforts: dropshipping strategy from AliDropship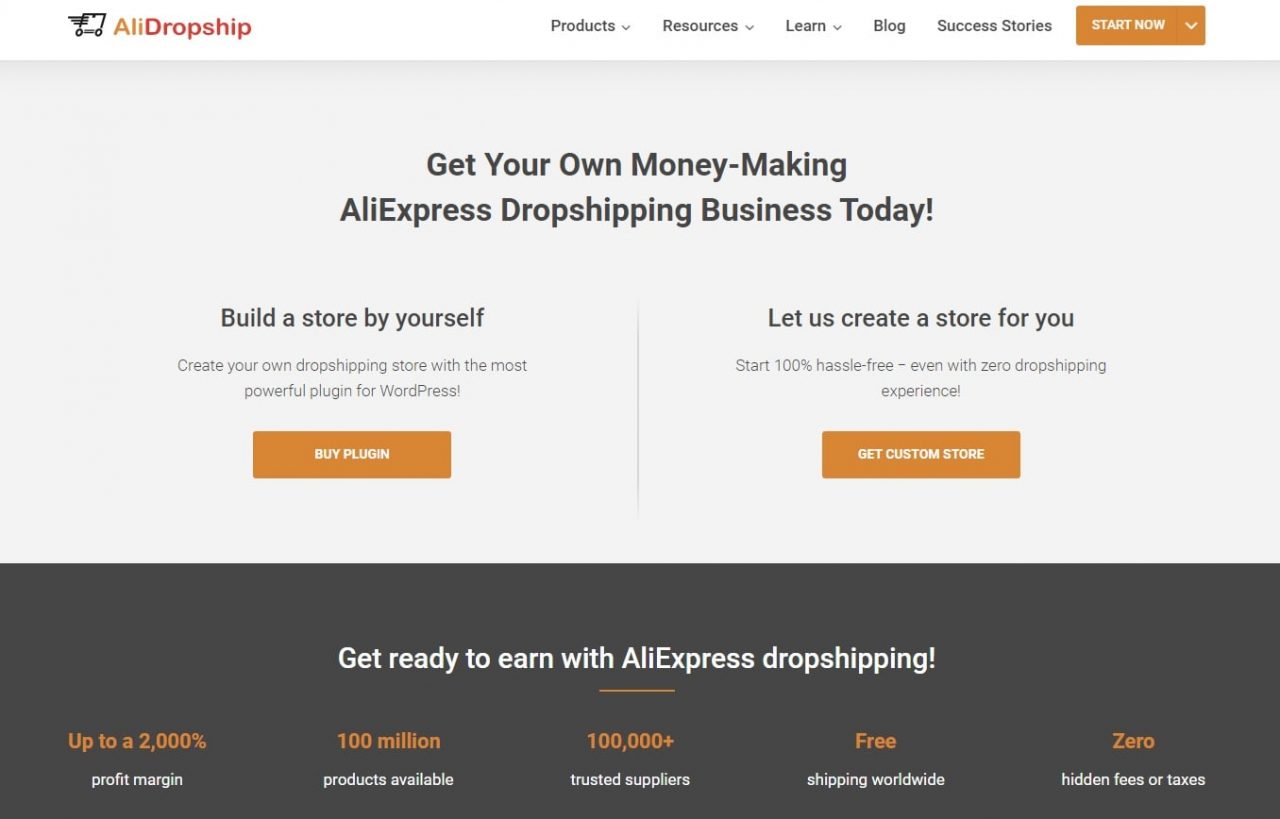 If you want to start your own business but you're not ready to invest a lot in it, the dropshipping business model is likely to become a perfect decision for you. Practically, it lets you build up your financial empire with minimum expenditure.
However, it may take you lots of time and effort to get a fresh start. Meanwhile, AliDropship is glad to present to you several important dropshipping services and IT solutions that are able to give you a windless jump.
Some of them are designed for you to easily start your business. So you won't have to deal with any technicalities, bother with web design, trusted suppliers, trending products to sell, etc.
Others are supposed to automate your business and reduce your participation to a formality. So your online store is going to bring you profit on a long-term basis. Meanwhile, you will only have to log in daily and do several clicks.
As you can see, all of these solutions can significantly influence your dropshipping business and let you save what's the most important for you as an ecommerce entrepreneur – it's time, funds, and effort. Now let's consider what exactly you are able to get from AliDropship when starting and running your dropshipping business.
Dropshipping strategy to save your time & money: AliDropship custom stores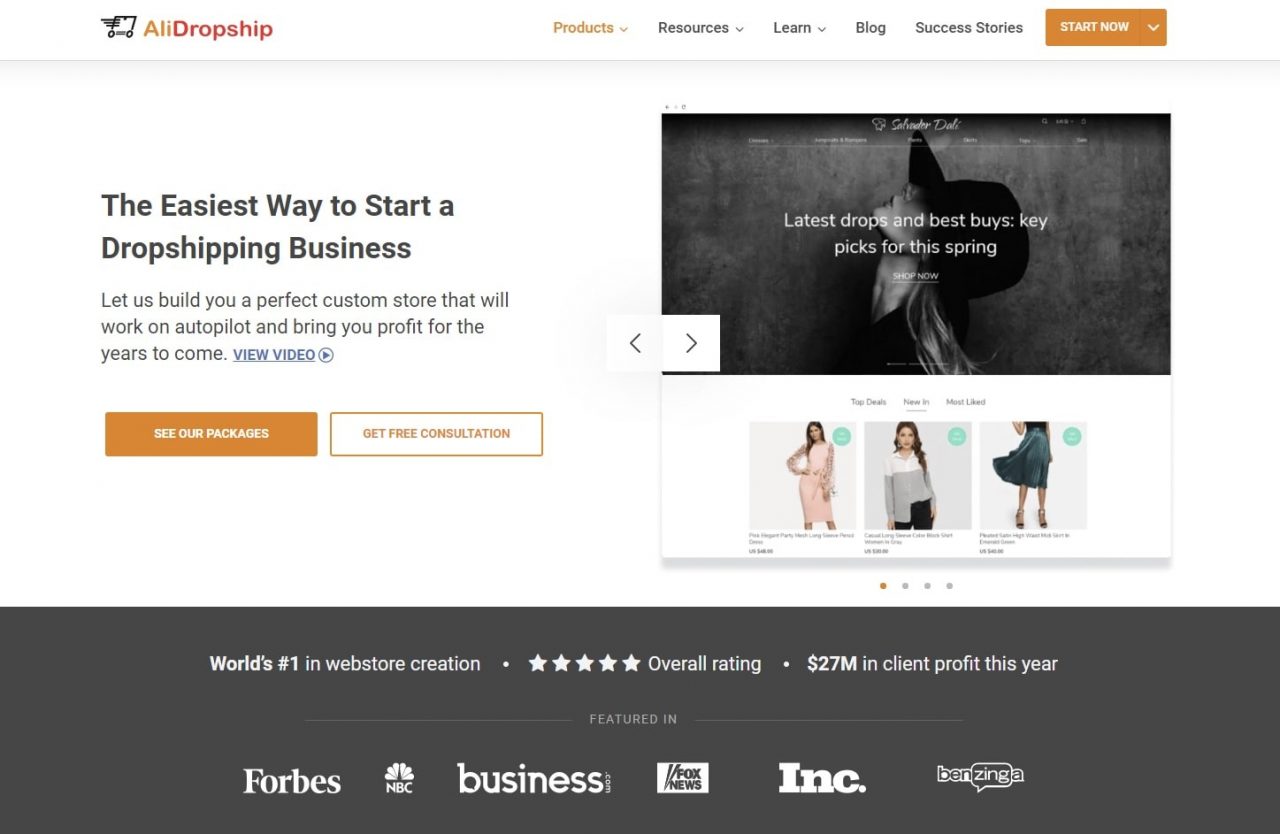 Nowadays it's absolutely not challenging to start your own dropshipping business. In practice, when you think of joining the squad of dropshipping store owners, you have several options.
First of all, you can build your online store from scratch. You need to get the AliDropship Original Plugin or AliDropship Woo Plugin, hosting, and domain name. Then, you will have to devote some of your freetime to lots of technical aspects: design, content filling, etc.
In fact, it's not as challenging as it may seem from the first sight. You only need lots of time and some technical experience. However, whether you're an ecommerce expert or not, it's quite a better idea to entrust the team of experienced and highly qualified professionals with this since they deal with building online stores 24/7, isn't it?
Then, you are able to order a custom dropshipping store from AliDropship. It means that the AliDropship experts will help you to choose the most suitable profitable niche for you and build a perfect online store in accordance with your preferences only.
As a rule, it takes 10-23 days for our specialists to make an online store ready for launch. So you can imagine how much time you will spend on it if doing all by yourself. A person with an average level of ecommerce knowledge will spend a month or more on creating a dropshipping store in case you will work on it full-time.
And don't forget that the earlier your dropshipping store starts to operate, the earlier you begin to profit from it.
What's more, now you have an exceptional opportunity to buy an established store from AliDropship. It's a dropshipping store that has already been operating and bringing a monthly profit. So you don't have to do anything, but only buy this money-making business and benefit from it!
How much time and effort you can save when running a dropshipping business: add-ons from AliDropship
We have already found out that you can save a lot when starting your own ecommerce business. But what about those who have just launched their online store? And those who have been already operating their dropshipping stores? Actually, there is also a way out for you to retain your free time and funds!
To date, AliDropship is happy to provide you with more than 10 add-ons designed for you to optimize, customize, and automate your dropshipping business!
Let's take some of them and consider how much time they can save daily. First of all, look at the Social Rabbit.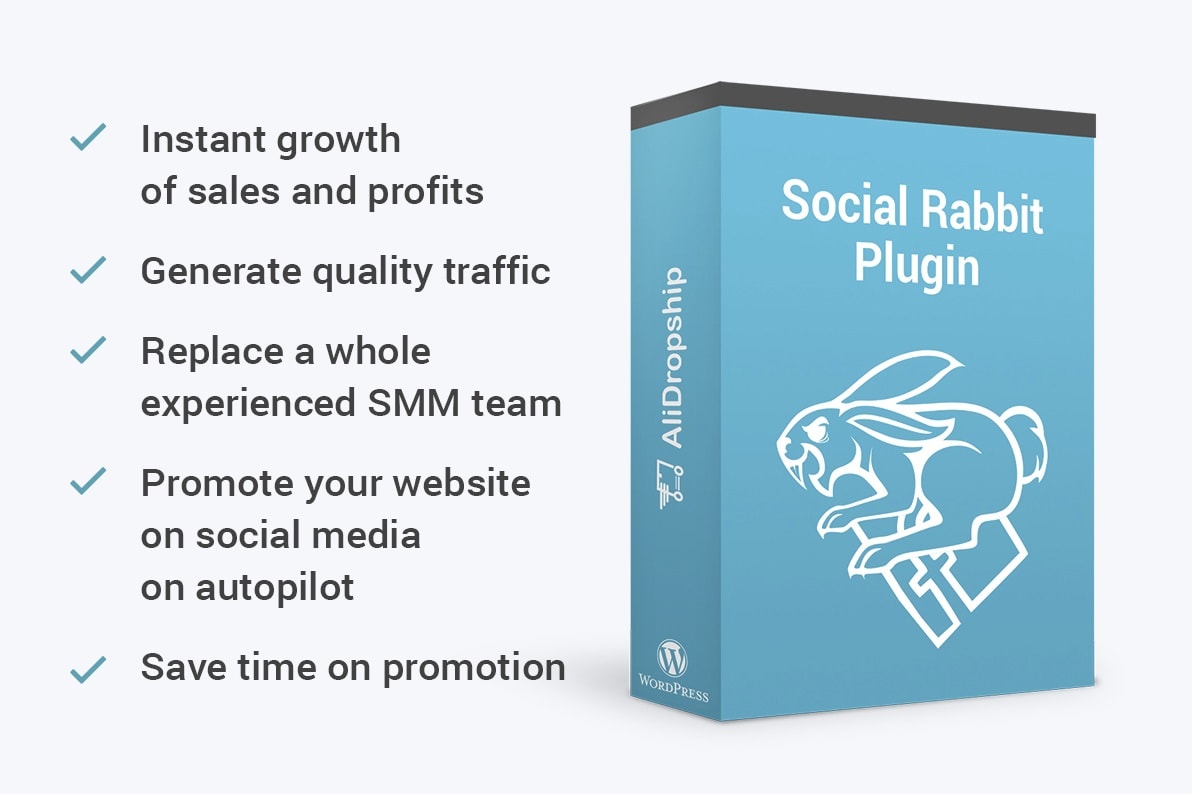 Social Rabbit is a plugin that promotes your business on social networks and drives traffic to your website on autopilot.
In practice, dealing with social networks for the promotion of your business can take tons of time.
On average, a business owner or SMM manager spends not less than 40 hours a week on making posts and business promotion.
Social Rabbit, in turn, performs Facebook, Instagram, Twitter, and Pinterest promotion on its own, setting the entrepreneur free from routine daily SMM tasks. What's exceptionally notable, it goes with a FREE 7-day trial, letting the users make themselves familiar with its amazing features before making the purchasing decision!
Apart from this, AliDropship can provide you with the SEO Image Optimizer.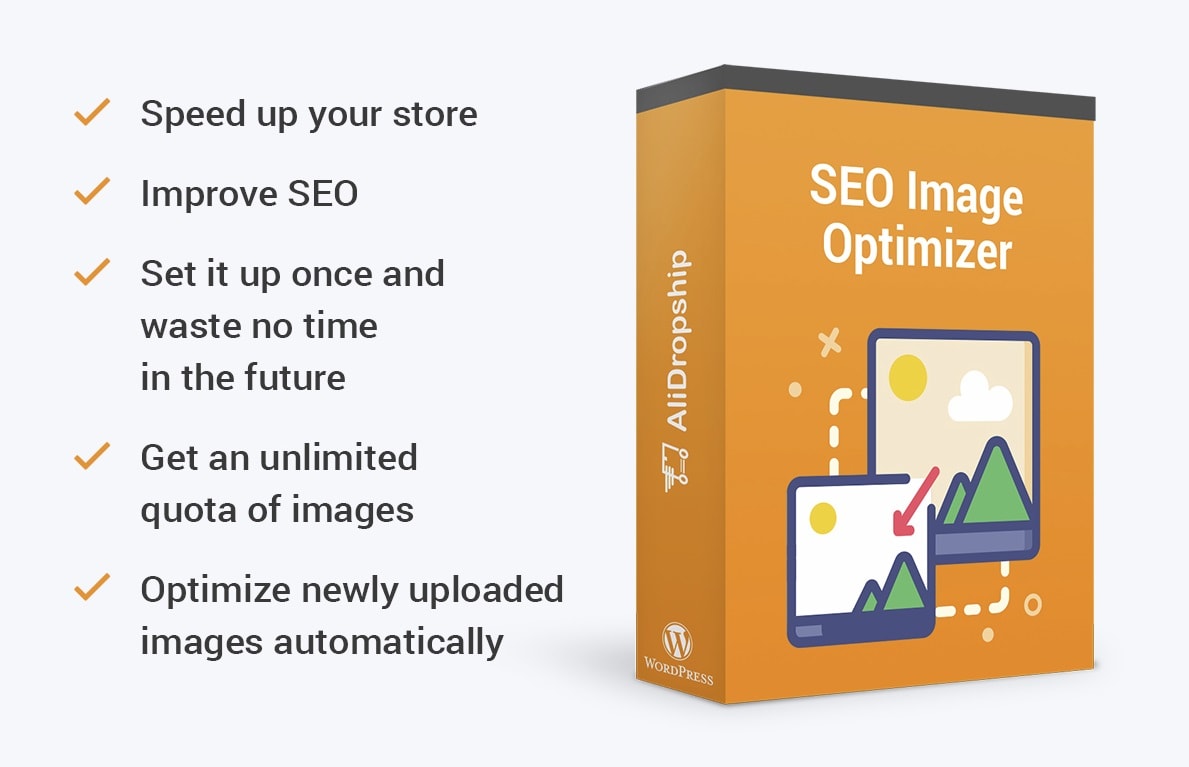 SEO Image Optimizer is a tool that optimizes newly uploaded pictures on your website automatically.
Is it necessary to optimize pictures on the ecommerce website? Yes, it is.
It's not a secret that people often leave online stores if a website is loaded slowly. So if you want to make your online store convenient and user-friendly that is a must-have for you to gain a profitable business, you have to optimize the uploaded images.
Beyond this, if you want your website to collect lots of visitors daily, it needs to be SEO optimized, as well. And speaking about online stores, you need to attach the highest importance to creating SEO-friendly alt texts for the pictures.
If you are going to do this manually when adding each and every new product to your online store, you will also have to spend lots of time on it. On average, it takes you more than an hour to create alt-texts for ten 10 product images.
The SEO Image Optimizer is designed to solve this problem. It will not only compress the images speeding up your store, but also improve your website's Search Engine Optimization. All these tasks it will do in automatic mode, without your participation!
Time-saving dropshipping strategy: final thoughts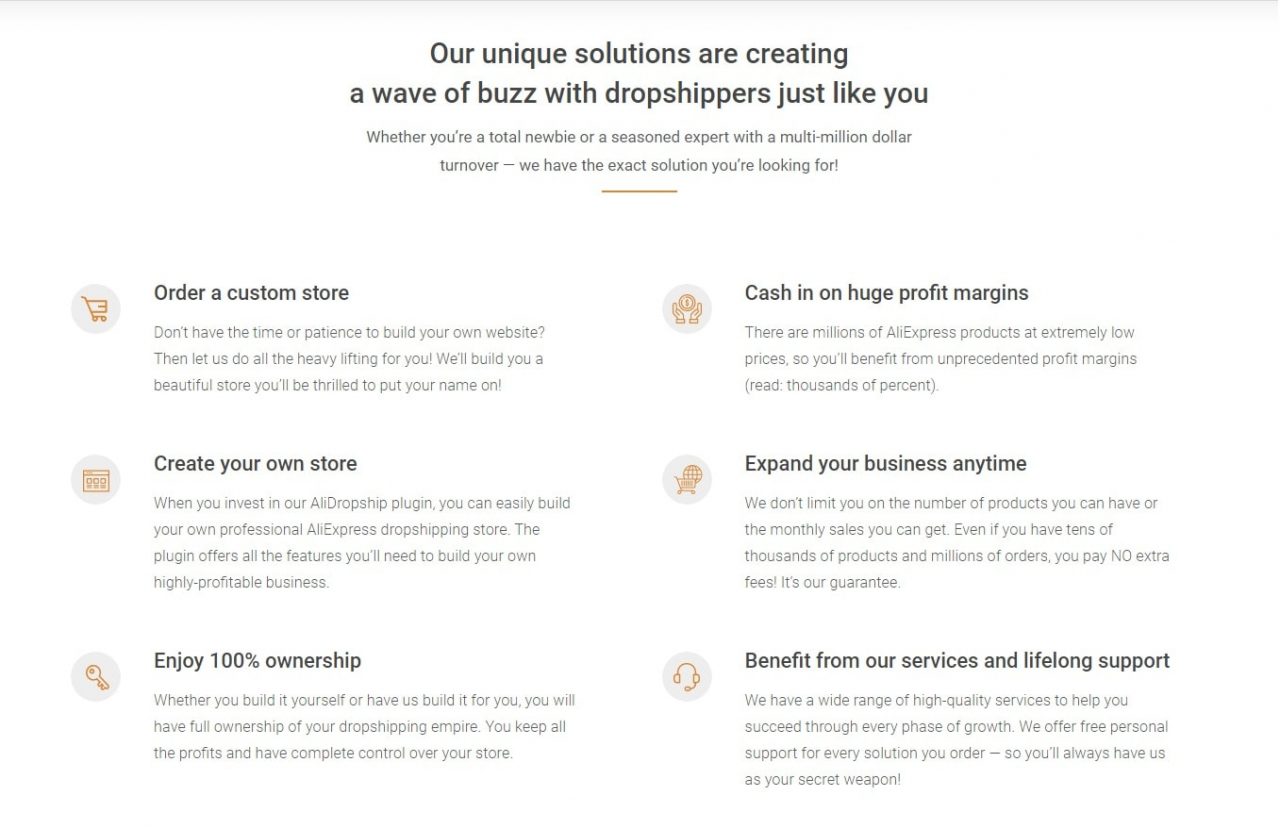 Now you are well aware that you have lots of possibilities to save your time, money, and effort when starting and running your dropshipping business.
In fact, buying a custom store from AliDropship provides you with a completely equipped, SEO and mobile-friendly, promoted on social media online store with an appealing design, wide dropshipping product range, etc. Great, isn't it?
Meanwhile, having installed the add-ons from AliDropship, you are going to save your time and effort on a daily basis.
Although your dropshipping business requires you to perform some actions every day which will take you several hours, Social Rabbit, SEO Image Optimizer, and other add-ons from AliDropship are going to reduce your participation as much as possible. So your dropshipping journey is going to take your just several clicks a day!
What's more, if ordering a custom store from AliDropship you exclude the chances of error. Your store will be built by group of professionals with tons of experience! Think of this because, in some cases, correcting such mistakes can take you a lot more money and energy.
Well, do you want to build up and run your dropshipping business with minimum time and efforts devoted to it? Then, order a custom dropshipping store and get the most essential add-ons to automate your business!