$500+ Every Week: Godfred from Ghana Shares His Dropshipping Experience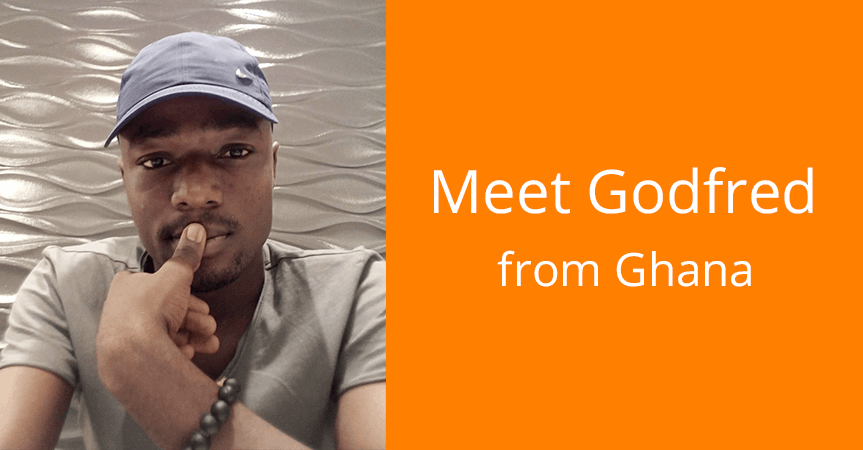 Every dropshipping experience is informative and inspiring in its own way – that's why we value our clients' success stories so much! Today, we're talking to Godfred – an amazing entrepreneur from Ghana who has a lot to share!
Disclaimer: all the success stories published in AliDropship blog are the results of interviews conducted in the written form. Even though the editors may make some minor changes to the grammar, spelling, and/or punctuation, the respondents' writing styles, views, opinions, stores screenshots and personal photos are left unchanged.
Hi, please introduce yourself!
Hello! I'm Godfred A. Osei from Ghana. I've got the education in the sphere of Business Administrator. I have been designing websites since 2009. So, now, apart from my Ghana-based entrepreneurship, I work as a website designer (digital marketer).
Did you have any dropshipping experience or general eCommerce background before you started dropshipping with AliExpress?
Yes, I knew about eCommerce, I used to run an electronics store called WebMall GH. I have been building my own classifieds websites which I made nothing from till I came across dropshipping. I learned about it from a Shopify article. After reading it, I fell for dropshipping since I didn't have to pay a penny to start.
How did your dropshipping journey begin?
You know, I spend a lot of time of the internet, my data is always on and I like to find new things. This dropshipping thing, I had seen it a couple of times but never really paid attention to it until one-day I decided to after reading the article. I started working with Shopify, the business was great, but I had issues since I have to pay money monthly no matter if I made sales or not. I started making research online until I came across Alidropship.
Why did you switch to AliDropship?
I got tired of paying monthly fees and transaction fees to Shopify. When I came across Alidropship, I got the freedom to dropship. I can go on vacation whenever I want, I get to import as many products as I want, I get to design my website how I want it and add whatever add-ons I want.
I have two dropshipping stores and now I build dropshipping stores for others using the Alidropship Woo plugin since it's the best out there.
My first store on Alidropship was made on the Alidropship plugin itself, later I changed it to Alidropship Woo. I also use Social Rabbit plug-in together with Alidropship Woo.
What is your current business performance?
Business has been very good, I make a minimum of $500 a week even though I don't get the time to run the dropshipping business.
For example, here are the results of one of my stores this February.
Mind it – the store was closed for 2 weeks during the Chinese New Year, but the money is good anyways!
Do you remember the first sale made from your store?
My first sale if I'm not mistaken was made by a colleague of mine and it was somewhere about $20. I was like wow, this is going to be cool, I just earned $10 for selling a product that costs $10 on AliExpress for $20 and the product looked expensive.
I made it in less than a week after a store launch. All I did for this was talk to my friends, show them some pictures and they liked it.
What's your strategy of choosing niches and products?
I don't do a particular niche, I sell almost anything my mind tells me to sell or I the products see people advertising on social media.
So, to find product ideas I mostly spy on Facebook and use niche scraping tools.
Thanks to the Alidropship Browser Extension, before I import an item, I look at the product score, reviews, see how many sales it has, and the last time a review was made.
How do you set the prices?
Depending on the products cost, I set prices from x1.2 to x3, ( the higher the price the lower the margin). Let's say, for a product selling for $1 – $5 on AliExpress it's x3, and for a product selling over $1000 it's x1.2
How do you promote your stores?
When I started dropshipping, my only customers were just my colleagues at work. Now, I do a lot of Facebook and Instagram advertisements. I spend $300 to $450 on ads monthly. For me, Facebook is the most efficient marketing channel. To understand who is my target audience, I use niche scraping tools.
How much time does it take you every day to manage your stores?
I use my phone which has a big enough screen to view orders, change some order status, chat with customers, etc. I only do a few things like imports, updates and order fulfillment on my laptop and I spend 2 – 4 hours daily on that.
Product choice and importing takes most of the time, but sometimes updates are super long too, depending on my Internet speed. There are times when I have to do manual updates overnight.
What are the biggest challenges?
I use WooCommerce and there are different order statuses like paid, processing, awaiting shipment, shipped, etc. which I have to do manually even this have nothing to do with Alidropship I suppose. Still looking for a plug-in to handle that. For now, I update status anytime I get an update from AliExpress.
How do you deal with difficult customers (if any)?
Most customers are easy to convince. If there are difficult ones, I sometimes give them a refund or promise a discount on their next purchase. It rare to meet such customers though.
Did you register your business officially?
Yes, my business is officially registered. There aren't many legal obligations, I just have to pay some money to the government every year and also customs duty on some products that come my way before customers pick them, which I think is everywhere.
How did this dropshipping experience change your life?
I have moved from building classifieds which I earn nothing from and electronics where I had to go and pay before delivering to customers. Now I just import products and the supplier ships directly without me having to go to the supplier's physical store. And, I'm not paying for shipping since most of what I sell has free shipping. Again, other people rely on me to build them dropshipping stores which I do at a cool fee.
My friends and family say my business has a great future and always advice I keep they good work up.
What are your plans for the future?
I want to build more stores based on specific niches as well as expand my dropshipping store building business.
What can you advise our readers – those who already run their stores and those who don't have any dropshipping experience yet?
If anyone has interest doing the dropshipping business, Alidropship is the best place for you. The store is yours 100%, no monthly fees from Alidropship, no transactions fees from Alidropship like some companies ask. The time to start dropshipping is now, just purchase the plugin or a store and start dropshipping.
This awesome story proves that dropshipping in Ghana has a bright future! We are really thankful to Godfred for his sincere feedback, and we hope his dropshipping experience will motivate you to try yourself in this business, too!