Chinese New Year 2023 Is Almost Here! Will It Impact Your Dropshipping Business?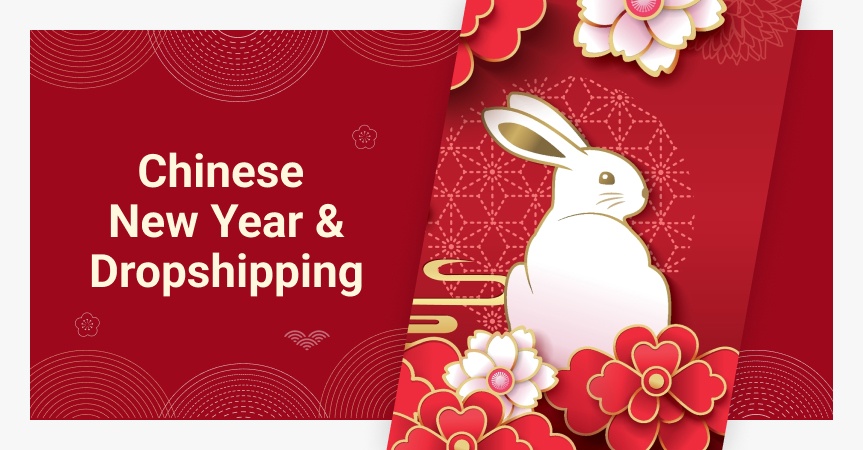 New Year holidays' time can be really tricky for dropshipping store owners. Still, you can manage it easily if you start preparing in advance. This article tells you more about getting ready for AliExpress Chinese New Year!
It's time to start your preparations TODAY! There are only a couple of weeks left until the CNY holiday.
AliExpress Chinese New Year is an interesting challenge for dropshippers. It is the time when you use all your creativity and energy to keep your customers interested in your offers even though it takes much longer to process them 🙂
So, what exactly will you need to change in your dropshipping store management during this festive period? Let's see!
What is so special about Chinese New Year?
Chinese New Year, also called the Spring Festival, is a wonderful and colorful holiday that has curious historic roots. It is famous for its impressive cultural and traditional background and has a huge impact on the life of modern China.
During this time of the year, home and family become the center of everyone's attention. People reunite with their dearest and nearest and aim to spend as much time with their loved ones as possible.
No wonder there is an official holiday: a 7-day vacation during the Chinese New Year. The celebration takes a lot of time, indeed!
Obviously, this is great for the country's population: everyone takes their time to rest, relax, and enjoy several lazy days. But what does it mean for business and the economy?
What is AliExpress Chinese New Year's impact on business?
What happens to a country's business activity during a national holiday?
During Chinese New Year, all the stores, government facilities, postal offices, factories, and other official establishments in China aren't operational.
Please mind that Chinese New Year's Eve in 2023 is on January 21st, and the holiday itself, Chinese New Year's Day in 2023, starts on January 22nd.
The dates for the next years are:
2023 Chinese New Year – January 22nd
2024 Chinese New Year – February 10th
2025 Chinese New Year – January 29th
As a dropshipping business owner, you need to keep these dates in mind because:
Manufacturing facilities, warehouses, and offices in China are closed: everybody is partying and having a good time, so there's no one available to work on production lines, or to stock items, or even to handle customers' queries
The banks are also temporarily inactive, so it will take more time than usual to process the payments and any financial transactions
Post offices, transportation hubs, and shipment services are also out of operation, so orders processing will take much more time than usual
But is it a problem?
In fact, absolutely not!
None of these factors will hurt your dropshipping business if you take some necessary steps in advance.
Look at this story of a dropshipping newcomer: he totally forgot about the AliExpress Chinese New Year and launched his AliExpress dropshipping business exactly at this point of time! Still, he managed to sort out all the related issues and minimize the number of refund requests. As a result, he received his first order on the next day after the store launch. What's more, he made $3,500 within 45 days of the store operation.
What's the secret to managing an online store efficiently when there's a major holiday ahead? Here are some ideas!
How to run your dropshipping business during AliExpress Chinese New Year?
Don't worry about this upcoming holiday; simply follow these basic instructions.
Contact your sellers to learn about their working schedule and see if it can affect the supply chains
Ideally, you need to write to EACH of your AliExpress suppliers.
This will take some time, of course – but the result will be totally worth the effort!
Ask the sellers to tell you their exact vacation dates and the time they expect to get back to work. This way, you will get some general understanding of your own working schedule in the next several weeks.
Notify your store visitors about the changes in delivery times
The most important thing is to make sure your customers see the new delivery and processing times BEFORE they place their orders.
You don't need to go into details and tell a whole story about the AliExpress Chinese New Year and its impact on your store operation. To your buyers, this is just an annoying piece of unnecessary information. All they really need to know is when to expect the package, so focus on this.
Edit the contents of your informational pages
There should be a separate page on your website that explains delivery terms and shipping times. If your store is built with the help of AliDropship plugin, it's the Shipping page. Here, you have the general shipping information explained, and a list of delivery times valid for different regions.
Simply edit the 'Estimated Shipping Time' column according to the info you got from your AliExpress suppliers.
Work on your product descriptions
If possible, write the expected delivery period at the beginning of every product description. Something like this (with the relevant amount of days!) should work:
Please note: you will receive the item in 21-28 days after placing your order. Kindly go to our Shipping page to read about the delivery times for your region!
Yes, while AliExpress Chinese New Year festivities keep going, you can even put the Shipping page link into the items' descriptions. This way, your potential buyers will know where they can learn more about the shipping time. And when the holiday period is over, you can safely remove this line from your products' descriptions, and rewrite the estimated shipping time info.
Repeat this on your social media and elsewhere
It is a good idea to create a banner that says something like:
Right now, we have a bit more orders than usual 🙂 To keep everyone happy with their purchases, we are extending the orders processing time. Please note that it is now taking us up to 3 business days to arrange the delivery of your package. Thank you so much for your patience and understanding!
You can put this banner on your website and post it on your Instagram and Facebook feed. You can even pin this post to the top of your Facebook page's timeline to make sure everyone sees it and doesn't get wrong expectations. Again, link the banner to your Shipping page – after clicking on the banner, your customers will be redirected to the page with the detailed info.
As soon as your suppliers come back to work in their normal operational mode, remove the banner from your online store and undo the post pinning on Facebook.
Plan your communication with customers carefully
A common recommendation is to stop all your promotional efforts and cut down spending on your ads during this period of time. However, when talking about how to make a fortune with a dropshipping business, we don't consider this necessary.
It would be a mistake to stop answering your clients' calls, emails, messages and comments on social networks. Keep talking to your customers with the same intensity you normally have, and check if every new client understands your notification. To make this task easier, create a template email and send it to every person who placed an order on your website during this period of time. If you have an AliDropship-based store, go to the Notifications tab in your Settings section:
Write something like this:
Hi, we're excited to receive your order! It's being processed right now, and the package will arrive to you in 21-28 days. If you have any questions, feel free to contact us at any time!
It is important to edit your Shipping page info and products' descriptions BEFORE you start sending these emails! This way, you'll be able to include a link to the Shipping page into these emails, and ask the readers to pay attention to these details.
Sellvia – the US dropshipping supplier you have been searching for
If you heavily rely on your Chinese suppliers, then it can somewhat hurt your online store during this time. So, why not try an alternative – Sellvia?
What is Sellvia? It's a whole ecommerce ecosystem that includes everything from an ecommerce platform to a well-thought-out logistics system, best-selling products, and professional marketing instruments.
So, in essence, you get everything you might need for managing and promoting your dropshipping store.
Moreover, Sellvia's fulfillment center is located in the US, California. This allows your US customers to order products and receive them within 1-3 business days. In turn, this will boost customer satisfaction and have them return for more future purchases.
So, if you're looking for a way to keep your online store afloat, or perhaps, even boost it during this complex time when many Chinese suppliers and organizations are on a break, try Sellvia!
Basically, that's it!
As you can see, the AliExpress Chinese New Year impact on business is not a problem at all. A slight change to your day-to-day operations will help you keep your buyers happy and satisfied with products from China. Keep your dropshipping business running, follow these simple steps and enjoy a great performance of your dropshipping store even in the trickiest times!