Funny Tweets: A Great Way to Make Your Brand Engaging & Fun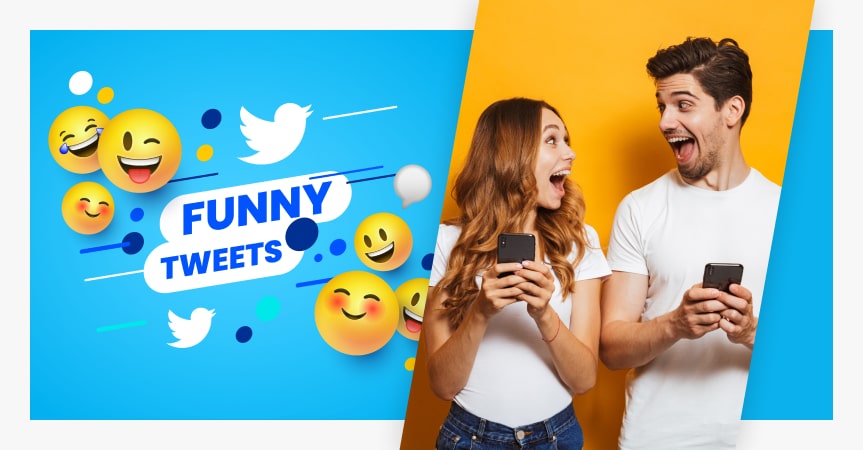 Why would we even discuss funny tweets? The reason is simple: they are a great social media marketing instrument when it comes to creating and strengthening your brand image and winning your potential customers' hearts. Let's see what's the trick!
Why Twitter is important for branding
You're probably well aware of how important social media is to a brand. It's a way to showcase brand personality and beliefs, which in turn helps your audience and customers engage with you. It also connects you to the high-spending millennial audience, which is highly active on social media. But the greatest thing about Twitter is that it's the easiest way to have a direct conversation with people.
Funny things to tweet
Besides sharing informational and brand- or community-related content, it helps to have some humor in your brand. Sound approachable and friendly in your responses to questions (the level of casualty depends on your brand voice, of course). Some ways to inject some laughs into your brand are:
Memes are the coolest way to build relatability with your audience through trending images, graphics, and phrases.
Like with memes, share something relatable to your brand in the form of a joke (or in this case, a text illustration).
Interact with other brands and companies
Have a friendly war of words with a competing brand or engage in light-hearted banter with a brand in the same industry as your business. These moves all build credibility with your brand while developing a presence on Twitter.
Hey, it's all fair game on Twitter, right? If you can't come up with something to post, find something to post! With the power of hashtags, find what users are tweeting at you or mentioning. You just might find something that can relate to your brand or audience.
Examples of funny tweets
Is your social media team hitting a blank wall? Need some humor (to help ignite some humor) for your Twitter posts? Let's take a look at 50 hilarious examples from 10 popular brands on Twitter.
Bugles
There's nothing funnier than a snack brand that changed its Instagram handle from "buglesofficial" to "bulglememes," right? (Its Twitter handle remains unchanged).
Utilizing the face of meme-goldmine Hide the Pain Harold, Bugles uses a healthy snack (and Harold's famous sad face) to illustrate the addiction of its snack in comparison to healthier alternatives.
There's nothing more effective than a list that shows the advantages of your brand's product as opposed to something else….in this case, completely unrelated (but related to being on your fingers, which Bugles are famous for being eaten off of).
Seasonal memes are always easy to jump on. Bugles took to the popular Halloween skeleton meme from this fall to illustrate how kids and teens have to wait for their moms to stop talking to friends they've bumped into at stores to get something they want (in this case, it's Bugles).
Poking fun at the much-dreaded, basic "Live, Laugh, Love" family photo frame many families have in their homes, Bugles put their character spin on the highly-ridiculed item.
Bugles shows their brand confidence with a funny image.
Wendy's
Known as one super-fiesty brand on Twitter, Wendy could not be unmentioned in our list of funny tweets.
Responding back to a customer's rave about a special burger, Wendy retorts that their product is worth more than a human soul.
With the insane rise in Baby Yoda memes, Wendy's took the opportunity to retweet this brand-centered image created by a user showcasing the brand's Spicy Nuggets.
Poking fun of themselves (while announcing the opening of a pop-up location), Wendy's let the Twitter sphere know of their Husky Harbor, Washington store – on a BOAT – built to cater to game-attending crowds of the Husky Harbor Station by the University of Washington.
In some friendly (and very cheeky) banter, Wendy's wittly fires back at competitor Popeyes Chicken, who laughed at the company in a tweet.
And going along with "dry" humor, Wendy's responds in a friendly (and funny-sarcastic) manner to a photo posted by a customer outside one of the chain's store locations. Being interactive with some wit can be funny, as Wendy's shows.
Denny's
Okay, so more food (there's a theme going on here), because food brands really have some great humor and social media teams.
Alluding to the endless highway exit signs advertising rest stops and restaurants on road trips, Denny's alludes brand confidence claiming they're the best eatery around.
Poking fun at the Tesla Cybertruck launched in November 2019 (which in itself spawned many memes), Denny's jokes that it had a "Dynertruck" to unveil as well. Good branding and humor goes a long way, as does getting creative in latching onto current events and happenings in the world.
Denny's continues to serve up jokes with this tweet about not serving catfish, making it a great first-date destination.
And again, in seizing the opportunity to play off of current happenings, Denny's made a cheeky stab at the Disney+ streaming service being down in early December 2019, highlighting the fact that its restaurants are always open (and never down).
Some simple spur-of-the-moment thinking works up some laughs sometimes, too. In celebration of National Candy Corn Day, Denny's took a corn cob (which it serves) and wrapped it up, creating a funny (and creative) take on the popular Halloween candy.
Netflix US
The North American-division of the show and movie streaming giant surely knows how to entertain on its Twitter account.
Merging a line from Mariah Carey's Christmas classic with the title of one of its highly-acclaimed series ("You"), followers just have to understand the references to get the joke.
More jokes. Netflix retweets from its Netflix Film account, calling out a scene from the film "Two Popes" while making a pun of actor Johnathan Pryce's last name.
Netflix retweets a tweet from a follower utilizing a screencap from the very-viral meme of Kombucha Girl to describe one of its upcoming releases, "To All the Boys: P.S. I Still Love You." The tweet exemplifies knowledge of trending memes while promoting an upcoming product of its streaming platform.
Another retweet, another way to show brand personality. Netflix retweets a tweet utilizing a GIF to celebrate binge-watching of shows on its platform.
With a funny reference to Steve Carell's character in popular TV series "The Office," this notification from food delivery service Postmates scores all the giggles. Netflix's retweet gives a fun thumbs-of-approval.
Chipotle
A popular U.S.-based, casual Mexican eatery chain, Chipotle is also a great force of humor and wit on Twitter.
With the popularity of the Spotify wrap-up feature to mark the end of a decade of music, Chipotle took a page from this book and joked about about how so many people mispronounce its brand name.
Chipotle retweets a funny encounter recapped by a customer, showing a connection to customers and their experiences in-store.
Chipotle jumps on a recent meme trend of repeating words or phrases, then gradually deleting them to form new phrases. Knowledge of relevant social media trends is helpful, as evidenced by the 2.2K retweets and 14.2K likes.
And in response to a mom's hilarious experience with her daughter butchering the Chipotle name, Chipotle jokes that it needs to change its restaurant name.
In a discreet nod to how its restaurant napkins are always being taken in large quantities by customers, Chipotle jokes that followers can only prove their love for the brand with how many napkins they've stolen.
Uber
The international rideshare service has a more simple (but friendly) approach on its Twitter, generally responding to customers' fun mentions of their ride experience.
Uber finishes the catchy lyrics to Gwen Stefani's 2004 smash hit in response to this customer's music-filled ride.
Doing a tweeting customer a favor, Uber plays along with the rider's request for a funny tweet.
Uber gives a nod to a holiday song and a Las Vegas rider's fun journey.
The rideshare giant also throws out some puns (alluding to singer Lady Gaga) in response to this customer's experience with a favorite song while in her Uber.
Uber also knows how to spread positive vibes to commuters on the road, wishing them smooth driving with no hang-ups at work near 5pm. This is a great example of sharing some simple brand beliefs or messages to connect with customers.
Oreo
More than just a creme-filled chocolate cookie, Oreo is a fun powerhouse on its Twitter account.
With Christmas approaching, Oreo makes a statement about its cookies being so good that Santa will skip the typical Christmas cookies and head straight for their iconic snack.
In a retweet of same-parent-company-owned brand Chips Ahoy!, Oreo jokes about how much consumer tastes have changed. (People used to just love milk with cookies….demands have evolved to healthier alternatives such as oat milk).
Oreo tweets about fun things the brand loves to do (in this case, skip), all while throwing shade at traditional chocolate chip cookies. The well-branded tweet shows product confidence while eliciting laughs from followers.
Using notepad illustrations, Oreo gives a funny and cute illustrated history of how its creme and cookie components went from two rivals to coming together.
In a sarcastic joke, Oreo suggests using it (and milk) as a bookmark for all readers out there. Sarcasm and dry humor, when used well, can have a positive effect (just look at the 20.9K retweets and 68.1K likes!).
Charmin
You'd be amazed to find a toilet paper company in this list. But Charmin is on point with a laid-back brand voice and sense of humor on its Twitter.
Keeping abreast with industry-related posts (even if the posts aren't real), Charmin displays a sense of humor through a funny pun.
Charmin cashes on an infamous meme clip of actress Meryl Streep and adds its own on-brand caption to speak to how much its product will be used around the holidays.
Posting a vintage black-and-white image, Charmin seizes a trending hashtag to call out its brand history, pointing out a belief about its toilet paper from decades ago.
Fun trending holidays are always great to post content for, especially if it relates (or can relate) to your brand and products. Charmin uses a fun image to illustrate how clean underwear can be, tying it to the brand's key slogan of something being "Charmin clean."
Current events and news are great to poke fun at. Charmin reposted this story about a bear (which happens to also be the Charmin mascot) that broke into a store and stole – you guessed it – Charmin toilet paper. This was just too good (and on-brand) to NOT post.
AXE
A male grooming product brand, AXE has been known for its controversial ads, is quite hilarious on Twitter (and not as over the top).
We've talked about joking around, and AXE certainly does that: here, the brand posts a mock-up of a fake body spray scent suggested by a follower, asking followers to retweet if they want such a product to be made.
In a social world of people wanting "the tea" (gossip/truth), AXE retweets thoughts from a Twitter user on what he thinks of the company's body sprays (AXE has had a reputation for smelling "bad," so this user is refuting those claims, blaming the unpleasantness on the product users). AXE's use of the notepad art for a teacup is also creative.
You gotta have some wit. AXE gets sassy and pretends to block a user who isn't such a fan of the company's products.
Interacting with brands from other industries can be fun, too. AXE gets witty and takes part in a giveaway from ice cream bar manufacturer Klondike, penning a funny letter about how the two brand's items are so far apart in stores. The post shows AXE's funny brand personality.
On the day of the supposed Area 51 raid in September 2019, there was a man who went viral for his funny Naruto-like sprint across cameras during a live news report. Many people started dressing up like the man and sprinting on-camera during news reports. AXE jumped on this funny sensation (and the raid itself) by tweeting a GIF depicting the running and writing that they were on the way to steal aliens, too.
Pop-Tarts
Yes, another snack brand (these brands are really feisty on Twitter).
Pop-Tarts use their pastry snacks against a popular brainwave meme designed to show levels of intellectuality, joking about different ways to warm up the pastry treat.
Utilizing a sassy notepad illustration, Pop-Tarts suggests a user disappear from Twitter for even suggesting the pastry maker create a baked beans-flavored Pop-Tart. Yeah…we'd probably do the same, too.
Interacting with another breakfast-item brand, Froot Loops (a cereal), Pop-Tarts shows a friendly bond between the two brands while ALSO mentioning that the company will release Froot Loops-flavored pastry treats in the coming year. Killing two birds with one stone (err…in this case, Tweet).
In another funny display of wit, Pop-Tarts shows disapproval of yet another disgusting flavor suggestion – this time from the official Hot Pockets Twitter account. The humor is clearly there, as seen by the 1.3K retweets and 8.9K likes.
And in a bolder (yet incredibly simple) tweet, Pop-Tarts pokes fun at itself with a "toasted" pun, in reference to 4/20 (April 20), a date known to cannabis users as a celebratory day to smoke.
What's the overall idea you can implement in your own business promotion? Well, it's not hard being funny on Twitter 🙂 Find a brand voice and personality that can be witty and relatable, and this, in turn, will earn you laughs and engagement.