AliDropship Blog
Get marketing tips, tricks and dropshipping inspiration right into your inbox!
Sign up today not to miss out a single post:
ATTENTION! Meet 17 Free Photo Editing Apps For iPhone And Android To Freshen Your Store Look!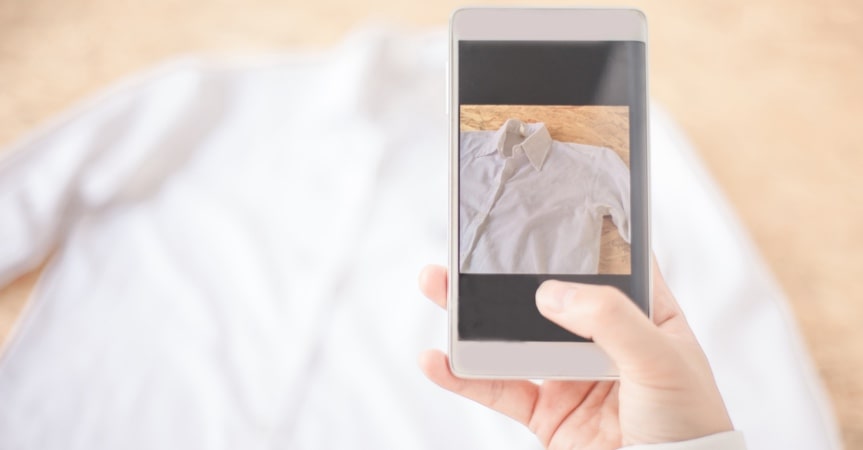 As an owner of a dropshipping store or any other online business, you can seriously benefit from free photo editing apps that make your website look better and cooler. Which of these tools are the best choice for an online entrepreneur? Let's find it out together!
20 seconds… Is it much? How about 10 seconds? Can you decide what to cook for dinner in just 10 seconds? Or what to wear today?
10-20 seconds is all the time you have to attract a website visitor's attention. If you fail, the user will leave. How do you do it?
Pretty simple, actually. By using the right pictures and photos!
Did you know that Facebook users watch 85% of videos with the sound off? It happens because we perceive about 80% of information with our eyes. And content with images gets 94% more views than a pure text.
So, photos and images are the best way to attract users' attention, but only high-quality, professionally made pictures can help you with this.
To make eye-catching item pictures you'll put on single product pages in your dropshipping store, you already have an awesome free solution we've integrated into our plugin. But what about the images you'll use for your blog articles, or ad banners, or pop-up notifications?
Welcome our list of free photo editing apps for iPhone and Android devices and also check out the paid solutions you can use for this purpose. With these tools, even an amateur can create fresh and unique pictures for their posts.
Table Of Contents
Free photo editing apps for your online business
#1 Adobe Photoshop Express
Price: Free
You'll benefit from: Smart filters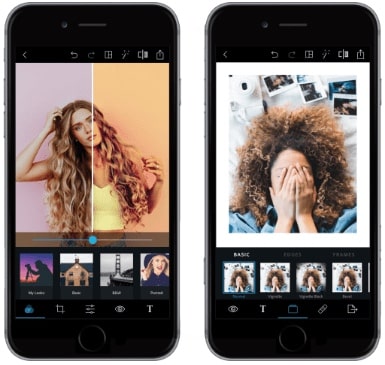 Photoshop is probably the most famous program for editing photos. Take it to a mobile platform, and you'll get Adobe Photoshop Express. It contains the best of its original tools and functions adopted for a small touchscreen as well as something new.
The smart filters of the app are designed to automatically fix the most common problems with the photos exposure, brightness, contrast, temperature, etc.
#2 Adobe Lightroom CC
Price: Free
You'll benefit from: Professional work with simple tools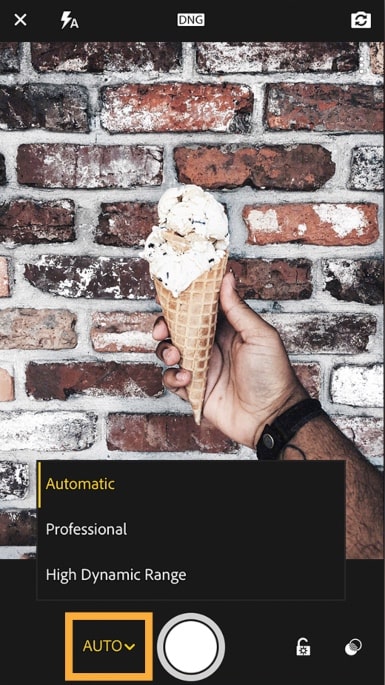 Here's another mobile version of a popular desktop solution. Its main features are professionalism and simplicity. Although the app can't boast some kinds of exclusive function, it'll make your images look professional with just a few sliders.
Another interesting feature of this app is Adobe Sensei – artificial intelligence that automatically tags pictures.
#3 Foodie
Price: Free
You'll benefit from: Appealing styles for food pictures
Trying to take beautiful and yummy pictures of dishes and beverages? Then this free photo editing app is for you!
Foodie offers 30 filters designed specifically for food, as well as smart tool for taking pictures from the top.
Share your breakfasts and dinners in social networks in style!
#4 Snapseed
Price: Free
You'll benefit from: Advanced editing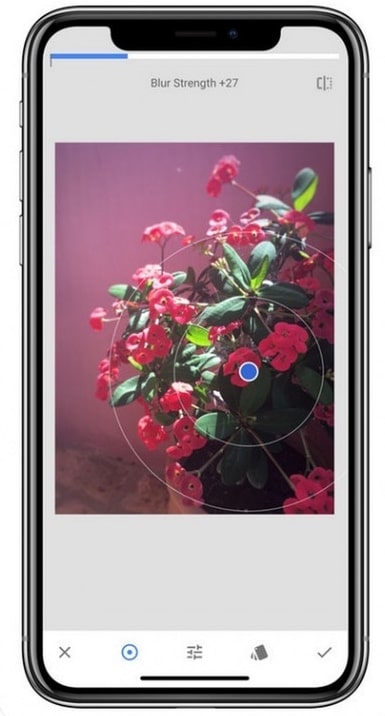 Just like any other photo editing application, this one has a number of preset filters and all the typical tools you expect such as text and frame insertion, cropping, straightening, etc.
However, it has the features few other apps can boast. First, you can edit its preset filters and even create new ones.
Second, the app has a number of advanced tools. One of them is "precision masking" for editing the depth of field, if you want to put the foreground in focus and make the background blurry.
Another Snapseed's useful tool is "selective adjust". You probably know how important it is to adjust brightness, saturation and contrast of a picture. Now how about adjusting not the whole picture but only its part? Because that's what "selective adjust" does.
#5 Prisma Photo Editor
Price: Free
You'll benefit from: Photo to art filters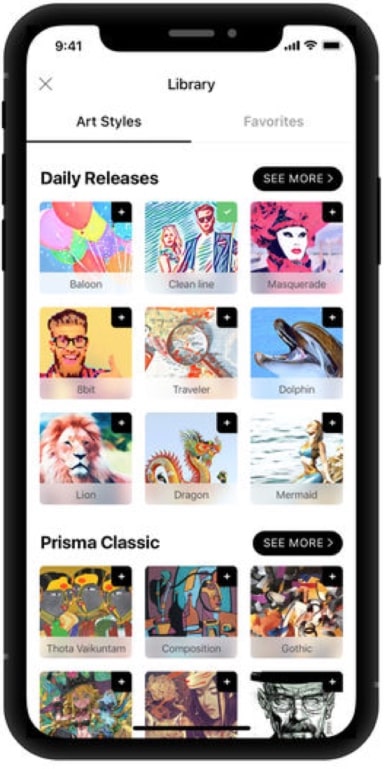 Ok, there are tons of free photo editing apps that can turn a photo into a painting or drawing. But how many apps use artificial neural networks?
Artificial neural networks, or ANNs, 'learn' patterns just like the human brain does. It's considered one of the most advanced types of artificial intelligence. What it means is that Prisma Photo Editor doesn't just make photos look like paintings, but mimics the style of famous artists.
The app has its own online community to share your works with. Additional filters are available for an extra payment, but the capacity of the free filters is more than enough.
#6 Photo Collage
Platform: Android
Price: Free
You'll benefit from: Making photo collages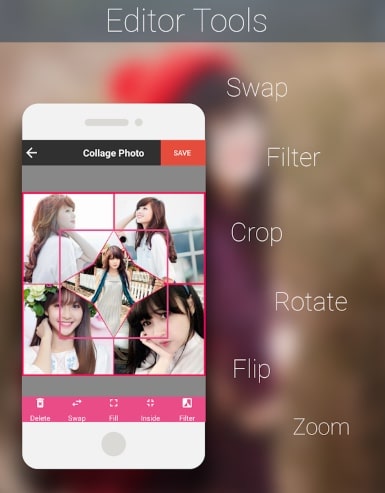 Other apps have this function, too, allowing you to create simple collages with your photos. But if you need really complicated collages and literally thousands of layouts, you'll find no better solution than Photo Collage.
Choose from a variety of styles and backgrounds, insert text with customizable fonts, colors and sizes. Furthermore, the app contains simple editing tools, so you can both edit pictures and make collages within a single app.
#7 Visage Lab
Price: Free
You'll benefit from: Appealing portraits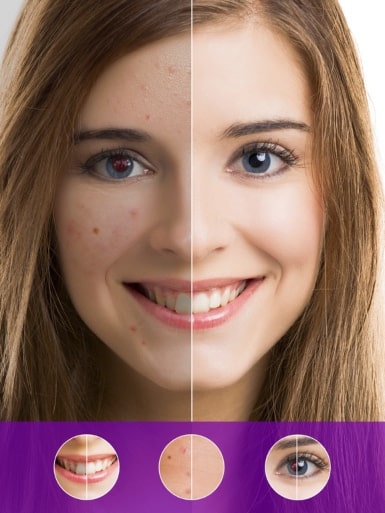 This is a powerful tool for making great portraits. It has a number of effects and curious backgrounds. But the best part is the tools for whitening teeth, removing pimples, smoothing skin, etc.
Unfortunately, the free version has a lot of ads and puts a branded hashtag to your works. The pro version of the app doesn't, but costs $4.99 per month or $9.99 per year.
#8 Adobe Photoshop Fix
Price: Free
You'll benefit from: Easy portraits editing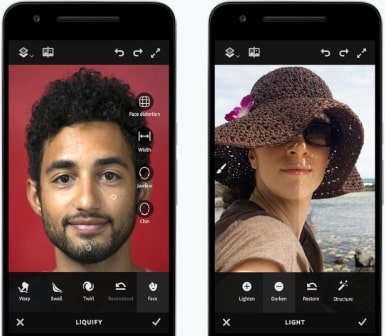 This free photo editing app can offer you no filters or effect. But if you're really into working with portraits, you'll find its tools more than satisfying.
The app is designed to fix facial features with the help of its Liquify function. It automatically defines each part of the face and allows you to manipulate it – change shape, size or position. Furthermore, it has a simple and intuitive interface.
#9 VSCO
Price: Free
You'll benefit from: Analog camera filters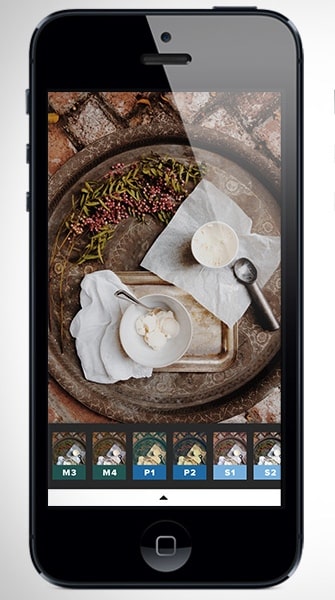 If you want your photos to have a classic warm look, this app is just what you need. VSCO's filters are gentler and softer than the ones offered by the majority of other apps. Plus, you get all the standard editing tools and can also adjust skin tones, temperature, exposure and contrast.
All photos edited with VSCO can be shared in social media.
#10 Enlight Photofox
Platform: iOS
Price: Free
You'll benefit from: Artistic pictures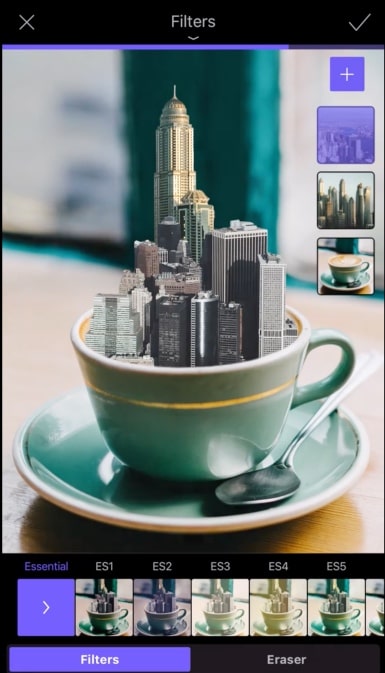 Unlike many other photo editing apps, Enlight Photofox can not only fix and enhance your photos, but also blend images together. By adding layers and various effects, you can create artistic photos of excellent quality.
However, before you master the skill, you'll probably have to watch a lot of tutorials. Furthermore, with the free version, you're limited to two layers only, while the pro version costs $2.74 per month. Or, you can purchase the full version for $64.99.
#11 Instagram
Price: Free
You'll benefit from: Building online following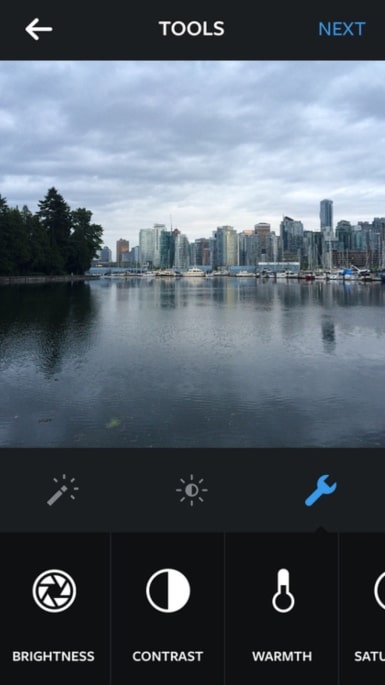 Just like other free photo editing apps, this one offers a bunch of tools for editing pictures. Although they may not beat other apps, Instagram is perfect for sharing your works and building online following. You might want to use another app for editing and Instagram for sharing.
Paid photo editing apps for Android and iOs
If you're ready to invest into quality images, consider these photo editing tools!
#12 Pixelmator
Platform: iOS
Price: $4.99
You'll benefit from: A pro app for almost anything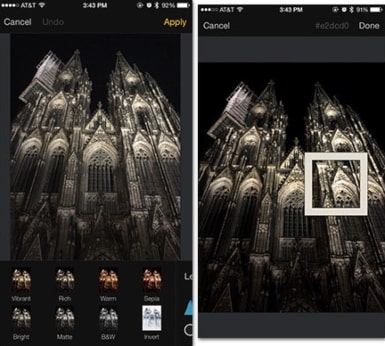 Be it design or photography, Pixelmator will help you professionally edit any image. It has a simple interface, but contains powerful tools allowing you to adjust pictures, insert texts and graphics, add effects, create collages, etc.
#13 Mextures
Platform: iOS
Price: $1.99
You'll benefit from: Layers editing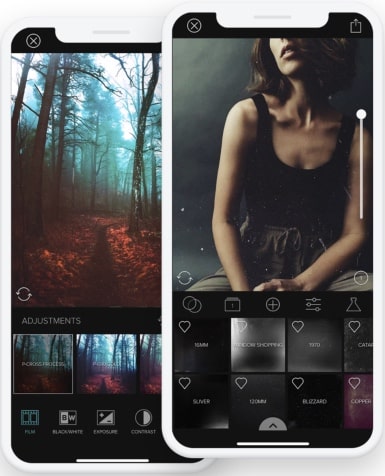 Apart from a variety of tools and filters offered, this app allows you to create multiple layers and edit each of them individually. You can also save your editing sequences and apply them to new pictures.
#14 TouchRetouch
Price: $1.99
You'll benefit from: Removing objects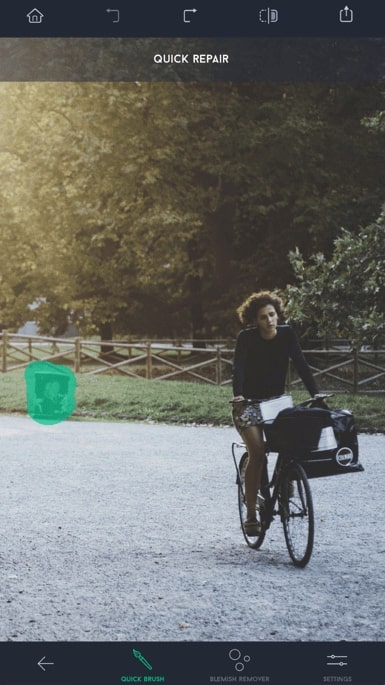 Let's admit it. Sometimes certain things spoil a really good picture – power lines, trash bins, birds, strangers… TouchRetouch is just what you need to remove these unwanted objects. When you mark an area covering an object, the app removes this part and replaces it by duplicating the surrounding textures. It also works on blemishes and stuff.
#15 Afterlight 2
Price: $0.99
You'll benefit from: Advanced editing tools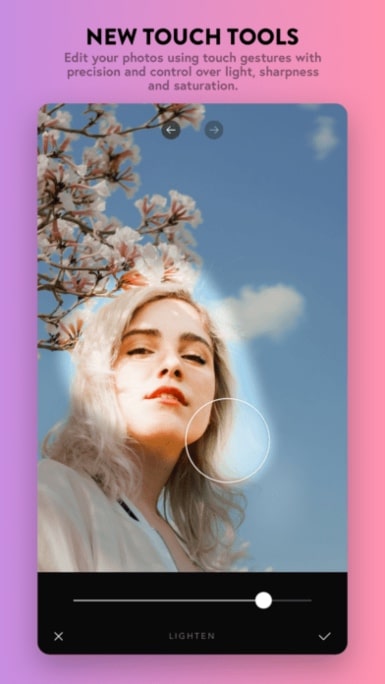 This app can do pretty much anything.
It has all the basic editing tools for adjusting saturation, hues, exposure, contrast and tone. It can insert and customize texts. Add to it 128 frames, numerous filters and textures, and you'll get one of the best picture editing apps.
#16 Facetune
Price: $3.99
You'll benefit from: Professionally retouched portraits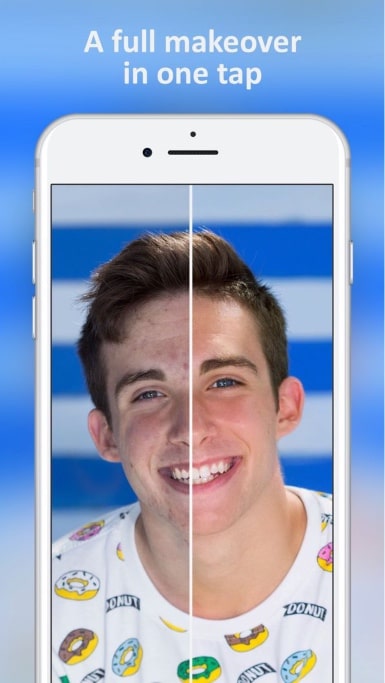 Facetune is a professional app for editing portraits and selfies. It can conceal skin blemishes, whiten teeth and adjust the position of facial features. Furthermore, the app offers a number of backgrounds. It also has a function that allows you to instantly switch between the original and edited pictures so that you could see the difference.
#17 SKRWT
Platform: iOS
Price: $0.99
You'll benefit from: Adjusting perspective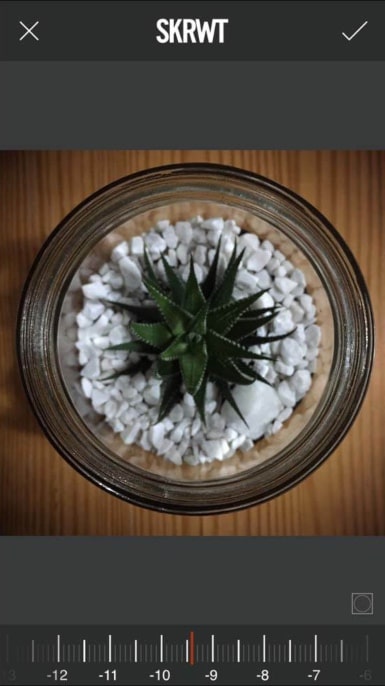 If you've ever happened to take a cool picture with a slightly wrong perspective that ruins the whole photo, this app is your 911 service.
It allows you to adjust horizontal and vertical distortion. The app can also automatically crop your photos and provides lens correction. These functions will become a necessary addition to the standard tools offered by other photo editing apps.
Use these paid and free photo editing apps on your iPhone or Android smartphone to create magnificent images that'll catch your users' attention, and see how it influences your business performance!
Join 325,000+ entrepreneurs who are already mastering new skills with our FREE Guide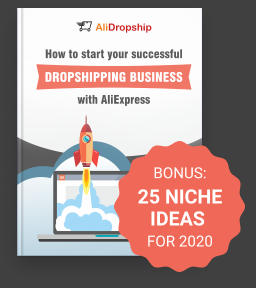 How to Start Your Successful Dropshipping Business with AliExpress
Get step-by-step instructions for newbies, expert advice how to build and promote your store, and best tools for AliExpress Dropshipping