Why Your Business Needs Facebook & Instagram Video Ads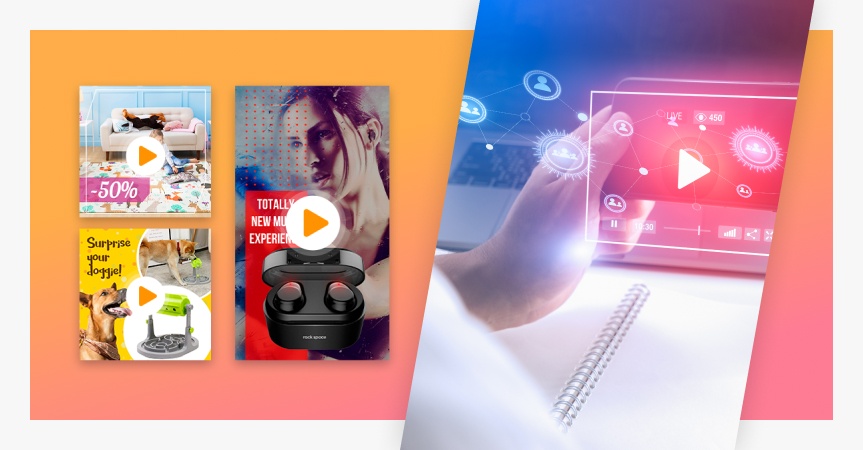 Nowadays most people prefer videos to texts or even images, which makes this type of content extremely important for marketing. Facebook and Instagram video ads can and should become a part of your promotion strategy if you want to succeed.
Small businesses, like dropshipping stores, always seek affordable yet efficient ways to drive traffic to their sites, find potential customers and ultimately increase sales. Social networks have become a great solution.
Today even huge companies use social media marketing to reach their audiences. However, posting often is not enough to engage subscribers and persuade them to buy your product. What also matters is the type of content you choose.
72% of customers prefer watching videos when they want to learn about a product or service. This trend has been rising for at least several years now, and it's not going to stop. Therefore, more and more companies add video content to their marketing strategies, and so should you.
A video is much easier to perceive as, unlike texts, it requires little attention and allows users to perceive the same information much faster. Be it laziness as a result of information overload or something else, the fact is most people prefer watching to reading.
So, if you want to promote products on Facebook and Instagram, you need video ads!
5 reasons to use Facebook and Instagram video ads
#1 Videos boost conversions and sales
According to Wyzowl, 87% of marketers confirm that video content has helped them increase the conversion rate while 80% say it increased their sales, too.
Of course, one can promote almost any product by using pictures. However, there are several features images lack including explanatory potential.
When it comes to complicated products or in cases when it's not obvious how a product or service works, it's a good idea to use explainer videos. Such content allows viewers to see the item or the process in detail.
As a result, seeing what exactly an item does and how one can implement it will stimulate a person to make the purchase.
#2 Videos build trust
Many people are afraid of frauds when buying something online. Therefore, in digital marketing, one has to address this problem as well.
Pictures and screenshots can be faked. With modern technologies, it's a piece of cake to replace numbers, colors, logos and anything you want. But videos show how a product looks and works in real life. Besides, by watching a video, customers can see the product from various angles.
In theory, you can fake a video too, but making a Hollywood-level special effects indistinguishable from real life would actually cost you more than the thing you're trying to fake! So, people generally trust videos.
#3 Mobile users like videos
Most social media users check their feeds from mobile devices. As a result, most of the people reached by your advertising campaign are going to see your ads on their smartphones. And guess what? Of all content types, they are most likely to watch a video, even if it's an ad.
For example, in Q3 2019, 94% of Facebook ads revenue came from mobile devices.
#4 Videos are easy to consume
Yes, consumption has grown incredibly crazy, and people are looking for content that's easier to process.
There's no time to read long and boring descriptions or reviews. Besides, do you really want to waste precious time on an ad?!
However, videos allow you to perceive the same information passively, which takes less effort. A short video of about 15 seconds can catch people's attention. One moment is enough to make them watch it to the end and perhaps visit your site.
#5 Videos inspire more shares
76% of social media users would share a branded video with friends if they found it entertaining. For a business, it means that a product will be promoted by the audience, which requires no investment at all.
Moreover, most customers show more interest in a product if it's recommended by another customer.
All these features make Facebook and Instagram video ads extremely effective for any business including dropshipping.
Looking for the easiest way to create and post such videos? Check out a winning service – Facebook & Instagram Video Ads!
Facebook & Instagram Video Ads: what you get from this service
To promote dropshipping products successfully, one needs efficient video ads. This service was created for those who have no experience of using video editors or no idea how to make high-quality promo videos – but would love to try video ads anyway!
Here's how it works.
Step one
After ordering the service, you decide what to advertise. You can pick one product or a product category for each ad. The video ad will lead to the corresponding page on your site.
At this point, you'll be offered to fill in a questionnaire to let us know what you want your ad to be about.
Step two
The team gets to work, and after a few days, you will get the following:
A video ad about 15 seconds long (short videos prove to be the most effective type of advertising)
An advertising text that you can place under the video
Suggestions on target audience settings on Facebook that include the location, age and gender, interests, and behavior of your potential customers
A detailed guide on how to launch the prepared video ads on Facebook and Instagram
That's it! Now you're ready to launch an advertising campaign with a professionally made video as your flagship.
Moreover, you can choose from three packages depending on how many ads you want to order. For example, with the Tiny package that only costs $39, you get one video, one text and one target audience. But with the Extended package, you get 5 of each at a better price! Curious to check out the options already? 😉
Contact us to get professionally made Facebook and Instagram video ads and enjoy the traffic they will drive to your store!