$20,6K+ In 2 Months: How An Entrepreneurial Mindset Helps Mary Run Her Online Business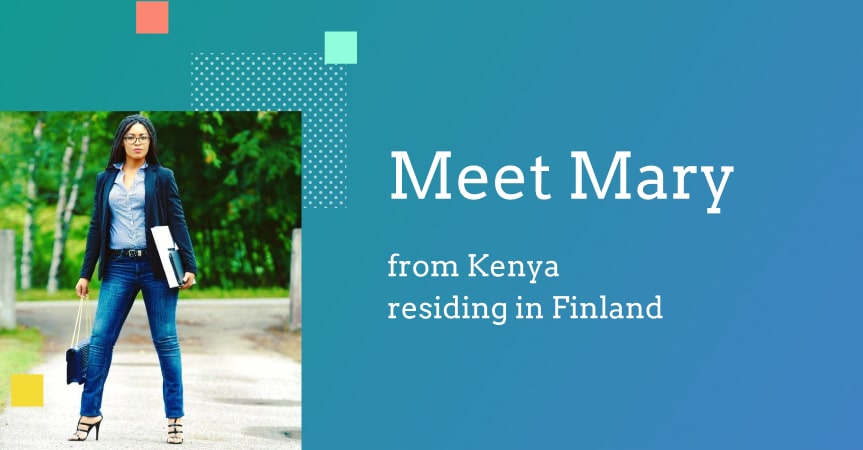 Mary, our today's guest, is the type of person you immediately recognise as an entrepreneurial minded one. Let's see what she did to create her independent online business with almost zero experience – and how she's changing the world around her, helping those affected by the pandemic to make their first steps in ecommerce.
Disclaimer: all the success stories published in AliDropship blog are the results of interviews conducted in the written form. Even though the editors may make some minor changes to the grammar, spelling, and/or punctuation, the respondents' writing styles, views, opinions, stores screenshots and personal photos are left unchanged.
Hi, please introduce yourself!
Hi, I'm Mary Masambo, a Kenyan by nationality, currently living in Finland. I moved here for my Bachelors in Business Information Technology and graduated in 2017. Currently, I'm in my last year of Masters majoring in International Business. My choice of studies makes it obvious I'm highly interested in business!
I am very entrepreneurial minded, a content creator, a risk taker and hard working as well. It's what I do best: quickly recognize situations that can be turned into business opportunities. I can proudly call myself an entrepreneur.
As an entrepreneurial minded person, did you have any business experience before you launched a dropshipping store?
Entrepreneurship has always been a thing for me.
A couple of years ago I was working as a technical specialist in an advertising company in Kenya. I had this one unique manicure set that I always placed on my desk. Once, one of my colleagues saw it, and her impression was "Wow, this is such a beautiful and portable manicure set. I'd like to have one of my own and also get one for my sister too. Where can I buy it?" Without a second thought, I told her I was selling them. In 2 days, I fulfilled her order. I knew where to source this set, how much it would cost me and how much I would sell it for. And I made 70% profit from that product!
On that same day, I took this set with me around other departments, and over 70 people made a pre-order in just one day and I fulfilled their orders in 2 days as well. Later, I got recommended to some other people and I made more sales. They also had friends who they wanted to give such a set as a gift, and so on.
While doing my Bachelors in Finland, I had an idea of a book lamp branded with the school logo on it, and it was a success. I integrated the northern lights story into my promotional message for this book lamp since the university is located in Lapland. The lamp was purchased in hundreds of units as a university gift for the guests!
All these stories happened before I created my first online business. This right here made me use every opportunity I got to sell.
How did your ecommerce story begin?
My Bachelors was IT and Business-related. I created my first online store using WordPress as an assignment for my Content Management Systems course. This was actually our final assignment and we had to make sure that it was hosted and up and running.
Once I passed the content management course, I thought of what I could do with the website I had created. So I went online and I found some amazing women outfits from different websites and I posted them on my site and put my markup price. I made sure that my payment gateways were working and I was good to go. And truly, I had zero idea that what I was doing was actually dropshipping!
There was some inconvenience, though. It was a struggle to add products on my site manually and process the orders. So, when I saw a Facebook ad for AliDropship, it changed a lot in my business practice. You have no idea how much time it saved me, and how well it all reflected on my returns.
Do you remember the first sale made from your online store?
Yes, I do. That day, I sold a blue top to a buyer from Germany. It happened 2 weeks after I posted an ad for my business on Pinterest. I took my time to learn and make myself updated with ecommerce trends to make it happen. There wasn't much information about this business as compared to now.
And still, I felt like it was the best day of my life, and right there I knew there was something big coming – a huge opportunity.
So, how does your business perform now?
I have 3 stores now, and two of them are pretty young. Here are the numbers for the last 2 months for my best performing stores:
I currently use AliDropship Plugin and most importantly, a whole range of add-ons. My favorite ones are the Upsell, Facebook Business, and Recent Sales Popup. They have helped me increase my sales so far. I am able to utilize my time more in marketing or creating content since the rest is easily taken care of.
What is your product strategy?
My niches are mostly based on my passion and the current trends. And the products I sell mostly target women of all races: that makes it easier for me to focus.
There are a number of factors I consider when choosing the products. Most importantly, I evaluate the product quality, the number of orders for this item, shipping periods, and check whether there is good positive feedback. It takes me a while before I get a profitable product. However, good things take time. Once I get it, then more dollars are in!
I tend to update my website with new product offers constantly, focusing on some unique products that are currently trending because they sell well. While setting the prices, I make sure I have at least 45% profit margin.
How do you promote your stores?
I use Facebook, Instagram, Google Ads and Pinterest. Definitely, paid ads on Facebook are the most efficient marketing channel for me. On the other hand, Pinterest has done a good job in bringing in organic customers. In addition, SEO has also played a big role as well. Now I am also getting myself in the Tiktok world which looks promising.
So, broadly speaking, there is a promotional opportunity in each and every marketing channel for an entrepreneurial minded store owner. You just need to understand how all these channels can work for your business and use that to grow your stores. It costs me about $2,000-$3,000 per month on average to promote my business.
What can you tell about managing your business?
I spend at least 8 hours a day to keep an eye on all my 3 stores. The most time-consuming part of it is providing customer service. Connecting with customers is key and if you are successful in that, then your business future is bright since they will keep on returning.
The customer is always right. However, being polite and diplomatic always makes the situation better. It doesn't matter how rude some customers can be but it's important to be professional always.
Being positive in every situation is the best way to keep yourself going. The last thing you need is something to pull you down or hinder you from being successful.
How have your and your closest ones' lives changed since you launched your dropshipping business?
I became a legal business owner, first of all. Business registration is a simple process here that only requires your identification. You can easily do it online and have all the paperwork ready and sent to you via post. In addition, the tax and VAT registration takes place in the same system making the process much easier, so there was no trouble at all.
I can proudly say that ecommerce has opened new doors for my growth. Last year, I was able to travel to Asia and live in 6 countries for 1.5 months. There's a form of freedom that comes with this business.
There are opportunities in this digital era. We all know how hard the pandemic has hit businesses and many of them are looking for solutions to survive. Some people have simply lost jobs. I am now helping out friends whose jobs have been affected by Covid 19 and who are looking for a way to earn online. I look forward to sharing my knowledge and helping others as well. Currently, I am training my small sister through the process and she has her first website up and running. My whole family is very supportive, and I am working on some new stores together with teaching others.
Any final words of wisdom to other entrepreneurial minded dropshipping newcomers?
Do not give up. Failure is part of this business. However, we don't consider it as a failure. We call it lessons. So keep pushing. If you're about to start, don't wait. Just do it, and welcome to the club.
Whether you're an entrepreneurial minded individual or an experimenter simply curious to test ecommerce out, dropshipping is just the perfect online business model to begin with. Mary's experience of running her own business and launching stores for newcomers proves it perfectly – and shows how beginner-friendly this venture can be.