How To Dropship Socks Like A Pro: Tips And Ideas For A New Store Owner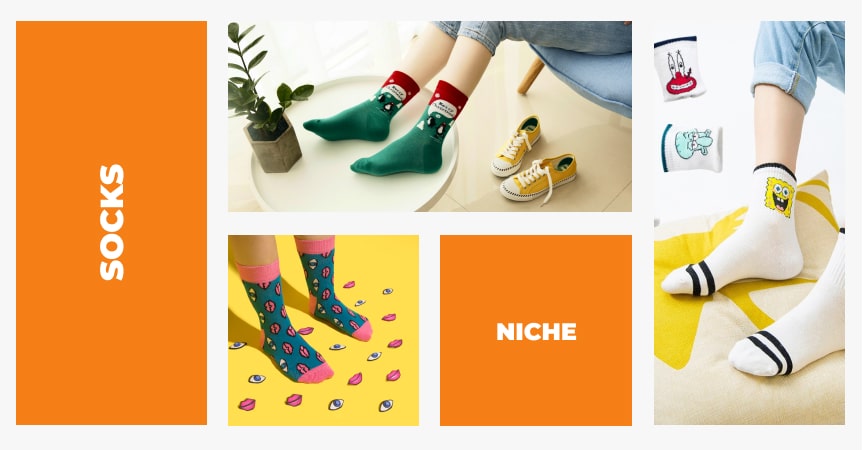 Are you planning to dropship socks? No? Why not? It's a great idea! Let's see why this niche is very well suited for dropshipping business and what types of socks are in great demand now.
"What? Socks? Will these products really be a good niche to start or expand my dropshipping business?" Yes! Don't even doubt it!
Fashion.. and that says it all! It doesn't stand still! New trends are emerging, and socks manufacturers are following them closely. For many years, socks were not considered stylish and had a practical role rather than a decorative one. But everything has changed now: socks are not just a piece of clothing that used to cover the legs. They are a significant part of any fashionable look.
Let's take a look at the statistics. Revenue in the socks segment amounts to US $45,442m in 2019. The market is expected to grow annually by 4.2% (CAGR 2019-2023).
Socks are selling like hotcakes, and the demand for them is growing at a breakneck rate. As business owners who follow the trends, can we miss out on this sock boom? The answer is obvious.
Have we convinced you already? 😉
And there are more exciting things about this niche!
In this article, we will talk about the reasons why you should definitely consider adding these products to your dropshipping store. We will cover their advantages, a variety of models and simplicity of your business when you dropship socks. Also, we will show some examples of products that are in demand among socks fans.

Why dropship socks?
If you are interested in this niche, we have good news for you! When you dropship socks, you come across a lot of advantages that will be appreciated by both novice dropshippers and those who already run their business. Let's look at some of them:
Wherever you are: at work, at home, at the gym, on vacation or a walk, socks will come in handy in each of these cases. Socks are the products of daily demand. therefore, their number usually exceeds 2-3 pairs, right? Do you understand where this is going? To the second advantage of this niche!
As we said above, socks are necessary everywhere and for everyone. How many pairs of socks does a person have on average? It will not be possible to say because all people are different. But we also know that they wear socks day in and day out and they wear out. So purchases of these items happen quite often. Why not show more? After seeing a great offer and the opportunity to buy several pairs of socks at once, people will be more likely to buy multiple items from you. Further, everything will depend on your offer and a variety of goods. How to get customers to buy more? Let's move on to the 3rd advantage.
Multiple customer segments
We can come up with a large number of categories of socks and segment them by:
The wearer's age (newborns' socks, children's socks, teens' socks, adults' socks,…)
The person's gender
The socks' purpose (running socks, yoga socks, dancing socks, home socks, …)
The material of socks (cotton socks, wool socks, bamboo socks, nylon socks, …)
The socks' design (textured socks, printed socks, plain colored socks, …)
Each of these categories has its own audience. The more categories are presented in your store, the more audiences you will be able to attract. Use it for your benefit! Build your marketing strategy for different customer audiences, give them a choice, offer them a variety of options and models of socks and maybe your store will interest them.
Given the fact that the trend for socks continues to grow, people are becoming more interested in them, looking for unusual offers and quality products. There is an increasing number of socks models, shapes, sizes, designs. How can we use this for our business? Very simply! Follow the trends, find the best models and allow your future customers to pick up socks for any mood, occasion and wardrobe.
Low product price and tiny weight
Of course, we could not leave aside this pleasant fact! Socks are a cheap product. To get your dropshipping profits, you make a certain mark up on the goods in your store. If you do this with socks, they will still remain a product for an attractive price. Another great advantage is that it is a very lightweight product. You will not have to pay extra for the delivery. Since these products meet all the delivery parameters of ePacket, the packages will reach your buyers quickly and without any problems.
The opportunity to diversify your offer
Socks are great products that can be combined with each other. If your store has multiple categories of socks, you can create special offers. Mixing cute, printed, festive socks, and offering them at an attractive price, you increase the chances of buying several times. Try different options for combining and evaluate which ones are bought better. Given these statistics, you can expand your store and offer new attractive sets.
The ability to add socks to different niche stores
Socks are universal products. You can easily add a different category of socks to almost any store: a children's or sportswear store, a shoe store, a gift store, etc. In each store, socks will be relevant goods and your chances of profit will increase.
Socks can be an original gift for men, women and children. As a gift they should be beautiful, high-quality, original, right? They make a really bright and original gift that will suit any holiday. Great for a loved one, good friend, colleague. Take advantage of this: offer beautiful socks sets and create interesting holiday offers.
Are you excited with the opportunities? Let's take a look at the sample thematic selection of trending socks!
Socks to dropship: printed socks
Fashion weeks made it clear: socks with a bright color print are at the peak of popularity! Let's see what variety of prints you can find on AliExpress.
For example, there are socks with popular paintings, musicians, artists. An interesting dive into the world of art and fashion trends. Think about it!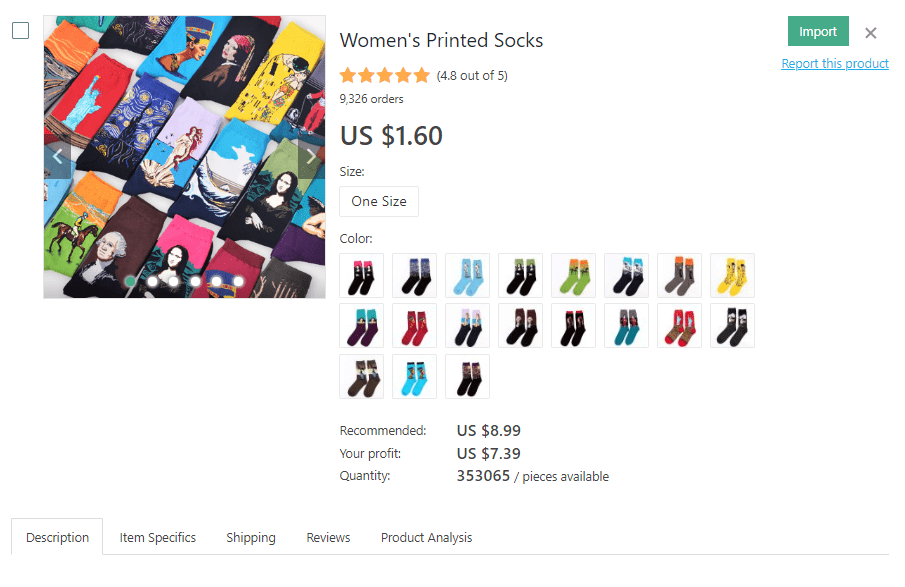 Colored socks will help any man to look stylish and interesting. The trend for fashionable men's socks has successfully won the hearts of the majority of the male population.
Thanks to a variety of fashionable patterns, you will be able to pick up your favorite models.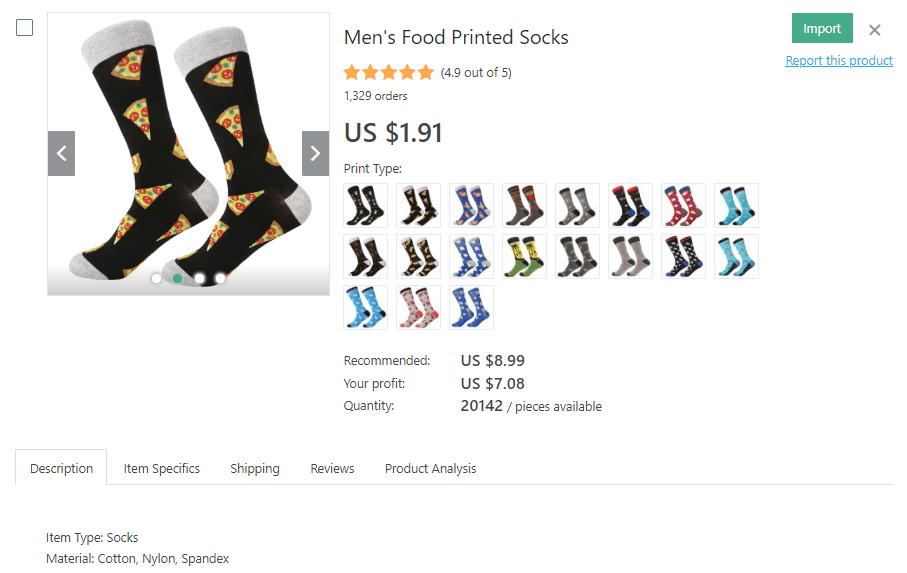 Everyone wants to feel like a real superhero! This theme is at the peak of popularity. Why not offer non-copyrighted socks with popular heroes to your buyers?
Classic socks to dropship
Despite the variety of prints, some people still prefer the classics. Of course, there are such options on AliExpress.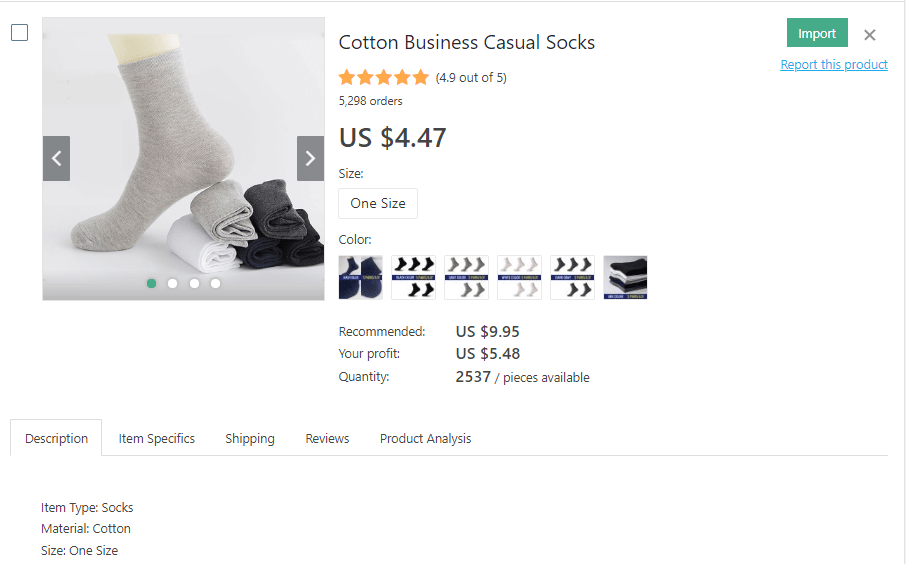 Many buyers choose plain bright colored socks and they also look very stylish!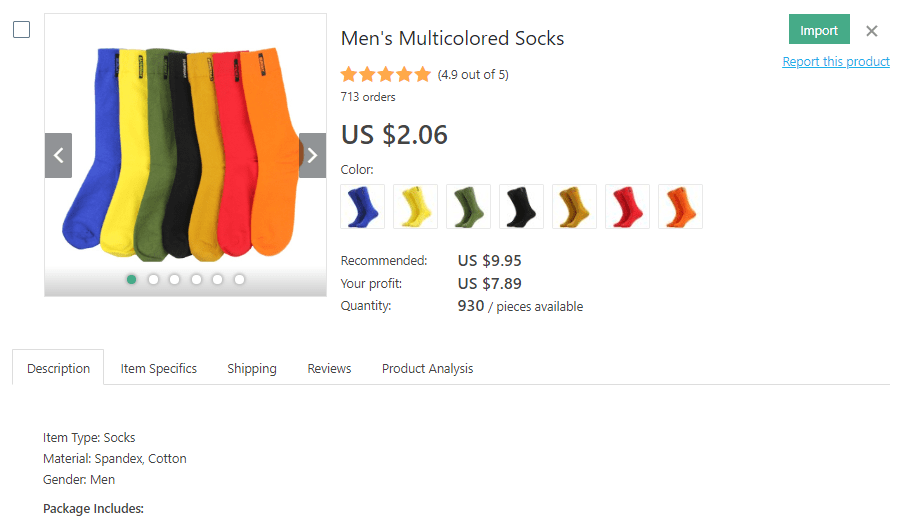 What about darker colors but classic geometric patterns? They'll drive you crazy!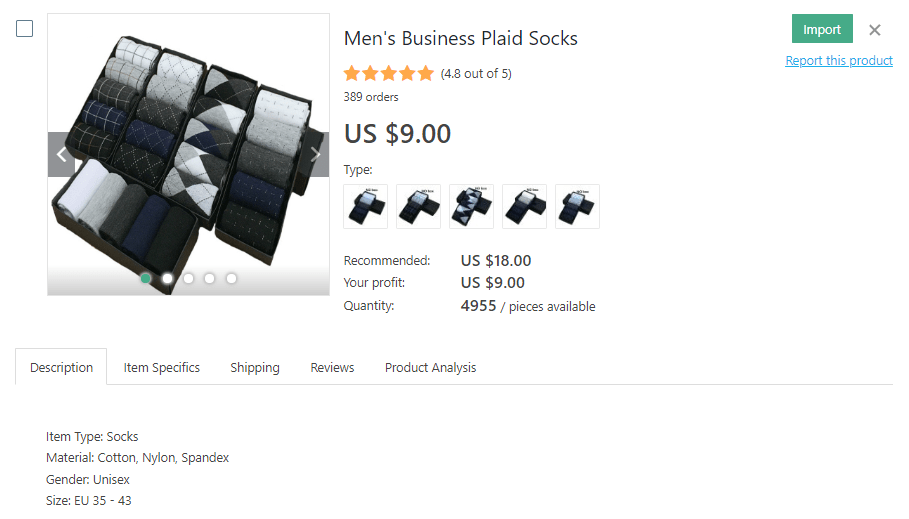 And no one has cancelled short socks that are not visible to others 😉
Perfect socks for dropshipping: funny and cute ones
Have fun with these adorable socks!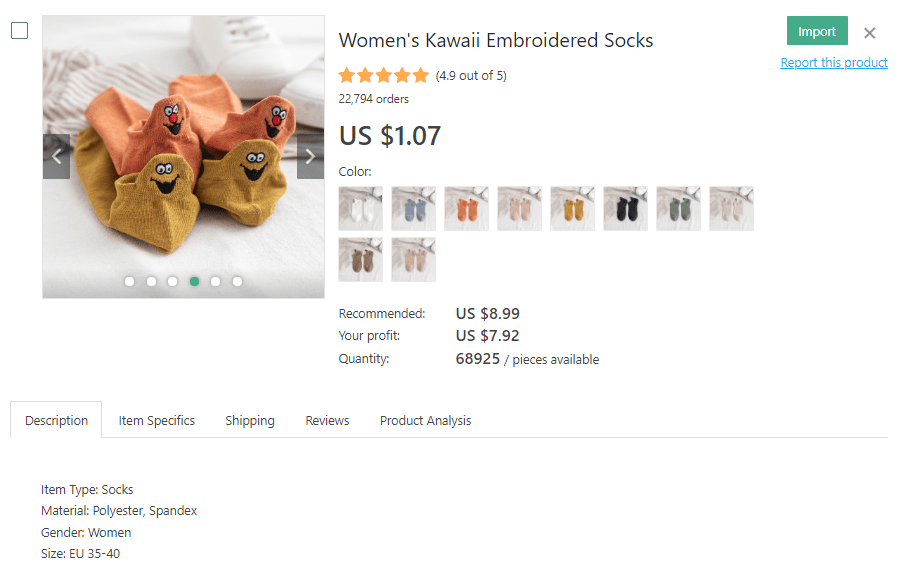 Funny faces, birds, flowers and animals – choose and offer whatever you fancy!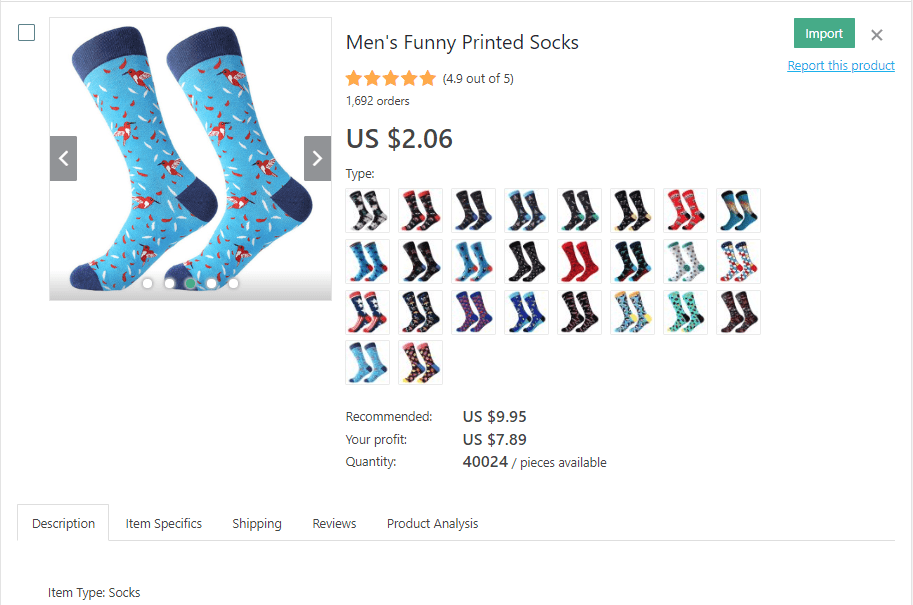 Oooh, shoutout to animal lovers!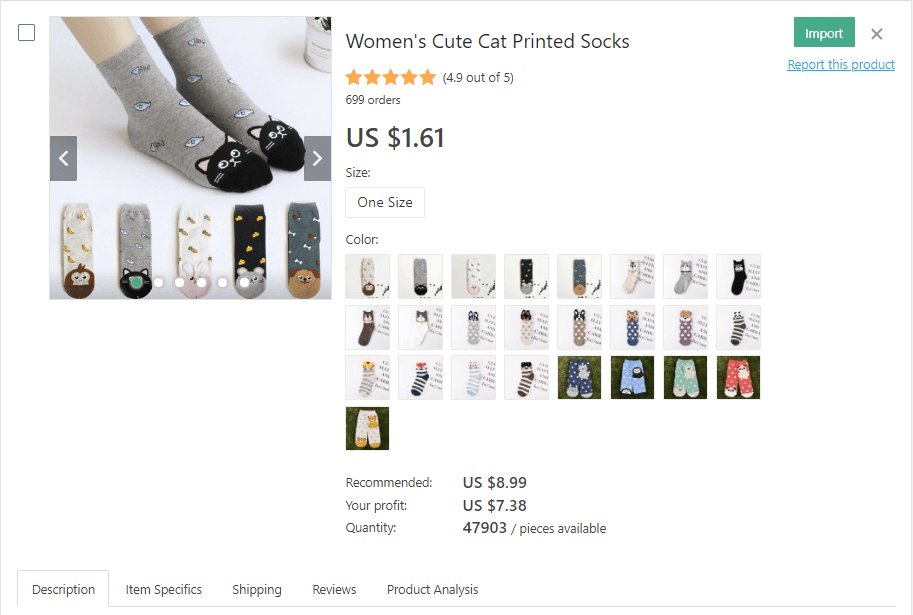 Non-branded socks with popular cartoon characters are also in great demand! Don't forget about it when you fill your store with goods.
Sport socks to dropship
All athletes and fans of active lifestyle pay special attention to their equipment. In addition to quality tracksuits, sneakers, it is important to have sports socks. They will protect the legs from damage and make the training process more effective.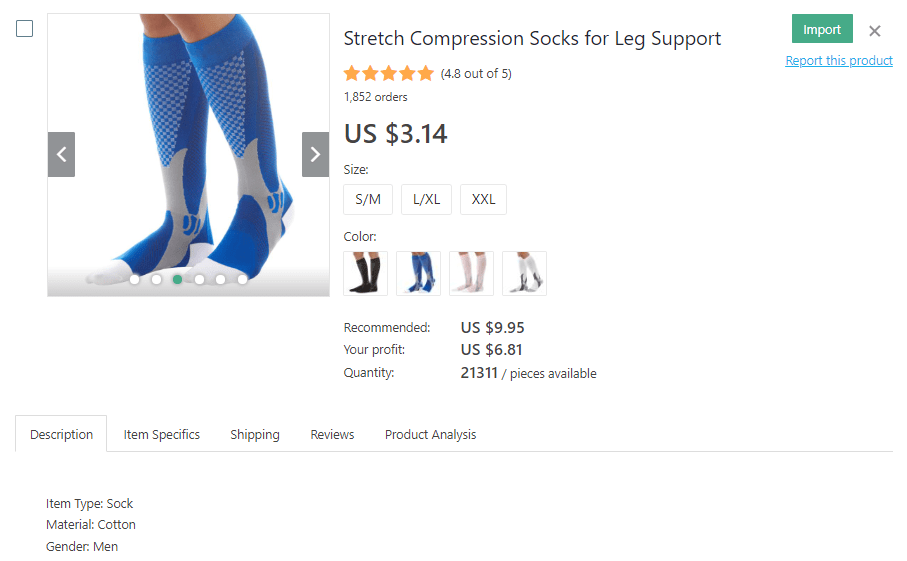 Sports socks encircle the foot tightly. They have anti-slip pads for better fixation and speed. Due to them, athletes will focus entirely on the game.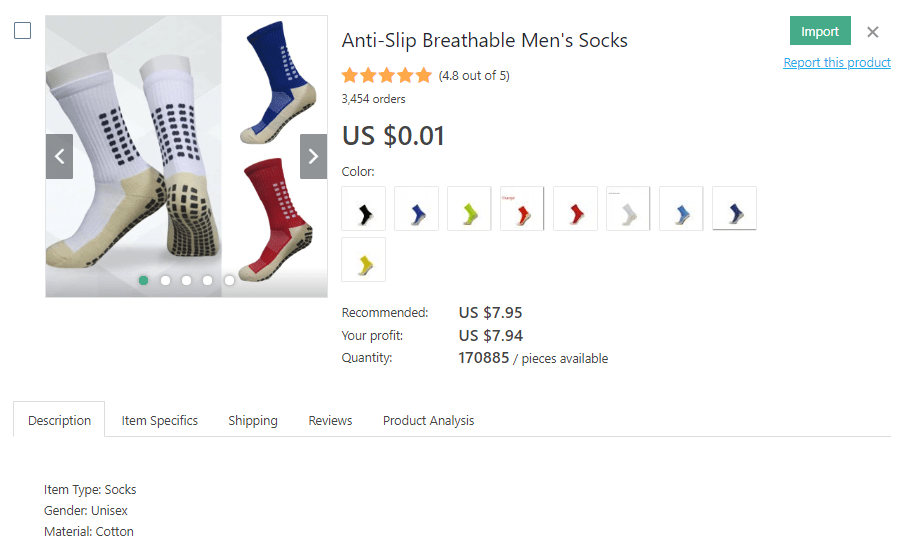 Sports socks are presented in different variations, including the ones made for various sports, such as yoga.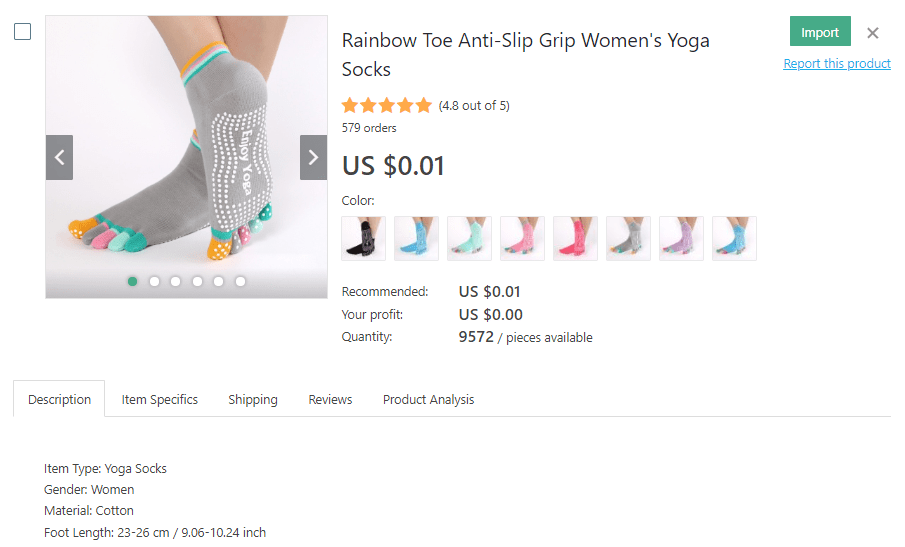 Sport socks have a special elastic band. It protects the wearers from slipping during workouts.
Want to dropship socks? Think of the kids' ones!
Children love bright socks! And these products are an integral part of the daily outfits of children and schoolchildren. There are casual socks or brighter ones with patterns, made of cotton or wool, long or short. This variety will help kids keep their feet warm and look gorgeous at any holiday event.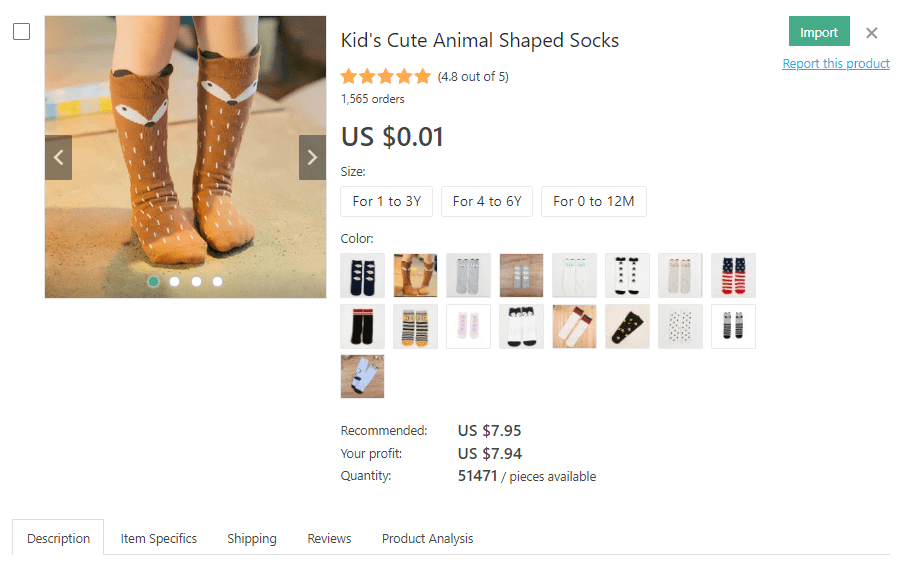 Parents are a category of people who buy a lot of things for their children. Socks wear out, children grow quickly and the demand for children's socks increases.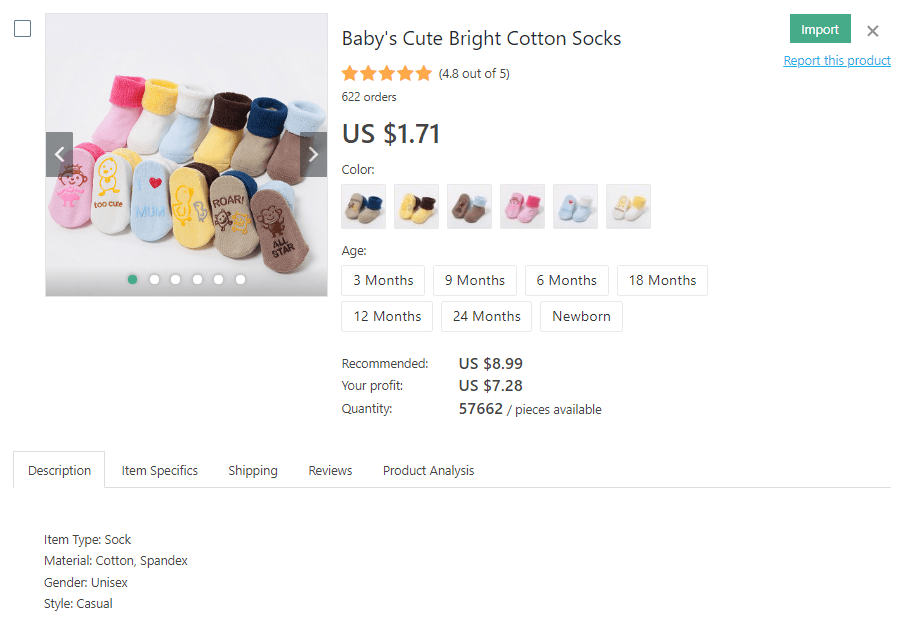 Small children never walk in shoes "barefoot". Even on the hottest day, socks are worn under sandals.
Summing up
We consider socks to be a great and trending niche product for your store.
As we have figured it out, this niche has a lot of advantages in terms of the audience demand, customer segments, and product options. Looking through the options offered on AliExpress, you can make sure socks are ordered in large volumes and the variety of models is very wide. You can customize your marketing strategies to different target audiences who will be interested in your offers. Use our advice for the benefit of your business, and don't put your exciting venture on hold!
Whether you are a novice entrepreneur who is just planning to start a business or an established store owner, you can easily dropship socks and enjoy the numerous niche benefits!