Smart Theme Woo: A Highly Customizable WooCommerce Theme You'll Love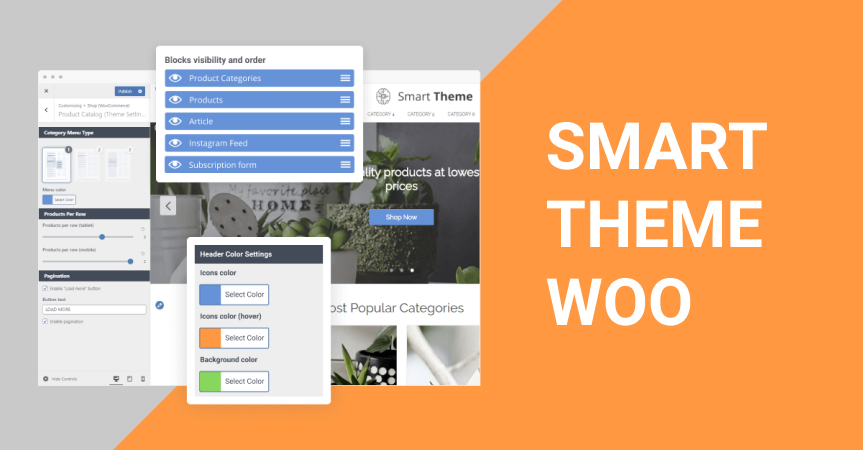 We are excited to announce our newest development: a customizable WooCommerce theme with multiple layouts and flexible design settings! Meet Smart Theme Woo – and see how it can transform your business!
Introducing Smart Theme Woo
Without any doubts, this theme, made exclusively for WooCommerce website owners, will change your idea of really flexible website design.
WooCommerce itself, famous for the almost unlimited customization opportunities it provides, is a common choice for well-experienced users. Those who have already been in online business for some time enjoy the true business (and artistic) freedom that WooCommerce provides, and are enthusiastic to deal with its creative challenges.
So, knowing these distinctive features of WooCommerce, how did our developers reflect them in the new theme? Let's see what makes Smart Theme Woo so special – and how it enhances both the owners' and the buyers' experience!
Multiple layouts available
Let's get straight to this theme's biggest draw.
Look at the 5 pictures in the slider below (сlick or tap on every image to view it conveniently). What can you see?
Well, these are all Front pages, right? Clearly, they belong to one and the same online store, but there are differences in the:
Appearance and structure of the main menu in the header
Title, structure, and placement of the Best Selling, New Arrivals, and other sections
Logo position, buttons on the main banner, and more tiny details
Hmm…
Before I start explaining what this is all about, look at these pictures, too:
These are 5 variations of a single product page. Obviously, this is one and the same item with the identical price, reviews, and specifications. Still, you can notice major differences in the:
Image gallery type
Contents of the blocks under the 'Add to Cart' button
Menu and header structure, colors of the buttons and icons, 'Search' field, and more
So, what am I getting at with these comparison pictures?
All these (and numerous other) website modifications are available to the Smart Woo Theme users. Creating a website on its basis, you can flexibly change the appearance, placement and order of numerous elements of the store pages, and even customize their whole layout.
That's right: with the Smart Theme Woo, you will be able to customize your:
Website header
Pages' footer
Products displayed on the Front page
Single product page
Category page menu
Mobile menu
Each of these elements has 3-5 layout variations you can choose from. Plus, there are multiple customizable things like sale badges, subscription forms, number of products/categories on the Front page, and more. You are free to apply them to any pieces of on-page content as you wish: it's easier than you'd think!
User-friendly customization
So, the Smart Theme Woo lets you experiment with countless combinations of different pages' layouts and visual style. And, as we wanted these experiments to be engaging and convenient for you (and not confusing or overwhelming!), we made sure you can see the result on the spot.
Whatever page block you're customizing, you can see how this element will look right after you apply the desired change.
Thanks to the blue pencil icons, you immediately see which of the page blocks you can customize. And with the tiny layout previews in the control panel on the left, you know what to expect from this or that modification you try out!
How does your business benefit from this customizable WooCommerce theme?
Of course, the Smart Theme Woo is more than just a 'playground' where you move blocks up and down, recolor buttons, or switch widgets or and off 'just for fun'. This theme is just the perfect choice if you want to:
Give your store a unique look
Thanks to numerous layouts and design options you can apply to any sections at your choice, you get an unmatched opportunity to craft a really unique and memorable shopping destination. It's the chance to create and strengthen a brand image you've always wanted to achieve!
Get more convenient to visitors
Whatever people want to search, explore, or buy on your website, you can make sure the experience is pleasant and satisfying to them. We went from A to Z… I mean, from Asos to Zappos – to research the most customer-oriented ecommerce solutions and materialize them in the Smart Theme Woo layouts.
Make your website work and look great on any device
Combining and adjusting the header, footer, shop menu, and any other components at your choice, you easily guide your store visitors straight to checkout. Whether they're using mobile devices or desktops to navigate your site, the conversion-focused elements work for their convenience – and to your advantage.
Enjoy the easy and time-saving way to tailor your site
The pre-optimized page layouts and sections, together with the user-oriented theme builder, let you make countless on-site changes without asking for a developer's or designer's assistance. If you want to change the blocks order on your Front page, the appearance of your subscription form, or any other default settings, you can achieve this in a couple of clicks, and observe the results of your customization efforts in the real-life mode.
How to modify the settings of this customizable WooCommerce theme?
So, how do you customize a store running on Smart Theme Woo?
After you've installed the theme on your website, go to the Appearance section in your admin area, and click on the Customize tab.
You will be taken to this convenient theme builder.
In the column on the left, you'll see the list of the elements you can modify: just click on them one by one to see the numerous customization options unfolding. On the screen on the right, you'll see the blue pencil icons: they show that you can modify this specific element just by clicking on this pencil.
Want to see how it all works and play with the theme customization settings? Go to our Demo page and create a free demo Woo site with the Smart Theme Woo installed. It will let you explore the theme in detail and see if you'd love to get it for your own business! Our Smart Theme Woo customization guidelines will come in handy, too 😉
Who can use Smart Theme Woo to grow their business?
Do you have an online store running on WooCommerce? You are more than welcome to apply this outstanding theme to your website!
Just go to the Smart Theme Woo's official page, view the Demo sites built by our team on it as an inspiration, buy the theme and install it using these instructions.
Don't have a store yet? Let our dedicated specialists make it for you from scratch and tailor it to your individual preferences! Don't forget to mention that you want it to run on this customizable WooCommerce theme 😉
Smart Theme Woo is a shining example of a truly customizable WooCommerce theme making a difference in your business practice. However much you want to experiment with your store, it's here at your service! We can't want to see you trying it out – and to read your feedback!