Custom Product Labels: How To Draw Attention To Your Best Deals In 1 Click?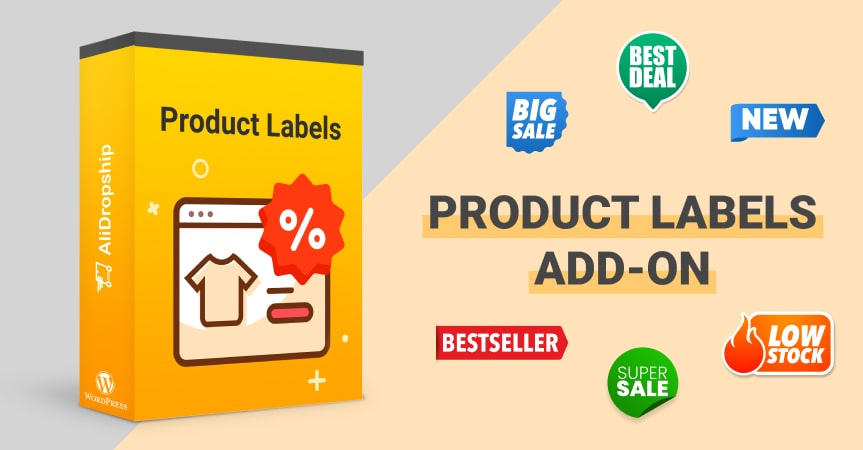 Are you looking for ways to increase your store conversion rate? Would you like to highlight your product offers and grab customers' attention? Actually, there is a way out – add custom product labels to your product images by means of the Product Labels add-on!
Product labels: what are these?
Let's start with the basics. What do we mean when speaking about product labels? And why do you need them? Is it true that they can significantly boost your online store sales? Actually, they can. But first things first.
These are not 'physical' packaging labels as you might have thought. When we say 'product labels', we mean the labels added to your in-store product images.
Why such labels are a must-have for online stores
It's no secret that nowadays it's images that run mass media. So it means it's not enough for ecommerce entrepreneurs to create a perfect product page, write a profound article and so on. It's more important to convince Internet users to visit your landing page, place an order, etc.
If you want to reach these targets, you need to understand that nowadays the majority of Internet users scroll the feed down until they find something that draws their attention. As a rule, this is all about catchy images and captivating headlines.
However, you probably guessed it. In practice, not every picture is capable of attracting potential customers to your ecommerce website. So what should it contain in order to make online shoppers visit your website, stay in your online store, and make purchases?
Okay, well, a number of outlets have already undertaken studies to determine a customer's behavior. So the team of Invesp figured out that more than 2/3 of online shoppers mainly buy items at a discount. But what's the most effective way to inform a customer about special offers and discounts and make sure that they will notice this?
It remains for you only to put 2 and 2 together. Internet users tend to pay their attention mainly to images, right? So this is the very place to put mentions of discounts, sale seasons, low stock, etc. And it's the Product Labels add-on that will help make the most of this action!
How can Product Labels add-on help you sell more?
Actually, in order to let you easily highlight your special offers and draw potential customers' attention, we introduce our new IT solution for business – it's the Product Labels add-on!
The Product labels add-on is an IT solution that is designed in order to let you add different kinds of labels to your product images.
Well, the idea behind this add-on is using a product label instead of splashing thousand words so that not a single customer could leave your website empty-handed.
So how can you benefit from the Product Labels add-on? In practice, it helps you complete the following tasks:
Grab visitors' attention with animated labels on your product images
Create a sense of urgency with labels from 'low stock' category
Boost sales by means of attracting customers with 'hot deal' labels
Increase your store conversion rate
How Product Labels add-on works: FAQ
First of all, we would like to mention that using the Product Labels add-on doesn't require you to have special skills and competences. It works almost automatically, so you can add eye-catching and high-converting labels to your product images in some clicks.
What is necessary to let the this add-on work?
Please note that if you want to use the Product Labels add-on, you need AliDropship Plugin or AliDropship Woo Plugin installed on your website. What's more, at the moment, the Product Labels add-on is not compatible with such themes as Flatsome, Storefront, Shopkeeper, and Shopper.
How to install the Product Labels add-on? Is its setup included in its price?
The price of the Product Labels add-on does not include its setup. Feel free to order its setup service here if necessary. However, this is absolutely not challenging to install this add-on, so you can do it yourself.
How to put these labels on your product pages?
Actually, this is one of the easiest parts. When you have installed the Product Labels add-on, you will see the Product Labels section in the admin area of your website. So you need to move to this section, choose a label category, label itself, placement, and determine priority.
Why have we noticed such a notion as priority? Well, pay attention to the fact that the Product Label add-on is able to automate the process of adding custom product labels to your product images.
This add-on lets you choose lots of labels for one product page: Low stock, Sale, New product, etc. Meanwhile, only one label will be shown on the image. So you are able to customize which labels will be the first priority for each product category.
Are there any other ways to automate the process of product labeling? Yes, there is one. You are able to enable automatic product labeling.
Now it's you who determines which discount means the best deal, and which amount of items left in stock will trigger the 'low stock' label, etc.
By the way, despite the fact that there are plenty of different labels you will find in the add-on catalogue, we've decided to provide you with an option to add your own custom product label. So you will be able to benefit from your own design solution.
What other features does the Product Labels add-on have?
4 animations types available
Autoresizing labels for different pages
Summing it up: custom product labels and their sales boosting potential
Well, what's the formula of growing sales in your online store? How to sell more? In fact, there are lots of factors affecting this.
We know for sure one of the aspects we can easily optimize: making your product offers more eye-catching. The Product Labels add-on is the tool that will help you with this!
So feel free to add different built-in attention-grabbing product labels to your product images and make sure no one internet user will ignore your offers or leave your website without a purchase. Beyond this, we hope you will be happy about the multiple customization features the Product Labels add-on provides you with.
So don't miss the chance to highlight your product offers and boost sales with the Product Labels add-on from AliDropship!