Want To Dropship Sunglasses? Check These Product And Seller Options!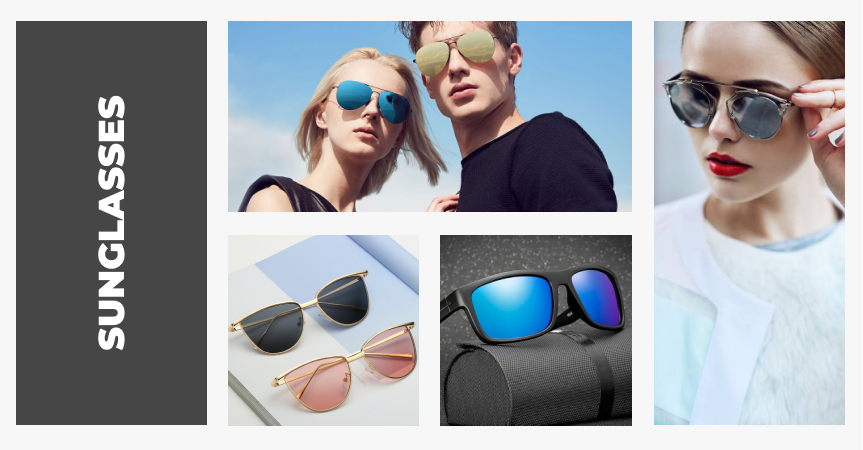 What should you do if you want to dropship sunglasses for profit? Which products and suppliers deserve your most careful attention? Let's figure it out!
Is it really a good idea to dropship sunglasses?
Being well-protected never goes out of style. And nothing expresses style better than a great pair of sunglasses.
What's more, let's look at the statistics. According to Statista, revenue in the sunglasses segment amounts to more than $20m in 2021. Meantime, PR News Wire says, the global sunglasses market is projected to be a USD $38.84 billion market by 2024.
Well, it becomes clear that it's a booming industry and will always be in demand. It's also a universal market and caters to men, women, boys, and girls. It is not only a staple in fashion, but is also an essential for health when it comes to sun protection of the eyes.
So, are you unsure of what product to start your dropshipping business with? We highly suggest sunglasses – these are an item and industry that is sure to always bring in income!
How to easily find the best sunglasses suppliers for your store?
We know firsthand that reliable dropshipping suppliers with dozens of thousands of orders and fast shipping are a must-have for you in case you're going to dropship sunglasses or whatever you want. With AliDropship, we have all the intel on best sellers from AliExpress.
Don't you know where to find the list of trustworthy suppliers with high-quality and trending products for your dropshipping business? Just sign up for our AliDropship Insights and get eyes on the top-ranking AliExpress sellers and high-selling products for any niche absolutely FOR FREE!
We've gone ahead and done some of the work to make getting started easier for you. Here are some high-performing sunglass manufacturers and suppliers you can trust!
Sunglasses suppliers: top AliExpress brands
Brand: KACHAWOO
Rating: 98%
Followers: 112,000+
Years in Business: 9
Brand: KEHU
Rating: 97%
Followers: 88,000+
Years in Business: 7
Brand: LONSY
Rating: 97%
Followers: 35,000+
Brand: MERRY'S
Rating: 97%
Followers: 1,000,000
Years in Business: 8
Brand: Peekaboo
Rating: 97%
Followers: 193,000
Years in Business: 8
Brand: Ralferty
Rating: 97%
Followers: 157,000
Years in Business: 8
Brand: ROYAL GIRL
Rating: 98%
Followers: 210,000
Years in Business: 8
Brand: runbird
Rating: 97%
Followers: 38,000
Years in Business: 8
Brand: yooske
Rating: 98%
Followers: 9,000
Years in Business: 6
Brand: CIVICHIC
Rating: 96%
Followers: 369
Years in Business: 4
Brand: SUNGLASSES 2020
Rating: 98%
Followers: 153,000
Years in Business: 7
Brand: Veithdia
Rating: 98%
Followers: 298,000
Years in Business: 8
Brand: XIU
Rating: 98%
Followers: 122,000+
Years in Business: 11
Brand: car unique
Rating: 92%
Followers: 3,000
Years in Business: 4
Brand: JackJad
Rating: 97%
Followers: 7,000
Years in Business: 4
Brand: TOYEARN
Rating: 96%
Followers: 2,600
Years in Business: 3
Best examples of sunglasses to dropship
If you're ready to sell, let's take a look at some top-selling choices from our high-performing sunglass dropshipping stores. We've got a ton of looks for you:
KACHAWOO Vintage Gold Sunglasses
KACHAWOO Fashion Rimless Sunglasses
KEHU Unique Ladies Luxury Oversized Big Sunglasses
KEHU Heart-Shaped Sunglasses
LONSY Fashion Round Sunglasses
MERRY'S DESIGN Classic Retro Rivet Polarized Oval-Framed Sunglasses
MERRY'S DESIGN Classic Retro Rivet Polarized Square-Framed Sunglasses
Peekaboo Small Rectangle Sunglasses
Peekaboo Vintage Retro Gothic Steampunk Mirror Sunglasses
Ralferty Polarized Magnetic Clip-On Eyeglasses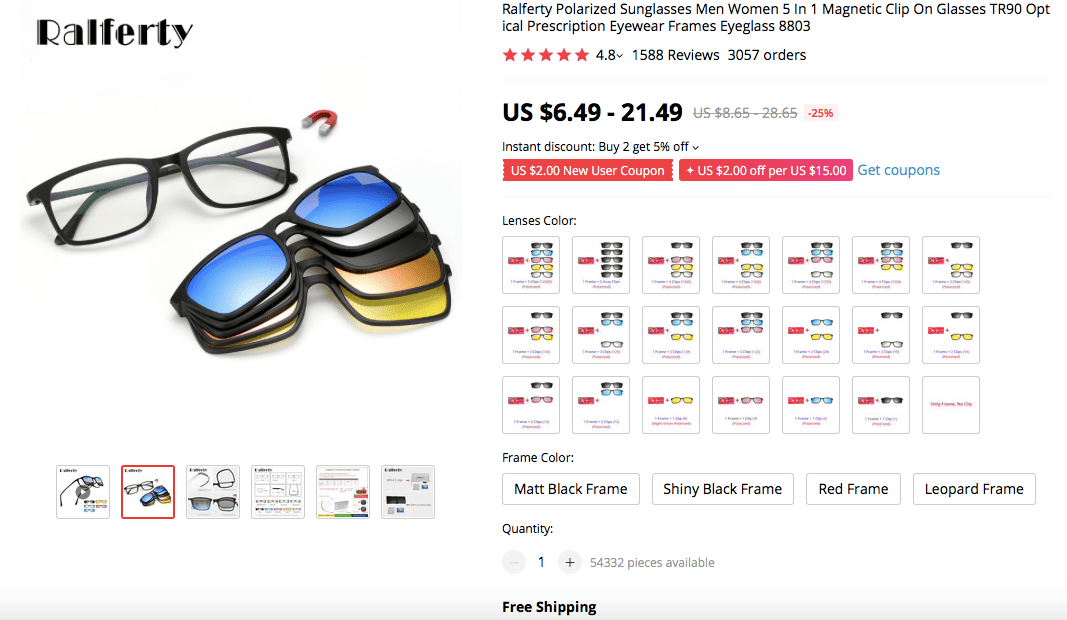 Ralferty Polarized Square Clip-On Night Vision Eyeglasses
ROYAL GIRL Luxury Rimless Sunglasses
ROYAL GIRL Oversize Vintage Gradient Sunglasses
Sunglasses 2020 Polarized Sunglasses for Men
2020 Sunglasses Polarized Retro Square Sunglasses for Men
VEITHDIA Unisex Polarized Aluminum Sunglasses
VEITHDIA Men's Vintage Polarized Square Sunglasses
XIU Metal Mirror Lens Steampunk Sunglasses
XIU Metal Retro Vintage Steampunk Sunglasses
Steps you need to take to start dropshipping sunglasses
Do you think you're ready to officially start up your sunglasses dropshipping store? That's great! It remains for you only to follow our easy four steps below to ensure you are off to a good start.
Getting started is easy with AliDropship.
All you need is to download the AliDropship plugin for either WordPress or WooCommerce or purchase a custom dropshipping store and let us set up your new business for you from scratch.
Have a particular idea of sunglasses you want to sell? You've got it with the AliDropship plugin (or just let us know).
If you're on your own, we've cut through the hundreds of thousands of AliExpress sellers to make finding the best retail and wholesale suppliers with high-quality products quick and easy – with just a few clicks.
Would you like to get access to the whole list of trusted retail and wholesale sunglasses suppliers on AliExpress? If so, it's time to get our AliDropship Insights and filter suppliers based on niche type, number of followers, ratings, and years in business.
Choosing what items to sell for profit is also a breeze when you have AliDropship Insights. You can go about it two ways:
1. As noted above, you can find items by filtering from top-performing suppliers. Once you find the right ones, start looking at what their best-selling items are to get any idea of what you want and can sell.
2. Or, with AliDropship Insights, you can search for products instead of suppliers. See what items and niches have the highest AliExpress order amounts and dropshiping sales.
Make sure your store is search- and user-friendly
Once you have chosen and imported your items to sell, make sure your website's pages are informative and SEO-friendly. Check that product titles and descriptions are keyword-rich while clear in conveying what the product and its attributes are.
Don't you know how to build a SEO-friendly website and get cost-effective organic traffic? This is Sellika that will help you!
Be sure to launch ad campaigns to drive traffic to your store and also utilize social media to further drive potential customers to your online store.
Don't you know how to make the most of your store's social media accounts or does it take you lots of time? Say no more! Social Rabbit by AliDropship is the tool you've always dreamed of!
Check analytics over time to observe what is working and what isn't. Your stats can help you decide what pages and places on your website you can improve, and also tell you what items sell well.
Sunglasses are incredibly lucrative and an ever-growing industry, making it a smart choice for dropshipping. With our plentiful suggestions (and our handy plugin solutions), AliDropship can help you set up your new sunglasses dropship store easily!