AliDropship Blog
Get marketing tips, tricks and dropshipping inspiration right into your inbox!
Sign up today not to miss out a single post:
Want To Dropship Sunglasses? Consider These Product And Seller Options!
What should you do if you want to dropship sunglasses successfully? Which products and suppliers deserve your most careful attention? Let's figure it out!
Want to sell the hottest and most demanded items only? Receive WEEKLY updates on the most popular items on the market – and get every week's bestsellers imported to your store AUTOMATICALLY!
Table Of Contents
Why it's a good idea to dropship sunglasses
Being well protected never goes out of style. And nothing expresses style better than a great pair of sunglasses. If you are unsure of what product to start your dropshipping business with, we highly suggest sunglasses.
According to PR News Wire, the global sunglasses market is projected to be a USD $38.84 billion market by 2024. It's a booming industry and will always be in demand — it is also a universal market and caters to men, women, boys, and girls. It is not only a staple in fashion, but is also an essential for health when it comes to sun protection of the eyes. Simply put, sunglasses are an item and industry that is sure to always bring in income!
Where to find the best sunglasses suppliers for your store
With AliDropship, we have all the intel on best sellers. Just sign up for our AliDropship Insights to get eyes on the top-ranking and high-selling sellers and products for any niche. We've gone ahead and done some of the work to make getting started easier for you. Here are some high-performing suppliers you can trust!

KACHAWOO
Rating: 97%
Followers: 52,843
Years in Business: 7

KEHU
Rating: 97%
Followers: 90,422
Years in Business: 5

LONSY
Rating: 97%
Followers: 28,165
Years in Business: 9

MERRY'S
Rating: 98%
Followers: 1,061,885
Years in Business: 6

peekaboo
Rating: 98%
Followers: 1,061,885
Years in Business: 6

Cycling Store
Rating: 99%
Followers: 34,628
Years in Business: 6

Ralferty
Rating: 98%
Followers: 148,978
Years in Business: 6

ROYAL GIRL
Rating: 96%
Followers: 176,223
Years in Business: 6

runbird
Rating: 97%
Followers: 38,220
Years in Business: 6

yooske
Rating: 96.2%
Followers: 7,241
Years in Business: 4

CIVICHIC
Rating: 98.6%
Followers: 323
Years in Business: 3

SUNGLASSES 2020
Rating: 98%
Followers: 148,436
Years in Business: 6

Veithdia
Rating: 98%
Followers: 282,877
Years in Business: 6

Veithdia Veithdia
Rating: 98%
Followers: 248,184
Years in Business: 6

XIU
Rating: 97%
Followers: 116,474
Years in Business: 9

car unique
Rating: 96%
Followers: 2,103
Years in Business: 2

JackJad
Rating: 97.2%
Followers: 4,130
Years in Business: 3

TOYEARN
Rating: 96.2%
Followers: 1,922
Years in Business: 2
Best examples of sunglasses to dropship
If you're ready to sell, let's take a look at some top-selling choices from our high-performing sunglass dropshipping stores. We've got a ton of looks for you:
KACHAWOO Vintage Gold Sunglasses
KACHAWOO Fashion Rimless Sunglasses
KEHU Unique Ladies Luxury Oversized Big Sunglasses
KEHU Heart-Shaped Sunglasses
LONSY
Fashion Round Sunglasses
LONSY Cat Eye Sunglasses
MERRY'S DESIGN Classic Retro Rivet Polarized Oval-Framed Sunglasses
MERRY'S DESIGN Classic Retro Rivet Polarized Square-Framed Sunglasses
peekaboo Small Rectangle Sunglasses
peekaboo Vintage Retro Gothic Steampunk Mirror Sunglasses
Ralferty Polarized Magnetic Clip-On Eyeglasses
Ralferty Polarized Square Clip-On Night Vision Eyeglasses
ROYAL GIRL Luxury Rimless Sunglasses
ROYAL GIRL Oversize Vintage Gradient Sunglasses
runbird Luxury Vintage Sunglasses
runbird Vintage Big Frame Sunglasses
Sunglasses 2020 Polarized Sunglasses for Men
2020 Sunglasses Polarized Retro Square Sunglasses for Men
VEITHDIA Unisex Polarized Aluminum Sunglasses
VEITHDIA Men's Vintage Polarized Square Sunglasses
Veithdia Veithdia Polarized Pilot Sunglasses for Men
Veithdia Veithdia Polarized Mirror Lens Sunglasses for Men
XIU Metal Mirror Lens Steampunk Sunglasses
XIU Metal Retro Vintage Steampunk Sunglasses
Steps you need to take to start dropshipping sunglasses
Ready to officially start up your sunglasses store? Follow our easy four steps below to ensure you are off to a good start.
Getting started is easy with AliDropship. Just download our plugin for either WordPress or WooCommerce or purchase a custom store and let us set up your business for you from scratch. Have a particular idea of sunglasses you want to sell? You've got it with our plugin (or just let us know).
If you're on your own, we've cut through the hundreds of thousands of AliExpress suppliers to make finding the best suppliers quick and easy – with just a few clicks. Get our AliDropship Insights and filter suppliers based on niche type, number of followers, ratings, and years in business.
Choosing what items to sell is also a breeze when you have AliDropship Insights. You can go about it two ways:
As noted above, you can find items by filtering from top-performing suppliers. Once you find the right ones, start looking at what their best-selling items are to get any idea of what you want and can sell.

Or, with AliDropship Insights, you can search for products instead of suppliers. See what items and niches have the highest AliExpress order amounts and dropship sales.
Make sure your store is search- and user-friendly
Once you have chosen and imported your items to sell, make sure your website's pages are informative and SEO-friendly. Check that product titles and descriptions are keyword-rich while clear in conveying what the product and its attributes are. If a product you imported doesn't have search engine-friendly copy, you can rewrite it so that it is.
Be sure to launch ad campaigns to drive traffic to your store and also utilize social media (we have a great add-on for this) to further drive potential customers to your online store. Check analytics over time to observe what is working and what isn't. Your stats can help you decide what pages and places on your website you can improve, and also tell you what items sell well.
SUMMARY
Sunglasses are incredibly lucrative and an ever-growing industry, making it a smart choice for dropshipping. With our plentiful suggestions (and our handy plugin solutions), AliDropship can help you set up your sunglasses dropship store easily!
Join 325,000+ entrepreneurs who are already mastering new skills with our FREE Guide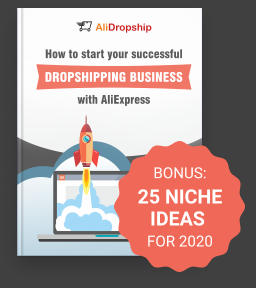 How to Start Your Successful Dropshipping Business with AliExpress
Get step-by-step instructions for newbies, expert advice how to build and promote your store, and best tools for AliExpress Dropshipping